WWE NXT UK Results (10/7): Noam Dar & Wolfgang Conclude The Heritage Cup Tournament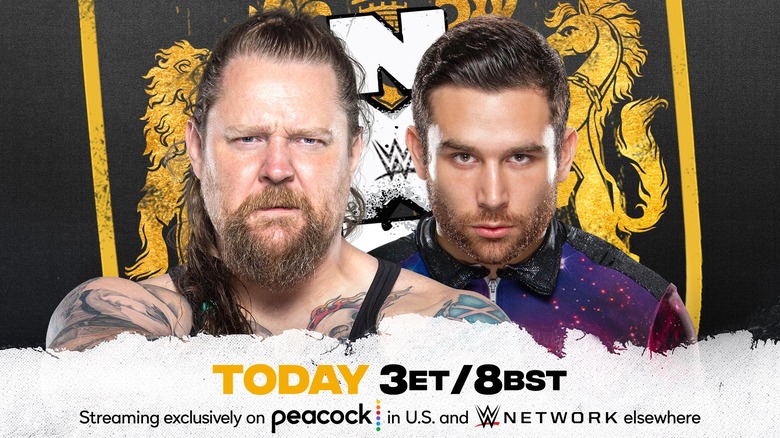 Welcome to Wrestling Inc's live coverage of WWE NXT UK, which airs every Thursday at 3 PM EST on Peacock (in the United States) and WWE Network (everywhere else). Be sure to chime in on your thoughts about today's show in the comments section below. Additionally, share our live coverage through social media. Make sure to click the REFRESH button to continue to get the most current up-to-date coverage. Above and below is what's on today's agenda:
It all comes down to the FINALS in the #1 Contender's Tournament to determine who will challenge #TylerBate for the prestigious #NXTUK #HeritageCup!@NoamDar vs. @WolfgangYoung TODAY on an all-new @NXTUK

3pm ET @peacockTV

8pm BST @WWENetwork pic.twitter.com/AXC3iAqSBY

— NXT UK (@NXTUK) October 7, 2021
Andy Shepherd and Niguel McGuinness welcome fans to WWE NXT UK! We kick things off with some female action!
Emilia McKenzie vs. Jinny (w/Joseph Conners)
Both women walk straight into a lockup. Emilia McKenzie holds Jinny in a tight wristlock. Jinny throws McKenzie over her head to break it up. McKenzie holds Jinny again in a front face lock. Jinny floats over and cranks McKenzie's leg back. A roll through follows, and Jinny turns it into a front face lock. McKenzie fights out with a nice dropkick and snapped spinning neckbreaker. She looks for the first cover in the match. Jinny is out at two.
🐙🐙🐙🐙@JinnyCouture#NXTUK pic.twitter.com/h1VoR5BZpH

— NXT UK (@NXTUK) October 7, 2021
Jinny turns the pace around by snapping McKenzie's left shoulder. Jinny locks in a well-balanced iron octopus. McKenzie drops to the mat, and Jinny hooks the leg. McKenzie kicks out. Jinny applies a single-leg Boston Crab. McKenzie and Jinny take this up a notch by trading blows. McKenzie hoists Jinny and dumps her on the mat with a high angle back suplex for another near-fall. No surprise, Joseph Conners tries to get involved in this match. The NXT UK Women's Champion Meiko Satomura runs out to stop him.
.@JosephConners was worthy of THAT!#NXTUK@satomurameiko pic.twitter.com/yI0s1R3kK5

— NXT UK (@NXTUK) October 7, 2021
Meanwhile, in the ring, McKenzie rocks Jinny with two massive suplexes for two. Jinny recovers to hit an Acid Rainmaker/Koppou Kick combo for the pinfall victory.
Winner: Jinny
Post-Match: Jinny calls out Meiko Satomura. She wants a title shot. It looks like "The Final Boss" will give it to her.
Backstage: Noam Dar (w/Sha Samuels) is getting ready for his big match later on today.
- Earlier this week, Blair Davenport walks into Sid Scala's office. He says she will be allowed to return next week to compete against Stevie Turner.
-A-Kid reflects on his career-defining opportunity when he faces the NXT UK Champion Ilja Dragunov for the title next week!
Mark Andrews vs. Sam Gradwell
Mark Andrews ducks behind Sam Gradwell, looking for a waistlock. Gradwell grabs Andrews' arm and slams him down on the mat. Andrews counters with a dropkick, then a wristlock. Gradwell gets rocked with a hurricanrana that sends him to the outside. Gradwell smashes Andrews on the outside before throwing him back into the ring for a lateral press. Andrews pops out at two.
Gradwell stalks down Andrews and launches his knee into his spine. Another cover from Gradwell. Andrews comes out. Andrews fires back chops, and escapes Gradwell's control in the corner. Andrews scales the ropes and gets dump onto the mat. Gradwell powerslams Andrews for an added two count. Gradwell eats a boot in the corner. Andrews hits a DDT from off the ropes!
Shades of @reymysterio from @MandrewsJunior!#NXTUK pic.twitter.com/G3AaP2Im7Z

— NXT UK (@NXTUK) October 7, 2021
Andrews fires a flurry of chops and clotheslines before sending Gradwell face-first to the mat with a wheelbarrow facebuster. Andrews double stomps Gradwell and receives another near-fall count. Gradwell tries to layout Andrews with a clothesline, but Andrews wiggles out of the pin attempt. Gradwell hoists Andrews up on his shoulders. Out of nowhere, Andrews counters with a Stundog Millionaire! Andrews catches Gradwell with a moonsault on the outside.
Back in the ring, Gradwell firmly grabs Andrews' ear. Andrews kicks him off. Gradwell grabs Andrews and capitalizes with a devastating fireman's carry slam for the win.
BRILLIANT!@MandrewsJunior#NXTUK pic.twitter.com/O4I1zSfdbp

— NXT UK (@NXTUK) October 7, 2021
Winner: Sam Gradwell
- Flash Morgan Webster is still playing his slapping game. He lands a nice shot on Sha Samuels. He sprints away before Samuels can catch him.
Next Week:
* NXT UK Championship: Ilja Dragunov (c) vs. A-Kid
And, the fans will be back in attendance at the BT Sport Studio!
- Dragunov begs A-Kid to not be naive heading into this bout next week.
NEXT WEEK on #NXTUK@UNBESIEGBAR_ZAR defends the @NXTUK Championship for the very first time against the immensely talented @AKidWrestler.

You do NOT want to miss this one! pic.twitter.com/Vfy1NP4tIh

— WWE (@WWE) October 7, 2021
And now, the main event! Who will become Tyler Bate's new number one contender?
UK Heritage Cup No. 1 Contender's Tournament Final: Noam Dar (w/Sha Samuels) vs. Wolfgang (w/Gallus)
Round 1:
Noam Dar tests the waters with a kick to Wolfgang's shin. Both men grasp each other in a collar and elbow tie-up. Dar backs himself up towards the ropes. Wolfgang cleanly breaks it up. Wolfgang gets trapped in a side headlock. Dar heads to the ropes and starts cranking down on Wolfgang's arm. In the final few seconds of this round, Wolfgang hoists Dar in the powerbomb position but doesn't hit it after the bell sounds. Neither man gains a fall/point in this round.
Noam Dar: 0     Wolfgang: 0
Round 2:
Noam Dar lands a nice attack on Wolfgang for a quick one count. Wolfgang tosses Dar in the corner and hits a nicely positioned crossbody. On the outside, Jordan Devlin storms out and attacks Joe Coffey. Dar uses this distraction to his advantage by stacking up Wolfgang for the first fall.
It's @Jordan_Devlin1!#NXTUK pic.twitter.com/IP0sv9MQwQ

— NXT UK (@NXTUK) October 7, 2021
Noam Dar: 1     Wolfgang: 0
Round 3:
Wolfgang retaliates with a deadly spear to earn his first fall in this bout.
As soon as Round 3 began, @WolfgangYoung scored the pinfall!!!

DAR – 1
WOLFGANG – 1#NXTUK pic.twitter.com/TRCVu1uxVv

— NXT UK (@NXTUK) October 7, 2021
Wolfgang: 1     Noam Dar: 1
Round 4:
Wolfgang hammer throws Dar straight into the corner. Then, knocks him back in with a European uppercut. Dar dodges another spear by heading to the outside. Dar rolls Wolfgang up for a two-count pinfall. Wolfgang perches himself up on the ropes. Dar uses his well-skilled feet to knock Wolfgang off. He does so successfully. On the outside, Wolfgang evades another knee strike. Dar drives his foot straight into the ring post. Wolfgang lands another spear just as the bell sounds for the conclusion of this round.
It's complete CHAOS!!!@NoamDar@WolfgangYoung#NXTUK pic.twitter.com/6CLDuLnSIp

— NXT UK (@NXTUK) October 7, 2021
Wolfgang: 1     Noam Dar: 1
Round 5:
Dar was an eyelash away from unseating Wolfgang in the beginning. Wolfgang turns things around with a powerful backbreaker at two. Dar takes Wolfgang off his feet and latches on with a kneebar! Wolfgang finds away out. Dar was looking for a Nova Roller, but Wolfgang stops him with a spinebuster! Wolfgang hooks the leg. The bell sounds. Wolfgang was so close to taking home this whole thing!
Wolfgang: 1     Noam Dar: 1
Round 6:
Wolfgang lays Dar out with explosive offense just as the final round kicks out. Dar comes back into this with a dive on Wolfgang's injured leg. Wolfgang decks Dar with a heavy right hand for a two count! Dar stacks Wolfgang up for two. Dar lands a nice back kick for another near-fall at one. Dar hits the Nova Roller. Cover, 1-2-3, Noam Dar prevails with a second fall and overall tournament victory!
Noam Dar: 2     Wolfgang: 1
Winner: Noam Dar
NOAM DAR WINS!!!@NoamDar is the #1 Contender for the #NXTUK #HeritageCup.

Congratulations to the Foxy Supernova. pic.twitter.com/8AI4D0Mh8f

— NXT UK (@NXTUK) October 7, 2021
Noam Dar will now meet Tyler Bate for a shot at his NXT UK Heritage Cup Championship! Speaking of the champ, Bate walks out to meet his new opponent just as the show closes.
That concludes this week's episode. Thanks for watching!