WWE NXT UK Results (10/14): Ilja Dragunov Vs. A-Kid, Blair Davenport Returns, More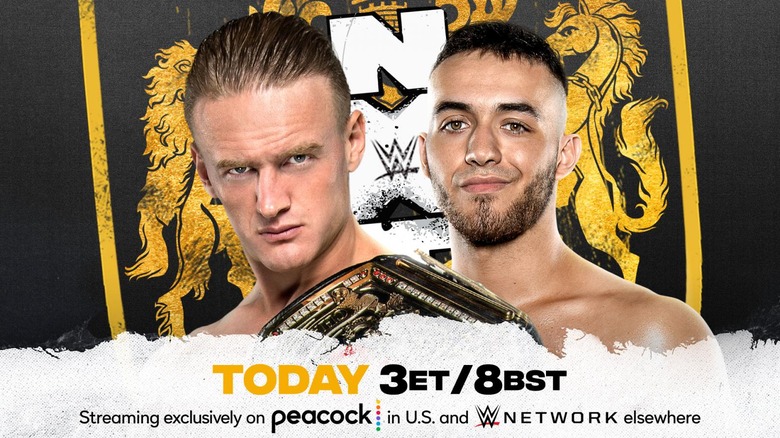 Welcome to Wrestling Inc's live coverage of WWE NXT UK, which airs every Thursday at 3 PM EST on Peacock (in the United States) and WWE Network (everywhere else). Be sure to chime in on your thoughts about today's show in the comments section below. Additionally, share our live coverage through social media. Make sure to click the REFRESH button to continue to get the most current up-to-date coverage. Above and below is what's on today's agenda:
Andy Shepherd and Niguel McGuinness welcome fans to WWE NXT UK! It's so great to see the bodacious fans in the crowd! We kick things off with a payback match. Blair Davenport is reinstated and here to reclaim her undefeated throne in singles action!
 Stevie Turner vs. Blair Davenport
Blair Davenport guns for Stevie Turner just as she rolls into the ring. Turner jumps on top of Davenport and rains down wicked forearm smashes. Turner looks for the first pin. Davenport pops out at two. Both women trade shots. Davenport tries to get the best of Turner with a Falcon Arrow. Turner slips out and connects a running knee strike for two.
What a sequence of events between @StevieTurnerWWE & @BDavenportWWE on #NXTUK! pic.twitter.com/vscPRFREkl

— NXT UK (@NXTUK) October 14, 2021
Turner applies three brutal neckbreakers for another near-fall! Davenport smacks Turner across the face with a low roundhouse kick. Cover. Turner rolls out. Davenport misses a double stomp off the top. Turner counters by dumping Davenport on the mat for another two count. Davenport is ready to put Turner away. She says, 'knee ya later,' as she cracks a Kamigoye, followed by a Falcon Arrow for the three count.
KNEE ya later!@BDavenportWWE#NXTUK pic.twitter.com/CZyiA2qDym

— NXT UK (@NXTUK) October 14, 2021
Winner: Blair Davenport
Post-Match: Blair Davenport reminds the ladies in the back that she is back and ready to dominate the locker room.
- We see the NXT UK Champ Ilja Dragunov getting warmed up before his big main event match.
-Poor Noam Dar. No one came to his celebration party. Last week, Dar won the entire NXT UK Heritage Cup Contenders Tournament. But he's happy for his buddy Sha Samuels who has a match later today against Flash Morgan Webster.
- Teoman is very upset for coming up short in the Heritage Cup Tournament. Rohan Raja tries to cheer him up. Teoman assures him things will get better once they expand their family.
- Sid Scala informs Jinny that she'll get her NXT UK Women's Title match in three weeks.
Sha Samuels vs. Flash Morgan Webster (w/SUBCULTURE)
Sha Samuels corners Flash Morgan Webster. Webster side steps. Samuels slams himself straight into the corner. Webster rocks Samuels with several forearm smashes. Samuels charges back with a massive right-hand punch. Samuels stays on top of Webster by keeping him grounded on the mat. He looks to end this contest early. Webster kicks out of two lateral presses.
DOWN GOES WEBSTER!
DOWN GOES WEBSTER!
DOWN GOES WEBSTER!@ShaSamuels#NXTUK pic.twitter.com/14tRxz1tJ4

— NXT UK (@NXTUK) October 14, 2021
Webster retreats to the outside. Samuels hunts him down and tosses him onto the apron and guardrail. Webster slides back into the ring a split second before the 10th count. Samuels pins him down. Webster kicks out again. Webster finds his footing and piles on a flying clothesline and springboard moonsault for two. Webster connects a perfect dive through the ropes. Back in the ring, he flies off the top. Samuels grabs a handful of his tights and stacks him up. Webster breaks free.
Webster's top rope assault paid off on the outside, but it wasn't enough for him to win this scheduled contest. Webster clocks Samuels with a nasty headbutt but stumbles right into a spinebuster from Samuels. That's all Samuels needed to win this event.
Winner: Sha Samuels
- A-Kid is ready for his career-altering match. He takes off his headphones and puts his jacket on.
- The Nina Samuels Show is in full effect. She helps set up a future match with Xia Brookside and Aleah James.
Next Week:
* Symbiosis vs. Jack Starz & Dave Mastiff
In Sid Scala's Office: Jordan Devlin wants a rematch against Joe Coffey. Devlin promises an Ace can outpower an Iron King any day.
And now, the main event!
NXT UK Championship: Ilja Dragunov (c) vs A-Kid
Both men kick things off with some excellent mat-based wrestling. They turn this thing up a notch the moment A-Kid whips out a flurry of leg strikes onto Ilja Dragunov. The Mad Russian shoots back with a hellacious clothesline! Cover. A-Kid kicks out at two. Dragunov plants back-to-back dragon screw leg whips before hitting another lariat. A-Kid hoists himself up on the top rope. Dragunov whips A-Kid off, and he comes crashing down.
Can @AKidWrestler accomplish the dream of becoming #NXTUK Champion? pic.twitter.com/PPRArmbQfX

— NXT UK (@NXTUK) October 14, 2021
A-Kid hits a precise suplex. Wild haymakers come next. A-Kid breaks up the back and forth sequence with a fisherman suplex. A-Kid holds the champion down for a cover. Dragunov fights out at 2.5. A-Kid applies pressure with an arm lock. Dragunov breaks it up with a series of downward elbow strikes. A-Kid rolls away from a top rope senton and digs deep with a sleeper. Both men are in a precarious situation on the ropes. With all the strength he can muster, Dragunov dumps A-Kid straight onto the canvas with an explosive superplex!! The fans are enthralled and carry out "This is awesome" chants. A-Kid delivers a shining wizard that almost gave him the overall victory!
😲😲😲@UNBESIEGBAR_ZAR @AKidWrestler#NXTUK pic.twitter.com/nHRXvituBG

— NXT UK (@NXTUK) October 14, 2021
A-Kid applies an armbar. Dragunov hoists him up and drops him on the mat with a powerbomb. A-Kid still holds the armbar in place!! Dragunov sends A-Kid away with a beautiful Torpedo Moscow for the pinfall victory. The Czar will live to fight another day as the NXT UK Champion!
Winner: Ilja Dragunov
That concludes this week's broadcast. Thanks for watching!