WWE NXT UK Results (10/21): Jordan Devlin Vs. Joe Coffey II, Dar & Bate Come Face-to-face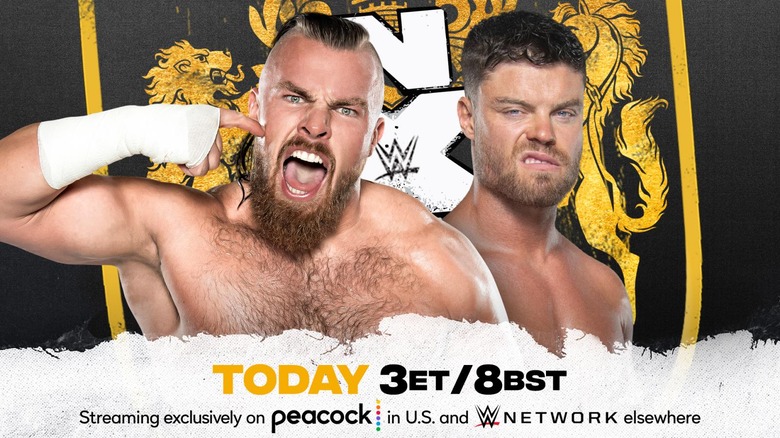 Welcome to Wrestling Inc's live coverage of WWE NXT UK, which airs every Thursday at 3 PM EST on Peacock (in the United States) and WWE Network (everywhere else). Be sure to chime in on your thoughts about today's show in the comments section below. Additionally, share our live coverage through social media. Make sure to click the REFRESH button to continue to get the most current up-to-date coverage. Above and below is what's on today's agenda:
TODAY on #NXTUK

@Jordan_Devlin1 seeks payback in a head-on collision with @Joe_Coffey! pic.twitter.com/6k4KOP8rO9

— NXT UK (@NXTUK) October 21, 2021
Andy Shepherd and Niguel McGuinness welcome fans to WWE NXT UK! We kick things off with some women's action!
Aleah James vs. Xia Brookside
The fans fire things up with a round of claps. Both women shake hands before tangling in a lockup. Aleah James cartwheels out of a wrist lock and reverses the hold on Xia Brookside. Both of them have some great technical exchanges. Brookside holds the upper hand as she drives James to the mat. James rises to her feet and picks up the pace with back-to-back dropkicks. Brookside catches James with a flying neck breaker, followed by a double knee smash in the corner. James evades Brookside's Brooksy Bomb and rolls her up instead. James may have created a major upset on Brookside, but she landed herself a successful pinfall victory!
.@XiaBrooksideWWE was fired up! 🔥 #NXTUK @thealeahjames pic.twitter.com/vR0aurjKO5

— NXT UK (@NXTUK) October 21, 2021
Winner: Aleah James 
Post-Match: Upset over her loss, Xia Brookside slaps away Aleah James' handshake.
Following her loss, a stunned @XiaBrooksideWWE promises to return as a different version of herself. #NXTUK pic.twitter.com/FlZ1mvVvXB

— NXT UK (@NXTUK) October 21, 2021
-The NXT UK Women's Champion Meiko Satomura refuses to think Jinny has a chance of taking her title away from her. Both women will square off for the belt in two weeks!
.@satomurameiko is ready to defend the #NXTUK #WomensTitle against @JinnyCouture! pic.twitter.com/V8gBQq22tK

— NXT UK (@NXTUK) October 21, 2021
- Kenny Williams says all NXT UK is filled with is insecure boys compared to him. He's ready to create the shock of their lives by becoming the next big thing.
Jack Starz & Dave Mastiff vs. Symbiosis (Primate & T-Bone) (w/Eddie Dennis)
**The NXT UK Tag Team Champions Pretty Deadly join in on commentary during this match. **
T-Bone starts this thing off strong with Jack Starz. Starz catches himself and sends T-Bone flying with back-to-back arm drags. T-Bone stops Starz's momentum with a huge slam. Cover. Starz powers out at two. Primate makes a tag to T-Bone. Starz transitions out of a tightly grasped wrist lock. T-Bone runs in to save his partner. Dave Mastiff storms in and breaks it up between T-Bone and his partner Starz. The Bomber Mastiff is in and drops a splash right on top of Primate. Starz gets tagged in and immediately goes for a cover. Primate kicks out and tags T-Bone in.
On the outside, Primate takes advantage of Starz with a slam. T-Bone waits in the ring for Starz. T-Bone tries to end things early with an explosive powerbomb. Cover. 1-2, Starz leaps out. Symbiosis cut the wrong off from Starz. T-Bone dumps Starz to the mat with a delayed vertical suplex for another near-fall. Starz escapes out of Primate and Eddie Dennis clutches on the outside to make a desperate tag to Mastiff. Mastiff sends T-Bone to the corner with a powerful suplex. He then comes crashing in with a cannonball.
Dennis pulls out a steel chair and shoves it straight into Starz's stomach. The referee calls for this match to end in a Disqualification. Jack Starz and Dave Mastiff have been awarded the victory.
Winners By DQ: Jack Starz & Dave Mastiff
Post-Match: With the onslaught continuing, Ashton Smith and Oliver Carter make the save for Jack Starz and Dave Mastiff.
.@AshtonSmith_WWE & @olivercarterGH come to the rescue of @DaveMastiff & @JackStarzzz! #NXTUK pic.twitter.com/Rh7yMlo8t0

— NXT UK (@NXTUK) October 21, 2021
- Next week, Amale will return for in-ring action!
- Charlie Dempsey looks to continue building his legacy here on NXT UK. Gallus (Mark Coffey and Wolfgang) rudely interrupt his interview. When they walk away, Gallus finds themselves in a brawl with Teoman and Rohan Raja.
#CharlieDempsey's interview gets cut short and gets a reminder of just how physical the #NXTUK roster is! pic.twitter.com/XGfHIjWJgd

— NXT UK (@NXTUK) October 21, 2021
"Supernova Sessions" with Noam Dar
The Scottish Supernova Noam Dar welcomes us to his show. His guests this week are the NXT UK Heritage Cup Champion Tyler Bate and Trent Seven. Well, Seven wasn't cordially invited, but he'll let him stay for now.
Now that he's the No. 1 Contender for the Cup, Dar announces Bate's days as champion are over. Their interview intensifies when Dar calls Bate "lazy." He thinks Seven is weighing him down. Seven stands up and starts spouting off. Bate calms him down and returns to the topic at hand: the Heritage Cup Championship. Bate and Dar exchange some final words before a fight ensues. Seven and Sha Samuels hold them both back, and that's how Supernova Sessions ends.
Next week, Dar will go one-on-one against Bate for the Heritage Cup!
Can @NoamDar take down #TylerBate for the #NXTUK #HeritageCup next week?! pic.twitter.com/cNFjIGWcmk

— NXT UK (@NXTUK) October 21, 2021
NEXT WEEK on #NXTUK#TylerBate vs. @NoamDar @NXTUK #HeritageCup pic.twitter.com/Dv0phI7XzI

— NXT UK (@NXTUK) October 21, 2021
Backstage: Jordan Devlin is getting one final workout in before his main event match against Joe Coffey. Both Mark Coffey and Wolfgang steal his gear.
- Also set for next week, Rohan Raja vs. Mark Coffey
And now, the main event. Can The Irish Ace capitalize on his first victory over The Iron King in this epic rivalry?
Joe Coffey vs. Jordan Devlin II (Gallus are banned from ringside)
Joe Coffey comes out rocking Jordan Devlin's jacket. Devlin sprints to the ring during Coffey's entrance and knocks him down. Coffey catches himself, but Devlin scoops in with a short spear onto Coffey. Coffey slams back-first into the apron. Devlin enters the ring with a slingshot cutter and looks for the first pin in his match. Without hesitation, Coffey kicks out.
Coffey trips Devlin face-first with a toehold. Devlin makes it back up to a vertical base. Coffey decks The Irish Ace with a nasty uppercut, followed by a belly-to-back suplex for two. Coffey keeps Devlin grounded for a while, but Devlin turns this thing up a notch with a running dropkick. Devlin keeps the onslaught intact by slamming Coffey rib-first toward the ring post! Devlin continues to work on the ribs with an elbow drop. He goes for two back-to-back pins.
After back-to-back weeks of being targeted by Gallus, can @Jordan_Devlin1 take a stand against @Joe_Coffey? #NXTUK pic.twitter.com/izAfzphGJc

— NXT UK (@NXTUK) October 21, 2021
Devlin holds Coffey in an abdominal stretch. Coffey hurls him off, but Devlin sneaks back in with a body scissors. Coffey digs deep by sending Devlin to the turnbuckles. Devlin climbs to the top, only to get clocked with a devastating forearm! Coffey flattens Devlin with a huge splash from off the ropes. It still isn't enough for him to win this bout. He has another close call following a major power slam. Devlin bounces back in this thing with a standing moonsault. Coffey springboards with a high-flying crossbody for another near-fall!
Devlin catches Coffey with another cutter. Coffey rolls to the outside. Devlin meets him out there with a monstrous punt kick and moonsault! Both men head to No Man's Land. Devlin comes crashing down with an avalanche belly-to-belly suplex from Coffey! Devlin is reeling Coffey with overpowering fists. Coffey charges up enough energy for a Glasgow Send-Off (pounce). Devlin returns the favor with a beautiful 450 Splash! Cover. Still not enough for Devlin to capitalize. He whips out his Devlin Side finisher. Now that does the trick. The Irish Ace has taken down The Iron King!
Winner: Jordan Devlin
.@Jordan_Devlin1 says he is done with The Gallus Boys after defeating @Joe_Coffey, proving that there is no one in #NXTUK that is a match for him. pic.twitter.com/FoUWEy7FNA

— NXT UK (@NXTUK) October 21, 2021
That concludes this week's episode of NXT UK! Thanks for watching!