AEW Dark: Elevation Results: Nyla Rose And Emi Sakura Vs. Ryo Mizunami And Ruby Soho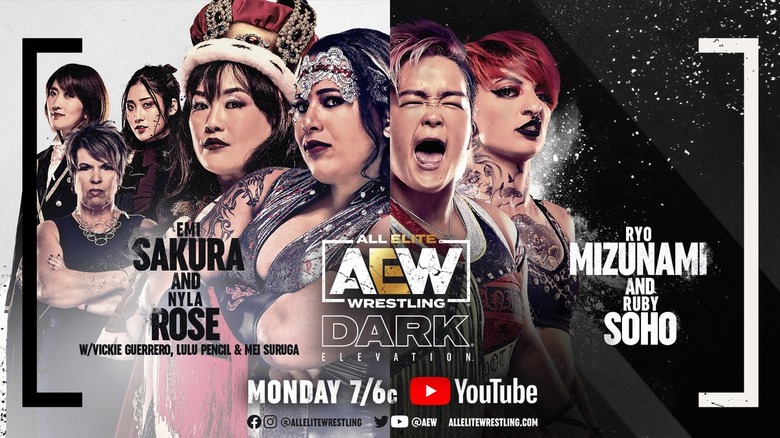 AEW
Welcome to Wrestling Inc's live coverage of AEW Dark: Elevation, which airs every Monday at 7 PM EST on AEW's YouTube Channel. Be sure to give your thoughts about tonight's show in the comments section below. Additionally, share our live coverage through social media. Make sure to click the REFRESH button to continue to get the most current up to date coverage.
- Excalibur, Mark Henry and Paul Wight welcome us to Dark: Elevation from Independence, Missouri
Powerhouse Hobbs (w/ Hook) vs. Danny Adams
Hobbs pushes Adams off the lock up. Adams tries a forearm strike and another, but Hobbs sends Adams to the corner and hits a corner splash knocking his glasses off. Hobbs sets up Adams on top and clubs his chest and then hits a running knee on his back. Hobbs hits Town Business for the win, cover 1-2-and Hobbs lifts Adams' shoulders and chooses to tap out Adams with the torture rack.
You can't keep #Powerhouse @TrueWillieHobbs down!
Tune in NOW to #AEWDarkElevation: https://t.co/j1O35difMA pic.twitter.com/UxzSgcuB1W

— All Elite Wrestling (@AEW) November 9, 2021
Winner: Powerhouse Hobbs via submission
The Butcher & The Blade (w/ The Bunny) vs. Best Friends (Chuck Taylor & Wheeler Yuta)
Blade and Taylor start off this tag team match. Blade with a body punch as he pressures Taylor in the corner. Taylor taken down with a shoulder tackle, but he responds with an arm drag. Yuta tags in and hits a double back elbow and a double elbow drop for a one count. Blade rakes Yuta's face and tags in Butcher. Yuta escapes a waistlock but gets dropped with a shoulder block. Yuta catches Butcher with a dropkick. Butcher gets back in the ring and gets hit with another dropkick.
Taylor tags in, and Best Friends hit a double suplex. Butcher hanging on to the ropes as Taylor tries to bounce off, but he gets hit a huge splash. Blade tags in as Butcher deals extra damage with Blade getting held off by the ref. He hits a back elbow, Butcher tags in, and they hit a side slam / leg drop combo for two. Butcher with a chop in the corner followed up by a tag to Blade as he hits a chop of his own. Taylor with a boot and a flurry of elbows. Taylor reverses a whip into a back elbow.
Blade sends Taylor outside and grabs a chair from under the ring. The referee grabs the chair before Blade can use it. Yuta tries to help out, but Butcher comes and runs through Taylor with the referee distracted. Blade covers back in the ring but only a two count. Blade applies a side headlock. Taylor escapes and hits Soul Food. Yuta tags in and hits a high cross body. He takes out Butcher and hits a springboard headbutt. Blade shoves off a German suplex attempt, but Yuta tries again and gets it.
He then hits Butcher with a German suplex! Yuta climbs over Blade and take out Butcher outside! Taylor hits the Falcon Arrow, cover 1-2-no! Taylor sizing up Blade in the corner, but Blade avoids it. Yuta blind tags in, Taylor hit a high knee. Yuta hits a high crossbody, cover 1-2-and Butcher makes the save. Taylor tries a dive outside, but Bunny pushes Butcher out of the way. Blade hits a spinning tombstone piledriver. Butcher and Blade hit their neckbreaker / powerbomb combo for the win.
#TheButcher & #TheBlade looking as sharp as ever! #BestFriends (@SexyChuckieT & @WheelerYuta) put in great effort but The Butcher (@andycomplains) & The Blade (@BladeofBuffalo) secure the win for #HFO 💸

Tune in NOW to #AEWDarkElevation: https://t.co/j1O35dzRba pic.twitter.com/EkCfi2UpTK

— All Elite Wrestling (@AEW) November 9, 2021
Winners: The Butcher & The Blade via pinfall
Riho vs. Tootie Lynn
Riho applies a side headlock after dodging a high kick. She gets hit with a back elbow, Matrix kick out, but Lynn on the offensive with a series of strikes. Riho hits a drop toehold on the ropes and hits an area code shot. Riho covers, but Lynn kicks out at two. Lynn hits an elbow strike and a high kick for a two count. Riho dodges Lynn in the corner and hits a rising knee strike. Riho going up top but misses a diving foot stomp. Riho catches Lynn with a diving foot stomp and hits a northern lights suplex, bridge but Lynn kicks out at two. Riho hits a top rope foot stomp for the win.
Easy as 1-2-3! @riho_gtmv grabs another #AEW win!
Watch NOW on #AEWDarkElevation: https://t.co/j1O35difMA pic.twitter.com/msbp30duqw

— All Elite Wrestling (@AEW) November 9, 2021
Winner: Riho via pinfall
- Matt Hardy asks for a mic and asks Alexander what his name is. Hardy says he doesn't care about where Alexander is from and points out that he's "Big Money" Matt Hardy, and he says Alexander will say his name with reference.
Matt Hardy vs. Dean Alexander
Alexander getting love from the crowd, but Hardy with a shoulder block as he slams Alexander's face into the turnbuckle pads. He then drives his shoulders into the corner and keeps up the pressure. Alexander with a flurry of right hands, but Hardy cuts him off. Alexander counters a hip toss with a clothesline. Alexander sent over the top as Hardy slams Alexander's head onto the corner post. Hardy follows him outside and sets him up for a series of elbows on the apron. Hardy catapults Alexander's throat right on the ropes.
Alexander with body shots, but Hardy catches him into a sleeper hold. Alexander fighting out of it. Alexander catches a punch and hits a neckbreaker. The crowd behind Alexander as he goes up top. He took much time as Hardy cuts him off. Hardy meets him up top. Hardy with a headbutt as he hits a superplex. Hardy taps out Alexander with The Leech.
.@DeanAlexanderNF puts up a great fight in his hometown, but, @MATTHARDYBRAND brings home another win for #HFO tonight on #AEWDarkElevation!

Tune in NOW: https://t.co/j1O35dzRba pic.twitter.com/OjZq1By76q

— All Elite Wrestling (@AEW) November 9, 2021
Winner: Matt Hardy via submission
Emi Sakura & Nyla Rose (w/ Vickie Guerrero, Lulu Pencil & Mei Suruga) vs. Ryo Mizunami & Ruby Soho
Mizunami and Rose brawl right as the bell rings. Rose with the upperhand as she hits a bodyslam. Sakura tags in as she hits an assisted dropkick. Mizunami with a back body drop counter off the Queen's Gambit. Soho tags in and hits an elbow strike, but Sakura responds with a flatliner. Sakura sizing up Soho in the corner. Sakura hits a corner splash and poses with The Killer Queens. Rose tags in, but Soho hits a series of chops. Rose prevents a tag out and sends Soho to the ropes. Guerrero grabs Soho's boots and Soho walks into a spinebuster for two.
Rose going for a Beast Bomb, but Soho counters into a Sunset Flip. Rose picks her up, but Soho escapes and tags in Mizunami. Mizunami fights off Sakura and hits a huge spear on Rose! Soho tags in, and they wear down Rose as Mizunami throws Soho into a spear on Rose. Mizunami tags in and keeps up the pressure on Rose. Rose with a big lariat, but Mizunami fires up and sends Rose to the corner.
Rose responds with a reversal straightjacket neckbreaker. Rose going up but misses a senton atomico. Mizunami and Rose tag out. Soho misses a kick. Sakura going for Queen's Gambit, but Soho rolls her up for two. Soho hanging onto the ropes and hits a high kick. Suruga drops Soho, Sakura tries to take advantage, but Soho escapes. Soho with a big shot followed up by No Future for the win.
Winners: Ryo Mizunami & Ruby Soho via pinfall
Post-match: Rose distracts Soho allowing Pencil and Suruga to confront Soho. That allows Sakura to intercept and hit The Queen's Gambit. Rose looking for a senton atomico, but Kris Statlander runs out with a chair! The Killer Queens and Rose run out. Statlander and Soho shake hands before their TBS Title Tournament match as Rose doesn't let Statlander walk out so easily as Soho takes time to celebrate her win after.
.@mizunami0324 & @realrubysoho take the victory from @EmiSakura_gtmv & @NylaRoseBeast but not without repercussions! @callmekrisstat comes to the aid of her future opponent #RubySoho in the TBS Women's Championship Tournament. Watch #AEWDarkElevation NOW: https://t.co/j1O35dzRba pic.twitter.com/xSL200NCZA

— All Elite Wrestling (@AEW) November 9, 2021
- Max Caster rap highlights: "The Acclaimed we back in the zone. We ain't falling off like Pat Mahomes... We all make you poop your pants like Joe Biden."
Close your ears, Kansas City — The Acclaimed have arrived. #TheAcclaimed (@Bowens_Official & @PlatinumMax) teams up with #2point0 (@JeffTheShow & @MattTheShow) to go head-to-head with #DarkOrder NOW on #AEWDarkElevation: https://t.co/j1O35dzRba pic.twitter.com/dgNUv5CnYE

— All Elite Wrestling (@AEW) November 9, 2021
Dark Order (Evil Uno, Stu Grayson, Alex Reynolds, John Silver) (w/ Colt Cabana) vs. The Acclaimed and 2point0
Uno and Anthony Bowens starting off as Bowens doesn't want a handshake. Bowens and Uno trading shoulder tackles back and forth as Uno changes direction and sends Bowens off his feet. Bowens and Uno trade counters and hit headbutts at the same time. Caster and Reynolds tag in as The Acclaimed are dropped with shoulder tackles. 2point0 intercept and pose, but they get taken out with shoulder tackles from Grayson and Silver. Reynolds with an uppercut on Caster.
Caster sends Reynolds on the apron. Bowens and 2point0 with a distraction as 2point0 hit 2 For The Show on the guardrail. Caster covers, but Uno breaks it up. The Acclaimed keep Reynolds in their corner as the crowd wants Silver in. Matt Lee hits a backbreaker for a two count. Reynolds tries a sunset flip, but Jeff Parker tagged in and keeps up the pressure on Reynolds. The Acclaimed going back to work, but Reynolds fights his way out of the corner and tags in Grayson, and Grayson flies everywhere. He hits a clothesline, belly-to-belly suplex, high kick, springboard moonsault into a DDT counter, dropkick. Silver tags in.
Grayson sent over the top. Silver on the apron and hits a Gamengiri, cannonball, uppercut, pump kick around the ring. Silver misses a top rope kick. Assited leg drop from 2point0. Uno drops 2point0. Bowens drops Uno. Reynolds with a pop-up knee on Bowens. 2 For The Show drops Reynolds. Grayson drops 2point0. Caster drops him, and Silver drops Caster. Dark Order drop their combo finishers with a Fatality to win it.
Winners: Dark Order (Evil Uno, Stu Grayson, Alex Reynolds, John Silver) via pinfall
A great battle between great factions in #AEW! #DarkOrder completely overwhelms the competition tonight on #AEWDarkElevation. Watch the entire episode here: https://t.co/j1O35difMA pic.twitter.com/cks1Fhgk2C

— All Elite Wrestling (@AEW) November 9, 2021