AEW Dynamite Results: Kenny Omega And Hangman Page Contract Signing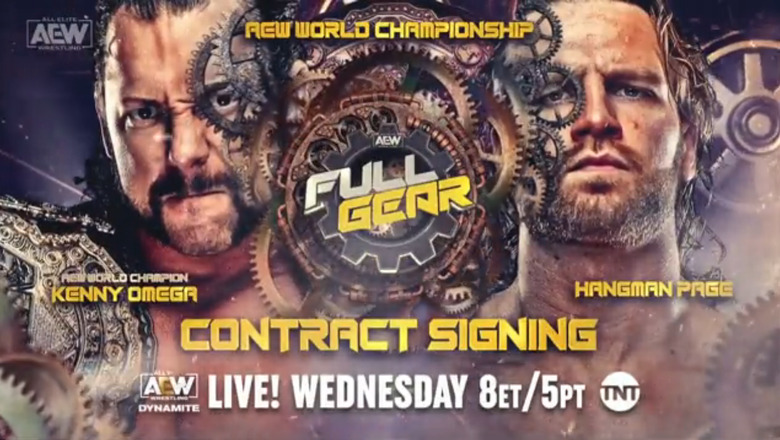 Photo Credit: AEW
Welcome to Wrestling Inc.'s live coverage of AEW Dynamite, beginning at 8 pm ET from the Indiana Farmers Coliseum in Indianapolis, Indiana. This is the go-home show from this weekend's Full Gear PPV (how to watch). Let others know about our coverage by giving this page a quick retweet or share on social media.
Click the refresh button on your browser every few minutes to keep up with the live results. Let us know your thoughts on the show by sharing them below in the comments section.
- Commentary welcomes the fans to tonight's episode of AEW Dynamite.
Bryan Danielson vs. Rocky Romero (with Orange Cassidy)
.@azucarRoc heads to the ring with newest CHAOS members #BestFriends – Watch #AEWDynamite LIVE NATIONWIDE on @tntdrama NOW! pic.twitter.com/WL3axPmrZt

— All Elite Wrestling (@AEW) November 11, 2021
Back in May, Best Friends helped make the save for Romero. Earlier tonight on social media it was announced Best Friends are officially in the NJPW stable, CHAOS. Chain wrestling gets things started in tonight's AEW Dynamite opener. Crowd with a "Let's go Bryan!" chant. Romero tries for an early submission, but Danielson gets to the ropes fairly quickly. Waistlock takedown by Danielson, the two back into the corner, Romero with some back elbows and sends Danielson into the corner. He runs up the ropes and flips out, Romero ends up using Danielson's momentum to send him out of the ring. Cassidy is near Danielson and puts his hands in his pockets. Romero lands a suicide dive, followed by a chop as Danielson rolls back into the ring.
Romero with a second rope knee drop on his opponent's shoulder. Both wrestlers trade chops in the corner, Danielson with a flurry of kicks that drop Romero. In the center of the ring, goes for the romero special and then wrenches back on the neck for a moment. Romero scrambles and the two end up in the ropes. Danielson with a mean knee to the ribs, kick to the back, more knees. Romero fires back with a springboard spinning DDT. Matt Hardy looking on from ringside and mocks Cassidy's thumbs up. Kicks to Danielson and then a second rope dropkick to Danielson. He heads out to the floor and lands a hurricanrana off the steps. Back in the ring, running sliced bread, cover, two-count.
Hurricanrana off the steps from @azucarRoc...things do not look good right now for @bryandanielson – Watch #AEWDynamite LIVE NATIONWIDE on @tntdrama NOW! pic.twitter.com/ywFINJ9Ie8

— All Elite Wrestling (@AEW) November 11, 2021
Rolling elbow strike, german suplex with the bridge on Romero for two. The two end up on the top turnbuckle, looks for a back suplex, but Romero counters and crashes down on Danielson, cover, two, straight into a triangle choke! Danielson with a sitout powerbomb to escape that hold. Danielson is able to work over Romero and looks for a couple submissions. He finally locks in tequila sunrise for the tap out.
Winner: Bryan Danielson via Submission
#DanLambert had a plan...#MenOfTheYear & @AmericanTopTeam jump the #InnerCircle Watch #AEWDynamite LIVE NATIONWIDE on @tntdrama NOW! pic.twitter.com/qHUkF22YPZ

— All Elite Wrestling (@AEW) November 11, 2021
- Tony Schiavone in the ring to talk with Inner Circle about their upcoming Minneapolis Street Fight at Full Gear. Inner Circle head out to the stage, but are cut off by multiple members of American Top Team. Dan Lambert just laughing away as he watches his guys do their thing. Junior Does Santos tosses Sammy Guevara's TNT Title aside and punches him in the midsection. Men of the Year jam Santana into the steel steps. A couple weapons are used as Inner Circle are all put down. A table is sent into the ring, which gets set up near the corner.
#DanLambert just drove @IAmJericho through a table! Watch #AEWDynamite LIVE NATIONWIDE on @tntdrama NOW! pic.twitter.com/qeLrY2h3NO

— All Elite Wrestling (@AEW) November 11, 2021
Jericho is put upon Lambert's shoulders by Men of the Year and they powerbomb Jericho through the table! Sky takes the mic and yells "Bah God! He might be broken in half!" He says this is just a taste of what they are going to get at Full Gear. Ethan Page says they are not only going to win, but they are going to make sure Lambert pins Jericho. Tonight on AEW Dynamite, he's going to make Jericho tap out and puts Jericho in the walls of jericho. "It's called a Boston Crab!" Lambert yells into the mic while he applies the hold.
AEW Women's World Champion Britt Baker, Jamie Hayter, and Thunder Rosa vs. Anna Jay, Tay Conti, and Thunder Rosa
Brawl immediately starts off as the bell ring. Baker bails out of the ring away from Conti. Rosa and Baker get things started. Crowd fairly split with "Thunder Rosa/DMD!" chants. Both with a couple counters, Rebel ends up tagging in and throws a few strikes, but takes a hip toss and a dropkick. Rosa with a facebuster across the knee. Rosa with a chop in the corner, tags in Jay who then tosses Rosa into Rebel. Jay tosses Rebel. action spills out to the floor and Team Baker all beat up on Jay while the ref is keeping back Jay's partners.
She's been waiting for this – @TayConti_ with lethal kicks in almost every corner! Watch #AEWDynamite LIVE NATIONWIDE on @tntdrama NOW! pic.twitter.com/hnM6ZhFsLF

— All Elite Wrestling (@AEW) November 11, 2021
Back in the ring, Jay is able to get some momentum against Baker and finally finds a window to bring in Conti. Hayter tags in, but gets quickly dropped. Baker tries to get involved and dropped too. Conti with a bunch of pump kicks in the corner on all three members of Team Baker. Hits the Tay-KO on Hayter, but Baker breaks up the pin and clocks both Rosa and Jay. Rolling elbow strike on Conti. Backbreaker on Conti, cover, Rosa stops that. Everybody landing a big strike on each other. Jay and Baker traded superkicks. Rosa up on the top rope and splashes down on Hayter, landing kind of high towards her head, ouch. In the ring, Conti hits a big kick to Rebel, Conti with a DDT as Baker thought about coming into the ring, but stayed away. Cover on Rebel and that will do it.
Winners: Anna Jay, Tay Conti, and Thunder Rosa via Pinfall
- Video package highlighting Kris Statlander and Ruby Soho's quarterfinals match in the TBS Title Tournament.
Jungle Boy vs. Anthony Bowens with Max Caster
YO! #TheAcclaimed drop the mic on @boy_myth_legend before @Bowens_Official takes on #JungleBoy – Watch #AEWDynamite LIVE NATIONWIDE on @tntdrama NOW! pic.twitter.com/qnUQhRb59v

— All Elite Wrestling (@AEW) November 11, 2021
Caster on the mic before the match gets going. Caster rips on Jungle stuttering on every promo and leaving his girlfriend (Anna Jay) alone with seven guys (Dark Order). "You're so progressive I've gotta empathize, 'cuz you leave your girlfriend alone with 7 guys." Both trade some waistlocks until Bowens sends JB to the mat. Bowens taunts his opponent and gets popped in the face. JB with some strikes in the corner, kick to the back of the leg, then one to the face. Chop to the chest, looks for a top rope move, but takes a knee to the midsection to stop that.
JB with some shots, climbs the ropes, flips down and hits an arm drag, dropkick, kip-up, and the crowd roars. Commentary jokes about his "rugged look" tonight since JB grew out the facial hair a bit. Caster gets a little too close to the action and gets his hat ripped off by JB. JB tried to avoid Bowens, gets grabbed by the hair and takes a headbutt to the back of the head. JB on the apron, Caster grabs his foot while the ref is distracted by Bowens. Bowens with a kick to the midsection and drives his knee into JB's head.
.@boy_myth_legend fighting the odds against @Bowens_Official AND @PlatinumMax – Watch #AEWDynamite LIVE NATIONWIDE on @tntdrama NOW! pic.twitter.com/dlCBKQTs1W

— All Elite Wrestling (@AEW) November 11, 2021
JB lands an elbow strike, couple chops, basement dropkick, comebacker lariat flattens Bowens. Bowens with some combination offense of his own, plants JB, pin attempt, two. Caster up on the apron and JB sends him out to the floor while trying to apply the snare trap. He ends up hitting a suicide dive on Caster. He gets on the apron and Bowens with a draping reverse DDT, cover, two. Bowens lifts JB up, counter right into snare trap, Caster reaches out to his partner, but Bowens taps out.
Winner: Jungle Boy via Submission
- Post-match, Bobby Fish runs to the ring and kicks JB down from the second rope as he celebrated. Fish with some more strikes and knees to the midsection, releases overhead suplex into the ropes. Out runs Christian Cage and Luchasaurus to clear out Fish.
- Hype package for Omega vs. Page at Full Gear.
Seems the Super Elite may have a mercenary on their side #AEWDynamite pic.twitter.com/Rfz2X1QiK4

— AEW on TV (@AEWonTV) November 11, 2021
- Backstage, The Young Bucks and Adam Cole chat. Cole then says he's known someone for a long time to Matt and Nick, and wants to introduce Bobby Fish. Matt says he knows Fish is the new guy in AEW, but there is no dispute (lol...), there's only The Elite and The Superkilq. Matt continues that anybody Cole vouches for they are good with. Cole says Fish can take on Jungle Boy this Friday on Rampage and bring him down a notch before Full Gear. The group heads off. Commentary describes Fish as a "mercenary" for Cole.
- Hype package for Eddie Kingston vs. CM Punk at this Saturday's PPV.
Wheeler Yuta with Chuck Taylor and Orange Cassidy vs. Wardlow
Yuta with a dropkick, tries for another and gets swiped away, then slammed down. Wheeler looks for a springboard cutter, but slips off and doesn't catch Wardlow. Wardlow quickly picks him up and drops him to the mat. He then powerbombs Yuta down to the mat. Crowd wants another. He hits a second one. Crowd asks for another one and Wardlow delivers. He then hits a fourth one! Crowd cheers on the...bad guy? Yuta put up on the top rope, then Wardlow hits a rising knee strike as Yuta drops down, cover, 1-2-3.
Winner: Wardlow via Pinfall
- Post-match, Isiah Kassidy and The Blade run down to the ring and put both Taylor and Cassidy down. Matt Hardy strolls into the ring with a chair. Chair strike to Taylor. He then puts the chair around Cassidy's neck and hits twist of fate! Kassidy recording all of this with Hardy's phone.
LET THEM FIGHT
LET THEM FIGHT
LET THEM FIGHT #AEWDynamite pic.twitter.com/n3I6sEthIV

— AEW on TV (@AEWonTV) November 11, 2021
- AEW Dynamite returns from break in the backstage area, a bunch or wrestlers, referees, and AEW officials are keeping CM Punk and Eddie Kingston separated. The two are yelling at each other from a distance. Kingston tries running towards Punk, but gets stopped.
Lio Rush and Dante Martin vs. Matt Sydal and Lee Moriarty
Martin and Moriarty get going. Crowd with a "Oooo! Lee Mori-artyyyy!" chant. Back and forth action and each try for pins in an amazing sequence that ends in a stalemate. Rush wants in and gets the tag, as does Sydal. Rio tries to talk to Moriarty, Sydal says he's trying to talk to him and both land some shots. Moriarty with a strike on Rush from the corner. Sydal flips Rush, but lands on his feet. Both avoids strikes. Rush with a springboard hurricanrana. All out brawl happen between both sides. Martin flips over Sydal, second rope dropkick on Sydal. Rush and Moriarty tag in, big boot by Moriarty, european uppercut. Rush with a bunch of strikes. Moriarty with a flipping facebuster, cover, two. Sydal in the ring, they send Rush to the corner, but he elbows Sydal away.
What a #AEWDynamite debut for @TheLionelGreen! Keep your eye on the team of #LioRush & @lucha_angel1 in #AEW – Watch #AEWDynamite LIVE NATIONWIDE on @tntdrama NOW! pic.twitter.com/TEp7dUvstm

— All Elite Wrestling (@AEW) November 11, 2021
Rush flips away from Moriarty, enziguri hits and he heads out to the floor. Rush looks to fly, gets stopped, but hits a handspring double elbows. Suicide dive on Sydal, then another one on Moriarty. Back in the ring, Rush with a twisting neckbreaker, cover, two-count. Martin tags in and heads to the top rope. Rush does too, but gets flipped off it by Sydal. Moriarty springs up to the top rope and just throws Martin down to the mat, running uppercut on Martin, deep cover, two. Rush with an engizuri on Sydal, hook kicks to Moriarty. Martin with the double springboard moonsault press, on Moriarty, cover, 1-2-3. Heck of a match by everyone involved!
Winners: Lio Rush and Dante Martin via Pinfall
- Hype package for Miro vs. Bryan Danielson. Miro says Danielson is everything to everyone, but nothing to him. "I need to win this tournament. I need to put the World Title over my shoulder!" Miro says Danielson better prepare to say goodbye to his wife, so he can say hello to his.
Dax Harwood with Tully Blanchard vs. PAC
All wrestlers banned from ringside for this match. Commentary notes Tully has a manager's license, so he's allowed to be there. Each trading big strikes with PAC dropping Harwood with some shoulder tackles, powerslam, and then eats an upkick. Both trade arm drag takeovers into a face-off. Crowd clapping it up for both guys. Live crowd has been great all night for tonight's AEW Dynamite. Harwood with a big lariat. Both trading forearm shots and then Harwood with a big punch, then yells out "f***!" at how hard he punched PAC, lol.
And now AHHHHHHH in gif form#AEWDynamite pic.twitter.com/sxY2okDrPO

— AEW on TV (@AEWonTV) November 11, 2021
Harwood knocked out to the floor. PAC looks to fly and clocks Harwood with a twisting splash. Both battle around the ring and make their way back in. Harwood put up on the top turnbuckle, PAC heads up to the top, as well. PAC stalls and hits a nasty brainbuster! Harwood bleeding a bit from this very physical match. PAC heads to the top rope, Tully causes him to pause. PAC with a shotgun dropkick to Harwood's back. PAC climbs to the top, but Harwood rolls away from him. PAC with some more big shots to Harwood, sends him into the corner, Tully helps Harwood avoid PAC, brainbuster on PAC, cover, two. Harwood getting annoyed now. Harwood throwing some big shots, but PAC is staying in the match. PAC with a sneaky backslide for two and transitions right into the brutalizer. Harwood immediately taps out!
Winner: PAC via Submission
- PAC keeping the hold applied, Cash Wheeler runs into the ring and clocks PAC. He stomps away at him over and over with Tully helping out. The lights go out for a moment. They come back on both Andrade El Idolo and Malakai Black are in the ring. Both guys help with the attack on PAC. Cody Rhodes, Rey Fenix, and Penta all hit the ring to help out. An all out brawl is going down now.
- Friday's AEW Rampage:
* Jungle Boy vs. Bobby Fish
* Matt Hardy vs. Orange Cassidy (Lumberjack Match)
- AEW Full Gear: The Buy In will feature Nyla Rose and Jamie Hayter vs. Thunder Rosa and Hikaru Shida. Also, PAC and Cody Rhodes vs. Andrade El Idolo and Malakai Black has been added to the PPV card.
- Tony is in the ring for the contract signing between AEW World Champion Kenny Omega and Hangman Page. Tony Khan banned everyone from the ring. Page goes to sign the contract, but he takes the mic and says he's not sure what's left to say. The soon he signs the contract, the sooner he gets to Full Gear to beat Omega's ass and take the title. He signs the contract.
Some old wounds being opened up between @KennyOmegamanX and @theAdamPage – Watch #AEWDynamite LIVE NATIONWIDE on @tntdrama NOW! pic.twitter.com/Eghq9LHPeo

— All Elite Wrestling (@AEW) November 11, 2021
Omega talks to Page about how they were once friends and family. He says everything in AEW was meant for Page, but if it wasn't for his failures and insecurities, he'd have it. "What a disappointment," Omega says. Page says Omega was always afraid of him. Omega never wanted to light a fire under Page's ass so he'll become champion and take what Omega has. Omega counters he cared about Page. He wants to shake Page's hand one last time before they kill it at the PPV. They both shake hands. Omega says he's proud of Page and walks to the apron. The cameraman then clocks Page with the camera! It's Don Callis. Page is bleeding from the head. Omega then signs the contract in Page's blood as the show comes to an end.
It was all a set up! @TheDonCallis attacks and the contract is signed...in @theAdamPage's BLOOD! THIS SATURDAY, Hangman vs #AEW World Champion @KennyOmegamanX at #AEWFullGear LIVE on PPV! #AEWDynamite pic.twitter.com/JFRGdQwf7E

— All Elite Wrestling (@AEW) November 11, 2021