AEW Dynamite Results: TBS Title Tournament, Cody Rhodes Vs. Andrade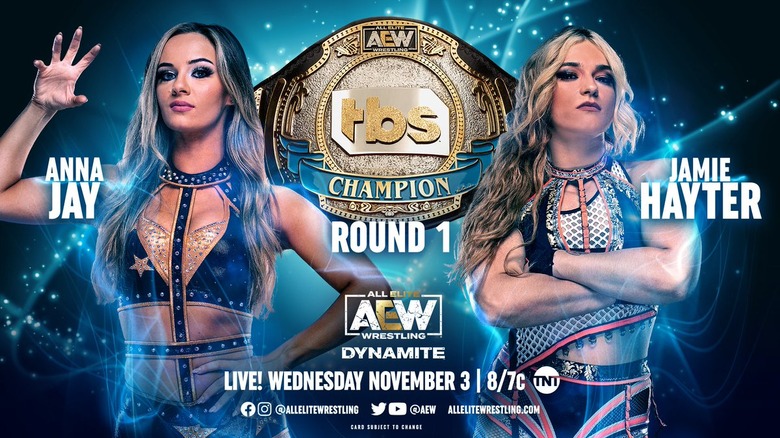 Photo Credit: AEW
Welcome to Wrestling Inc.'s live coverage of AEW Dynamite, beginning at 8 pm ET from the Cable Dahmer Arena in Independence, Missouri. Let others know about our coverage by giving this page a quick retweet or share on social media.
Click the refresh button on your browser every few minutes to keep up with the live results. Let us know your thoughts on the show by sharing them below in the comments section.
- Commentary gives their support to Jon Moxley.
AEW World Champion Kenny Omega with Michael Nakazawa vs. Alan Angels (Non-Title Match)
Angels fires off a quick shotgun dropkick to shove the champ into the corner. Omega battles out and gives Angels a couple big chops. Crowd with a "Kenny No Balls" chants. Omega steps on Angels and claps sarcastically at the audience. Angels able to avoid Omega, hits a leg lariat, cover, barely a one-count. Omega with kick to the ribs, slams Angels down, cover, two. Omega with a modified atomic drop, v-trigger misses, Angels with a roll-up for two. Angels with a boot to the head from the apron, avoids Omega as he spills to the outside. Angels with a suicide dive into his opponent. Omega recovers, throws Angels into the barricade, then the edge of the ring, another chop.
GET YOU SOME @ALAN_V_ANGELS 🧨 #AEWDynamite pic.twitter.com/WROGdbRAvr

— AEW on TV (@AEWonTV) November 4, 2021
Angels able to counter getting thrown into the ring and kicks Omega, moonsault off the second turnbuckle down on Omega. He tosses the champ back in, diving crossbody, cover, two-count. He heads back to the top again, frog splash, but Omega gets the knees up. Omega hits a bucklebomb, sit-down powerbomb, cover, two. Omega barking at the ref now. He looks for move, Angels fighting it off, Omega with palm strikes to the back of the neck. Back-and-forth shot in the middle of the ring. Omega tries for one winged angel, Angels flips out of it for a two-count. Omega blasts him with a v-trigger, pin attempt, two. Another v-trigger, a third one, cover, and that ends the match.
Winner: Kenny Omega via Pinfall
"You got 10 days!"
We are seeing the most confident version of @theAdamPage heading into his #AEW World Title match against @KennyOmegamanX at #AEWFullGear – Tune in Live Nationwide for #AEWDynamite on @tntdrama NOW pic.twitter.com/ilguu6T1lu

— All Elite Wrestling (@AEW) November 4, 2021
- Post-match, Omega gets a mic and thanks Angels for their first match because he embarrassed Omega. Since then Omega has gone only up though! Omega says he has the power to give and also to take away. He calls for a chair from Nakazawa. Omega goes to hit one winged angel on the chair, but Hangman Page heads out to the ring. He drops Nakazawa. Omega goes for a chairshot, Angels yanks it away, Page tries for a buckshot lariat, but Omega is able to duck out of the way and get to safety. Page eyes the title still in the ring as he picks up the microphone. He tells Kenny he may have forgotten something. Page tosses the title to the edge of the ring and tells him to hold it tight because he has ten days left as champion.
- Miro to face Orange Cassidy in tonight's AEW World Title Eliminator Tournament Match. Miro is replacing Jon Moxley.
- Malakai Black promo, he says Tony Khan's decision to bar him from the ring during tonight's bout between Andrade and Cody Rhodes won't matter. Black recalls when Julius Cesar was killed, it wasn't just Marcus that betrayed him. Black hinting at someone else possibly helping out tonight?
♥️ Mox – Tune in Live Nationwide for #AEWDynamite on @tntdrama NOW pic.twitter.com/00VVbbMdAo

— All Elite Wrestling (@AEW) November 4, 2021
- CM Punk heads out to the ring and looks to be in a serious mood. Gets some big "CM Punk!" chants from the crowd. He says there are two people who aren't here today. One is not here and he has a legitimate reason to not be here and that's Jon Moxley (he asks the crowd to chant his name). He has history with Moxley, but they aren't best of friends. Punk says he understands having to go and go and go, be super generous, and eventually you have to take yourself off the hamster wheel. Punk says he was once criticized for that and he doesn't want Moxley to get any criticism because he's damn proud of Moxley. More "Moxley!" chants.
.@CMPunk will be waiting for an apology from @MadKing1981 #EddieKingston in St. Louis this Friday on #AEWRampage – Tune in Live Nationwide for #AEWDynamite on @tntdrama NOW pic.twitter.com/bXDYoW5uHs

— All Elite Wrestling (@AEW) November 4, 2021
Punk says if anyone at home is in a place where they need help, please get it, text somebody, call somebody. Says there were lots of times when he wished he asked for help and he didn't because he was trying to be a tough guy. Speaking of tough guys, the other person not here tonight is Eddie Kingston. Punk says he'd rather talk to him face-to-face, but he has to do it like this. He didn't appreciate getting interrupted last week. A fan yells out "fight him!" Punk says he would but he's not here! He tells Kingston that St. Louis is just up the road on Friday and he'll be there to accept Kingston's apology then. Punk says there was an open spot tonight in the tournament, but he can't go that route until he settles things with Kingston. Punk says he'll find out what kind of person Kingston is on Friday.
- Miro (the forsaken champion) says he wonders if his God is helping him or toying him by suddenly being brought into a title match. "When I look up in anger, do you look down in fear?" Miro says he will be champion, he will be forgiven, and he will be loved!
- Backstage, Alex Marvez asks Adam Cole and The Young Bucks what's up for Full Gear? Cole first says their lost last week was just a fluke. Nick says they are tough guys and aren't afraid of anyone. Christian Cage walks up. Matt says to think twice about what he does, he's outnumbered. Luchasaurus shows up. Matt says they are grown adults and can talk this out. The go to walk away and a try for a cheap shot. They end up brawling towards the ring. The Elite get some momentum until Jungle Boy flips off the stage and takes out all three guys. More battling on the stage. Christian nearly gets kill switch on Matt, but Nick superkicks him down. Adam Cole crawls out to the stage away from Luchsaurus. Jungle Boy with a hurricanrana on Matt, sending him down the ramp. Luchasaurus chokeslams Nick down on Cole. JB puts Cole to sleep with the snare trap. Christian then brings out two chairs. He hits a conchairto on Cole!
.@aaaerostar1 & @gloat (Samuray Del Sol) have answered #FTR's Open Challenge for their @luchalibreaaa Tag Team Titles – Tune in Live Nationwide for #AEWDynamite on @tntdrama NOW pic.twitter.com/cALGCTjqYO

— All Elite Wrestling (@AEW) November 4, 2021
FTR (c) vs. Samuray del Sol and Aerostar (AAA World Tag Team Championship)
Back and forth action early on. Harwood and Aerostar in the ring, Aerostar flips around the ring and Harwood just flips him off. Aerostar with a twisting splash on both opponents. They get sent out to the floor. Both hit step-up moves out to the floor. "Lucha!" chants ring out. Aerostar tries for a double hurricanrana, caught, and hung out to dry over the top rope.
Harwood out on the floor. Aerostar with a big flip down on him! Wheeler in the ring, divisin reverse headbutt. Sol tags in and hits a crossbody on Wheeler, cover, two. Sol with a couple kicks to him as Harwood gets involved and they try for a back body drop, but he lands on his feet and does a split (?!). FTR is caught off guard and Aerostar springboards in. Double pins on FTR, both kick out at two. Darby Allin watching on from the rafters.
#FTR needs to regroup against the high-flying attack from @aaaerostar1 & @gloat – Tune in Live Nationwide for #AEWDynamite on @tntdrama NOW pic.twitter.com/LCAs0T1BUZ

— All Elite Wrestling (@AEW) November 4, 2021
Couple reversals between Sol and Wheeler. Sol finally hits a big move on Wheeler. Aerostar with an akward looking springboard splash on Wheeler. Sol tries for a suicide dive, but Harwood sidesteps him and hits a brainbuster on the floor! Back in the ring, Aerostar tries for a victory roll, Wheeler reverses into a roll-up of his own and uses the ropes for leverage, 1-2-3.
Winners: FTR via Pinfall
- Last week, Shida gets a new trophy for her 50th win from Tony. Nyla Rose and Vickie Guerrero sarcastically clap for her. Rose says Shida has had some ups and down on her road to 50 wins, but she's hitting a full on roadblock when they meet up next in the tournament.
- Inner Circle head out to announce which American Top Team members will join Men of the Year in their upcoming Full Gear tag match. Chris Jericho takes the mic first gives props to Sammy Guevara for picking up a win last week so they could make their picks. ATT heads out with Dan Lambert immediately talking. He tells Jericho to make his picks so he can get out of this town. Jericho and Lambert bicker a bit. Lambert mentions how he created his team 25 years ago and it has become the best team in the world, which makes him AAT member number one. The crowd with a "shut the f*** up." Lambert asks them if their parents taught them any manners?! Lambert introduces the other AAT members on stage with him.
.@paigevanzant makes her case for the Minneapolis Street Fight – Tune in Live Nationwide for #AEWDynamite on @tntdrama NOW pic.twitter.com/dkJWactaqb

— All Elite Wrestling (@AEW) November 4, 2021
Jake Hager picks Junior Dos Santos, calls him Popeye, and says Inner Circle will drop him faster than his last fight (71 seconds). Santana calls out Andrei Arlovski, makes fun of his teeth mouth guard. He asks how Arlovski will do when there's no rules or regulation? Lambert brings up Jericho talks a lot of trash about Paige Van Zant. She wants in the match. Her schedule is wide open. She tells Inner Circle judging by those tight pants they don't have the balls to take her own. She could beat all five of them. Jericho asks she wants to take on all five of them? "Well, that joke writes itself. Maybe you could put that on your OnlyFans page!" Jericho says he could chose a bunch of people, but he will go with the guy who said he was the first member of ATT — Dan Lambert! He freaks out and says he didn't say that. Jericho says he did, and if the crowd heard that let him hear "Fat Face Dips***." Lambert yells his face isn't even that fat! Jericho says they will see them at Full Gear.
- Backstage, Tony says third time was a charm for Dante Martin beating Matt Sydal. Matt shakes Martin's hand and says if he wants to be trained by Lio Rush, that's fine, he has others to train. He has Lee Moriarty to work with! Rush says he knows Moriarty is a talented wrestler, but not more so than Dante, especially with him in his corner. Looks like these two teams will be meeting up soon.
Anna Jay vs. Jamie Hayter with Britt Baker and Rebel (AEW TBS Title Tournament)
Back and forth action as the crowd gives an "Anna Jay!" chant. Jay with a big shot that drops Hayer, but she sends Jay out to the ringside area. Hayter ends up getting whipped hard into the barricade. Both back in the ring, Hayter with a boot to the head, followed by a bunch of stomps to the midsection. Jay sent into the corner.
The #QueenSlayer @annajay___ sends @jmehytr HARD into the barricade – Tune in Live Nationwide for #AEWDynamite on @tntdrama NOW pic.twitter.com/pi2ouNJyQo

— All Elite Wrestling (@AEW) November 4, 2021
Jay finally working her way back into the match with a big strike. She sends Hayter into the corner, spinning kick, DDT, cover, two-count. Jay tries for the queen slayer, Hayter fights out of it. She goes right back to it, but Rebel distracts the ref. Baker grabs Jay's foot. Hayter with the shot to the back of the head, short-arm lariat connects, pin, 1-2-3.
Winner: Jamie Hayter via pinfall to advance to the quarterfinals
- Post-match, the group beat up on Jay some more. Tay Conti runs out and helps make the save. She initially puts down everyone, but the numbers game work against her. Baker looks for a stomp on the title, but Thunder Rosa runs out to make the save. Rose blasts Hayter out of the ring. The two will meet in the next round of the tournament.
- Backstage, Mark Sterling says Jade Cargill has a bye because of her undefeated streak. They will be watching on Friday to see who wins between The Bunny and Red Velvet. Cargill says it doesn't matter who wins because she's winning, then she's changing the title to "The B**** Show."
Did @The_MJF find something in common with @DarbyAllin? Tune in Live Nationwide for #AEWDynamite on @tntdrama NOW pic.twitter.com/RNxZGMg67m

— All Elite Wrestling (@AEW) November 4, 2021
- MJF out to the ring, he talks to Darby Allin, who is still up the rafters. MJF says when new wrestlers came into the company, some people were sweating bullets, but not Allin and himself. They are pillars. They are top guys. MJF says he and Allin are better than the other two pillar guys, and he doesn't get why fans boo him and cheer Allin. It used to really bother him! He gets it though, he reminds the fans of something they can never be. Allin on the other hand is related to the masses. MJF says he thinks Allin's destructive behavior is because he knows he can never be a normal functioning human.
He says at Full Gear, he'll lose because he's weak, he won't focus on actually winning, and because MJF is better than Allin. MJF says he's the better wrestler. Allin says at Full Gear they are going to have a wrestling match and keep his emotions in check because he's going to let his anger out right now. MJF passes and heads to the back. Sting with a bunch of guys back MJF to the ringside area. Wardlow and Shawn Spears try to come out, but the group keeps them away. Allin makes his way to MJF and they battle in the crowd. MJF with an eye gouge, then sending Allin into a retaining wall. Allin able to fight back and throws MJF into the barricade a few times. Allin backs away and gets a big running start to absolutely crush MJF over the barricade. He tosses MJF into the ring and goes for coffin drops, but MJF rolls out and runs through the crowd.
Cody Rhodes with Arn Anderson vs. Andrade El Idolo with Jose
The two face-off in the middle of the ring. Crowd cheering on Cody thus far. Andrade with a slap to the face, but Cody fires back in the corner. The two ends up on the apron, Rhodes down to the floor, trips up Andrade and he crashes down to the mat. In the ring, Andrade put up on the turnbuckle, shoves Rhodes away, leaps off and Cody hits him in midair with a dropkick.
If the boot doesn't get you, @AndradeElIdolo's back elbow will! Tune in Live Nationwide for #AEWDynamite on @tntdrama NOW pic.twitter.com/7J3wdtO21A

— All Elite Wrestling (@AEW) November 4, 2021
Rhodes looked for the Cody cutter, but Andrade shoves off him off the top rope and down to the floor. Rhodes selling a knee injury as the match progresses. Cody looked for a double underhook, but Andrade hits him with the slick back elbow, cover, two. Boots to Cody's face in the corner. Andrade looks for double knees, but Cody hits the kitchen sink. Rhodes looks for his finisher, nope, Andrade with three amigos. Crowd now cheering Andrade a bit more. Cody blocks the third, although he gets suplexed into the turnbuckles. Double knees in the corner land this time, cover, two. Andrade seems annoyed now by that. Andrade with a split-legged moonsault, lands on his feet, hits a back elbow.
What the heck...#FTR? Tune in Live Nationwide for #AEWDynamite on @tntdrama NOW pic.twitter.com/ncIDM1eZgc

— All Elite Wrestling (@AEW) November 4, 2021
Rhodes throws some punches and finishes with an elbow. Andrade hits a high boot, Cody trips him up, looks for figure-four, no. Andrade with a "woo!" and locks in one of his own! Crowd pops for that. Cody able to turn it and put the pressure on Andrade's knees. Jose up on the apron, Arn yanks him down and blasts him in the face. Cody with a suicide dive, but FTR come out from under the ring and hit him in the head with the AAA Tag Titles! Andrade rolls Rhodes into the ring, hammerlock DDT hits, cover, 1-2-3.
Winner: Andrade El Idolo via Pinfall
- Post-match, Andrade and FTR hug. Commentary says there was money exchanged for FTR's services. FTR and Andrade beat up Rhodes some more. Arn gets into the match and shoves Tully. They face-off, but Lucha Brothers run out to clear out a few people. They double thrust kick Harwood and look to finish him off, but Wheeler pulls him out of the ring.
- In the ring, Tony talks with John Silver about his upcoming match against Adam Cole. Tony says he hopes Silver kicks Cole's butt. Silver says it won't be John Silver vs. Adam Cole, it's going to be John Silver vs. Budge! Since Cole has been in AEW, Silver has tried to help Cole out like maybe cutting his hair, change his name, maybe be the Dark Order's manager. If he had, maybe he wouldn't get a conchairto from Christian. Silver says this Friday he's gonna kick some Budge ass and flexes for the crowd!
- Commentary confirms Eddie Kingston-CM Punk will have a face-off on Friday's Rampage.
- Video package hypes Red Velvet vs. The Bunny's upcoming TBS Title Tournament Match
Miro vs. Orange Cassidy (AEW World Title Eliminator Tournament Match)
Bryan Danielson joins commentary for this match. Miro is making it back for his first match since September 29 when he lost the title to Sammy Guevara. Matt Hardy is looking on from the crowd. Cassidy has his ribs taped. Miro has his thigh taped. Cassidy wants to put his hands in his pockets and keeps avoiding Miro. Light kicks to Miro. Cassidy then runs out to the floor and finally puts his hands in his pockets. Miro runs out. Cassidy runs back in and tries for a suicide dive. Miro catches him and hits an overhead release suplex.
.@orangecassidy risks it all against @ToBeMiro in this World Title Eliminator Tournament semifinal – Tune in Live Nationwide for #AEWDynamite on @tntdrama NOW pic.twitter.com/8CSvg945ui

— All Elite Wrestling (@AEW) November 4, 2021
Back in the ring, Cassidy fights back, tornado DDT, cover, two. He's looking to finish off a dazed Miro. Tries for orange punch, but Miro rolls out to the floor. Miro sitting on the timekeeper's table. Cassidy launches himself off the top rope and both go through the table! Hardy yelling at Cassidy, and Orange just gives him a smile and a thumbs up. Ten-count from the ref, and Miro just barely gets in the ring. Cassidy tries for orange punch, Miro catches him. Beach break by Cassidy, pin, two-count. Cassidy gets fired up in the corner for his punch, he gets body blocked and takes a single-leg kick to the face. Miro with game over, he instantly yanks back on Cassidy for the tap out.
Winner: Miro via submission to advance to the finals
- Post-match, Danielson leaves commentary and heads to the ring to meet his future opponent. Danielson gets in his face and looks for a handshake, but Miro backs away from him.
PRETTY NEAT, SIRS. #AEWDynamite #AEWonTNT pic.twitter.com/gFqmtmOjF6

— TDE Wrestling (@tde_gif) November 4, 2021