Becky Lynch's Next Challenger Revealed On WWE RAW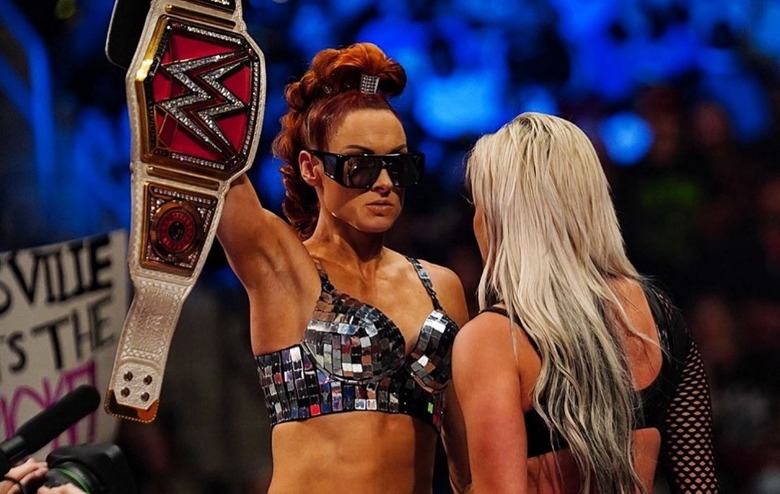 WWE
Liv Morgan is the new #1 contender to RAW Women's Champion Becky Lynch.
Tonight's RAW saw Morgan win a Fatal 5 Way over Carmella, Queen Zelina Vega, Bianca Belair and WWE Women's Tag Team Champion Rhea Ripley to become the new #1 contender.
There's no word on when Liv will get her title shot.
Morgan has not commented on the title shot as of this writing, but she has re-tweeted several supportive comments.
Lynch tweeted after the show and wrote, "Come get it."
As noted, WWE has confirmed that Lynch will face SmackDown Women's Champion Charlotte Flair in a non-title champion vs. champion match at the WWE Survivor Series pay-per-view on November 21.
Stay tuned for more on when Morgan vs. Lynch will happen. You can see related shots from tonight's show below:
Come get it. pic.twitter.com/h2wcxtfDGZ

— The Man (@BeckyLynchWWE) November 9, 2021
#WWERaw Women's Champion @BeckyLynchWWE with an all-time look! pic.twitter.com/hRoHyJ3u1U

— WWE (@WWE) November 9, 2021
#WWERaw Women's Champion @BeckyLynchWWE watching this match very closely... pic.twitter.com/7YDKEFnsIj

— WWE (@WWE) November 9, 2021
Who will earn an opportunity to challenge #WWERaw Women's Champion @BeckyLynchWWE? pic.twitter.com/7QfBljQwHf

— WWE (@WWE) November 9, 2021
#RoyalRumble memories intensifying...@RheaRipley_WWE@BiancaBelairWWE#WWERaw pic.twitter.com/10NZ7VZ0t7

— WWE (@WWE) November 9, 2021
Big whoops... 😳@CarmellaWWE#WWERaw#Fatal5Way pic.twitter.com/1YQGca2DnE

— WWE (@WWE) November 9, 2021
UH. OH.@RheaRipley_WWE#Fatal5Way#WWERaw pic.twitter.com/qGLbwy2G37

— WWE (@WWE) November 9, 2021
.@YaOnlyLivvOnce is giving it her all!#WWERaw pic.twitter.com/uuXoODXARE

— WWE (@WWE) November 9, 2021
EST Moves! 💋@BiancaBelairWWE#WWERaw pic.twitter.com/7GiRET2NdI

— WWE (@WWE) November 9, 2021
Who will shine brightest to earn a #WWERaw #WomensTitle opportunity: @BiancaBelairWWE @RheaRipley_WWE @CarmellaWWE @YaOnlyLivvOnce or Queen @TheaTrinidad?! pic.twitter.com/J3RdvpPMDc

— WWE (@WWE) November 9, 2021
STRONG – EST!@BiancaBelairWWE#Fatal5Way#WWERaw pic.twitter.com/4yO9VVL5Su

— WWE (@WWE) November 9, 2021
The STRENGTH of @BiancaBelairWWE is unreal, and the tenacity of @CarmellaWWE is on display in this #Fatal5Way! #WWERaw pic.twitter.com/51u1R2gvYo

— WWE (@WWE) November 9, 2021
👀👀👀@RheaRipley_WWE#Fatal5Way#WWERaw pic.twitter.com/5ZwALGcl1v

— WWE (@WWE) November 9, 2021
DOUDROP!!!!!@BiancaBelairWWE#Fatal5Way#WWERaw pic.twitter.com/Vsa7PMKpt0

— WWE (@WWE) November 9, 2021
LIV MORGAN WINS!@YaOnlyLivvOnce has earned an opportunity to challenge #WWERaw Women's Champion @BeckyLynchWWE! pic.twitter.com/WsgsEt9EW7

— WWE (@WWE) November 9, 2021
.@YaOnlyLivvOnce has her sights set on that #WWERaw #WomensTitle! pic.twitter.com/prx6i7w5gI

— WWE (@WWE) November 9, 2021
YES! @YaOnlyLivvOnce just earned a shot at the #WWERaw Women's Championship. pic.twitter.com/bCyBt5jafE

— WWE on FOX (@WWEonFOX) November 9, 2021
She's done it!!!@YaOnlyLivvOnce is getting a title shot!!!#WWERAW pic.twitter.com/B21280nLz2

— WWE on BT Sport (@btsportwwe) November 9, 2021
It's time. @YaOnlyLivvOnce #WWERaw pic.twitter.com/OLLbiWNREe

— LM| Fanpage (@Iivmorgansite) November 9, 2021