Impact Wrestling Viewership Increases From Last Week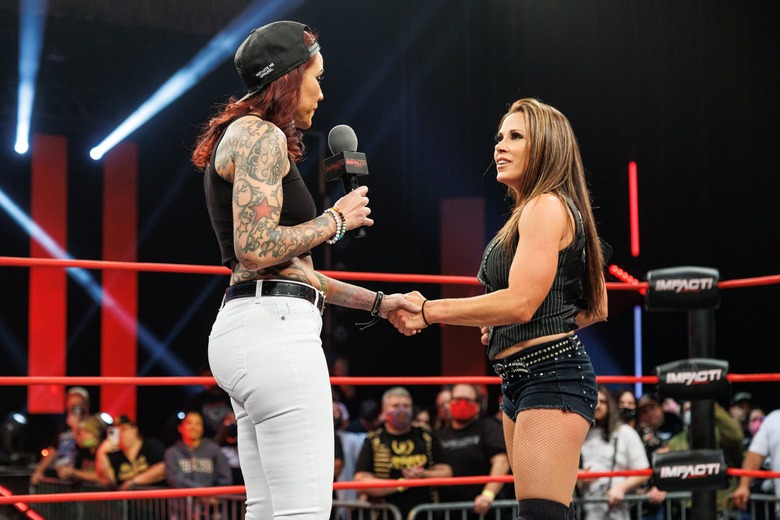 Photo Credit: Impact Wrestling
Thursday's taped Impact Wrestling drew 118,000 viewers on AXS TV, according to Nielsen via Wrestlenomics.
This is up 18% from last week's 100,000 viewers for the post-Bound For Glory episode.
Thursday's episode drew a 0.02 rating in the 18-49 key demographic. This is down from last week's 0.03 key demo rating. This week's 0.02 key demo rating represents 23,000 18-49 viewers.
This was the highest viewership since September 2, but the oldest audience since at least May with a median age of 63.
Thursday's show featured: Minoru Suzuki's Impact in-ring debut, Mickie James defending the Impact Knockouts Championship against Madison Rayne, Bullet Club, and The Good Brothers going against FinJuice.
Below is our updated 2021 Impact Wrestling Viewership Tracker:
January 5 Episode: 148,000 viewers with a 0.04 rating in the 18-49 demographic
January 12 Episode: 161,000 viewers with a 0.05 rating in the 18-49 demographic
January 19 Episode: 147,000 viewers with a 0.03 rating in the 18-49 demographic (post-Hard To Kill episode)
January 26 Episode: 186,000 viewers with a 0.05 rating in the 18-49 demographic
February 2 Episode: 173,000 viewers with a 0.05 rating in the 18-49 demographic
February 9 Episode: 153,000 viewers with a 0.04 rating in the 18-49 demographic
February 16 Episode: 197,000 viewers with a 0.06 rating in the 18-49 demographic (post-No Surrender episode)
February 23 Episode: 170,000 viewers with a 0.04 rating in the 18-49 demographic
March 2 Episode: 134,000 viewers with a 0.03 rating in the 18-49 demographic
March 9 Episode: 144,000 viewers with a 0.04 rating in the 18-49 demographic
March 16 Episode: 146,000 viewers with a 0.04 rating in the 18-49 demographic (post-Sacrifice episode)
March 23 Episode: 116,000 viewers with a 0.04 rating in the 18-49 demographic
March 30 Episode: 148,512 viewers with a 0.04 rating in the 18-49 demographic (final Tuesday night episode)
April 8 Episode: 168,000 viewers with a 0.06 rating in the 18-49 demographic (first Thursday night episode)
April 15 Episode: 132,000 viewers with a 0.04 rating in the 18-49 demographic (post-Hardcore Justice episode)
April 22 Episode: 145,000 viewers with a 0.05 rating in the 18-49 demographic
April 29 Episode: 120,000 viewers with a 0.05 rating in the 18-49 demographic (post-Rebellion episode)
May 6 Episode: 123,000 viewers with a 0.04 rating in the 18-49 demographic
May 13 Episode: 112,000 viewers with a 0.03 rating in the 18-49 demographic
May 20 Episode: 109,000 viewers with a 0.04 rating in the 18-49 demographic (post-Under Siege episode)
May 27 Episode: 140,000 viewers with a 0.06 rating in the 18-49 demographic
June 3 Episode: 143,000 viewers with a 0.04 rating in the 18-49 demographic
June 10 Episode: 124,000 viewers with a 0.05 rating in the 18-49 demographic
June 17 Episode: 111,000 viewers with a 0.03 rating in the 18-49 demographic (post-Against All Odds episode)
June 24 Episode: 111,000 viewers with a 0.03 rating in the 18-49 demographic
July 1 Episode: 69,000 viewers with a 0.02 rating in the 18-49 demographic
July 8 Episode: 120,000 viewers with a 0.04 rating in the 18-49 demographic
July 15 Episode: 109,000 viewers with a 0.02 rating in the 18-49 demographic
July 22 Episode: 104,000 viewers with a 0.04 rating in the 18-49 demographic (post-Slammiversary episode)
July 29 Episode: 113,000 viewers with a 0.02 rating in the 18-49 demographic
August 5 Episode: 103,000 viewers with a 0.04 rating in the 18-49 demographic (post-Homecoming episode)
August 12 Episode: 122,000 viewers with a 0.04 rating in the 18-49 demographic
August 19 Episode: 126,000 viewers with a 0.04 rating in the 18-49 demographic
August 26 Episode: 98,000 viewers with a 0.03 rating in the 18-49 demographic
September 2 Episode: 126,000 viewers with a 0.04 rating in the 18-49 demographic
September 9 Episode: 111,000 viewers with a 0.03 rating in the 18-49 demographic
September 16 Episode: 105,000 viewers with a 0.02 rating in the 18-49 demographic
September 23 Episode: 117,000 viewers with a 0.03 rating in the 18-49 demographic (post-Victory Road episode)
September 30 Episode: 115,000 viewers with a 0.03 rating in the 18-49 demographic
October 7 Episode: 111,000 viewers with a 0.02 rating in the 18-49 demographic
October 14 Episode: 89,000 viewers with a 0.03 rating in the 18-49 demographic (post-Knockouts Knockdown)
October 21 Episode: 93,000 viewers with a 0.02 rating in the 18-49 demographic
October 28 Episode: 100,000 viewers with a 0.03 rating in the 18-49 demographic (Post-Bound For Glory episode)
November 4 Episode: 118,000 viewers with 0.02 rating in the 18-49 demographic
2020 Total: 8.010 million viewers over 52 episodes
2020 Average: 154,038 viewers per episode