AEW Dark Results (12/7) – Brandi Rhodes In Action, Jade Cargill Attacks Thunder Rosa, More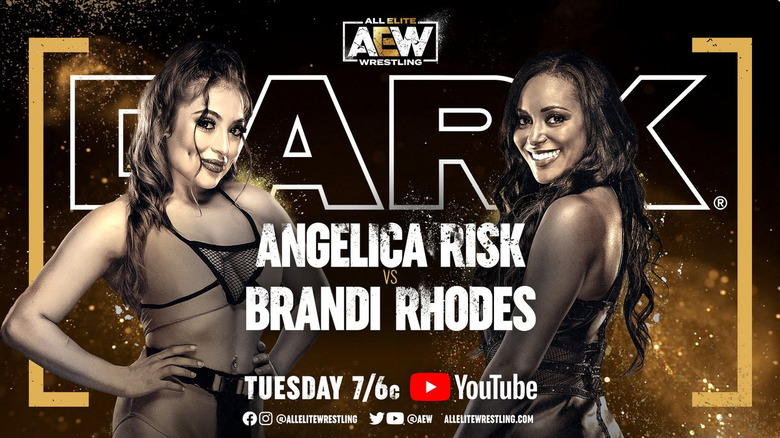 Photo credit: AEW
Welcome to our WrestlingINC.com Live AEW Dark Viewing Party. Our live coverage starts at 7pm ET. Please share coverage of tonight's Viewing Party on social media and chime in with your thoughts in the Comments section below. Make sure to click the REFRESH button to continue to get the most current up-to-date coverage.
What's in store tonight on AEW Dark;
* Brandi Rhodes vs. Angelica Risk
* Anthony Ogogo vs. Baron Black
* Jay Marte & Richard King vs. Shawn Spears & Wardlow
* Lio Rush vs. Rayo
* Thunder Rosa vs. Sofia Castillo
Plus five more matches!
- Excalibur and Taz welcome us to Episode 120 of AEW Dark from Universal Studios in Orlando, FL.
Lee Moriarty vs. Misterioso

The commentators note that this is Moriarty's first match since facing CM Punk. Moriarty takes early control of the match, and delivers a cross body but only gets a two count. Misterioso builds some momentum clotheslining Moriarty as the fans chant for "Lee!" Taz notes that Misterioso has the weight advantage over his opponent. Misterioso delivers a running dropkick in the corner. Taz notes Misterioso is taking too long to take advantage of Moriarty. The technically savvy Moriarty builds some momentum and delivers a belly-to-belly suplex but Misterioso kicks out. Taz is already joking that Misterioso needs to change his name! The lucha-libre star takes control once again but takes his time and misses the Moonsault with Lee getting his boots up. Moriarty eventually scores the pinfall dropping Misterioso using his finisher.
Winner: Lee Moriarty

A bounce back win for @theleemoriarty on #AEWDark. Tune in NOW: https://t.co/tCU3Dun56f pic.twitter.com/wRhHHPhyva

— All Elite Wrestling (@AEW) December 8, 2021
Lio Rush vs. Rayo 
Lio Rush starts off hot in this match and feels the energy from the crowd. He lets fly on the outside landing on Rayo. Rayo immediately gets the upper hand when the two competitors return to the ring. Lio manages to get back into it using the elbow and pushes the pace using his agility. Rush hits Rayo onto the mat and heads to the top rope and delivers a Frog Splash to score the win.
Winner: Lio Rush
The Man of the Hour @TheLionelGreen makes it look easy and is on his way into tomorrow's Dynamite Diamond Battle Royale on #AEWDynamite

Watch #AEWDark NOW: https://t.co/tCU3DuEGuP pic.twitter.com/iQ1o8NIpI8

— All Elite Wrestling (@AEW) December 8, 2021
Brandi Rhodes vs. Angelica Risk
The fans chant for Brandi as she makes her return to the ring. She looks sharp in the opening stages. Although, moments into the match Risk attempts to take control, Rhodes delivers a kick as Risk is sent hard into the corner. Brandi manages to score a two-count before Risk gets Brandi in the corner delivering some kicks to the abdomen. She hits a jackknife on Brandi and attempts the pinfall but Rhodes kicks out. She puts Brandi in an ankle submission but Brandi hits Risk with some elbow strikes to evade the move. Brandi works her way back into the match and showcases some impressive offense. She then locks Risk in the Neck Crank submission forcing her to submit.
Winner: Brandi Rhodes
A big win in her return to the ring. @TheBrandiRhodes cruises to a victory on #AEWDark. Watch NOW: https://t.co/tCU3DuEGuP pic.twitter.com/uJWAb6cnBu

— All Elite Wrestling (@AEW) December 8, 2021
Emi Sakura w/ Mei Suruga vs. Ryo Mizunami
Both measure each other's strength up in the opening moments before delivering a number of chops to each other. Mizunami then delivers a shoulder tackle to Emi getting the upper hand in the match. Emi Sakura punishes Ryo on the outside and Taz calls her a violent person and says she is mean and nasty. Ryo manages to catch her breath in the ring and delivers thunderous chops to Emi Sakura. Ryo delivers a big leg drop in the center of the ring but Emi kicks out of the pinfall. Ryo attempts another pinfall moments later following a spear but Sakura kicks out once again. This is a war. Following a strike to the head on the apron by Mei Suruga, Emi Sakura wraps up Ryo into a roll-up and claims the victory.
Winner: Emi Sakura
Both ladies then attack Ryo after the match, but Riho heads out to the ring to even up the odds.
.@EmiSakura_gtmv gets a tainted win thanks to @Mei_gtmv and the two gang up on @mizunami0324 after the bell until @riho_gtmv runs them off. Watch #AEWDark NOW: https://t.co/tCU3Dun56f pic.twitter.com/imzefjCdWe

— All Elite Wrestling (@AEW) December 8, 2021
Anthony Ogogo vs. Baron Black
Ogogo is finally back in an AEW ring. Ogogo is caught out early by Baron Black, but Ogogo delivers a backbreaker and scoop slam to get himself back on track in the match. Ogogo showcases his talents and sends Black crashing into the turnbuckles. Anthony then sends Baron Black into the ropes before delivering a clothesline. He attempts the pin but Black kicks out. Ogogo shouts that "it's too easy!" and delivers a Snap Suplex as Baron once again kicks out of a pinfall. Baron surprises Ogogo delivering upper-cuts and chops to Ogogo but a toe-kick to the stomach stops him in his tracks. Black manages to deliver a Backstapper to Ogogo and eventually covers the British star but Ogogo kicks out after just one count. Ogogo then manages to hit Baron Black with the Olympic Slam to pick up the win.
Winner: Anthony Ogogo
Jay Marte & Richard King vs. Shawn Spears & Wardlow
Jay Marte & Richard King are making their AEW Dark debuts tonight. Wardlow starts the match and immediately shows his dominance by throwing his opponent around. Richard King is then tagged in and gives some offense to Wardlow but Wardlow delivers a powerbomb countering King's moves. He then goes for it one more time and delivers it. Jay Marte tries to interfere but Wardlow then delivers a powerbomb to him. He delivers another powerbomb to King. Wardlow then tags in Spears who covers King to secure the win for his team.
Winner: Wardlow & Shawn Spears
Bombs away by @RealWardlow, and #TheChairman @ShawnSpears picks up the scraps. Watch #AEWDark NOW: https://t.co/tCU3Dun56f pic.twitter.com/KdqO39ZtNR

— All Elite Wrestling (@AEW) December 8, 2021
Fuego Del Sol vs. Luke Sampson 
Luke Sampson is also making his AEW Dark debut tonight. Del Sol gets some early offense but Luke Sampson plants him to the ring and Taz calls him a throwback. "Big Luke" then delivers some elbows to Del Sol in the corner of the ring. Sampson goes for the cover but Fuego kicks out. Fuego tries to deliver a dropkick but Sampson moves out of the way. Sampson continues to take control and beats down Fuego Del Sol. Sampson manages to deliver a Full Nelson Slam to Fuego and covers him, but Del Sol kicks out. Out of nowhere, Fuego delivers a leaping neck breaker as the fans chant his name. Del Sol delivers a tornado DDT and back elbow as he builds some momentum as Sampson is rocked. Fuego then pulls off a moonsault and superkick. He goes to the top, delivers one DDT, and then a leaping stomp to the back of Sampson's head and picks up the win.
Winner: Fuego Del Sol 
Dante Martin, Powerhouse Hobbs, and Ricky Starks vs. Kekoa, Omkar, and JT Dunn
It's six-man tag team action time on AEW Dark. Ricky Starks poses in the ring early in the match as he beats down Omkar. Taz questions why Omkar is wearing orange and black against Team Taz. JT Dunn tags in and gives Starks some offense and he delivers a big right hand to the Starks before he tags himself out of the match. Dante then becomes the legal man but delivers a stunning high-flying dive over the top rope. Dante delivers a double jump moonsault off the top ropes and scores the win for Team Taz.
Winners: Dante Martin, Powerhouse Hobbs, and Ricky Starks
Tony Schiavone speaks to the three winners after the match about the Dynamite Diamond Battle Royal tomorrow night on Dynamite. They believe they've started a new era with Dante on their side. Starks says they have a 100% chance of winning. Starks says Lio Rush is broke financially and has no friends in AEW. Lio Rush then heads to the stage. Rush sits down. Rush says Team Taz continues to count him out. Rush says the only thing 100% is not Ricky Starks. Lio says when the stakes are raised Team Taz can't get the job done. Rush guarantees there will not be a Team Taz member winning the Battle Royal. He guarantees that each member of Team Taz will feel the Rush.
With @starkmanjones, @TrueWillieHobbs & @lucha_angel1 in the Dynamite Diamond Battle Royale TOMORROW on #AEWDynamite Live on TNT, #TeamTaz has the numbers on their side. But @TheLionelGreen vows that #TeamTaz will "Feel the Rush!"
Watch #AEWDark NOW: https://t.co/tCU3DuEGuP pic.twitter.com/aawuViofN3

— All Elite Wrestling (@AEW) December 8, 2021
Thunder Rosa vs. Sofia Castillo
Thunder Rosa takes early control of the match delivering chops and then multiple hip tosses. Rosa then delivers a running back elbow to Castillo in the corner of the ring. Castillo reverses and delivers her own chops to Thunder Rosa, and nearly pulls off an upset trying to cover the Mexican star. Rosa then locks Castillo into Boston Crab into a Reverse Pendulum as the fans begin to chant for Thunder Rosa. Rosa takes Sofia into the corner and delivers some lower body punches. Castillo tries again to take down Thunder in the corner, but Rosa hits a double knee strike and dropkick to take control. She locks Castillo into a Peruvian Neck Tie forcing Castillo to tap immediately.
Winner: Thunder Rosa
Tony Schiavone speaks with Thunder Rosa in the ring. Rosa thanks everyone for believing in her. She says she has shown over and over again why she is one of the top women's wrestlers in the world and she can't wait to get her hands on Jade Cargill. Mark Sterling comes out and has a message for Thunder Rosa. He questions Thunder Rosa about her recent loss to Cargill and her behavior towards Jade. He questions if Rosa is a coward and doesn't want to face Cargill. He says Jade Cargill is that b*tch and she makes her way into the ring behind Thunder Rosa to take her down.
A message sent by the #JadeBrand to @thunderrosa22 in an orchestrated assault by @MarkSterlingEsq and @Jade_Cargill before their TBS Women's Championship Tournament semifinal showdown!

Watch #AEWDark NOW: https://t.co/tCU3DuEGuP pic.twitter.com/0OxXDaTidu

— All Elite Wrestling (@AEW) December 8, 2021
John Silver w/ – 1 vs. Aaron Solo
John Silver immediately makes his presence felt in the match showing his dominance against Solo. Solo manages to overcome Silver's offense to get something going. Solo sends Silver face-first into the top turnbuckle before he starts talking trash to -1. This appears to fire Silver up who delivers a number of lower-body punches. Solo immediately takes back control and takes him down and sends Silver into the corner. Aaron Solo takes his time as Silver manages to deliver multiple kicks to reaffirm his dominance. Both men trade elbow strikes as both men look to find a way to win the match. Solo attempts the backslide before Silver delivers three kicks before he eventually hits Solo with the Spin Doctor to win. Silver faces Bryan Danielson tomorrow night on AEW Dynamite.
Winner: John Silver w/ -1
Tony Schiavone is in the ring with John Silver and -1. Silver says Bryan has been beating everyone up in the Dark Order. Silver says this Wednesday he's going to touch and beat Bryan Danielson and he's hungry for some vegan meat of Bryan Danielson!
That's all for AEW Dark this week.