AEW Dynamite Results (12/8) – MJF Gets Cheered, Trent Returns, The Young Bucks Compete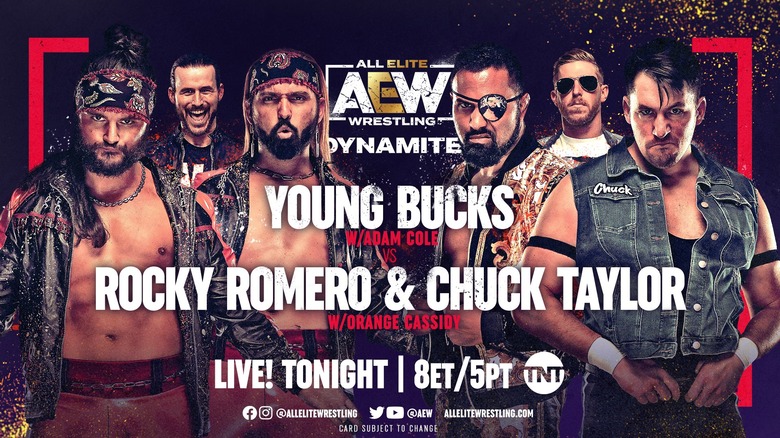 AEW
Welcome to our WrestlingINC.com Live AEW Dynamite Viewing Party. Tonight's show comes from the new UBS Arena at Belmont Park in Elmont, NY, which is Long Island. Our live coverage starts at 8pm ET. Please share coverage of tonight's Viewing Party on social media and chime in with your thoughts in the Comments section below.
- We kick off tonight's show with MJF's music, which gets a decent reaction. But it isn't MJF...it's CM Punk! This leads to equally mixed reactions, with Punk gaining some boos for this. Punk asks Long Island if that's all they've got, noting that Chicago was a lot louder. He asks the crowd if MJF is their guy which gets mixed responses again.
Punk then shows a t-shirt with the four pillars, with MJF replaced by Britt Baker. He says he's not mad at the fans, he just feels a little bit sorry for them. Punk says next week, he has his eyes on the upcoming AEW World Championship match, and he wants next. Punk believes MJF wants to be next as well, so he thinks they have to settle that first.
He trash-talks The Islanders and really plays up to being a heel. CM Punk says that Larry has more balls than MJF, and he is neutered. Punk claims if MJF is their guy, then they are all chicken shit.
- A car is shown driving into the arena, and it is MJF. There is a voiceover for this, trash-talking people who are not from Long Island as his accomplishments from his time at school are named.
Dynamite Diamond Battle Royale 
MJF makes his entrance first and he does so to a thunderous reaction as he shows real emotion as he mocks CM Punk's entrance. The rest of the competitors hit the ring and MJF is almost eliminated immediately but Wardlow makes the save. He is then almost eliminated again but Shawn Spears makes the save.
Lee Moriarty and Matt Sydal are both eliminated. Matt Hardy is given some brass knuckles and he nails Jay Lethal with them and then tosses him out. But while Hardy brags, Dante Martin comes from behind the eliminate him. Lio Rush then stares down Martin but Wardlow and Powerhouse Hobbs take them out and then they start hitting the ropes at each other.
Hobbs gets set on the ring apron, and while he fights away Wardlow, Rush appears and knocks him down, eliminating the Team Taz member. Ricky Starks is then almost eliminated by Lio Rush, as he has to cling on to survive.
Martin and Frankie Kazarian then go back and forth bouncing off the ropes until they hit a double crossbody. Rush continues trying to eliminate Starks, while MJF manages to run through the bottom ropes and survive, which gets him a huge response.
Rush then avoids Wardlow and attacks MJF. However, the big men eventually solves the problem. Various babyfaces then attack him, with Rush and Lee Johnson almost getting him out. However, MJF then eliminates the, but he takes out Wardlow as well.
While he is shocked and looks the wrong way, Kazarian sprints at him, but MJF pulls down the ropes and eliminates him. The final three are; MJF, Dante Martin, and Ricky Starks. The two Team Taz members go towards MJF, but Martin then turns on Starks and launches him out of the ring. He then rips off his Team Taz armband.
Winners: MJF & Dante Martin
- The two men will compete next week for the ring. After the match, they shake hands. Starks then attacks Martin and MJF contemplates if he should help and eventually he sprints down to the ring and teases fighting Starks. However, he turns on, and then they both attack Martin.
CM Pun hits the ring and MJF gets out of dodge while Martin and Punk takedown Starks as the former WWE star hits the GTS.
Jungle Boy, Luchasaurus, & The Varsity Blondes vs. The Acclaimed & 2.0
Jungle Boy and Anthony Bowens start the match, with Bowens' power proving too much at first with a shoulder tackle and then a few chops. Max Caster tags in but Jungle Boy dominates him and he then bounces off the top rope and drags both members of 2.0 across the ring.
Brian Pillman Jr then hits a dropkick through the ropes while Griff Garrison then launches over the top rope to take them out again. Back inside the ring, Pillman keeps Max isolated as he attacks him and then drops Bowens as well. However, as he tries to continue that, Bowes eventually becomes too much on the outside, which allows the heels to regain control.
They keep Pillman Jr isolated in their corner with Jeff Parker doing a lot of the damage. However, Brian hits a backdrop, but he isn't able to make the tag as Caster comes in to stop it. Pillman then breaks through a double team of The Acclaimed and Luchasaurus makes a hot tag and begins cleaning house.
He has their opponents split onto the turnbuckles and he makes several splashes. He looks for a double Chokeslam, but Caster makes the save. That doesn't work well though as he ends up Chokeslamming Bowens onto Caster. Wrestlers then hit the ring back and forth taking each other down. But it ends with a DDT from Jungle Boy.
Daniel Garcia then gets onto the rope, but Eddie Kingston returns and launches him into the save. Back in the ring, Caster misses with the Mic Drop, and Jungle Boy locks in his submission finish to force the win.
Winners: Jungle Boy, Luchasaurus, & The Varsity Blondes
- Eddie Kingston then takes the camera backstage with him but the volume isn't working properly so you can't hear what he is saying. However, they both end up brawling with 2.0 and Garcia.
- Backstage, FTR and Tully Blanchard are shown. He says they have beaten Lucha Bros three times now, and it is hard to get them back in the ring. The duo point out the only time Lucha Bros have won was a fluke. FTR claim on Friday night they become the two-time AEW Tag Team Champions.
The Young Bucks vs. Chuck Taylor & Rocky Romero
Nick Jackson starts out controlling the arm, but Rocky Romero is able to turn things around with a couple of arm drags. Nick makes a blind tag after Chuck Taylor comes in, but the Chaos member is on top of things and he controls the arm.  The 'Bucks regain control by sending Taylor out of the ring, but Romero then launches himself out of the ring to take out Nick Jackson.
Matt does the same to Rocky though as the heels stay on top of things.  They continue to isolate Romero, but he fights back and rolls away to tag out. Taylor connects with a DDT-Flatliner combination, taking both men out. He then hits the ropes and launches himself over the top rope to wipe out both men. He turns his back on them and gets blasted with a double superkick because of that.
They then stop Romero in his tracks as he gets sent into the guard rail. The Young Bucks tease diving out of the ring, but they slide out and hit the kiss spot with Adam Cole. They then hit a double team on Taylor with Matt Jackson holding him between the apron and the floor as Nick drops onto him with a senton.
The Young Bucks continue to dominate and Nick Jackson spits chewing gum at Romero to add insult to injury. He looks to launch himself out of the ring to Rocky, but Orange Cassidy stands in the way. However, he then gets nailed by a kick to the face by Adam Cole.
However, Romero manages to tag in and connect with a double hurricanrana. He then leaps of the stairs to hit another one to Nick before connecting with the Running Sliced Bread to Matt inside the ring, which gets a near fall.  Inside the ring, Matt connects with several northern lights suplex, but the third one is stopped as Rocky runs up the turnbuckles to hit the DDT.
Brandon Cutler distracts the referee (for a very long time) and Cole gets involved in the match again as the heels take advantage. However, Matt wants Cutler to spray Rocky, but he avoids it and Matt suffers. Rocky then almost gets the victory but Nick breaks it up. Romero then nearly catches him again with a pinfall attempt but he kicks out.
Matt is then able to turn things around as they hit the Meltzer Driver in order to secure the win.
Winners: The Young Bucks
- After the match, The Elite attack the babyfaces until Wheeler Yuta tries to make the save. However, he eats a double superkick for his efforts. Cole then wipes out Cassidy with a Panama Sunrise. However, before they can hit the tripe BTE Trigger...Sue is here with the minivan!
Who is inside? Trent Baretta! He nails Cutler and then takes out Matt Jackson, Adam Cole, and Nick. After that, they have a huge hug in the ring, including with Sue.
- Alex Marvez tries to ask Ruby Soho about Nyla Rose, but she is interrupted by The Bunny and Penelope Ford. Nyla has promised them title shots, so they will team up with Nyla against two of Ruby's friends. They suggest she is Ruby Soho or Solo. Ruby starts fighting but Nyla then takes her out as Anna Jay and Tay Conti make the save.
- Tony Schiavone then interviews Sammy Guevara, but before that begins...Cody Rhodes appears to huge boos. Cody says from one good guy to the next, Tony Khan has made it official. On Christmas, he will defend the title against Cody. He then teases going down the heel tunnel, but he stops himself and goes the other way.
Ethan Page and Scorpio Sky are then shown in the crowd where Page complains about how he has to jump through hoops. He then reveals Dan Lambert is coming back. Scorpio Sky points out Sammy faces anybody except the people in the top five.
Riho vs. Jamie Hayter
Jamie Hayter uses her power early on in this one, dropping Riho down to the mat and following it up with a backbreaker. The official then gets distracted and that allows Britt Baker to cheat. Despite that, Riho drops Hayter to the ropes and hits a 619.
However, when this one spills to the outside, Hayter sends her into the ring post, spine first. Back inside the ring, Hayter continues to dominate, kicking the back of her head while she's hung up on the ropes. The former AEW Women's Champion keeps on fighting though, hitting a double stop which grants her some breathing room.
Riho tries to sneak a roll-up but it is denied, however, Hayter misses with the splash in the corner and Riho then hits a suplex, but it isn't enough to win the match. Jamie gets back and connects with an impressive brainbuster. Jamie then nails a huge backbreaker, but once again Riho kicks out.
Riho manages to hit an incredibly impressive Code Red, but somehow Hayter kicks out. She then goes for the diving foot stomp from the top rope, but Hayter kicks out again. The two women then head to the top rope and Riho fights her down. However, a distraction from Rebel allows Jamie to get back to the turnbuckle, but Riho nails a crucifix box and then she nails her running knee finisher to secure the win.
Winner: Riho 
- After the match, all of the heels jump the ring and leave Riho laying.
- Taz then announces Hook will make his in-ring debut on Friday at Rampage against Fuego Del Sol.
- AEW Revolution is happening on March 6 in Orlando Florida.
- Tony Schiavone are then set to be interviewed but the lights go out. When they come back on, Malakai Black stares them down and she sprays the black mist into the eyes of Julia Hart.
Bryan Danielson vs. John Silver
John Silver starts out confidently, getting the best of Bryan Danielson several times in avoiding offense, which leads to him flexing and posing. Danielson then teases going outside, but this lures Silver in and Bryan takes advantage. He brings him down to the apron and begins connecting with uppercuts before dropping a knee onto Silver's head.
Back inside the ring, Bryan showcases his dominance as he picks apart The Dark Order member. He then connects with more uppercuts, dropping Silver to the mat. He follows that up with a shotgun dropkick as he then poses to annoy the live crowd even more. However, he tries to do it again, but Silver desperately counters in mid-air, reversing it into a powerbomb.
The two men then go back and forth with their kicks, but Silver takes him to the mat and locks in an ankle submission. Bryan tries kick his way out but Silver says now, yet he eventually grabs the rope. Danielson looks to go outside, but Silver follows it with a dive to the outside. Inside the ring, Silver keeps it up but as he tries to hit a German suplex, Danielson lands on his feet and then nails a kick.
Bryan looks for the Running Knee but Silver reverses with a roll-up. He then connects with a knee to the back of the head and then a German suplex, but Bryan kicks out again. He goes for the Spin Doctor, but Bryan rakes the eyes and he then just hammers countless elbow strikes to the jaw. Danielson connects with the Gotch style Piledriver, but rather than pinning he locks in another submission which leads to the official ending of the match.
Winner Bryan Danielson
- After the match, Bryan lists all the group members, noting how they've all had their heads kicked in. He said he promised to do that tonight as he will on Sunday. Danielson then goes back to Silver but Hangman makes the save. He promises to stomp the cowboy shit out of him next week.