Pat McAfee Describes Moment That Made WrestleMania Crowd "Buzz"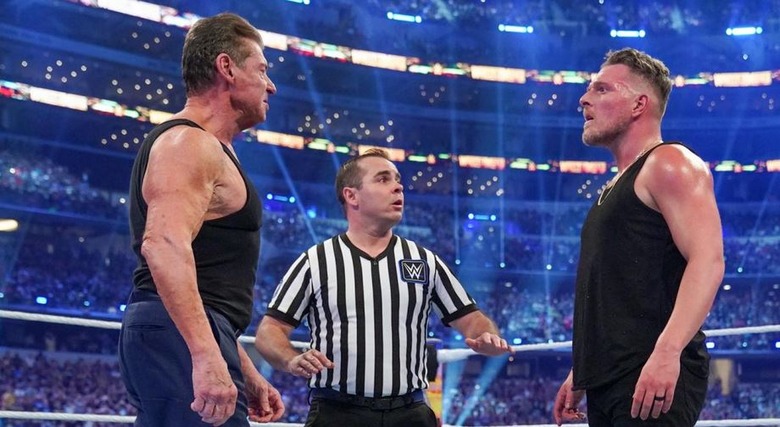 WWE
Former NFL punter turned sports media personality and WWE SmackDown commentator Pat McAfee says WrestleMania 38 was a dream come true. WrestleMania Sunday saw McAfee defeat Austin Theory in singles action, while WWE Chairman & CEO Vince McMahon watched from ringside in support of Theory.
McAfee then wrestled McMahon in an impromptu match but took a loss. WWE Hall of Famer Steve Austin came to make the save and ended up taking out McMahon and Theory with Stone Cold Stunners. Austin then invited McAfee into the ring for a beer bash, which ended with a Stunner to McAfee.
McAfee opened up Monday's episode of The Pat McAfee Show about his experience making his WWE WrestleMania debut.
"The f-cking Cowboy's cheerleaders were out there," McAfee said. "Didn't know that was happening. That's awesome. So then I go out and I'm like, by the way, thank you, Jack White, man. Shout out to the white stripes kind of letting that one play. You know, I guess that's not an easy task for, so shout out to WWE also making that happen.
"But I walked out there. As soon as I walked out there, I like, looked around. I'm like, 'holy f-ck'. What, because in your mind, I've done that, right? In my mind, I've done my wrestling entrance in my head. I've come through the curtain in my head like, literally, I said it yesterday, probably 10,000,000 times.
"There was a time in my life where every time I walked through a door, I acted as if I was walking into an arena full of people or whatever. So you think about this entire moment forever and ever and as you're walking out there it's like, 'well what the f-ck am I supposed to do with my hands'."
McAfee went on to discuss what it was like to share the ring with Vince McMahon. Of course, McAfee's match was setup with Vince on his on show.
"You should've heard the stadium whenever he was thinking about it," McAfee recalled. "Whenever he had that jacket on and he started tempting taking it off, man, there was like a, like a buzz raising in there and I was like, 'is this, is this, is this?' So people need to know, like, the wrestling business. People understand what the wrestling business is, but there's things that happen out there on a very regular occasion that are not like, you know, 'hey, this is not how this is supposed to go'.
"And you just are, like, there's people around that are like, 'uh, hey, yeah. This is happening now,' basically. You know, and I'm just like, 'what the, alright'. I sat up on the ropes, you know? I sat up there for a second and I looked around and I saw 76-year-old Vince McMahon taking his shirt off. I'm like, 'is this a movie right now? Like, this has to be a simulation'. And then obviously, Austin Theory attacked me from behind, Vince abuses his power, and that ref. What the f-ck was he doing?"
If you use any of the quotes in this article, please credit The Pat McAfee Show with a h/t to Wrestling Inc. for the transcription.
I've thought about that WrestleMania entrance FOREVER#PMSLive #WrestleMania pic.twitter.com/PMRWq13ocl

— Pat McAfee (@PatMcAfeeShow) April 4, 2022
Chugging beers with @steveaustinBSR was AWESOME#PMSLive #WrestleMania pic.twitter.com/d5ViQzHTOD

— Pat McAfee (@PatMcAfeeShow) April 4, 2022
Hello beautiful people.. LAST NIGHT WAS A DREAM COME TRUE#PMSLive #WrestleMania pic.twitter.com/1XAK4RRaUm

— Pat McAfee (@PatMcAfeeShow) April 4, 2022