WWE SmackDown Results (5/20): Tag Title Unification Match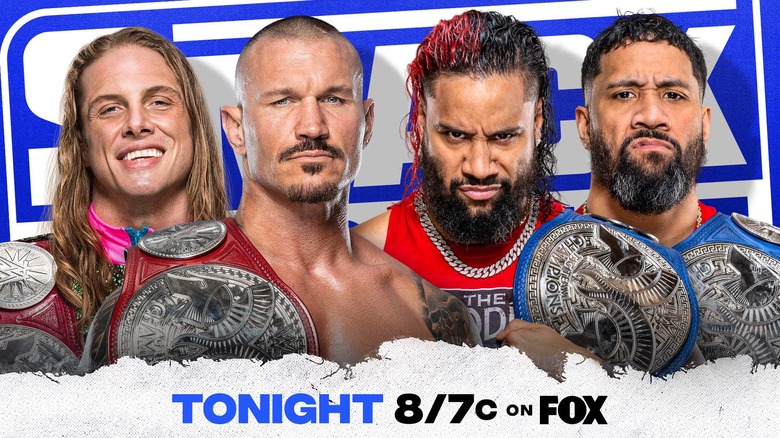 (Image Credit: WWE
Welcome to our WrestlingINC.com live "WWE SmackDown" viewing party. Tonight's show is broadcasting live from the Van Andel Arena in Grand Rapids, Michigan.
As of early Friday afternoon, one match was being promoted for today's show:
"Winners Take All" Tag Team Title Unification Match: Raw Tag Team Champions RK-Bro (Randy Orton & Riddle) (c) vs. SmackDown Tag Team Champions The Usos (Jey Uso & Jimmy Uso) (c)
Our live coverage will begin at 8 PM ET.
Please share coverage of today's Viewing Party on social media and chime in with your thoughts in the comments section below.
We're underway! Michael Cole and Pat McAfee are on commentary.
Roman Reigns, The Usos, and Paul Heyman make their entrance to open the show.
Reigns gets the microphone and asks Grand Rapids to acknowledge him and The Usos.
Heyman takes over and declares Reigns is the greatest of all time. He runs down a list of WWE legends including Bruno Sammartino, Brock Lesnar, John Cena, and The Rock. He says Reigns is better than all of them.
Heyman says he stands in the ring with the direct descendants of Afa and Sika, the Wild Samoans. But they never unified the tag team championships. The Usos would be the first.
Reigns takes back the microphone and tells The Usos they know what he wants. He says he has high expectations for them because he loves them. They all hug.
We go backstage, where Sami Zayn is watching on a monitor and then strolls down a hallway.
Back in the arena, Shinsuke Nakamura makes his entrance. The Bloodline is heading up the aisle as Nakamura enters and they glare at each other as we go to the commercial break.
Shinsuke Nakamura vs. Sami Zayn
Zayn hits a shoulder block early and grabs a headlock. Zayn switches to an armbar but Nakamura flips out of it and puts Zayn in a headlock.
Zayn pushes off Nakamura but runs into a shoulder block and a kick. Nakamura continues with more kicks. Nakamura lands a knee drop for a 2-count.
Zayn retakes control by grabbing Nakamura's hair. Zayn lands some punches and a running clothesline for a 2-count.
Zayn chokes Nakamura over the second rope. Zayn climbs to the top rope but Nakamura cuts him off and climbs to the second turnbuckle. Zayn blocks the superplex attempt and lands an elbow to the back of Nakamura's head. Nakamura fires back and Zayn crotches himself on the top turnbuckle and tumbles into the ring.
Nakamura tries to line up for the Kinshasa but Zayn avoids it and sends Nakamura out of the ring to the floor as we go to the commercial break.
Back from the break, Zayn is in control with a chin lock on Nakamura. Zayn misses a clothesline and Nakamura hits a running kick. Both men are down.
Nakamura goes to work with a series of strikes. He hits his running German suplex while Zayn is tied up in the ropes. Nakamura follows with a knee to the back of Zayn's neck from the top rope for a 2-count.
Nakamura hits another big kick and lines up for the Kinshasa. Zayn retreats by rolling outside to the floor. Nakamura gives chase but runs right into a Michinoku Driver by Zayn. Nakamura barely beats the referee's count back into the ring.
Zayn boots Nakamura back out of the ring and follows him out. Nakamura reverses a whip and sends Zayn into the ring post. Nakamura tosses Zayn into the timekeeper's area. Zayn barely beats the count back into the ring but in the process runs right into the Kinshasa and Nakamura gets the pin.
Shinsuke Nakamura defeated Sami Zayn via pinfall
Back to the commentary desk to set up a highlight video for The Usos.
Happy Corbin makes his entrance as we head to a commercial break.
Back from the break, Corbin has a microphone and is standing ringside with the Andre The Giant Memorial Trophy. Corbin says this is the happiest he's ever been. He says he's wearing a $12,000 hat and a $70,000 watch. He says he's also rid the WWE of Madcap Moss. Corbin tosses to a replay of his attack on Moss last week.
Corbin says Moss was living the good life when he was by his side. Corbin says Moss wanted to be a star and step out of his shadow, but he never appreciated all the good things he did for him.
Corbin finishes his promo. He picks up the Andre trophy and chucks it against the ring steps. It breaks in half. Corbin finishes it off and leaves it in pieces on the floor.
Cole is aghast at the disrespect for the trophy that has launched so many careers here in WWE.
Commentary tosses to a recap from last week where Ricochet sent Drew Gulak to get himself beat up by Gunther backstage.
Back in the arena, Ludwig Kaiser introduces Gunther. We head to a commercial break.
Gunther (with Ludwig Kaiser) vs. Drew Gulak
The match is already underway as we return from the break.
Gunther hits a massive chop to Gulak. He maintains wrist control and pulls him back up for a couple more.
Gulak crawls to his feet and gets a powerbomb for his trouble. That gets the pin.
Gunther defeated Drew Gulak via pinfall
Gunther puts Gulak in a Boston Crab after the match. Ricochet runs out and Gunther and Kaiser decide to leave.
Backstage, Adam Pearce gets a visitor in his office. It's Max Dupri (formerly known as LA Knight). He's the head of Maximum Male Models. He says his clients can headline Paris Fashion Week or WrestleMania. This is all news to Pearce. Dupri says he was brought in by Sonya Deville before she lost her job as a backstage official. Dupri says they signed a contract.
Back from the break, Kayla Braxton is backstage to interview RK-Bro. Riddle is feeling very confident heading into tonight's match.
We get a recap of Raquel Rodriguez's match against Ronda Rousey last week.
Backstage, Shotzi and Aliyah are still arguing over how they should've been the ones to challenge Rousey. Rodriguez enters and Shotzi insults her. Their match is next.
Rodriguez and Shotzi make their entrances and we go to a commercial break.
Back from the break, the bell rings and the match is underway.
Raquel Rodriguez vs. Shotzi
Rodriguez overpowers Shotzi and slams her into the corner. Rodriguez lifts Shotzi by her one arm and slams her down.
Shotzi tries to fire back with some forearms but they have little effect. Shotzi tries a sunset flip but Rodriguez lifts her up and slams her into the corner. Shotzi catches Rodriguez in a triangle over the top rope but Rodriguez pulls her away from the ropes. Shotzi switches to a rear-naked choke but Rodriguez slams her into the corner.
Shotzi fires off some kicks to temporarily stun Rodriguez but Rodriguez responds again and hits a pair of fallaway slams. Rodriguez hits her twisting Vader Bomb and finishes off Shotzi with the Chingona Bomb.
Raquel Rodriguez defeated Shotzi via pinfall
Backstage, Kayla Braxton is with Xavier Woods. They show a replay of Butch's victory over Kofi Kingston last week. Woods says he's flying solo because Kingston is on "official New Day business". He encourages Butch to come alone as well.
Woods makes his entrance. We head to a commercial break.
Back from the break, Butch is getting fired up backstage with Sheamus and Ridge Holland. Their group is now known as The Brawling Brutes. Butch makes his entrance alone.
Xavier Woods vs. Butch
Butch charges at the bell but Woods avoids him and sends him to the outside. Woods follows with a dropkick through the middle and top ropes. Woods grabs Butch by the ear the sends him back into the ring.
Butch recovers in time to catch Woods coming back into the ring and pounds away with forearms. Woods tries a rollup but Butch kicks out. Butch retakes control and uses a modified bow-and-arrow to ground Woods.
Butch puts on a chin lock. Woods fights to his feet but Butch slaps him in the face. Butch charges into a boot by Woods and Woods follows with his following clothesline for a near fall.
Woods chops Butch against the ropes. Woods lifts Butch on his shoulders but Butch gouges his eyes to escape. Butch draped Woods over the top rope, climbs to the second rope, but misses a flying knee. Woods tries for a leaping DDT but gets hit with a knee.
Woods catches Butch with the Back Woods small package out of nowhere and that gets the pin.
Xavier Woods defeats Butch via pinfall
Butch leaves through the crowd. Woods celebrates on the stage, but Sheamus and Holland enter. Butch returns and attacks Woods and lays him out. Sheamus and Holland hold back Butch from doing any more damage.
We get a highlight video for RK-Bro.
RK-Bro are seen warming up backstage as we head to a commercial break.
Back from the break, Megan Morant catches up with Xavier Woods. He says Kofi Kingston will be back next week and Big E is still injured but he'll find a third person for a 6-man tag against Sheamus, Holland, and Butch.
Back at the commentary desk, Michael Cole says Sasha Banks and Naomi "let us all down". He recounts the WWE statement on Monday's events. He says both women are suspended indefinitely and a tournament will be held to crown new WWE Women's Tag Team Champions.
RK-Bro make their entrance. The Usos make their entrance. We get the ring introductions and go to a commercial break.
Back from the break, the bell rings.
"Winners Take All" Tag Team Championship Unification Match: RK-Bro (Randy Orton & Riddle) (c) vs. The Usos (Jey Uso & Jimmy Uso) (c)
Paul Heyman is a guest on commentary.
Riddle starts off against Jimmy. He and Orton quickly take control with some quick tags and double-team maneuvers. Jimmy finally cuts off the offense and grounds Riddle.
Jimmy locks on a chin lock. He eventually lets go of it. The referee throws up the "x" sign. The ringside doctor enters the ring to look at Riddle and we go to a commercial break.
Back from the break, The Usos are double-teaming Riddle. Michael Cole informs us Riddle injured his hip and that's why he was being checked out but the match continues. Heyman complements the toughness of Riddle.
The Usos work on the hip and lower back of Riddle with a double headbutt. Jimmy stomps him while he's down on the mat and goes to a waist lock. Riddle fights to his feet
Riddle hits his Final Flash knee to break the offense of Jimmy and tags in Orton. Orton runs wild with power slams on both Usos. Orton hits a draping DDT on Jey. Orton hits an RKO on Jimmy. Jey breaks up the pinning attempt.
Jey drags Jimmy to his corner and tags in. Riddle tags in and hits an overhead kick and a series of running forearms in the corner. Jey gets his knees up on the senton and follows with a pop-up neckbreaker for a near fall.
Jey charges into a back elbow. Riddle climbs to the top rope but Jey kicks out his leg and Riddle crashes to the mat. Jey climbs to the top rope. Riddle runs up the corner to the top rope but Jey blocks the super RKO. Roman Reigns appears and grabs Jey's leg. Riddle falls off the top rope. Jey follows with a big splash from the top rope and pins Riddle.
The Usos are the Undisputed WWE Tag Team Champions.
The Usos defeated RK-Bro via pinfall
Reigns stomps on Riddle after the match. The Usos lay out Orton with a pair of superkicks. Reigns takes apart the announce desk. Reigns locks the guillotine on Riddle. Riddle is laid out on the announce desk. Jey Uso climbs to the top rope and splashes Riddle through the announce desk. Jey had to go a LONG way to hit that.
Reigns locks a guillotine on Orton and leaves him laying on the floor. RK-Bro have been decimated by The Bloodline.
The Bloodline grab the title belts and pose in the middle of the ring as the show ends.