AEW Rampage Results (6/17): Major Star Returns, Allin Vs. Fish, TBS Title Match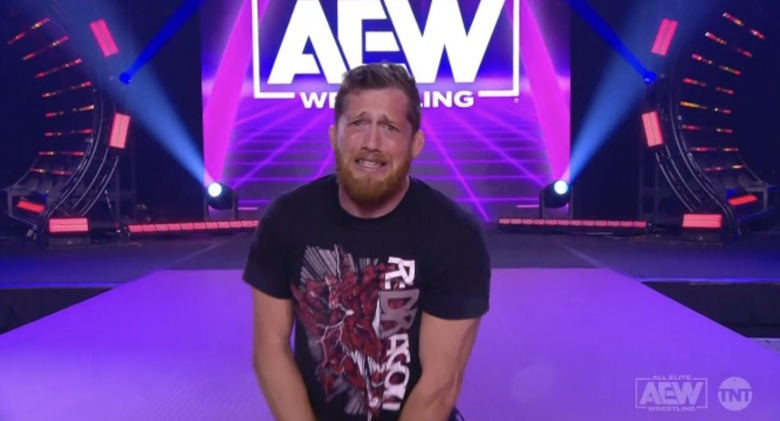 (Image Credit: AEW
Welcome to our WrestlingINC.com live "AEW Rampage" viewing party. Tonight's episode was recorded Wednesday night at the Chaifetz Arena in St. Louis, Missouri.
Four matches are being promoted for tonight's show:
TBS Championship Match: Willow Nightingale vs. Jade Cargill (c)
Dante Martin vs. Jon Moxley
Bobby Fish vs. Darby Allin
Austin Gunn, Colten Gunn & Max Caster vs. Bear Country & Leon Ruff
AEW is also promoting that we will hear from Keith Lee and Swerve Strickland during tonight's episode.
Our live coverage will begin at 10 PM ET.
Please share coverage of today's Viewing Party on social media and chime in with your thoughts in the comments section below.
We're on the air! Excalibur, Taz, Chris Jericho, and William Regal are on commentary.
We get full entrances for both Jon Moxley and his opponent, Dante Martin.
Dante Martin vs. Jon Moxley
Martin offers his hand. Moxley slaps it away. Regal explains there's no sportsmanship in the Blackpool Combat Club.
Excalibur asks Regal about Zack Sabre Jr.'s comments directed at Bryan Danielson. Regal says Sabre shouldn't insult Danielson.
Moxley grounds Martin with a wrist lock. Martin reverses but Moxley quickly retakes control and takes down Martin with a headlock. Martin pushes off Moxley but runs into a shoulder block.
They lock up and Moxley grabs another headlock and takes down Martin. Martin fights back to his feet but can't push off Moxley. A second attempt is more successful and Martin gets a head-scissor takedown. Martin follows with some kicks and a dropkick that sends Moxley retreating to the floor. Martin looks for a springboard dive from the top rope but Moxley walks away and Martin calmly springs back into the ring.
Moxley gets back into the ring and invites Martin to chop him. Martin takes a few free shots but Moxley then knocks him down with a single chop. Moxley backs Martin into the corner and lands more chops. Martin manages to reverse and return the favor but Moxley reverses a whip and Martin hits hard in the corner as we go to a picture-in-picture break.
Back from the break, Moxley puts Martin in a Texas Cloverleaf. That's a signature hold of Hiroshi Tanahashi. Moxley transitions into a Regal Stretch and a front headlock. Moxley lands some knees and a running Regal knee for a 2-count.
Moxley goes for a reverse neckbreaker but Martin pushes him off. Moxley climbs to the second turnbuckle but Martin surprises him with a hurricanrana. Martin goes to the top rope but Moxley cuts him off and brings him down with a super butterfly suplex for a 2-count.
Moxley mounts Martin from behind and pounds him with elbow strikes but he misses a sliding lariat and Martin kicks him to the floor. Martin connects with a springboard plancha onto Moxley and rolls him back into the ring. Martin climbs to the top turnbuckle and hits a cross body for a 2-count.
Moxley tries to throw Martin over the top rope but Martin lands on the apron. He tries for the Nose Dive but Moxley avoids it and locks on a sleeper hold. Martin tries to run up the corner turnbuckle to break it but ends up crotched on the top. Moxley goes up to get him but Martin fights him off and hits a super Sliced Bread for a 2-count.
Martin kicks away at Moxley but Moxley tries for the Paradigm Shift. Martin escapes but Moxley hits a cutter. Moxley tries to follow up but Martin reverses for a 2-count.
Moxley hits a big lariat for a 2-count. Moxley stays in control with mounted elbow strikes. Moxley ties up Martin in a submission hold and Martin taps out.
Jon Moxley defeated Dante Martin via submission
Regal departs commentary and wishes the rest of the team a pleasant evening.
Moxley bows to Martin in respect, even though Martin is still down and out in the ring.
Backstage, Tony Schiavone is with Keith Lee and Swerve Strickland. Lee says he'll give Strickland 30 seconds to explain why he shouldn't beat his ass. Strickland says the Casino Battle Royale was a single competition and Lee would've done the same. Lee starts to walk away and Strickland tries to stop him. Ricky Starks and Powerhouse Hobbs enter for a moment that brings an end to this segment.
We go to a commercial break.
Back from the break, we get prerecorded comments from Malakai Black and Penta Oscuro. They will meet in an All-Atlantic Championship qualifying match on Wednesday's "Dynamite".
Back in the ring, Max Caster and Gunn Club make their entrance. Caster says raps he's got something to say but "somebody made me sign an NDA".
Max Caster & Gunn Club (Austin Gunn & Colten Gunn) (with Anthony Bowens & Billy Gunn) vs. Bear Country (Bear Bronson & Bear Boulder) & Leon Ruff
All six men brawl right off the bat. Austin takes down Ruff in the ring and that allows the Gunns and Caster to do a big scissor celebration. Ruff gets up and runs right into a chop by Austin. Austin backs Ruff into the corner with some kicks and tags in Colten. They take down Ruff and Caster hits the Mic Drop elbow drop from the top turnbuckle and that gets the pin.
Max Caster & Gunn Club defeated Bear Country & Leon Ruff via pinfall
Lexy Nair is backstage with Hook. She informs us Hook will face a prospect from New Japan's LA Dojo next week. Hook doesn't have much to say about it. Danhausen enters and says he and Hook will destroy their opponents. Hook finally speaks and says, "He's got this" and walks away.
Back in the ring, Willow Nightingale makes her entrance and Jade Cargill makes her entrance, using Cody Rhodes' old elevator to rise up from the center of the stage.
TBS Championship Match: Willow Nightingale vs. Jade Cargill (c) (with Stokely Hathaway & Kiera Hogan)
Hathaway joins the commentary team for this match. Jericho says Cargill is his Sports Entertainer of the Week.
Lockup to start and Cargill powers down Nightingale with a waist lock takedown. Cargill backs Nightingale into the corner and hits some strikes. Nightingale reverses a whip with a cartwheel and hits an enziguri. Cargill catches Nightingale on her shoulders and does some squats in the middle of the ring. A pump kick sends Nightingale out of the ring where Hogan attacks her as we go to the picture-in-picture break.
Back from the break, Nightingale tries a rollup but Cargill kicks out. Nightingale hits a splash in the corner and follows with a cannonball senton into the corner for a 2-count.
Cargill escapes a gutwrench attempt and hits a Pedigree. She follows up with Jaded to get the pin.
Jade Cargill defeated Willow Nightingale via pinfall
Cargill and Hogan go for a post-match attack but Athena's music plays. Athena enters through the crowd and hits the O-Face on Hogan but gets knocked down by Cargill. Cargill tries to do more damage but Kris Statlander runs down to the ring to run off Cargill and her crew.
We get prerecorded comments from Jay Lethal, Sonjay Dutt, and Satnam Singh. Lethal says they're putting in the work, unlike Samoa Joe. Singh says they're just getting started.
Excalibur plugs the current lineup for the Forbidden Door pay-per-view, including a new match: A "winner takes all" tag team 3-way match for the IWGP and Ring of Honor Tag Team Championships: FTR vs. Jeff Cobb & Great-O-Khan vs. Roppongi Vice. They also announce Jon Moxley & Hiroshi Tanahashi vs. Chris Jericho & Lance Archer for Wednesday's "Dynamite".
We go to a commercial break.
Back from the break, Mark Henry speaks with Darby Allin and Bobby Fish. Allin says he'll take out Fish as revenge for Kyle O'Reilly taking out Sting. Fish says that's not happening. Allin says Fish's leg will be broken by the end of the night.
We head straight back to the arena for the entrance of Bobby Fish. Darby Allin follows with his entrance and marches straight to the ring.
Darby Allin vs. Bobby Fish
Fish attacks Allin from behind before the bell. Fish goes after Allin's leg with a dragon screw and Allin rolls to the floor. Fish follows him out and rams Allin back-first into the ring apron. Fish charges. Allin looks like he's trying to leapfrog him but Fish clips Allin's leg and Allin spins and crashes to the floor.
Allin gets back in the ring and hits a dive to Fish on the floor. Fish recovers to take down Allin in the ring but he gets sent to the floor again and Allin hits his low suicide dive onto Fish.
Fish recovers again to take down Allin and punches him against the side of the ring. Fish hits another dragon screw that sends Allin crashing against the barricade. Fish picks up Allin by his leg and does it again as we got to a picture-in-picture break.
Back from the break, Fish goes for a suplex but Allin reverses it into a reverse DDT. Both men are down.
Allin hits a running coffin splash into the corner and another but Fish catches him with a sleeper hold. Allin escapes and hits a Code Red for a 2-count.
Fish retreats to the floor. Allin chases him down with a Coffin Drop from the top rope to Fish on the floor. Allin rolls Fish into the ring. He's still favoring his leg. Fish charges and tackles Allin through the ropes and down to the floor. Both men are down on the arena floor.
Fish throws Allin into the steel ring steps. Fish puts Allin on the ring apron and pounds on his leg. Fish climbs up onto the apron and stomps on Allin's back. Fish puts Allin in an ankle lock while both are on the apron. Allin fights out but Fish hits a German suplex on the ring apron. Allin tumbles to the floor. Fish rolls him back into the ring.
Fish lifts Allin to the top turnbuckle. Fish goes up with him and hits a super Falcon Arrow for a 2-count. Fish immediately grabs an ankle lock on Allin. Allin reverses into the Last Supper and gets the pin.
Darby Allin defeated Bobby Fish via pinfall
Fish immediately attacks Allin after the match and calls Kyle O'Reilly down to the ring with a steel chair. The lights go out and when they come back up Sting is standing in front of O'Reilly on the ramp. Sting hits O'Reilly between the legs with his bat.
Sting tosses the chair to Allin and Allin wraps it around Fish's ankle and then hits a Coffin Drop onto the chair. Fish is writhing in pain. Sting gets into the ring with Allin.
That's our show!