Full Results: The Roast Of Ric Flair From Starrcast V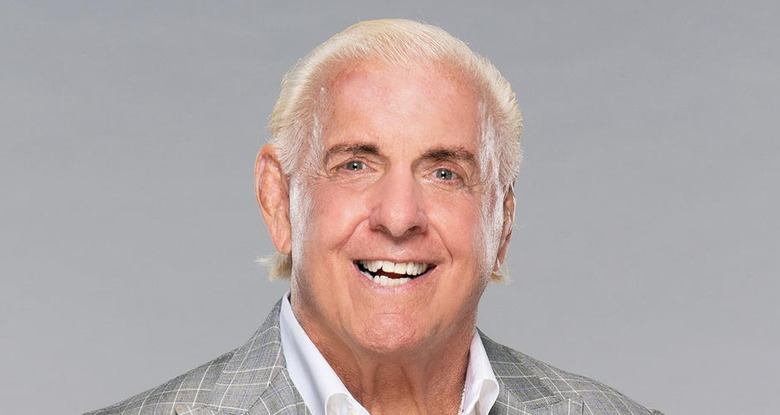 Photo Credit: WWE
Welcome to our WrestlingINC.com Live The Roast of Ric Flair from Starrcast V Viewing Party. Please share coverage of tonight's Viewing Party on social media and chime in with your thoughts in the Comments section below. Make sure to click the REFRESH button to continue to get the most current, up-to-date coverage.
THE ROAST OF RIC FLAIR

Our first stage show of #StarrcastV weekend is TONIGHT at 8:00pm Central – Shiners & The Woolworth Theater present The Roast of Ric Flair!

Doors open at 7:00pm CDT!

🎟: https://t.co/VTjob38HHy pic.twitter.com/3YQRJ9nJOc

— #StarrcastV (@StarrcastEvents) July 29, 2022
- An opening video plays showing the people who will appear to roast Ric Flair.
- Brad Nessler will be the Roast Master for the evening. Nessler introduces Flair. Flair hypes up Car Shield, who he works with, before taking a seat.
- Nessler says he's known Flair through four different wives. Nessler tells a story about Flair fighting in an AWA match against "Scrap Iron" Gadaski. Nessler said later, Flair would become a World Champion. Nessler says Flair owned four houses, but he wasn't allowed to live in any of them. Nessler joked about Flair and the IRS being on the same page. Nessler says we'll celebrate Flair's last match on Sunday, followed by his last breath. Nessler joked about the last time "Nasty Boy" Knobbs washed. Nessler turned his attentions to Conrad Thompson, who he pointed out for being a belt collector, and joked about him having elastic waistbands.
- Tyler Morrison is the first person to step up and roast Flair. Morrison said the Nashville Predators are here tonight, not the hockey team, but all the old perverts on stage tonight. Morrison talks about Charlotte Flair having a giant shadow over her during her career and said it was Conrad Thompson. Morrison said the real plane ride from hell was whoever had the seat next to Conrad on the way here. Morrison joked about Flair's liver being so black. Morrison turned his attentions to everybody else on the stage. Morrison says Flair is like a Chinese vagina, a blown out old pussy that's delivered far too many "Woo's!" Morrison says they called Flair "The Nature Boy," and we'd be at one with nature also if the IRS were always trying to take our home.
- Tie Domi is up next to roast Flair. Domi says this is his first time doing a roast. Domi says sooner or later he will wind up in jail because of the booze, drugs and women, but that was enough about Vince McMahon. Domi says Sunday it'll be time to take off his ring jacket and give it back to Rue Paul. Domi says Flair's final match will be the one he lights his house with for the insurance money. Domi talks about Flair being a tough guy who gets up and keeps on trying.
- A video is played, sent by Rob Gronkowski, who wishes Flair all the best. A video is also played, sent by Paul Walter Hauser.
- Torrie Wilson is up next to roast Flair. Wilson says she agreed to this without realizing what a roast was. Wilson says Flair is the original WWE Diva. Wilson jokes about Flair's marriages. Wilson asks Flair if he's lost more wives or more of his Rolex watches. Wilson says the only reason Flair is wearing clothes right now is that he's on camera. Wilson says she hasn't seen Flair's penis, but judging by his neck, she can see what his balls are like.
- A video is played sent in by Aaron Rodgers.
- Earl Skakel is up next. Skakel says he's here because Vickie Guerrero was going to show up, but it's pretty cool that Rosie O'Donnell showed up instead. Skakel says Hogan wanted to be here tonight and joked about his sex tape. Skakel turns his attentions to Eric Bischoff and his bad ideas in WCW. Skakel thinks Bully Ray is racist because he always made D-Von get the tables. Skakel gets to Flair and says he's been paid millions by Vince McMahon, and he didn't have to f**k him. Skakel says nobody ever comes close to Flair.
- DDP steps up next. DDP says he's the most positive man alive. DDP says he and Flair got over their heat. DDP says Flair once took him out for his birthday. DDP was there during Flair's dark time when he thought he was going to kick the bucket. DDP recalled Flair sleeping with over 10,000 women. DDP says many of Flair's title reigns lasted longer than his marriages. DDP asks Flair if he thought he'd be alive at a time when his prostate is bigger than his ego. DDP asks the audience if they think Flair is truly retiring.
- Shuli Egar is up next and says he is going to make it quick, so he can get off the road before Jeff Hardy gets behind the wheel. Egar turned his attentions to Torrie Wilson and Eric Bischoff. Egar said Bully Ray is a giant asshole, but not a bigger asshole than Brian Knobbs. Egar says Bischoff is the only person to kiss Stephanie McMahon in front of Vince. Egar says Bischoff is the only one who can say it because Macho Man's dad and Triple H couldn't be here because of the vaccine. Egar turned his attentions to Vickie Guerrero. Egar says there's no more helicopter from Flair these days, and it is more like a broken windmill. Egar said Flair's liver is so black, Hulk Hogan wouldn't appear tonight.
- Videos are played sent in by Chevy Chase and Chael Sonnen.
- David Manning steps up to the podium. Manning says he used to live with Flair. Manning talks about Flair's school days and how Flair figured out he had the biggest penis in the third grade. Manning said Flair had a hard time talking to girls. Manning said Flair got his first blowjob in middle school, and that's where the "Woo!" was born after being asked if he liked receiving it. Manning says Flair is f***ed up. Manning says everything bad that ever happened to him, Flair was there. Manning tells stories about some of those bad occasions.  Manning raises a toast to Flair to finish off his roasting.
- A video is played sent in by Will Sasso.
- Dan St. Germain is up next. St. Germain says he's happy the crowd could come here instead of kidnapping Sonya Deville. He says the crowd is so ugly it should be on Cody Rhodes' neck. St. Germain focuses his jokes on Conrad Thompson. St. Germain goes around the different personalities sat on the stage. St. Germain says this isn't a roast for Flair, it's an elaborate way to get him to DDP's house. St. Germain says Flair looks like Donald Trump if he melted. St. Germain jokes about Flair not being able to keep Mexicans out of Charlotte. St. Germain continues to roast Flair before wrapping up.
- A video is played, sent in by Eddie George. Videos from Jerry West and Ron Funches are also played.
- Vickie Guerrero steps up the podium next. Guerrero says millions of hotel bar guests have seen Ric Flair's penis, however, Eddie Guerrero's is bigger. Vickie says she has many great memories of Flair. Vickie jokingly congratulates Vince on his retirement. Vickie tells a story about Flair being persistent in getting her number, which she would only give if she guessed the color of his boxer shorts. She got the color right, and Flair said he once again defeated a Guerrero.
- Brian Knobbs is up next. Knobbs says he's lost weight down to getting sick. Knobbs aims jokes at a number of the personalities sat on the stage. Knobbs says he and Flair have been through some crazy times together. Knobbs tells stories about their times out on the town and Flair being kicked out of a bar. Knobbs says Flair is the greatest, and he loves him. Knobbs said when he was in the hospital, Flair visited him and put him on a video message with a nude woman to perk him up.
- A video is played with a message from Trish Stratus.
- Wendy Barlow is up next. Barlow says she's going to make it short and brief, like her and Flair's sexual encounters. Wendy says Flair will no doubt cry tonight, and it will be vodka that will pour out. Wendy says she loves Flair and wrapped up.
- A video message from Lance Armstrong is played. A video from Kurt Angle is also played.
- Casio Kid is next to roast Flair. Kid tells Bischoff that 83 weeks is how long this show feels right now. Kid says you know Flair is past his time when Chevy Chase doesn't even show up. Kid says he's the Brian Knobbs of comedy that nobody knows, and his best friend has carried him. Kid went around the roasters and asked Vickie Guerrero how much Vince paid her to not have a sexual encounter with him. Kid says DDP had to stop doing his Diamond Cutter hand gesture around Flair because he would try to f**k it. Kid compared being in an induced coma to DDP's Hall of Fame speech and Eric Bischoff's podcast. Kid reads a list of things Flair has done 16 times, such as dying and paying his taxes.
- Bully Ray is up next. Ray says every major promotion is being represented on the stage tonight. Ray says he doesn't have anything bad to say about Flair. Ray says Flair was inches close from death and everybody is here tonight to honor him, as well as watch his last match on Sunday. Ray leads a standing ovation. Ray said Flair texted him to be on this show. Ray says he's not using this time to make jokes because we should be honoring Flair. Ray says he loves Flair and wraps up.
- Eric Bischoff is next roasting at the podium. Bischoff says he's grateful to be here, and Ray is a tough act to follow. Bischoff says we've lost some great people. Bischoff wonders what it would be like if Curt Hennig and Roddy Piper were alive to be here. Bischoff says he never thought about getting old until a few years back. Bischoff says he got a good look at his ball sack, with stringy and grey pubic hair. Bischoff reenacts shaving his balls with a Manscape shaver. Bischoff said his balls went from looking like Flair's hairline to looking 21 again. Bischoff talks about when Knobbs was really sick. Bischoff said he couldn't reach out because he didn't want to lose another one of the wrestling community. Bischoff says Knobbs is now able to see his penis for the first time since he was younger after losing weight. Bischoff says he once covered Flair's tab because he wasn't seeing eye-to-eye with his American Express. Bischoff says he loves Flair to death.
- A video message is played from WWE's Dolph Ziggler.
- John Moses is the final roaster. Moses says he is so humbled and grateful to be a part of tonight. Moses jokes about Domi's earlier roast. Moses says DDP didn't start wrestling until his face was 60. Moses turns his attentions to Torrie Wilson and suggests that she has a similar personality to an inflatable doll. Moses says Flair is six months away from facing Jake Paul. Moses talks about all the women Flair slept with over the years. Moses says Flair is the best and wraps.
- A video message plays from Dwayne "The Rock" Johnson.
- Ric Flair takes to the podium and gets emotional. Flair says he feels so honored. Flair says he wished the girls, Torrie and Vickie, had been left out of the roasts a little more. Flair says things like this don't happen in the real world. Flair says as great as 2008 was, his family is now bigger. Flair says he won't do another retirement match. Flair thanks Conrad Thompson. Flair says he's worked for three months to create something incredible. Flair says nobody can hurt him and he's ready to go for his match. Flair says Torrie Wilson once shot his advances down. Flair says Wendy is the best and never left him alone in the hospital for the duration of his time in there when he was close to passing. Flair talks about Wendy's help with his recovery. Flair begins to praise everyone on the stage. Flair says he's an entertainer and all this means a lot to him. Flair tells everyone not to miss his match on Sunday.
- That's all for The Roast of Ric Flair!