WWE SmackDown Results (7/1): Final Money In The Bank Qualifying Match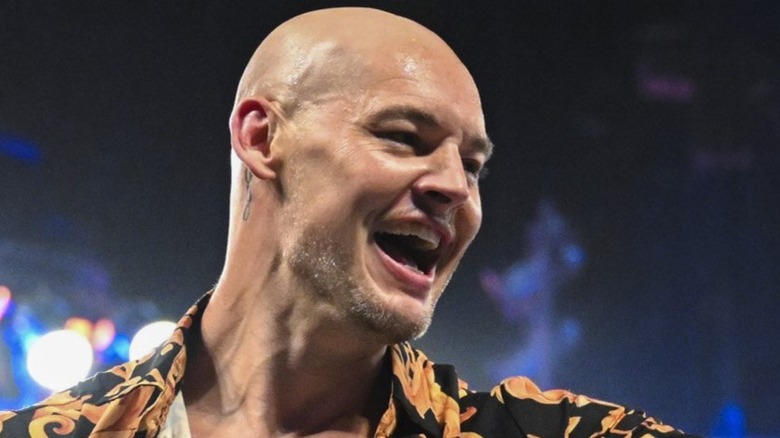 WWE
Welcome to our WrestlingINC.com live WWE "SmackDown" viewing party. Tonight's show is broadcasting live from the Footprint Arena in Phoenix, Arizona.
As of early Friday afternoon, two matches were announced for tonight's show.
Battle of the Brands: Lacey Evans, Raquel Rodriguez & Shotzi vs. Alexa Bliss, Asuka & Liv Morgan
The New Day (Kofi Kingston & Xavier Woods) vs. The Viking Raiders (Erik & Ivar)
Our live coverage will begin at 8 PM ET.
Please share today's Viewing Party coverage on social media and chime in with your thoughts in the comments section below.
We are underway! Michael Cole and Pat McAfee are on commentary.
The announced participants in the men's Money in the Bank ladder match, Drew McIntyre, Riddle, Sami Zayn, Sheamus, Seth Rollins, and Omos, are already in the ring. Everyone except Omos is sitting or standing atop ladders set up in the ring.
Rollins starts off on the microphone. He welcomes everyone to the show but when he starts to say he speaks for everyone, he is interrupted by McIntyre and Riddle. Rollins gets back on track and says the best time and place to cash in MITB will be after the main event of SummerSlam. Rollins says he's cashed in on Roman Reigns and Brock Lesnar before and it's like taking candy from a baby.
Riddle says he's hoping Reigns wins at SummerSlam so he can cash in on him.
Zayn reminds us he is an "Honorary Uce" and promises to secure the MITB contract, keeping it "in house" in The Bloodline. Zayn says as long as he has the contract, Reigns is safe from the rest of these vultures.
MVP interjects and says they're all ignoring the giant Omos in their midst and he will be the last man standing.
Sheamus reminds us he's already won MITB during his career and successfully cashed in on Reigns. Sheamus says cashing in on Lesnar will be a tougher challenge.
McIntyre says he beat Lesnar in five minutes and he'll beat all of them at Money in the Bank.
The Miz's music plays and he makes his entrance. Miz says he cashed in on McIntyre to win the WWE Championship and he deserves to be in the Money in the Bank ladder match.
Ezekiel's music plays. He introduces himself to those who may not know that he is Elias' brother. He says he was supposed to have a qualifying match against Kevin Owens, so if anyone should get a spot in the match it should be him.
Happy Corbin's music plays and he enters. Corbin says he should be in the Money in the Bank ladder match.
Madcap Moss' music plays and he enters. Moss says the thought of Corbin squandering the MITB contract again is hysterical. He says wants the last spot in the MITB match.
Everyone starts arguing and talking over one another until Adam Pearce strolls out. He requests that the ladders be cleared from the ring so we can have a battle royal. That match is coming up next. But first, we go to a commercial break.
Back from the break, we're set for our battle royal
Battle Royal
The participants are Happy Corbin, Seth Rollins, Drew McIntyre, Ezekiel, Omos, Riddle, Sami Zayn, The Miz, Madcap Moss, and Sheamus. As far as we know, nothing is on the line here.
Everyone starts fighting, except for Zayn, who is laying back and avoiding any contact. Zayn finally jumps in and tries to eliminate Riddle from behind but Riddle hangs on.
Michael Cole says Kevin Owens is "physically unable to compete".
Omos pounds on Ezekiel in the corner and eliminates him rather easily. Moments later, Omos throws Moss over the top and down to the floor. Zayn pushes Miz into Omos and Omos eliminates Miz.
Riddle goes after Omos but he gets cut down with a knee to the gut. McIntyre and Omos have a staredown and McIntyre fires away. Omos grabs him by the throat. McIntyre goes down to a knee but fights back to both feet and fires more punches. Omos responds with a headbutt to put McIntyre down.
Sheamus goes after Omos but gets tossed into the corner. Omos goes after Zayn and downs him with an elbow to the back of the neck.
Now Rollins and Omos have a staredown. Rollins decides to eliminate himself. He cackles on the floor. Riddle sneaks up and hits an RKO on the floor. Cole says Riddle slipped out under the bottom rope. Omos tries to pull Riddle into the ring. Riddle grabs Omos in a head and arm triangle over the top rope. Sheamus and McIntyre sneak up from behind and dump Omos over the top rope to the floor. Omos is eliminated.
We go to a commercial break.
Back from the break, our battle royal is down to McIntyre, Riddle, Corbin, Zayn, and Sheamus.
Corbin leans on McIntyre in the corner while Riddle is beaten up by Zayn and Sheamus. They try to throw Riddle over the top rope but he hangs on. McIntyre spills over the top rope but rolls back in. Zayn is immediately on him with stomps.
Riddle backs Sheamus against the ropes with strikes but Sheamus catches his foot and hits a big clothesline. Corbin picks up Riddle and puts him on the top turnbuckle. Riddle creates some space but he jumps into a choke slam backbreaker by Corbin.
Sheamus puts Zayn on the ring apron and batters him with forearms over the top rope. Zayn blocks the last one and Riddle is right there to his the Bro To Sleep on Sheamus. He follows with a running senton.
Sheamus tries to rally back but runs into a powerslam by Riddle. Riddle follows with a draping DDT and sets up for the RKO. Sheamus blocks it and sends Riddle over the top rope to the apron. Riddle tries to climb out but Sheamus knocks him off and Riddle is eliminated.
Zayn and Corbin double-team McIntyre. Zayn runs into a boot and McIntyre battles back. Corbin grabs McIntyre from behind. McIntyre backs Corbin into the corner and then ducks Zayn's Helluva Kick, which hits Corbin. McIntyre hits a neckbreaker on Zayn and sets up for the Claymore. Sheamus interrupts him with a Brogue Kick.
Sheamus tries to dump McIntyre over the top rope but McIntyre fights back. Sheamus misses a Brogue Kick and McIntyre rallies with a Glasgow Kiss and an overhead throw. Zayn gets involved and gets hit with an overhead throw as well. McIntyre hits a Future Shock DDT on Sheamus.
McIntyre pauses to hear the crowd. Zayn tries to sneak up on him but gets hit with a Claymore. Zayn gets dumped to the floor and he is eliminated.
McIntyre and Sheamus get into it again and are up against the ropes. Corbin sneaks up and dumps them both over the top rope to the floor. Cole and McAfee say he had been hiding out on the floor and they had forgotten about him.
Battle Royal Winner: Happy Corbin
Cole mentions we'll revisit last week's confrontation between "SmackDown" Women's Champion Ronda Rousey and Natalya later in the show.
Back in the arena, Corbin gloats in McAfee's general direction and we go to a commercial break.
Back from the break, Happy Corbin is celebrating backstage. He tells Kayla Braxton he's so happy he's "farting rainbows". He talks about how sad he made all the fans because they can't admit how great he is.
Braxton asks about McAfee's challenge for a match and Corbin is suddenly speechless.
Back to the announce desk, McAfee calls Corbin a "bum". Cole tosses to a hype video for "SmackDown" Women's Champion Ronda Rousey's title defense against Natalya coming up at Money in the Bank.
Backstage, Meghan Morant interviews Natalya. Natalya mocks Rousey's movie appearances. She says she sees nothing but fear in Rousey's eyes because she knows the Sharpshooter hurt her and she knows Rousey isn't 100%. Natalya vows to be the first person to make Rousey tap out.
Back in the arena, The New Day make their entrance. We get a recap of them dancing with Shanky last week before they were attacked by "the new and vicious Viking Raiders", according to Cole. The New Day face The Viking Raiders next. But first, we go to a commercial break.
Back from the break, The New Day is in the ring with microphones. Kofi Kingston says there's nothing better than being in Phoenix in June baby. Xavier Woods points out it's July. Kingston says "Ju-lying?" and Woods pays him $5.
They say they're here to have a good time but The Viking Raiders had to come out and ruin it last week. Woods encourages the crowd to boo the Raiders even louder. Kingston says these are "new and vicious Viking Raiders". Woods says, "Let's get dangerous". Kingston invites The Viking Raiders to bring their "Asgards" out here.
The Viking Raiders make their entrance and even ring announcer Samantha Irvine points out they are the "new and vicious" Viking Raiders.
The two teams start brawling. The Raiders use their shields to batter Kingston and Woods. The bell has not rung. Kingston gets to his feet only to get run down by Ivar and his shield. The Raiders act like they're about to leave but then decide to return and lift Kingston high in the air with a double Last Ride powerbomb.
McAfee concludes we will not have a match between these two teams tonight.
Back at the announce desk, McAfee and Cole chat for a moment but the shot cuts away to an argument backstage between Happy Corbin, Ezekiel, The Miz, and Madcap Moss. They all want in the men's Money in the Bank ladder match. Adam Pearce restores a bit of order and it will be a "fatal four-way" match later tonight to decide the final MITB participant.
Back in the arena, Asuka makes her entrance, followed by Liv Morgan making her entrance, and Alexa Bliss makes her entrance. The six-woman tag team match is next. But first, we go to a commercial break.
Back from the break, we get a reminder of the "fatal four-way" Money in the Bank qualifying match later tonight.
Back in the ring, Raquel Rodriquez, Lacey Evans, and Shotzi are making their entrance together to Rodriguez's music.
Before the bell rings, Becky Lynch makes her entrance. She says, after all, she's been through to get into the women's Money in the Bank ladder match she's taking the night off and joining commentary for the match.
Alexa Bliss, Asuka & Liv Morgan vs. Lacey Evans, Raquel Rodriguez & Shotzi
Asuka and Shotzi start off. Shotzi dodges some strikes but backs into her corner. Evans tags in.
Evans and Asuka lock up and Evans takes down Asuka and grabs a standing waistlock. She whips Asuka into her corner. Rodriguez tags in and hits a splash. Evans then hits a handstand in the corner into a dropkick on Asuka.
Rodriguez nearly gets caught in a sunset flip. Asuka gets to her corner and tags in Bliss.
Bliss is not interested in locking up with the much-larger Rodriguez, but Rodriguez corners her and whips her into the corner. Rodriguez picks up Bliss but Bliss slips out the back. She still runs into a shoulder tackle by Rodriguez. Bliss avoids another charge into the corner and tags in Morgan. They hit a double dropkick but Rodriguez kicks out of the pin attempt.
Morgan hits a rising knee strike on Rodriguez in the corner but Rodriguez catches her coming in for a Codebreaker. Shotzi tags in and takes down Morgan. Shotzi hits her cannonball splash against the ropes. That gets a 2-count.
Shotzi whips Morgan into the corner but Morgan reverses her charge and pushes her facefirst into the top turnbuckle. Shotzi rolls out to the floor. Evans heads over to chat with Shotzi but they can't seem to get on the same page. Morgan goes for a suicide dive that appears to come up short but Evans and Shotzi both go down.
Rodriguez gets on the apron and Asuka knocks her off with a hip attack. Bliss follows with a dive from the ring apron that takes down Rodriguez. Asuka, Bliss, and Morgan celebrate in the ring and we go to a commercial break.
Back from the break, Rodriguez is in control of Asuka. Asuka stumbles back into her corner and Bliss tags in. Bliss hits a bunch of kicks on Rodriguez. Bliss jumps off the second turnbuckle but Rodriguez catches her. Shotzi makes a blind tag and hits a splash on Bliss for a 2-count.
Shotzi whips Bliss into the corner and follows with a splash. Shotzi climbs to the top turnbuckle and puts Bliss in a triangle choke over the top rope. Shotzi suplexes Bliss into the corner and stomps on her. Shotzi charges again but runs into a back elbow. Bliss tries a rollup but Shotzi reverses it into a modified Boston Crab. Bliss reverses out of it and kicks away Shotzi. Bliss tags in Asuka.
Asuka fires away on Shotzi and knocks Evans off the apron too. Shotzi gets her knees up on a corner charge but her enziguiri is reversed into an ankle lock. Asuka transitions to a German suplex and covers for a 2-count.
Asuka misses a charge and Morgan makes a blind tag. Morgan hits a Codebreaker on Shotzi and things start to break down. Bliss hits a dropkick on Rodriguez. Evans hits the Woman's Right on Bliss. Asuka hits a spinning back fist on Evans. Shotzi tosses Asuka out of the ring but turns around right into Morgan's Oblivion and that gets the pin.
Alexa Bliss, Asuka & Liv Morgan defeated Lacey Evans, Raquel Rodriguez & Shotzi via pinfall
Cole says Morgan is his pick for Money in the Bank. During the post-match celebration, Lynch sneaks into the ring and hits the Manhandle Slam on Asuka, and heads back up the entranceway.
Backstage, Adam Pearce gets a visit from Sonya Deville. Deville says it was wrong for him to put her in a 2-on-1 match last week. Deville says she filed a formal complaint against him. She slaps Pearce in the face.
Back in the arena, the Undisputed WWE Tag Team Champions The Usos make their entrance. They will have an "Ask Them Anything" confrontation next. But first, we go to a commercial break.
Back from the break, the Street Profits are making their entrance. Kayla Braxton will officiate this segment. There are podiums set up for everyone.
Braxton starts with The Usos and their first question: How fearful are you of losing your titles tomorrow night and are you even more fearful of what Roman Reigns would think if they lost?
The Usos assure us they are not fearful because The Bloodline is running "all the damn shows". Montez Ford retorts that Reigns runs the whole show. Angelo Dawkins adds that's while The Usos are running to the grocery store.
Braxton asks the Profits about it being a while since they held tag team gold and lost at WrestleMania. She also asks about Ford and Dawkins not getting along.
The Profits say she probably got that rumor from the "dirt sheets". Ford gives a brief Samoan dynasty history lesson and assures us the Profits are as hungry as ever.
Jey Uso chimes in and warns him not to talk about their legacy. The Usos seem to see a lot of themselves in the Profits but they are not them. The Usos says they want the smoke. Braxton has left the ring.
Dawkins says the Profits are "The 1's". They have a staredown but don't come to blows. The Usos depart as the Profits' music plays.
Backstage, Adam Pearce is visited by Max Dupri. "Finally, the world will see the magnificence of Maximum Male Models." That's supposed to be next, but first, we go to a commercial break.
Back from the break, Cole tosses to a video package featuring Intercontinental Champion Gunther.
Back in the arena, the ring announcer introduces the founder of Maximum Male Models Max Dupri, and he's actually here this week. Under a single spotlight in the ring, Dupri hypes up the virile men in all of fashion. Dupri introduces the former Mace, who is now known as Ma.cé (pronounced mah-SAY).
Ma.cé strolls out onto the stage which is set up like a catwalk with a red carpet. Photographers are snapping pics. Dupri goes into great detail about the physique of Ma.cé as the big man continues to strike poses. Ma.cé strolls backstage.
Dupri now introduces his next model. We used to know him as Mansoor. Now, he is Mån.sôör (pronounced man-SWAH). I think the characters they're using to spell the models' names are deliberately designed to punish the recappers of the world.
Dupri calls Mån.sôör "the heartthrob of the fashion world". He also says he has a ton of charisma. Mån.sôör strolls backstage.
Dupri says many will be clamoring to join his agency, but unless they have the qualities of Ma.cé and Mån.sôör, forget it. They are here to titillate the juices of your guilty pleasures.
Back at the announce table, McAfee is giving this a standing ovation and assures Cole he is titillating.
Backstage, Meghan Morant introduces Ronda Rousey. She says it's been nice teaching Natalya how to promote a fight. Rousey says she'll tap out Natalya at Money in the Bank.
Back in the arena, The Miz makes his entrance. Cole shows stills of Logan Paul signing with WWE this week, including one where Paul points out he is coming for Miz.
Madcap Moss makes his entrance. The "fatal four-way" Money in the Bank qualifying match is next. But first, we go to a commercial break.
Back from the break, Happy Corbin is making his entrance.
Cole and McAfee run down the card for Money in the Bank
Fatal Four-Way Money in the Bank Qualifying Match: Happy Corbin vs. Madcap Moss vs. The Miz vs. Ezekiel
The bell rings. Corbin goes after Zeke and Moss goes after Miz. Miz tries a rollup on Moss but Moss kicks out at 2. Zeke also tries a rollup on Moss for a 2-count.
Zeke and Moss square off in the ring. Zeke slams him. Moss responds with a back elbow. Zeke rolls to the floor and Corbin comes in to go after Moss. Moss hits a flying shoulder tackle from the second turnbuckle. Miz blindsided him and he and Corbin work over Moss in the corner.
Corbin lures Miz into a big clothesline. Corbin tries his in-and-out clothesline but Zeke is on the floor to cut him off. Miz misses a dropkick through the ropes and Moss and Zeke knock him back into the ring. Corbin sends Moss into the steel ring steps, drops Miz on the ring apron, and choke slams Zeke on the announce table.
We go to a commercial break.
Back from the break, Moss is firing up on Miz with a big shoulder tackle and a slam for a 2-count when Corbin breaks up the pin attempt.
Moss manages to catapult Miz's head straight up into Corbin's crotch. Moss hits the Punchline on Corbin but Zeke breaks up the pin attempt. Moss hits a fallaway slam on Zeke. Miz hits a flying knee on Moss. That gets a 2-count.
Miz hits the It Kicks. Moss blocks the last one but Miz hits a neckbreaker. He covers but Corbin breaks up the pin. Corbin hits Miz with Deep Six for a 2-count.
Zeke and Corbin slug it out in the center of the ring. Zeke hits a mule kick on Corbin and slams Moss into the corner. He hits corner splashes on Moss and Miz. Corbin cuts him off but Zeke hits a knee strike for a near fall broken up by Miz.
Zeke lifts Miz onto his shoulders but Miz slips out and hits the Skull Crushing Finale. Corbin pulls Miz out of the ring to break up the pin attempt. Corbin hits the End of Days on Zeke but Moss breaks up the pin attempt. Moss covers Zeke and gets the pin!
Madcap Moss defeated Ezekiel and The Miz and Happy Corbin
Moss is in the men's Money in the Bank ladder match tomorrow night. He celebrates in the ring. McAfee mocks "bum ass Corbin" at ringside.
That's our show!