WWE SmackDown Results (7/8): Drew McIntyre Vs. Butch, Roman Reigns, Liv Morgan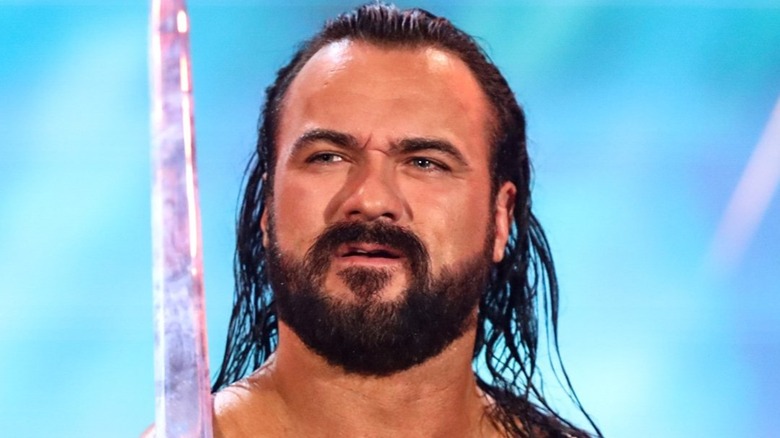 WWE
Welcome to our WrestlingINC.com live WWE "SmackDown" viewing party. Tonight's show is broadcasting live from the Dickies Arena in Fort Worth, Texas.
As of Friday evening, one match was announced for tonight's show.
Drew McIntyre vs. Sheamus (*Winner will challenge the Undisputed WWE Universal Champion at Clash at the Castle)
WWE is also promoting the return of Undisputed WWE Universal Champion Roman Reigns, Liv Morgan kicking off her reign as "SmackDown" Women's Champion, and Maximum Male Models unveiling their 2022 Tennis Collection.
Our live coverage will begin at 8 PM ET.
Please share today's Viewing Party coverage on social media and chime in with your thoughts in the comments section below.
We're on the air. The show opens with a recap of Bobby Lashley winning the United States Championship from Theory at the Money in the Bank event and Theory later winning the Money in the Bank ladder match.
Michael Cole and Corey Graves are on commentary and welcome us to the show. Cole says he'll have more on Pat McAfee's whereabouts later in the show. They promote an appearance by Liv Morgan. Plus, Drew McIntyre vs. Sheamus with the winner facing the Undisputed WWE Universal Champion at Clash at the Castle.
Back into the arena, and the champion himself Roman Reigns makes his entrance alongside the Undisputed WWE Tag Team Champions The Usos, and Paul Heyman.
Reigns poses in the ring and then Theory appears on the stage holding the Money in the Bank briefcase. Cole and Graves speculate that he could be here to cash in his contract and we abruptly got to a commercial break.
Back from the break, Reigns, The Usos, and Heyman are in the ring. Theory is gone, but Graves points out that we now know that he's in the arena tonight.
Reigns has a microphone and tells Fort Worth, Texas to acknowledge him. Reigns points out a mixed reaction he's getting from the crowd. Reigns says business picks up when he's in the house. He says life is good. He says, "As long as God wakes me up I can do anything". Reigns talks about working out in his private gym this morning and he's happy to be on "my show".
Reigns says he's happy to see his family, but Heyman seems to be in a bad mood. Reigns wants to know why Heyman looks so concerned. Reigns tells Heyman to put his hand out. Heyman reluctantly does so. His hand is shaking. Reigns puts the mic in Heyman's hand and tells him to explain what's wrong.
Heyman says he loves Reigns and The Usos, but he says they have a problem and that problem's name is Brock Lesnar. Heyman says Reigns is the greatest of all time. Heyman says Lesnar has one last chance against Reigns and when Lesnar is cornered that's when Heyman says he is at his most dangerous. Heyman recalls Lesnar defeating The Rock at SummerSlam 2002 and breaking The Undertaker's WrestleMania undefeated streak.
Heyman says he's scared because now we're going to have to see Reigns "go savage" because putting Lesnar down for 10 seconds in his final title match is a whole different story from what Reigns has faced against Lesnar in the past. Heyman says Reigns will have to be at his very best.
Reigns' music plays. Heyman kneels before Reigns. Then, Theory's music plays and he jobs down to the ring with the Money in the Bank briefcase. Theory jobs all the way around the ring and back up the entrance aisle and poses on the stage. Cole thinks Theory is playing mind games.
Back at the announce table, Cole and Graves toss to highlights of the "new and vicious" Viking Raiders beating up The New Day over the past couple of weeks.
Back in the arena, the Viking Raiders make their entrance. They will face Jinder Mahal and Shanky next. But first, we go to a commercial break.
Back from the break, Mahal and Shanky are making their entrance.
The Viking Raiders vs. Jinder Mahal & Shanky
Shanky starts off against Ivar. He starts to dance but Mahal tags in to put an end to that. Ivar backs Mahal into his corner and tags in Erik and they clobber Mahal with forearms. Erik grounds Mahal with an arm bar. Mahal fights to his feet and kicks Erik in the face but can't tag Shanky because he's on the floor showboating for the crowd.
The Raiders catch Mahal with a double powerbomb and that gets the pin.
The Viking Raiders defeated Jinder Mahal & Shanky via pinfall
The Raiders beat up on Mahal and Shanky after the match. The New Day then make their entrance to end the beatdown. Kofi Kingston admits the Raiders "kicked our butts" over the past couple of weeks. However, Kingston points out that their butts are still here so the Raiders didn't do a very good job.
Xavier Woods says those butt kickings were not sanctioned so they don't count. Woods and Kingston pull out "officially sanctioned Ass Beating" tickets. Kingston and Woods hit the ring and brawl with the Raiders. However, Erik takes down Kingston and then catches Woods with a knee strike to lay out The New Day. Ivar climbs to the second turnbuckle and Erik passes Woods up to him for a front slam from the second turnbuckle.
The New Day are laid out as the Viking Raiders depart.
Back at the announce table, Cole says the reason McAfee isn't here tonight is that he was attacked by Happy Corbin after Money in the Bank went off the air Saturday night. They show the video of Corbin's attack, which included an End of Days on the floor.
Cole says the match is now set for SummerSlam between Corbin and McAfee.
Back at the announce table, Corbin is sitting at the announce table and putting on a headset. He says he'll show he can do this better than McAfee. Cole adds that McAfee was playing golf earlier today but wasn't medically cleared to do commentary.
Back in the arena, the Intercontinental Champion Gunther makes his entrance. Cole teases that Gunther will host an open challenge next. But first, we go to a commercial break.
Back from the break, Corbin is still on commentary with Cole and Graves.
In the ring, Ludwig Kaiser introduces Gunther. Kaiser says no one in attendance is worthy of watching the Ring General compete tonight. However, Kaiser says it is "customary" for an Intercontinental Champion to defend in an open challenge.
Gunther takes the microphone and says anyone who would face an opponent he doesn't know is a fool. Gunther says a title match must be earned.
Kaiser starts to talk again but he's interrupted by Shinsuke Nakamura. Corbin freaks out like he's McAfee and even hops up onto the announce table to dance. Graves jumps up there with him and they both dance while Nakamura makes his entrance.
Nakamura gets a microphone and says Gunther can keep the title for now. Instead, Nakamura challenges Kaiser to a match right now.
Ludwig Kaiser (with Gunther) vs. Shinsuke Nakamura
Nakamura quickly takes control and hits his sliding German suplex while Kaiser is hung up in the ropes. However, Nakamura takes too long staring at Gunther at ringside and Kaiser catches him with a dropkick when he gets back in the ring. Nakamura spills out to the floor and we go to a commercial break.
Back from the break, Kaiser is in control of Nakamura. Nakamura hits a one-legged dropkick to break his momentum. Nakamura fires up with strikes and kicks away as Kaiser is down on his knees. Nakamura hangs Kaiser across the top turnbuckle and hits his running knee into the corner. That gets a 2-count.
Nakamura goes for a rear-naked choke but Kaiser backs him into the corner and hits a kick to the head. Kaiser brings him out with a double under hook suplex but misses a penalty kick. Nakamura hits the Kinshasa and that gets the pin.
Shinsuke Nakamura defeated Ludwig Kaiser via pinfall
Gunther scolds Kaiser after the match and orders him to stand up. Kaiser slowly gets back to his feet. Gunther hits him with a few big chops across the chest while he berates him. The last one floors Kaiser.
Back at the announce table, Corbin has departed. Cole sets up highlights of Liv Morgan winning the women's Money in the Bank ladder match and cashing in on Ronda Rousey to win the "SmackDown" Women's Championship at the Money in the Bank event on Saturday night.
Back in the arena, Liv Morgan makes her entrance. She's next. But first, we go to a commercial break.
Back from the break, Michael Cole is in the ring to interview Morgan. Cole recounts Morgan's eventful Saturday night at Money in the Bank. Cole points out Rousey had suffered a knee injury in her match against Natalya before Morgan cashed in. Cole suggests Rousey probably wants a rematch at SummerSlam. Morgan says "bring it".
Morgan says her title win is the culmination of a lifetime of hard work. She says she's willing to work ten times as hard to stay on top. She says no one wants this championship more than her.
Cole says ten years ago, Morgan was a waitress saving her money to one day get into training to be a sports entertainer. Cole says she suffered many setbacks but now she gets to enjoy the jubilation of her success.
Morgan says being a champion means everything to her. She says she dreamed of it her entire life and sometimes questioned if she would get to the top but she never gave up. Morgan is interrupted by Natalya.
Natalya says she's dreaming of when Morgan is finally going to shut up. She says the only reason Morgan is champion is because of her, and Morgan's Cinderella story will come to an end at SummerSlam.
Ronda Rousey's music plays and she makes her entrance, still walking gingerly. Rousey says congratulations to Morgan. She says to enjoy it because at SummerSlam she'll find out that defending the title is a lot harder. Rousey gets jumped by Natalya but Morgan comes to her rescue and dumps Natalya. Morgan and Rousey stare at each other in the ring and we go to a commercial break.
Back from the break, Ronda Rousey and Natalya are in the ring and we're told a match was made during the break.
Ronda Rousey vs. Natalya
Rousey goes right after Natalya's knee and Natalya retreats to the floor. Rousey goes out after her and grabs Natalya as she's getting back in the ring and slams her knee on the apron. Natalya against retreats to the floor. Rousey goes out again and punches her in the gut. Rousey slams Natalya on the apron. Rousey gets up on the apron with Natalya and grabs an ankle lock. Natalya falls into the ring when Rousey releases it.
Rousey gets in the ring and puts her back in the ankle lock and then transitions to a slam. Rousey goes back to the ankle lock. Rousey grapevines Natalya's leg and Natalya taps out.
Ronda Rousey defeated Natalya via submission
Backstage, Meghan Morant interviews Drew McIntyre. McIntyre says he's been to Cardiff and he's made it clear he's coming for whoever is champion after SummerSlam, whether it's Roman Reigns, Brock Lesnar, or Theory.
McIntyre talks about knowing Sheamus for a long time and he's not concerned about the rest of the Brawling Brutes.
Back in the arena, the stagehands are setting up for Max Dupri and his Maximum Male Models. That's next. But first, we go to a commercial break.
Back in the arena, Max Dupri is in the ring. He says last week's debut of Maximum Male Models was a "viral sensation". Tonight, we get a captivating treat: the 2022 Tennis Collection.
First up is ma.çé, sporting a blue polo shirt and white pinstripe shorts with a white sweater tied around his neck and a white visor on his head. Dupri narrates how ma.çé's physique accentuates the outfit.
Next is mån.sôör, who is wearing a similar outfit. mån.sôör's shirt is white with blue sleeves. He's also wearing a white headband instead of a visor. Dupri again discusses the finer points of mån.sôör's body dimensions.
Dupri says only "the most penetrating look" can be represented by his agency. He invites anyone who thinks they have what it takes to send a "full body shot" to MaximumMaleModels.com.
ma.çé and mån.sôör stroll out for an encore and Dupri thanks the audience for their attention.
Back at the announce table, Cole and Graves reset the opening segment of tonight's episode, specifically Theory doing a lap around the ring in front of Roman Reigns.
Backstage, Kayla Braxton interviews Theory. He says he's here to let Reigns know that he's always watching. He says he'd prefer to cash in on Brock Lesnar on SummerSlam but he'll cash in on Reigns too. Theory says everyone is looking for someone to knock Reigns off his pedestal and it might just be him. Theory says Reigns is screwed because either Lesnar will beat him or he will.
Theory leaves and Madcap Moss strolls in. He says that's a briefcase but he thinks he can shove the whole thing into Theory's mouth and he'd like to try.
Back in the arena, Aliyah makes her entrance. She's set for tag team action next. But first, we go to a commercial break.
Back from the break, Aliyah is waiting in the ring. Lacey Evans makes her entrance. She points to her ear and Graves mentions a "less than thrilling response". Evans goes backstage and they play her music again and this time the crowd cheers when she comes out. Evans apparently still isn't satisfied and goes backstage again. Graves thinks she's not satisfied with the response from the crowd. Evans enters a third time, urging the crowd to get louder. This time the crowd does not cheer as loudly and some can be heard booing.
Evans gets a microphone and rolls into the ring. She says she's completely disgusted by the response she received. Evans wants to know if they know who she is and what she's been through. She says she poured her heart and soul out and for what? She thinks they look at a woman like her and know all the struggles she's been through and that they can never go through something like that. Evans says she deserves a standing ovation. Evans implies the fans are too fat to stand up for her. Evans says she's an American hero who put her life on the line. Until she gets the respect she deserves she says all the fans can go to hell.
Evans starts to leave but Aliyah tries to stop her. Evans hits her with the Woman's Right and Aliyah is knocked to the mat. Evans leaves. It appears we will not be getting the tag team match we were promised before the break.
After a brief mention of tonight's main event, we go back into the arena where The Usos make their entrance. We get highlights from Saturday night's title match between The Usos and the Street Profits and the replay of Montez Ford's shoulder not being on the mat when he was counted down for the pin.
The Usos face Los Lotharios next. But first, we go to a commercial break.
Championship Contender's Match: Undisputed WWE Tag Team Champions The Usos vs. Los Lotharios
Back from the break, the match is already underway. Humberto and Jimmy are in the ring. Humberto lands on his feet out of a back body drop and tags in Angel. Angel eludes Jey and put him on the apron where they hit a double kick. Los Lotharios fake a dive and play cat-and-mouse with The Usos.
Jimmy gets in the ring and Humberto fires away with chops. Jey tags in and hits a pop-up Samoan drop. Angel breaks up the pin attempt. Angel dives over the top rope but gets caught with a  superkick by Jimmy.
In the ring, Humberto and Jey are on the top rope. Humberto backflips off and runs into a superkick. The Usos hit 1D and get the pin.
The Usos defeated Los Lotharios via pinfall
Kayla Braxton interviews The Usos in the ring and replays the finish of the title match at Money in the Bank that shows Ford's shoulder was up.
Braxton suggests they cheated. The Usos take offense and says that the mistake is on the referee. Braxton says there will be a special guest referee for the title rematch at SummerSlam. The Usos say they have someone in mind for a special ref. The Usos pose and Drew McIntyre's music plays and McIntyre makes his entrance for tonight's main event. But first, we go to a commercial break.
Back from the break, we're told Liv Morgan and Natalya will meet in a Championship Contender's match on next Friday's "SmackDown". Plus, Theory vs. Madcap Moss.
Back in the arena, McIntyre waits in the ring. Sheamus makes his entrance. Sheamus gets a microphone and explains the stakes of this match with the winner going to Clash at the Castle. Sheamus starts to get choked up. Sheamus says he hopes he "doesn't have a case of the ol' COVID". Sheamus says he should probably get tested. Sheamus says we'll get a match with Butch instead.
Drew McIntyre vs. Butch (with Sheamus & Ridge Holland)
Butch charges right after McIntyre but McIntyre hits a big overhead suplex. McIntyre runs into a boot in the corner from Butch. Butch tries to put McIntyre in a Kimura Lock. McIntyre powers out and headbutts Butch. McIntyre hits another overhead suplex.
McIntyre knocks Holland off the apron. Butch climbs to the top turnbuckle but misses McIntyre. He hits a neckbreaker and delivers the Claymore for the pin.
Drew McIntyre defeated Butch via pinfall
Holland attacks McIntyre after the bell and gets a Future Shock DDT.
Cole says we still don't know who will get the title match at Clash at the Castle.
McIntyre gets his sword and points it at Sheamus, who's standing on the apron. McIntyre takes a swing but Sheamus drops down to the floor to avoid it. The sword cuts through the top rope and flames shoot from the ring posts. McIntyre poses in the ring as the Brawling Brutes look on from the entrance aisle. Cole assures us this issue is far from settled.
That's our show.