10 WWE wrestlers suspended, written off of TV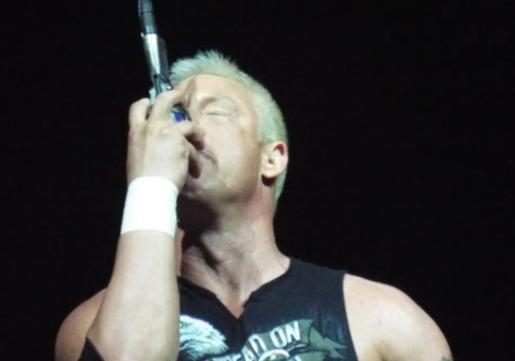 Photo credit: WWE
WWE suspended eleven performers based on information that the company received from investigators in the Albany, NY district attorney's office. Apparently the suspensions are based on information on superstars that were using Signature Pharmacy or another Internet prescription service prior to WWE's implementation of the Wellness Policy.
The New York Daily News released the names of the wrestlers who were customers of Signature Pharmacy (you can access their article by clicking here). The names they reported were Adam Copeland (Edge), King Booker (Robert Huffman), Shane Helms, Mike Bucci (Simon Dean), Anthony Carelli (Santino Marella), John Hennigan (John Morrison), Darren Matthews (William Regal), Ken Anderson (Ken Kennedy), Chavo Guerrero, Randy Orton and Charlie Haas. ESPN also released a list of Signature Pharmacy customers, but with three additional names: Shoichi Funaki, Dave Bautista (Batista) and Chris Mordetsky (Chris Masters).
Sports Illustrated published an article which has information on the drugs and dates the drugs were received by various WWE wrestlers, all of whom fall after the institution of the Wellness policy (the full article can be accessed by clicking here).
Surprisingly, WWE had actually first met with New York prosecutors on 8/14, a full 15 days before any action was taken. The company took action on 8/29, perhaps not so coincidentally right before the Sports Illustrated, New York Daily News and ESPN articles were published on the internet.
Here is the list of wrestlers and the drugs purchased, from the SI article:
* Chris Benoit, who died in June (Full Story), received nandrolone and anastrozole (used by athletes to counter side effects of steroid use, such as water retention and breast enlargement) in February 2006. Two weeks prior to Eddie Guerrero's death (Full Story) he was sent nandrolone, testosterone, and anastrozole.
* Chavo Guerrero received, among other drugs, somatropin (HGH), nandrolone and anastrozole between April 2005 and May 2006.
* Shane Helms, a.k.a. The Hurricane, received, among other drugs, testosterone, genotropin (HGH) and nandrolone between November 2003 and February 2007.
* Randy Orton received somatropin, nandrolone, stanozolol from September 2004 through February 2007.
* John Hennigan, a.k.a. Johnny Nitro, a.k.a. Johnny Morrison, was prescribed somatropin, anastrozole, testosterone, stanozolol and chorionic gonadotropin, a hormone produced naturally during pregnancy between June 2006 and February 2007.
* Ken Anderson, a.k.a. Mr. Kennedy received shipments of anastrozole, somatropin and testosterone between October 2006 and February 2007.
* Shoichi Funaki received somatropin in March 2006.
* Brian Adams, a.k.a. Crush, who was found dead on Aug. 13 (Full Story), received nandrolone, testosterone and Somatropin or HGH in December 2006.
* Charles Haas, a.k.a. Charlie Haas was prescribed anastrozole, somatropin, stanozolol, nandrolone and chorionic gonadotropin between August 2006 and January 2007.
* Edward Fatu, a.k.a. Umaga received somatropin between July and December 2006.
* Darren Matthews, a.k.a. William Regal received stanozolol, somatropin, genotropin, and anastrozole between November 2004 and November 2006.
* Adam Copeland, a.k.a. Edge, received somatropin, genotropin (both HGH), and stanozolol between September 2004 and February 2007.
* Sylvain Grenier received somatropin, nandrolone, genotropin and stanozolol, starting in February 2005 through July 2006. Grenier was released a couple of weeks ago from the company.
Meanwhile, on the "On the Record" program on the Fox News Channel, WWE attorney Jerry McDevitt reported that he had met with investigators regarding Signature Pharmacy clients who were currently with WWE. McDevitt said that once they confirmed the shipments, Vince McMahon acted and suspended the wrestlers and confirmed they were suspended without pay. He also said what was in the WWE statement on the issue from earlier today, that in the future all talent will be publicly identified in the future.
The company by the wording of its policy would be forced to suspend the wrestlers under contract as it indicates flagrant violations of the policy after implementation. The company suspended eleven wrestlers, but this list only includes nine active wrestlers, two of whom, Helms and Copeland, are out indefinitely due to injuries. The company also fired Mike Bucci, a.k.a. Simon Dean, who was the only active wrestler on the list who was fired.
In addition to the suspensions, WWE also fired Cryme Tyme on September 3rd, and Nick Dinsmore, a.k.a. Eugene on September 1st. Cryme Tyme was fired for a disciplinary reason (to read details, click here) while Dinsmore was fired because he recently violated WWE's Wellness Policy for a third time (to read details, click here).
Before the ECW/SmackDown taping in Cincinnati, Ohio, on September 1st, Stephanie McMahon conducted a talent meeting. The meeting was held at 4 pm with the main subject being the changes to the Wellness Program. The main changes made to the program and announced to the talent are:
* New talent signed by WWE will need to be drug tested before being signed.
* Marijuana testing will now be in effect by WWE. If tested positive, talent will be fined one thousand dollars each time failed. Also, if tested positive for marijuana, talent will not be suspended and will not be included in their "three strikes" rule.
* The drug 'anti-estrogen' will be added to the banned items talent will be tested for.
* From November 1st, talent who violate the Wellness Program will be made public by WWE.
Also, before the ECW/SmackDown taping took place on Saturday, Triple H addressed the stars during a pre-show meeting. He told the stars that the whole industry is now being under attack and it's now time for everyone to stick together.
All the wrestlers that were suspended flew out to Stamford for a meeting with Vince McMahon. As of press time, there are 10 wrestlers who were suspended and there is no indication that any more suspensions will be coming. While the identites of the wrestlers suspended have not been confirmed by WWE, many active wrestlers on the list have been written off of TV. The wrestlers who have been suspended for 30 days are: Charlie Haas, Edge, Gregory Helmes, John Morrison, William Regal, Mr. Kennedy, Umaga, Funaki and Chavo Guerrero. Randy Orton, despite being on the Pharmacy list, will not be suspended. Sources in WWE are saying that Orton has already been punished for this in the past. Also not suspended was Santino Marella, according to the Wrestling Observer Newsletter. Although no reason has been given as to why Marella has not been suspended, some believe it is because he had received the packages before being brought on the official WWE roster.
Of the wrestlers on that list, the only one to have quit was King Booker. Dave Meltzer reports that Booker quit WWE when he was told that he was to be suspended for 60 days because he was believed to have failed a Wellness Program test before, hence the 60 days suspension instead of 30.
According to Meltzer, WWE is still trying to keep Booker, however they're going on under the impression he's done. The two sides had been having troubles recently, with a major setback being John Laurinaitis' call to go with Florida for a developmental territory – where WWE would start from scratch – instead of going with Booker's already established PWA, which WWE had been loaning wrestlers to. After they made the call to stop that, Booker went to his friends at TNA and booked them for his shows instead, which didn't sit so well with anyone backstage, but they couldn't say much having pulled WWE talent from PWA.
Booker is pretty much set financially and has wanted out of wrestling for a while. At age 42, he's accomplished a lot, and thanks to his hip hop store doing well in Houston, and his two wrestling schools up and running, there's really no need for him to stick around.
The other major star to have quit was Ric Flair. According to the Wrestling Observer newsletter, Ric Flair gave his notice to WWE on or around 8/20. As you may have guessed, Flair was upset because he's being underutilized. Several months ago, Steve Austin came up with a storyline for Ric Flair where Flair would lose several matches and then announce he would quit if he lost another match. That would start a winning streak for Flair that would culminate at next year's WrestleMania.
Austin pitched the plan to Vince & and Stephanie McMahon and they loved it. However, writer Gerwitz was against the idea, feeling that for it to work Flair would have to beat top talent on the roster, and it would make them look weaker losing to the older Flair. Flair was obviously on board when he heard about it. Flair was not promised that he'd win the title, but was told he may get the gold if the storyline caught on.
At this time, he is still under contract and still getting paid by WWE. Most people within WWE expect Flair to return to the company. Flair was on local sports talk show Prime Time with The Packman on 9/9/2007 on
WFNZ in Charlotte. He said he will be opening a new business in Charlotte this week called Ric Flair Finance. Flair talked a little bit of football before the host asked him if he really quit WWE. Flair kinda laughed at it and said "No, it's not true." and asked what WWE would do without him. He didn't seem too sure of himself but he said he would talk more about everything next week on the same show. Flair and WWE continue to talk after a creative disagreement. He remains under contract with the company and it is expected he'll be back after things smooth over and a deal is reached.
An article from the Palm Beach Post also linked Ric Flair and Paul 'Big Show' Wight as having received packages from a Tampa drug clinic. In 2003, the Hillsborough County sheriff arrested and charged John Todd Miller with posing as a doctor and running a Tampa medical clinic that allegedly supplied wrestlers, law enforcement officers and businessmen with anabolic steroids. The case was dropped because of a lack of evidence, but the case file shows how wrestlers might obtain drugs.
Misty Waldo, an employee of the clinic, told detectives that when she was hired, she was told to expect to see wrestlers at the clinic. Waldo said she sent overnight "packages" to Paul Wight, formerly known as "The Big Show" and Ric Flair. Investigators didn't specify the contents of those packages.
In documents filed by investigators, former University of North Carolina wrestler T.J. Jaworsky said he was introduced to Miller by Flair two years prior for help in healing a sports injury and that he paid $1,200 per "cycle" for unspecified drugs. Flair called Jaworsky "everything I'd want my kid to be" in his 2004 book, To Be The Man. Contacted recently, Jaworsky said he hadn't talked to Flair in more than two years and he doesn't remember Miller. "It happened so long ago," Jaworsky said.
The WWE released this statement in regards to the suspensions:
Based on independent information received from investigators from the Albany County, NY D.A.'s office, WWE has today, under the penalty provisions of its wellness policy, issued suspension notices to 10 of its performers for violations. It has been WWE's practice not to release the names of those who have been suspended, but notice has been sent to all WWE performers that names of anyone who is suspended under the Wellness Policy as of November 1 will be made public.
You can get an email update when big stories like this break. Our email updates are sent out only when a major story (that would appear in the Top Stories section of the site) breaks or after a PPV. Your email is kept confidential and is never given out to anyone. To sign up for our email updates, click here.