Jim Ross Predicting Major Upset For Elimination Chamber Match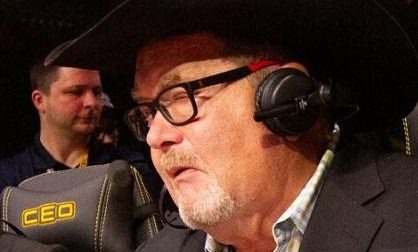 Photo Credit: AEW
Jim Ross posted his latest blog at JRSBBQ.com giving his predictions for tomorrow's Elimination Chamber pay-per-view. Ross went out on a limb and picked a dark horse to win the Elimination Chamber match. He wrote:
"Honestly, a viable argument can be made, some more than others, obviously, that any one of the 6 contestants could be deemed the winner. All 6 men will likely be on the WM29 card but the difference in the pay day for being in a main event, World Title bout or not is significant. Very significant.
"Even though I get plenty of negative feedback on our Q&A's, much akin to taking a long car trip with Nancy Grace, regarding my confidence in my fellow Oklahoman Jack Swagger who now has a new addition to his TV persona in Zeb Colter. I recruited Swagger from OU where he was a two time, Wrestling All American for the #Sooners and I know what type of legit athlete that he is. He has shown flashes of brilliance, sporadically, in WWE early in his career but arguably @RealJackSwagger has been admittedly inconsistent as many young guys are prone to be. Nonetheless I still have belief in the kid who used to sit on my couch in our home in Norman and talk about a potential WWE career. Is it Swagger's time to win a career defining match? I'm saying yes but the odds are long. Perhaps I'm picking more with my heart than my head but I'm taking Swagger for the win Sunday on PPV in the Elimination Chamber."
Ross also gave his predictions for the other matches on the card and discussed his wife having lunch with Bruno Sammartino. You can check out the full entry by clicking here.
Also, don't forget to order some of JR's BBQ Sauce, which is great for the kitchen and the grill, at WWEShop.com by clicking here.
Source: JR's BBQ