WWE Live Event Results From Hartford (12/27): Del Rio's Open Challenge, Cesaro - Booker, John Cena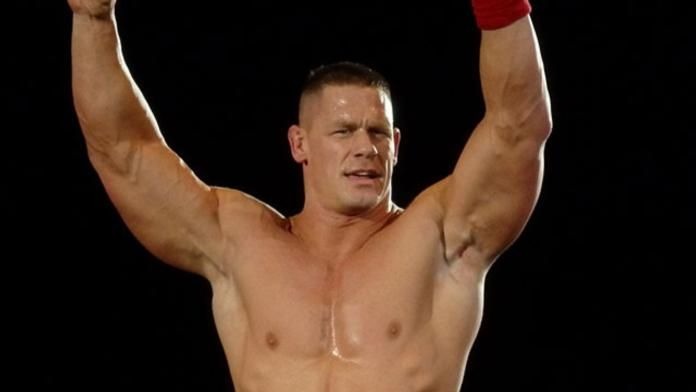 Thanks to WrestlingINC.com reader Joe Raider Fan for sending in these results from last night's WWE live event in Hartford, CT:
Had a great time at the show last night. Bob Backland was in the lobby taking pictures & signing autographs. The arena was about 80% full. There was a cage hanging above the ring with some "YES" and "Woooo" chants happening before the show started. The crowd was into the show, but it just isn't the same as going to a RAW or Smackdown TV taping. Hardly anyone brought signs.
The match was Sin Cara vs Alberto Del Rio:
Sin Cara came out to a nice pop from the crowd while ADR got lots of heat. Back and forth match. Lots of "You suck" chants for ADR during match. ADR eventually goes for the cross arm breaker, but Sin Cara rolls it into a cover for the win. ADR is fuming & grabs the mike and starts ranting how he refuses to end 2013 on a losing note. He issues an open challenge to anyone in the back which gets answered by Rey Mysterio running out to a big pop from the crowd. Ray wins the match in about 30 seconds after hitting a 619 followed by a diving head butt from the top rope. Crowd goes wild. My boy says that was one of the coolest fast matches he has ever seen. ADR stays in the ring a bit & is furious about losing.
Next up is Curtis Axel vs Great Khali:
Axel got lots of heat. Crowd was very into Khali and he was basking in all the love, walking around the ring high fiving the crowd. It amazes me he can wrestle because he can barely walk! Lol. Khali keeps instigating the crowd by pointing to Axel who gets Booed by crowd & cheers for Khali. Match finally begins & Axel keeps jumping out of the ring which gets him lots of heat from the crowd and starts the Khali chants going from the crowd. Khali gets the win after giving Axel the big boot kick (which clearly missed Axel by a lot !) followed by the big chop to the head and cover for win.
3MB vs Los Matadores:
General Manager Brad Maddox comes out and says he has a Christmas treat for the crowd and introduces Prancer, Dancer, & Rudolph, a.k.a. 3MB with Ricardo Rodriguez filling in for Heath Slater. They are not happy with this gimmick and are quite upset over having to wear these silly costumes. Los Matadores come out to a nice pop. Fun match. El Torito is quite an entertainer and crowd pleaser and covers for the win. Lots of "Ole" chants from crowd during match.
A fan vote is put up to decide whether there should be a 8 Diva dance off or a tag match.
Brodus Clay vs Zack Ryder:
Clay comes out to lots of boos & heat and insists of being called a "Main event player". Zack comes out to a nice pop and wins in a quick match.
Steel Cage Match: Cody Rhodes & Goldust (c) vs. The Real Americans for the tag titles:
Real Americans come out and Zeb immediately starts egging the crowd on by talking about Massachusetts then Swagger tells him this is Connecticut and Zeb says that is even worse. Ranking on all the illegal immigrants here and says he will have buses outside the arena to bring them back to where they belong. Cody & Goldust come out to a nice pop and interact with the crowd ringside. A good match from start to finish with a great ending with Cody doing a backwards moonsault from the top of the cage without even looking before he jumped resulting in the cover & win. After the match Cdy & Goldust walked around ringside and signed autographs as intermission began.
Intermission
Kaitlyn, Alicia Fox, Rosa, & Aksana vs. The Bellas & The Funkadactyls
The Fans Choice resulted in a Diva Santas Helper Dance Off, which the crowd and myself were very happy about. Kaitlyn, Alicia Fox, Rosa, & Aksana vs Bellas & Funkadactyls. Kaitlyn, Alicia Fox, Rosa & Aksana put a lackadaisical effort into it while The Bellas & Funkadactyls just killed it, easily winning. They looked really hot from my ringside seats shaking their moneymakers! A brawl breaks out & GM Maddox comes out and turns it into a tag match. Pretty good Divas match with The Bellas & Funkadactyls winning. Crowd was very into the match.
Kane vs. Big Show
Out comes special referee Booker T to a huge pop from crowd. New corporate Kane comes out with no mask and a nice haircut. Even my 12 year old boy says he doesn't look scary anymore. Big Show comes out to a big pop from the crowd. He gets into the ring and gets the crowd to give lots of love to Booker T by encouraging the crowd behind Booker T's back. Great big man match. Kane chokeslams Show from the top rope and goes for the cover but only gets a 2 3/4 count. Kane is furious and gets up yelling at Booker T. He tries to chokeslam Booker T but Booker slips out and gives a Kane a scissor kick and Kane then turns around into a knockout punch from Big Show. Show covers for the win. After the match the crowd is chanting for a spineroonie from Booker. But first Booker says we need to do a favor for him. Bookers calls out Real American Antonio Cesaro and makes us sing Happy Birthday to him. Booker says he always wanted Cesaro to do his spin move on him. Cesaro agrees to do it to Booker T, then Booker does his spineroonie for the crowd.
John Cena vs. WWE World Heavyweight Champion Randy Orton for the title:
The Viper comes out to huge pop from crowd as he leisurely strolls down the ramp. Crowd loved him. Then Cena comes out to an even huger pop. By far the biggest pop of the night. Crowd is going nuts for both of them. During Cena's intro, The Viper attacks Cena from behind. The bell rings and we begin. Awesome match. Big match feel just like a TV taping. Crowd very into match and on their feet almost all the match from bell to bell. By far the best match of the night. Lots of "Lets go Cena/Cena sucks" chants during match. Very back and forth match. Orton kept egging on crowd when Cena was down doing Cena's hand wave to himself and going into his classic Viper stance on the ropes. Some great action outside of the ring too during the match. Both of them kicked out of finisher moves. Cena went for an "AA" but Orton was holding onto the top rope. Cena finally pulls him off but accidently hits the ref with Orton's foot and knocks out the ref. Cena puts Orton into his submission hold STFU & Orton taps out but the ref is still out cold. Orton gets up grabs one of his Champion Straps and hits Cena over the head with it. The Viper pulls the ref up and goes for the cover but Cena kicks out. Orton the hits a low blow and gets DQ. Crowd is going crazy over this. Orton goes for the Punt Kick but misses and Cena hits the AA on Orton to send the crowd home happy.
After the match Cena walked around ringside giving high fives, including one to me, and signing autographs. I couldn't bring myself to give Cena my "The Viper RKO Away" sign that already has Randy Orton's autograph on it for Cena to autograph for fear of Cena destroying it! Lol
Overall a great show and a great crowd.