WWE WrestleMania 31: Intercontinental Title Ladder Match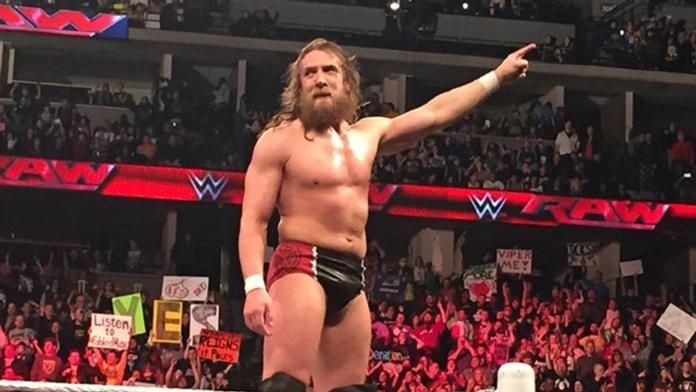 - The WrestleMania 31 pay-per-view opens up with Lilian Garcia introducing singer Aloe Blacc to Levi's Stadium. He comes out to the big stag to sing "America The Beautiful." We get fireworks and go to the WrestleMania 31 opening video with LL Cool J.
- We're back live in Levi's Stadium as Michael Cole welcomes us to WrestleMania 31. Cole says we're sold out. We see the WWE Intercontinental Title hanging above the ring and ladders set up everywhere.
Ladder Match for the WWE Intercontinental Title: R-Truth vs. Luke Harper vs. Dean Ambrose vs. Stardust vs. Dolph Ziggler vs. Daniel Bryan vs. Bad News Barrett
Daniel Bryan makes his way out first to a huge pop and "yes!" chants. Bryan stops and checks out some of the ladders as Eden does the introductions. Cole says we're kicking off WrestleMania the same way we ended it last year. Bryan goes to the corner as a big "yes!" chant breaks out. Cole introduces JBL and Jerry Lawler as they hype the match. WWE Intercontinental Champion Bad News Barrett is out next to a mixed reaction. We see the international broadcast teams at ringside. Dolph Ziggler is out next to a pop. Stardust is out next as a "Cody" chant starts up. Luke Harper is out next with a new flannel on. R-Truth is out next and next is Dean Ambrose, who gets a big pop. The bell rings and they go right at it.
Bryan and Ambrose tumble to the floor early on. Barrett decks Ambrose with a ladder. Truth leaps out onto Barrett and Ambrose. Stardust springboards back with a Falling Star onto all three of them. Ziggler charges Harper but he gets dumped out onto the others. Harper runs the ropes and dives out onto the rest of the participants. Ambrose climbs one of the ladders outside of the ring and dives into the group. Truth brings a ladder in the ring and stands it up under the belt. Barrett runs in and works Truth over. Barrett grabs the ladder and beats Truth down with it. Barrett runs and knocks Ambrose off the apron with the ladder. Bryan comes in and takes out Barrett. Stardust decks Bryan but Bryan whips him into the ladder, which is up against Barrett in the corner. Bryan sandwiches them with a pair of dropkicks. He goes for a third but Harper slams the ladder into Bryan's face and he goes down.
Harper gets hung upside down on the ladder and Bryan unloads with kicks. Bryan climbs the ladder but Ziggler pulls him down and nails a big superkick, sending Bryan to the floor. Ziggler climbs up but Ambrose pulls him down. Ziggler pulls Ambrose down and runs up but Ambrose yanks him down. They both run up and trade shots now. Barrett pulls them down but they clothesline him to the floor. Truth climbs up and they follow. Stardust dropkicks all three of them off the ladder. Stardust unloads on Ambrose and Ziggler now. A "Cody" chant breaks out again. Stardust throws a ladder out to Harper's face. Stardust goes under the ring and brings out his own special ladder with a very long name. It's just a black ladder with sparkles. Barrett tears it apart and beats Stardust with it. He also decks Bryan with it. Ambrose runs over and sends Barrett face first into the ladder. Ambrose slams another ladder on Barrett. Ambrose brings a ladder in the ring and looks at the title. Harper brings one in and they throw them at each other. Harper and Ambrose brawl now. Ziggler comes in and Harper drops him with a right. Harper catapults Dolph and a ladder under the rope at the same time. Harper lays a ladder across the top and ends up driving Ambrose into it.
Harper takes out Bryan and others with the ladder but Truth takes him out. Truth scissor kicks Harper into the ladder. Truth tosses one ladder to the floor and sets up another to climb. Barrett takes Truth and throws him into the corner. Stardust climbs the ladder but Barrett meets him at the top. Barrett hits a massive superplex from the ladder and they both land hard. A "holy s–t" chant starts up. Bryan, Ziggler and Ambrose all climb a ladder now. Ambrose goes down but pushes the ladder over on Ziggler and Bryan. Ambrose climbs up but Harper stops him. Ambrose with the bounce back clothesline. Ambrose climbs back up for the title but Harper comes back. Harper nails a massive powerbomb from the ladder to a pile of ladders outside of the ring. That was insane. Another big "holy s–t" chant starts up as Harper smiles and trainers check on Ambrose. Harper climbs the ladder now while Ziggler has a sleeper hold on him. Harper starts fading and they both fall hard from the ladder.
Ziggler looks to be winning but Barrett pulls him down and nails a huge Bullhammer. Stardust also takes a Bullhammer. Truth climbs up for the title but Barrett hits another elbow. Bryan sends Barrett down and gets his hand on the title. Barrett pulls Bryan down too. Bryan ends up hitting the knee on Barrett. Fans chant "yes!" as Bryan positions the ladder. Ziggler meets him at the top and they trade shots. Bryan grabs the title but Ziggler headbutts him. More back and forth for the title. They trade huge headbutts now. Ziggler gets knocked to the mat and Bryan grabs the title for the win.
Winner and New WWE Intercontinental Champion: Daniel Bryan
- After the match, we get replays and come back to Bryan celebrating as fans join him with a big "yes!" chant.