Scott Hall Talks Leaving WWF For WCW, WWF Suspending Him For Old Drug Test, Pay Issues, NXT, More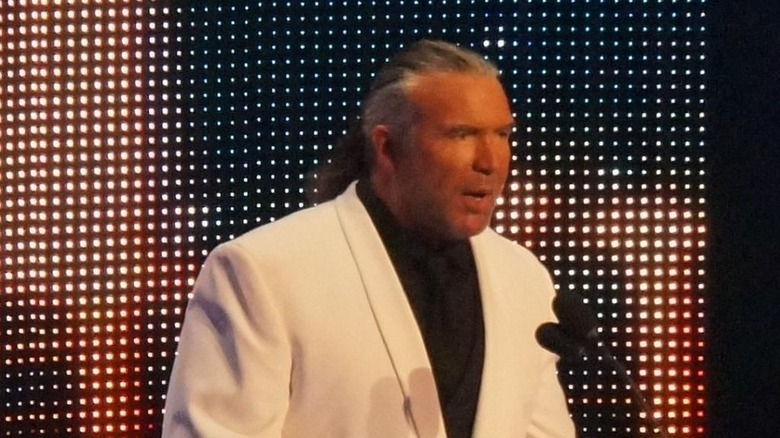 I recently spoke with WWE Hall of Famer Scott Hall, below is the second and final part of the interview. Click here for part one of the interview, where Hall talked about signing with WWE in 1992, Vince McMahon being hands-on with the gimmick, working with Randy Savage, Savage not liking their match finishes, The Resurrection of Jake The Snake and more.
* * *
The business was really changing then [when he signed with WWF in 1992], with the steroid trial and all.
"I was interviewed by the attorneys to be a witness for the defense because I was more successful off the roids. As a PR move or something, Vince created ICO Pro. Remember that? Vitamins and stuff. The WBF. You know what's paying for that? The wrestling revenue. Paying for Vince's top dollar lawyers, too. Business was down because that steroid scandal s–t hurt. We're working our ass off and I finally get there and business is down. I'm happy to say my last match during that run as Razor was Madison Square Garden, and it was sold out. It was the biggest house show at the time, we're leaving and Vince won't cave."
How long before that had the talks about WCW started. Was it during the suspension?
"No, I didn't get suspended until I gave my notice. I got suspended on a drug test that was six weeks old. You usually get the results in a couple of days. All of a sudden I give my notice and they go retro. I'm at a show where I have to work twice on a spot show in Jersey, because Shawn and Kevin aren't there because a flight delay. An agent comes in and says I need to call the doctor about the results of my drug test. I call the doctor and his wife says he's not home. I go back and start getting dressed and Tony Garea asks me what I'm doing. I told him I had to wrestle twice and I had to get dressed. He told me they wanted me to leave the building. Then I said 'So you know the results before I do, and this chain of command is bulls–t? I haven't heard anything, maybe he's telling me I have cancer? What's up?'
"I was sitting next to Taker and I remember him saying 'Why don't they just push him out the door?' Vince's contracts back then were one-year contracts that rolled over. You were guaranteed ten matches at no less than $150 per match. So you're guaranteed $1,500 a year, and you give Vince everything. All your rights for $1,500. You got paid way more than that, but it wasn't guaranteed. I just wanted to talk s–t over. My deal with WCW was if I'd choose to show up, I was guaranteed a certain amount, but I'm not required to come to work for WCW. I had a big shot agent and a lawyer out of Hollywood, so it's all in my favor. Vince wouldn't guarantee anything. I saw an interview where he said he wasn't giving out guarantees at the time and said he'd have probably taken the money, too. So it's like Vince is cool with it. I'm on good terms with them, I have a legends contract on my calendar, I just have to go get it notarized. I'm going to NXT to work with young guys. I'm back in the fold, but initially it was like I stood him up for the prom. He took it personal, and I was making a business decision. I went to have a meeting with him and asked if there was any way to increase my revenue. It wasn't a publicly traded company, it was a family business, so Vince felt like if I made more, it was coming out of his pocket.
"I asked him about merchandise, can I have more of that money? What about Japan? Can I go there and get more of their money? He said no. I'm like, well f–k. Kid was out in California talking to Barry Bloom, who represented Jesse Ventura when he sued Vince for royalties of the home videos and won. I was the first active wrestler he represented. Then I introduced him to Goldberg, and he still works with Kevin Nash on his movie stuff. Jim Ross, he worked with Dusty, Roddy Piper. Kid ran across him, and he calls me and tells me what WCW is offering him if he's available. I said 'Oh my God, find out if they want me.' At this point they have you doing so many signings and appearances for free. I did appearances and Vince got all the money.
"I was backstage at the pay-per-view in Houston and Jack Swagger had just got back from a signing. I asked him if he got paid, and he said 'oh yeah.' Back then it all went to the office. That's just how it was. You'd get a memo saying 'you have been personally selected by Vince to represent the company.' You'd better not be late, then be charming, and get your ass to the building, because you have to wrestle. Nobody put a gun to my head and made me do it, but it was different. It was work."
How different would wrestling be if you and Kevin Nash didn't go to WCW?
"It was great for wrestling. What if I'd have stayed with Vince and worked as Razor my whole career? I think the pay scale would be lower now. It's no secret. People still get paid well. Maybe not like before, because there's nowhere else to go. Rock, Austin, Triple H, guys like that started making big money because of merchandise. Vince started giving up merch to them. It's other people's money, and it was things that I discussed with him. I'm so happy to be back there with them, I don't care what happened with them in the past. I would love to help guys transition from NXT to Raw."
Speaking of that, your son is in the business with NJPW. Is NXT on his radar?
"He's in no hurry. His goal is to get over in Japan first. He's limited and boxed in now. He's a young boy, but he's working with these top guys. The problem with the top guys at this point in their careers is that they're lazy and they don't want to do s–t with some greenhorn like him, and he's stiff. He's young and he probably gets nervous, so they're cautious when they work with him, because they don't want to get hurt. So he's frustrated that he can't display his ability like he could if he had some other young guy out there that's willing to go stuff. He's in no hurry, WWE's not going anywhere. They'll be there for a long time scouting talent, and he's only 24. He has a long career ahead. He's single and lives in Tokyo, it could be worse. I encouraged him to see the world while he's still single and has no attachment. I'd love to manage him on the indy scene. I've only went to the ring with him a couple of times, because I don't want to take attention from him. I don't want people looking at me or talking to me when I'm with him at ringside."
Click here for part one of the interview, where Hall talked about signing with WWE in 1992, Vince McMahon being hands-on with the gimmick, working with Randy Savage, Savage not liking their match finishes, The Resurrection of Jake The Snake and more.