Vince Russo Reveals What New Japan Pro Wrestling Talent He Loves Watching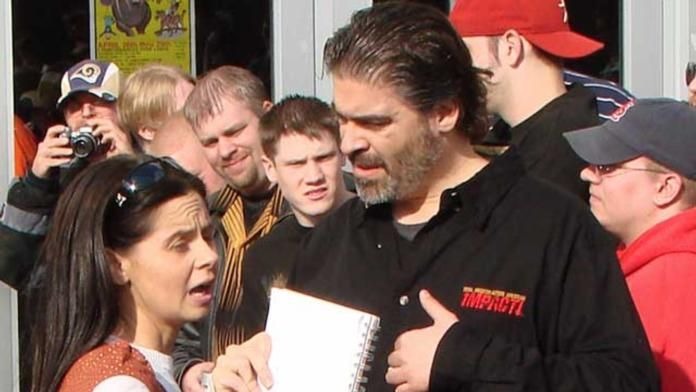 We may receive a commission on purchases made from links.
Vince Russo has made no secret that he's not an avid viewer of many independent wrestling promotions. The former WWE, WCW and TNA writer has been on record saying that he doesn't often agree with the "smark" wrestling fans.
On last night's Wrestling Inc Podcast, we brought up next weekend's New Japan Pro Wrestling Invasion Attack coverage. When asked if he was going to watch it, Vince replied in usual fashion.
"Not only am I going to wake up on at four in the morning, I'm going to watch the show with bells on!," Russo said sarcastically.
However, Russo performed a bit of a signature swerve when jokingly asked if he was more excited for KUSHIDA vs. Will Ospreay or Okada vs. Tetsuya Naito.
"I just saw my boy Will Saturday, I'm Will's biggest fan. You can even ask him that. I saw him the UK a year ago, and said it was ridiculous that he wasn't over in the United States at least working for TNA," Russo said.
Russo explained that he enjoys Ospreay's work inside the ring, but said there was more to it than that.
"He's a great worker, and he works his character in the ring as well. That's why I fell in love with him immediately. I know Will and I really like Will," said Russo.
You can check out our live NJPW Invasion Attack coverage early this Sunday morning. You can also check out last night's episode of the Wrestling Inc Podcast in video, audio or download format. Topics include:
- Apollo Crews debuts
- Vaudevillians promoted?
- AJ Styles is number one contender
- Enzo and Cass!
- Maryse returns
- Fatal Four Way main event
- Roman Reigns, AKA Big Daddy Cool
- Primo and Epico are back.
- Tables match.
Be sure to check out Trendy Butler, a fantastic clothing service that does all the work for you! You select a style profile, and Trendy Butler has a stylist hand pick clothes that cater to you. Even better, for only $65, you get over $150 in designer clothes. Make sure you use the code "WRESTLING10" a sign up to get $10 off!You can find out more about them on Twitter and Instagram!
Don't forget to try out DDP Yoga, specifically their awesome new Max Pack, used by the likes of Chris Jericho, AJ Styles, John Cena and tons of other WWE stars love using DDP Yoga. You can get a special offer on the program at DDPYoga.com/WrestlingInc. DDP will be doing a workshop during WrestleMania weekend on the Sunday morning before the show. For more info, go to DDPYOGA.com/pages/appearances. Also, "The Resurrection of Jake The Snake" is now available on iTunes, Google Play, Playstation, Amazon and VUDU, so make sure to check that out, and tweet DDP Yoga to let them know we sent you!
You can check out the full episode in the video above or the audio player below. For a direct download, Click Here. If you want to subscribe, you can do so through iTunes as well as our RSS feed, which you can use this to subscribe through any podcast app. If you're enjoying the show, please subscribe and rate on iTunes! Also don't forget to give us a thumbs up and subscribe on Youtube!