EC3 On First Pinfall Loss To Mike Bennett, His Matt Hardy Angle Parody, Working Evolve, More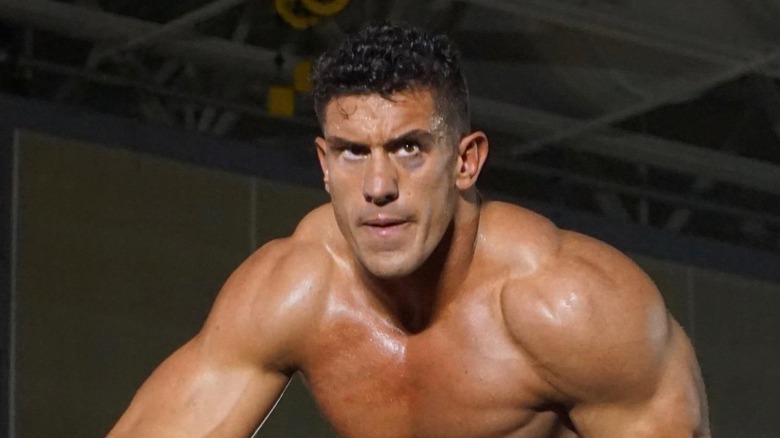 TNA's Slammiversary pay-per-view takes place this Sunday, celebrating 14 years of the company. In one of the most high-profile bouts on the card, former TNA Champion Ethan Carter III takes on newcomer "Miracle" Mike Bennett in a re-match.
Bennett defeated EC3 on a recent episode of Impact in a shocking upset. EC3 told me that he gained a measure of respect for Bennett for the victory.
"He's the first man to pin me in TNA Wrestling. I think that's a pretty big deal, I've been through a lot against some of the best competition in the world. Not all of my victories in the past were of the utmost prestine, but one thing that happened, was no one could ever pin me. A commendable task," Carter said.
Despite their differences, EC3 said that he sees a lot of similarities between the two. I asked the former TNA Champion if EC3 as a character looks at Mike Bennett as himself at points.
"We're kind of bizarro each other, but we have the same goals, so it's an interesting dynamic. I think we're telling a cool, unique story. Flashy entrances, questionable haircuts, he has Maria, I (used to have) Rockstar Spud when I came in, maybe kind of overmatched with some of the more veteran guys, but holds on to become victorious, and that's what truly matters. Very similar, yet vast differences between us. I'm probably going to powerbomb him 8 times."
EC3 also made waves during a recent appearance for Evolve, where he took to the mic and said that he and Drew Galloway weren't given the right opportunities while in WWE. The angle worked, gaining a ton of attention online. In addition to Slammiversary this weekend, EC3 is also performing at two Evolve shows.
"It came about because I think I'm a wrestling genius, and I had a great idea and I was allowed to run with it," EC3 explained. "I thought with a little inuendo and a couple of buzz words I could get the whole industry talking, and that's what I did. I wanted to do something else buzzworthy. In 2016, with the landscape of wrestling, with (EVOLVE's) affiliations, and what was going on at this show, my ability to truly be an independent contractor, it was worth a risk. I have these two EVOLVE shows where I'm going to toss the s–t out of little guys all over the ring and lariat their faces off, it's going to be sweet."
EC3 also briefly spoke to me about his recent trip to Mexico for the AAA World Cup. He noted that he wasn't sure of the rumors that TNA could host the event, but would welcome it with open arms.
TNA itself got quite the buzz last week, due to the polarizing Hardy Brothers contract signing video. EC3 and the other talents performing on behalf of TNA in Mexico last weekedn took it upon themselves to parody the much talked about video.
"I don't know if you've seen the Hardy contract signing, but (Matt Hardy) is out of his skull," Carter said. "They came out with a segment that was met with a lot of buzz, and the way I look at this business was that good, bad, indifferent, doesn't matter, what matters is that people are talking. People were talking. So much so, I was in Mexico with Eli Drake, don't always see eye-to-eye with him, Rockstar Spud, Tyrus and Josh Mathews. We were watching this segment and thought it was ripe for parody, if we don't, somebody else is going to and capitalize on it, and we're better at it. In a couple of hours we whipped up that little video, secretly put it on the Impact Youtube account. The original finish had to be taken out due to me being profane. Everyone contributed equally, and Eli Drake was the editor of the video. I give credit where it's due. Pay it forward. I can't ever fault anyone for trying something. Success, failure, you don't know until you try."
TNA Slammiversary takes place this Sunday. Wrestling Inc. will have full, live coverage of the event. You can download our full chat with EC3 at this link, or hear it in the audio and video players at the top and bottom of the page.