Sasha Banks On Being HBK's Favorite Pro Wrestler, Meeting Goldberg, Working On HIAC Match At WWE PC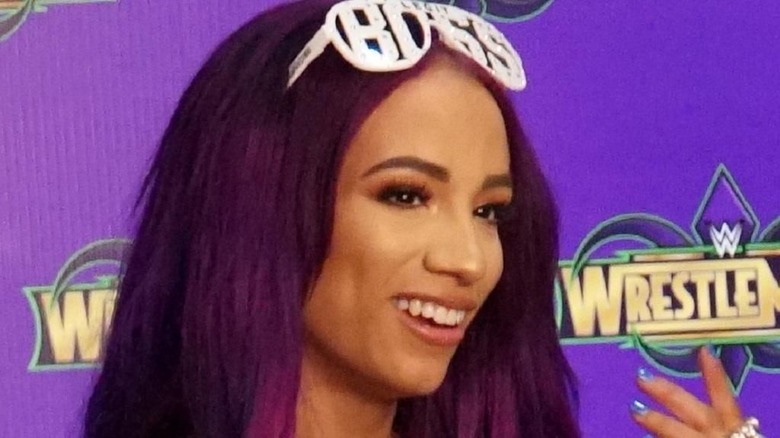 Recently on Sam Roberts' Wrestling Podcast, two-time WWE Women's Champion Sasha Banks talked about being WWE Hall Of Famer Shawn Michaels' favorite wrestler, meeting professional wrestling icon Bill Goldberg during his recent return to WWE, and working on her WWE Hell In A Cell main event match at the WWE Performance Center.
According to Banks, 'The Heartbreak Kid' Shawn Michaels told her that she is his favorite wrestler.
"Shawn Michaels was backstage and he talked to me. I was like, 'oh, this is so cool.' He was like, 'dude, you're my favourite wrestler.' I was like, 'what the? You said that to me, Shawn Michaels?'"
Although Banks "wasn't the biggest fan" of Goldberg, 'The Boss' said that she met him recently and that he went out of his way to greet her. Moreover, Banks claimed that she and Bayley saw him headbutt a door before going out to the ring to psych himself up.
"Seeing him backstage, he was so nice and he came up to me and said 'hi' and I was like, 'wait, you're saying 'hi' to me? Oh my god! You're Goldberg!' And right before he went out, he looked at me and Bayley and was like, 'you didn't see this'. He headbanged the door just to get himself psyched and ready. Like, that is the coolest thing I've ever seen in my life!"
Also during the interview, Banks said she went to the WWE Performance Center a few days before WWE Hell In A Cell to work on her main event match. Banks stated that Kalisto and Scotty 2 Hotty helped her come up with some ideas.
"I love being around the ring because I just needed to sit in the ring to think about my Hell In A Cell match. Once I'm in the ring, I'm just, like, things just flow to me. Being in the ring is home." Banks added, "Kalisto was around. I talked to him. Scotty 2 Hotty, he just started at the Performance Center and he was such a help. He helped me so much in this match, like, giving me ideas because it's like, 'how do I even think about this match' because I've never had it? I never used a chair before, I never used a table, because these are options I can use inside Hell In A Cell."
Check out the podcast here. If you use any of the quotes from this article, please credit Sam Roberts' Wrestling Podcast with an H/T to Wrestling Inc. for the transcription.
Source: Sam Roberts Wrestling Podcast