Madison Rayne Describes The Nontraditional Road She Took To AEW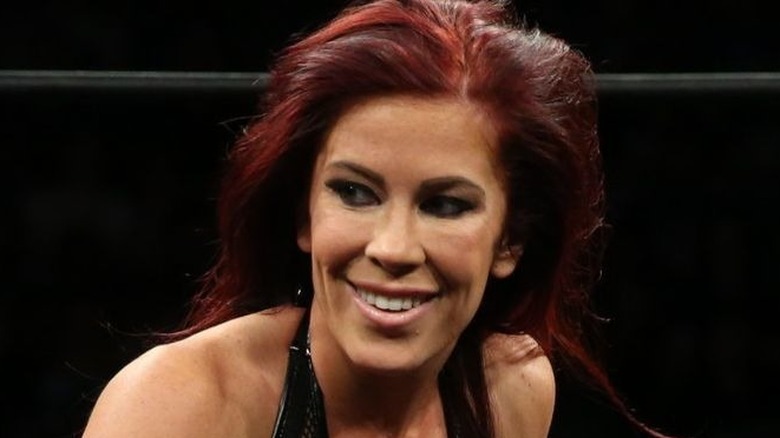 Stephen J. Cohen/Getty Images
Wrestling veteran Madison Rayne made headlines recently after being announced as a new coach for AEW's women's division. It didn't take long for her and AEW to work out a deal, as Rayne shared on the "AEW Unrestricted" podcast that the initial process felt like "such a whirlwind."
"I'm not sure what the traditional process is but mine was anything but," Rayne said. "Nothing's traditional [in wrestling], and you should expect complete chaos in all things, so I saw that AEW was coming to Columbus (Ohio), which is my hometown. I haven't wrestled here in — when I say years, like, many, many years, at least not to a capacity where my friends were there, my family was there. ... When I saw that advertised, my only thought was wrestling is this weird but awesome world now, and even though I had been working for one company, I kind of want to do this, and I'm in the parameters of being allowed to do this." 
Rayne described the whole scenario as "perfect timing." When the deal was finally official, she didn't know what to expect upon arriving on her first day. "I walked into the most overwhelming, positive response, and everyone was so nice and welcoming. ... It has been the best month of my career, honestly," she said.
Though designated as the coach of the women's division, Rayne was quickly thrust into action in a match against TBS Champion Jade Cargill. Rayne noted that in the initial conversation with AEW, it was discussed that she could juggle the roles of competitor and coach if she desired. "So getting to kind of scratch that itch a little bit was perfect, but I do think going forward, my duty will primarily be as coach," she said.