12 Most Memorable Bret Hart Opponents Of All-Time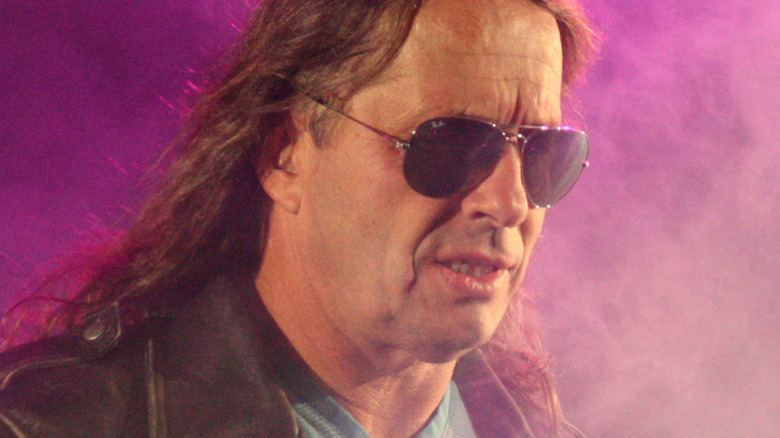 Gallo Images/Getty Images
We may receive a commission on purchases made from links.
One of the greatest technicians ever to work inside a squared circle, Bret Hart has created so many unforgettable moments. He's gone over 60 minutes at one WrestleMania and had maybe the greatest match in the event's history at another. He excelled for the majority of his career as a face, but had a fantastic run as a heel. His trophy case full of hardware, "The Hitman" is a Hall of Famer both as a singles competitor and as a member of legendary tag team The Hart Foundation.
But Bret did not create those memories alone. Never a man who was afraid to mince words outside the ring, he has racked up his share of foes, real and fictional, during his life. Some of the other greatest wrestlers of Bret's generation count themselves among his opponents — and for a few of them, the rivalries they shared weren't just storylines. No matter how legitimate the beefs were or weren't, one thing always remained the same: when you faced "The Excellence of Execution," you were getting a chance to have a career-defining moment. Here are the 12 wrestlers who most defined his.
Dynamite Kid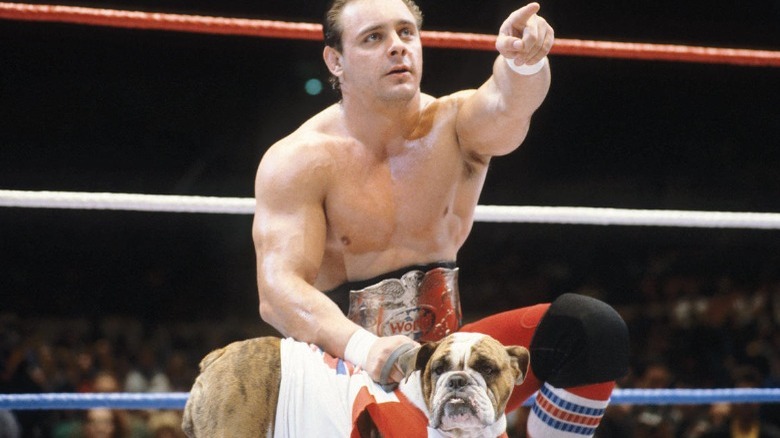 WWE
Starting out in his father Stu Hart's promotion, Stampede Wrestling, one of Bret's first major feuds was against Dynamite Kid. Real name Tom Billington, Dynamite was one of the great workers of his generation and a favorite of many a tape trader in the '80s. Bret recounts in his autobiography "Hitman" that Dynamite, known for having one of the great mean streaks in wrestling, stiffed him in their early encounters, breaking his nose in their first match. Bret would also write, "Dealing with Tom was like dealing with a bad-tempered pit bull. I just never knew when he'd take a bite out of me."
Years later, Billington and Bret would bring their feud to a bigger stage when both signed with the WWF. Their grudge got some company, though, as both men were slotted into tag teams, Dynamite in The British Bulldogs with Davey Boy Smith and Bret forming The Hart Foundation with Jim Neidhart. The matches between the two teams became some of the highlights of WWF's entire tag division in the '80s and helped cement Bret and Dynamite's status as two of the workhorses of the federation. While Bret would always harbor some ill feelings towards his early foe, it was always tempered with incredible respect. Upon Dynamite's death, Hart posted on his Facebook page that "I became a better wrestler because of him. Dynamite truly was the best wrestler ever, pound-for-pound."
Mr. Perfect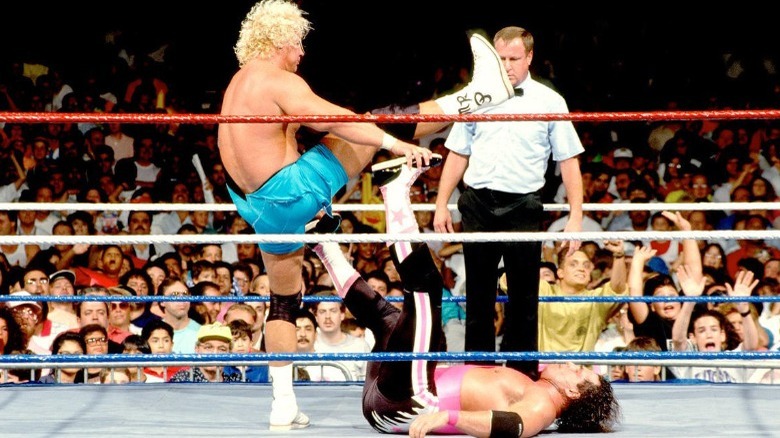 WWE
Bret Hart was far from the only great second-generation wrestler on the scene. The son of Larry "The Ax" Hennig, Curt Hennig had established himself as a star in the AWA before he ever became Mr. Perfect in the WWF. Known for his over-the-top bumping ability, Perfect would climb the company's roster ladder and become the Intercontinental Champion. Those crazy bumps would catch up with Henning though, and by June 1991 he was suffering from a severe back injury. Amidst this, he was scheduled to defend his title just two months later at SummerSlam against none other than Bret.
Some wrestlers might have sat the match out, but on that night in late August, Hennig gutted it out as he and Hart had one of the great matches in SummerSlam history. Bret won, gaining his first WWF singles title and establishing himself as more than just a tag competitor. Hennig, meanwhile, was never the same physically ever again. The two would face off in a rematch years later at the 1993 King of the Ring, and while the match was very good, it was not the same caliber as the original. But Perfect had already made a huge contribution to Bret's career, one Hart would always acknowledge, remarking at his own Hall of Fame induction speech (per Sports Illustrated), "Anytime I wrestled Curt was basically a night off."
The British Bulldog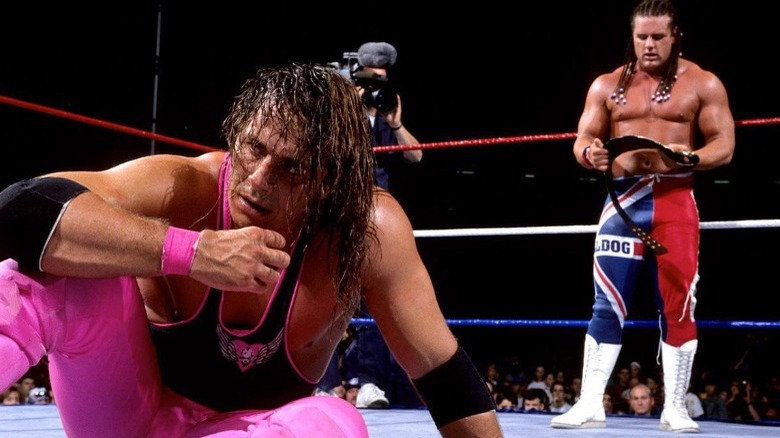 WWE
Bret would wrestle a few relatives in his career, and Davey Boy Smith, his brother-in-law, was among the earliest. Just like his tag partner, Dynamite Kid, Davey spent his early days in Stampede Wrestling before moving on to the WWF. Unlike Dynamite, though, Davey Boy's days of working Bret would not end with the Hart Foundation/British Bulldogs feud. Earmarked for a singles push coming out of his tag team, just like Bret, Smith's big moment was dethroning Hart for the Intercontinental Title at SummerSlam 1992. In the main event, in front of a massive home-country crowd in Wembley Stadium, the Bulldog would have a moment similar to the one Bret had against Mr. Perfect one year earlier.
In "Hitman," Bret refers to the Summerslam 1992 match as his greatest match, but not just for obvious reasons. In the book, Bret claims Smith completely forgot all their plans for the match in the ring and had to be spoon-fed the entire performance. Bret led him through, spot by spot. No matter how it came together, it was a match that somehow managed to top Bret's own performance against Mr. Perfect at the previous SummerSlam. Years later, Davey and Bret would unite under the Hart Foundation stable, but when fans think of the two together, they're usually not thinking about that, nor even their great tag feud, but that one special night in London.
Ric Flair
You never forget your first. Bret would hold the WWF World Championship five times in his career, and his run at the top started when he defeated "The Nature Boy" Ric Flair. Wrestling at a house show in his home country of Canada, Bret started his first reign when he scored the upset win. More house show matches would follow and years later, with Bret jumping to WCW, Flair was waiting for him. The two rekindled their rivalry at the 1998 Souled Out PPV, Bret victorious again in his very first match with the promotion.
While both men were two of the greatest in-ring workers of their day, their approaches to wrestling did not mesh to either's liking. Their matches against each other were good, but both men were frustrated with how the other operated. A war of words carried on for a long time, in media interviews and both men's autobiographies. Happily, as is often the case, time heals wounds and the men managed to form some level of friendship with each other. Bret appeared on Flair's "WOOOOO! Nation" podcast in 2015, and would be in the front row for the Ric Flair's Last Match event in 2022.
Yokozuna
Bret and Yokozuna have the rare distinction of main eventing two consecutive WrestleMania events against each other (if you don't count the unannounced impromptu Yoko/Hulk Hogan match at WrestleMania IX). At Mania IX, Bret became the first babyface to lose the promoted main event of a WrestleMania, when he dropped the WWF Championship to the gigantic sumo-gimmicked Yokozuna after interference from his manager, Mr. Fuji. The fans would still see a face celebrate at show's end, though, when Hogan fought Yoko in a subsequent match on the fly, winning the title in mere seconds. At the time, it felt like Vince turning back the clock and reversing course — Bret was down, Hogan, as he had been for most of the previous decade, was back on top.
A lot changed in the subsequent year and by WrestleMania X, Hogan was no longer even with the WWF. Having become the first co-winner of a Royal Rumble with Lex Luger, as both men's feet touched the floor at the same time, Bret entered a strange situation for the event. He would wrestle his brother Owen Hart while Luger would challenge then-champion Yokozuna for the championship, and then he would face the winner of that match, regardless of if he won or lost against Owen. In a great twist, Bret would lose to his brother, but defeat Yoko in the main event, avenging one loss but now finding himself in the position of having to answer another.
Owen Hart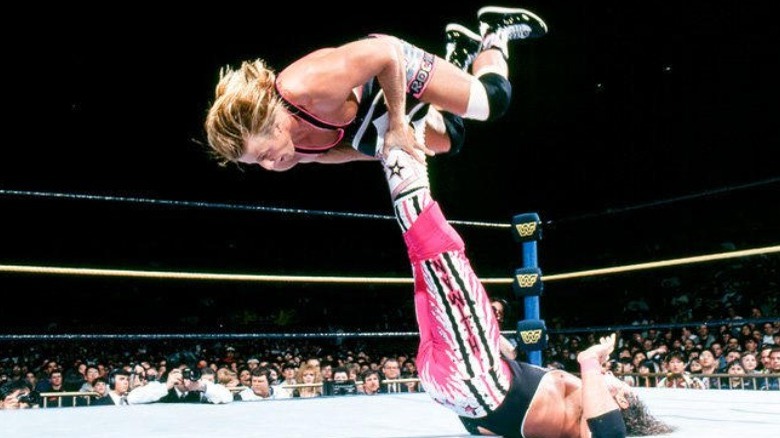 WWE
While the Hart family saw many members take up pro wrestling to varying degrees, only Bret's youngest brother Owen had the talent to match — or in some ways even surpass — him. A great high flyer who learned his trade in Stampede Wrestling as well as Japan, Owen spent years struggling to gain traction in the WWF, sometimes as the masked hero The Blue Blazer and sometimes in tag teams that never truly caught on. At WrestleMania X, everything changed. His show-opening match with Bret was the payoff to a months-long storyline that saw the formerly loving siblings become bitter enemies. When Owen, as the heel, not just beat Bret, but did so cleanly, the feud was set to continue for many months to come.
Owen would follow up his Mania victory by matching Bret's achievement of winning the 1993 King of the Ring when he in turn won the 1994 edition. Their feud reached its apex shortly after, at SummerSlam '94. One of two double main events, Owen challenged for Bret's World Title in a steel cage match that is considered to be one of the best matches in SummerSlam history. Owen would lose that match and, although he'd be a thorn in Bret's side for some time to come, they would never have as prominent a singles match ever again. Those two PPV matches will always stand as two of the absolute highlights of both men's careers.
Jerry Lawler
One of Bret's longest-running rivals, Jerry "The King" Lawler's position as a heel color commentator allowed him to keep the embers of their feud glowing even when they weren't actively facing off. While Jerry would go after all of the WWF's babyfaces, it seemed like there was no target he enjoyed jabbing more than "The Hitman" — with the possible exception of Bret's parents, Stu and Helen. The feud would get into the ring after the 1993 King of the Ring, a show that saw a jealous Lawler attack Bret at his tournament coronation ceremony, insisting that there was only one true king in the WWF.
Bret and Jerry would face off at SummerSlam 1993, with Bret only getting his hands on Lawler after defeating his hand-picked henchman, Doink the Clown. When Bret finally got the chance to get revenge, his anger consumed him to the point where he refused to release Lawler from the Sharpshooter, resulting in a submission win being overturned into a DQ loss. The feud would continue for the next couple of years. Sometimes it was direct, such as when Bret defeated Lawler in a "Kiss My Foot" match at King of the Ring 1995. Sometimes it was by proxy, like when Bret wrestled Lawler's evil dentist, Isaac Yankem (the future Kane), at SummerSlam 1995, In so many forms, their feud was a thread throughout the mid-'90s.
Bob Backlund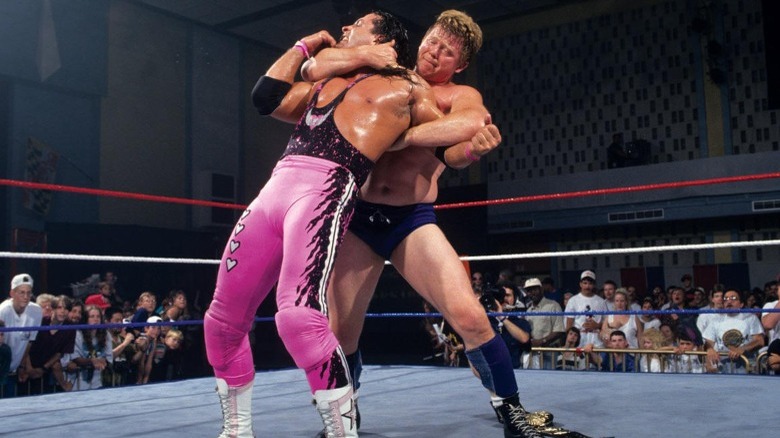 WWE
Speaking of the mid-'90s, Bret was a huge part of the comeback run of Bob Backlund that took place during that time period. Holding the WWF Title for well over five years from the '70s into the '80s, Backlund was once the WWF's top star, but quickly diminished after the birth of Hulkamania. That all changed in 1994, as the WWF saw fit to give Backlund one more run in the spotlight. It all started with a TV match where Bob challenged then WWF Champion Bret but failed to win. Backlund, always known as a clean-cut babyface, snapped after the match, locking the champ in what would become his new finisher, the crossface chicken wing.
Backlund would get his rematch at the 1994 Survivor Series, winning the World Title for a second time in a match that could only end when one man's designated second threw in the towel for their competitor. Owen Hart, Backlund's second, found a way to take out Davey Boy Smith, Bret's second, and then convince mother Helen — who was sitting in the front row — to throw in towel for Bret. Backlund lost the title within days to Diesel but his feud was with Bret was not over, ending with Hart getting his revenge in an "I Quit" match at WrestleMania XI.
Steve Austin
With the exception of Vince McMahon, there is no one more important to Steve Austin's rise to becoming one of the biggest stars in wrestling history than Bret Hart. As "Stone Cold" began his transition from heel to anti-hero, Hart was the perfect target in his promos — the ultra white hat, kid-friendly hero. When Bret returned to the WWF after a lengthy absence, it was Austin who he faced in a great technical match at Survivor Series 1996. Bret won and was still seen as the hero, but the winds of change were coming.
Their rematch, taking place at WrestleMania XIII, stands simultaneously as one of the most significant matches in WWF history and one of the best. A "submission match" guest referred by Ken Shamrock, Hart and Austin took full advantage of there being no disqualifications, having a rowdy brawl that was far removed from their previous match. The finish, one of the most famous of its generation, had Austin lose the match but win the crowd's respect, passing out in Bret's Sharpshooter, blood streaming down his face, but never verbally submitting. Bret meanwhile, consumed by anger, would not release the hold for some time. In that one moment, a double turn that would alter both men's careers took place: Hart now a heel, Austin a face.
Shawn Michaels
Like some other notable Bret rivalries, this started in tag matches in the '80s and expanded into singles competition in the '90s. Michaels was half of the tag team The Rockers, another of the top working WWF duos of the '80s as well as rivals to the Hart Foundation. By the early '90s, both Bret and Shawn had transitioned to solo careers and met in the main event of the 1992 Survivor Series, with Bret successfully defending his World Title. Four years later it was Bret's turn to return the favor, losing the title to Shawn in a 60-minute "Iron Man" match, the main event of WrestleMania XII.
Behind the scenes, through the years, a real-life rivalry had grown between the two men, both jockeying for WWF's top spot. There was a behind-the-scenes brawl and coded comments in interviews. So when the time came in 1997 for Bret to leave the WWF, it was all too fitting that his final opponent would be Shawn, one more time. At that year's Survivor Series, in the infamous "Montreal Screwjob," Shawn would dethrone Bret as champion for a second time, the end result of a real-life conspiracy against Hart.
Vince McMahon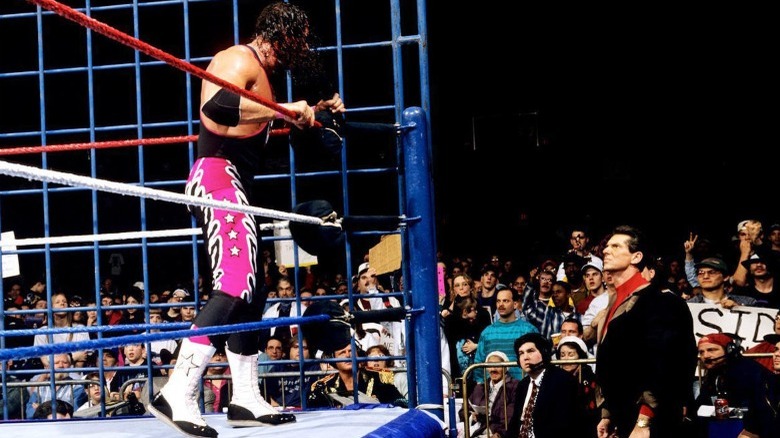 WWE
The man who orchestrated that screwjob? None other than the head of the WWF himself, Vince McMahon. For most of Bret's career Vince had been something of a father figure and boss all in one. That all changed in 1997 when Vince informed Hart that he could not financially honor his current WWF contract. Bret made an agreement with WCW, but as then WWF champ, an exit plan needed to be made. After much negotiating over when, where and to whom Bret would drop the title, Vince instead decided to simply lie, telling Hart he would not be losing the belt at the 1997 Survivor Series, only to then book the match to have him declared the loser via submission at a key moment.
Bret's immediate reaction was understandable anger, and when Vince tried to talk to Bret after the show, he received a legitimate shiner for his troubles. Vince would go on to make the much quoted "Bret Screwed Bret" speech and start to transition to an on-air heel. Bret in turn would play out his career in WCW. Then, years later, in one of the bigger surprises in wrestling history, after the most bitter period between the two, fences were mended and Bret returned to the WWE fold. Unable to be an active competitor due to health issues, the two still worked a, truth be told, not particularly good match at WrestleMania XXVI.
Bill Goldberg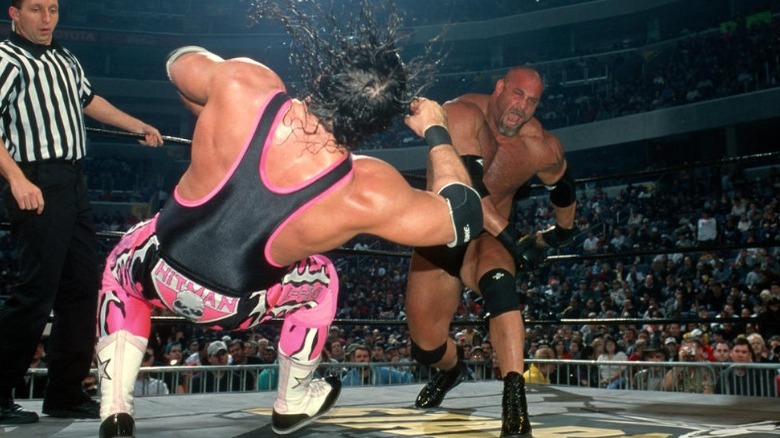 WWE
The end of Bret's career as an active wrestler came in WCW, at the hands of one of its biggest stars, the phenom Goldberg. At his peak, rivaled in popularity only by Steve Austin and the Rock, Goldberg was not a well-rounded or seasoned worker in the ring, but had incredible physical charisma. A match between Hart and Goldberg seemed like one of the biggest bouts the promotion could book, and so it was not a surprise when it was set as the main event for WCW's biggest annual PPV of the year, Starrcade 1999. It was a match Bret would win with a finish that sought to invoke the Montreal Screwjob, this time with the roles reversed and everyone in on it.
It sadly also marked the beginning of the end of Bret's career as a wrestler. One errant Goldberg thrust kick concussed Bret during the match. Although Bret would continue to wrestle for the next couple of weeks, the damage was done. Bret was soon forced to step away from active competition and relinquish the WCW World Heavyweight Title, struggling with the effects of post-concussion syndrome. Sometime later Bret would announce his retirement, and although Bret would be a part of some matches in WWE many years later, in a heavily protected role, it was Goldberg who ended up being his last significant match as the wrestler he truly could be, one of the best there is, was, or ever will be.