12 Incredible AEW Matches Fans Won't Ever Forget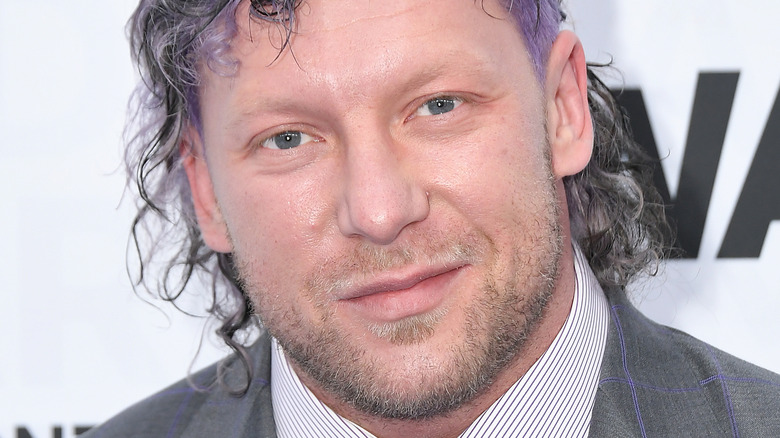 Michael Loccisano/Getty Images
In just a few short years, AEW has built a library of matches and moments some longer-lived promotions would kill for. When AEW started, some fans wondered how Tony Khan would fill out a roster from scratch. Now there is so much depth that one of the promotion's biggest problems is finding room for it all. That embarrassment of talent riches may create some headaches behind the scenes, but it has paid huge dividends for the fans at home. So far, it's been rare for a week to go by without a very good to great match, or a season to pass without an exciting return or debut.
Today we're going to spotlight a dozen matches that we think AEW fans will remember for years to come. There will be plenty of great ones excluded, as this list could easily be three times as long, but we think the 12 listed here rank near the top. Some will be remembered for their pure bell-to-bell quality, others for their historical significance, and others still just for how different they were from what the promotion usually offered. These matches do all share a common bond though, and that's that they helped build a fantastic foundation for a promotion we're hoping will be around for many years to come.
Cody Rhodes vs. Dustin Rhodes - Double or Nothing 2019
Double or Nothing 2019 was the very first PPV event AEW ran after its official formation. The wrestling world was watching, trying to pick up some early clues to what AEW would be like and how it would be different than WWE. The answer, somewhat ironically, was partially in Cody Rhodes and Dustin Rhodes, two long-time WWE wrestlers who had already teamed and feuded in that promotion. But this was different — both brothers had left WWE creatively unsatisfied and their WWE feud was not seen as a highlight of either man's career.
On this night, we got the Rhodes brothers colliding in a way we had not seen in WWE. This was not Stardust vs. Goldust, this was Cody vs. Dustin. This was not a match confined to eight minutes on an undercard, this got plenty of time third from the top. There was a ton of blood, something WWE had long since banned. More than anything, it was not just a better match than the two had ever had against each other before, it was one of the very best matches either man had ever wrestled. Freed of constraints, the two showed that AEW could be not just a place for new names, but a home for existing stars to sometimes shine in ways they hadn't before.
CM Punk vs. Darby Allin - All Out 2021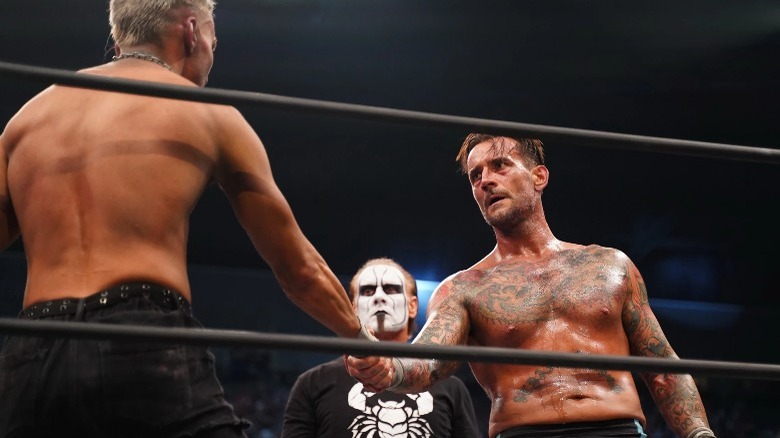 AEW
After a seven-year layoff, there were a million questions about how CM Punk would perform upon his return to a wrestling ring. He had racked up many miles in a long and storied wrestling career and left WWE pretty banged up. He then proceeded to subject his body to even more abuse, going through rigorous MMA training and taking his licks in a short-lived UFC career. Now, here he was, in his 40s, returning to a business that changes at a lightning pace. After all those years away, competing in a new decade, could Punk still be Punk?
At All Out 2021, when Punk wrestled one of AEW's hottest young rising stars, Darby Allin, we found out that he could still be the performer he had been. Yes, there was now some grey in Punk's stubble and he was wearing long tights rather than trunks, but otherwise, this was the CM Punk fans remembered. In front of a sold-out crowd in his beloved hometown of Chicago, Punk won his return match in a quality encounter. While Punk would certainly go on to have even better matches and individual performances as he shook off the ring rust, you can only make your return once. There was a special atmosphere and a lot was at stake, and both men here rose to the occasion.
The Inner Circle vs.The Elite and Matt Hardy, Stadium Stampede - Double or Nothing 2020
COVID hit every wrestling promotion hard, but for AEW, a big-budget company still just getting off the ground, this time period was extra important. Looking for ways to cope with the changing world, an interesting opportunity presented itself. The Khan family, in addition to owning AEW, also had access to the home field of their NFL team, the Jacksonville Jaguars. With all mass gatherings banned, it was free and clear to be used however AEW wanted. A new match, Stadium Stampede, was born. On one side you had The Inner Circle of Chris Jericho, Santana, Ortiz, Sammy Guevara, and Jake Hager. Pitted against them were Matt Hardy and The Elite, consisting of The Young Bucks, Kenny Omega, and Adam Page.
The match was pre-recorded over many hours and the end result was AEW's contribution to the trend of "Cinematic" matches. The match was filled with crazy moments, too many to completely list here. Keeping with the football theme, everything from the goalposts to the line markers to Gatorade to uniforms were used. Matt Hardy was drowned and resurrected. Adam Page rode in on a dang horse. After it all ended with Omega hitting Guevara with a One Winged Angel from a height of 10 to 20 feet into a crash pad, you might have thought it was the coolest thing you ever saw or the most ridiculous, but either way, you weren't going to soon forget it.
The Jericho Appreciation Society vs. The Blackpool Combat Club, Eddie Kingston, Santana, and Ortiz, Anarchy in the Arena - Double or Nothing 2022
Two years after the first Stadium Stampede, fans were back in buildings. As a result, the idea of doing a third Stadium Stampede, a pre-taped match that live fans would not get to see at least part of, seemed obsolete. Enter Anarchy in the Arena, a reimagining of the concept. Less silly and contained entirely within the arena the show was held in, Anarchy resembled a supersized version of the classic Memphis wrestling concession stand brawls rather than the high-concept mini-movies of the Stampede matches.
Still inventive, but more brutal, Anarchy in the Arena was one heck of a match. Plunder aplenty was used, and blood was spilled, with Jon Moxley, Bryan Danielson, and Eddie Kingston in particular adding a much rougher element. Kingston walking to the ring late in the match, soaked in blood, carrying a canister of gasoline, ended up being one of the most memorable images of AEW's entire year. All that carnage did not come without a casualty, as Bryan Danielson suffered a concussion that would keep him out of action for two months. Apart from that unfortunate side effect, this match was a giant success for AEW on every other level, evolving Stadium Stampede into a match that won over fans who didn't dig those bouts, while still pleasing those who did.
Bryan Danielson vs. Kenny Omega - Grand Slam Dynamite 2021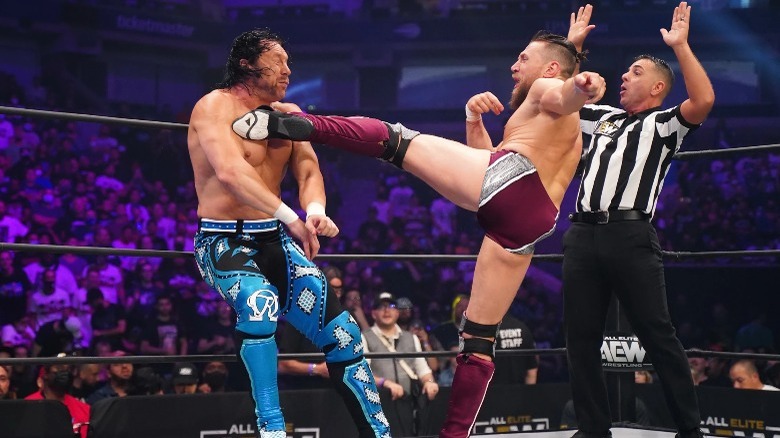 AEW
When Bryan Danielson came to AEW, he dove right into the deep end. Unlike some, there were no warm-up matches, no slow climb up the card — instead, his AEW debut match came against AEW's World Champion, Kenny Omega. Danielson had wrestled Omega well over a decade previously in PWG, but so much had changed during that time that this might as well have been a first-time encounter. In addition to that, it was taking place at the first ever Grand Slam episode of "Dynamite." Arthur Ashe Stadium provided a unique atmosphere for the bout, and the more than 20,000 fans that showed up gave it a big fight feel.
Danielson had not wrestled in almost five months going into this match. For some that would be a problem. Not Bryan. The match went to a 30-minute time-limit draw, the kind of result that often disappoints fans. Not on this night. Instead, everyone in Arthur Ashe and at home were given the rare treat of a dream match that lived up to their imagination. Two of the best wrestlers in the world, at peak form, meshing beautifully and working magic for half an hour.
Bryan Danielson vs. Adam Page - Winter is Coming Dynamite 2021
How do you follow a fantastic 30-minute draw against one of AEW's biggest stars? You do it again, but this time against one you truly have never wrestled before, in a match twice the length. Hour-long draws are rare in modern wrestling, and rarer still on free television. There's an art to being able to pace a match to go that long without losing fan interest or exhausting your own cardio. Throughout his career, on more than a couple of occasions, Bryan Danielson proved he was up to the challenge, and on this special "Dynamite," Adam Page proved he could do it too.
Bryan and Hangman would go on to wrestle each other twice more within the next year, and two matches that were also great — ones that, unlike this match, came with decisive finishes. But this is the match that we think will stick in fans' minds — the one that wasn't just great, but accomplished a feat that not every wrestler can do. For Danielson, it was yet another instance of him re-establishing himself as one of the greatest wrestlers on the planet. For Page, it was him climbing one more rung of a long ladder on his way to proving that rather than being a "rising" star, he was now simply a top one.
The Acclaimed vs. Swerve In Our Glory - All Out 2022
Often in wrestling, careers rise gradually, with momentum slowly building. Sometimes, though, if you're lucky, you get to see stars have a defining moment that changes everything for them in one night. If you watched All Out 2022, you saw one of those nights. The Acclaimed had spent months building up steam, but mostly for what they did outside the ring. Fans loved their relationship with "Daddy Ass" Billy Gunn, they loved Max Caster's mic work, they loved their catchphrases. Yet there was always the doubt among some if they could truly hang in the ring among the top teams in AEW.
At All Out, The Acclaimed proved that they could. Listen to the crowd — for the first part of the match they're having fun, but they're chanting for Gunn, they're shouting catchphrases. But then, in the middle of one of AEW's best tag matches, one that just kept building and building, the reaction changes. Soon the chants turned to cheers, the crowd on the edge of their seats, eventually heartbroken to see a team lose a title match some originally doubted that they even deserved. In this one single match, The Acclaimed went from a team fans wanted to cheer to a team they wanted to see win.
Kenny Omega and Adam Page vs. The Young Bucks - Revolution 2020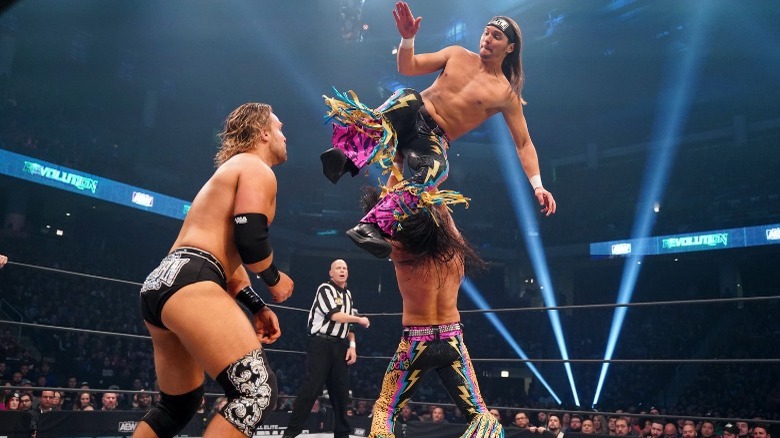 AEW
At the time Kenny Omega and Adam Page formed a regular tag team, there was a bit of disappointment among some. The team could be great, but there were so many singles dream matches the two could be having. What those fans forgot was that dream matches can come in the form of tag battles as well. At Revolution 2020, Page and Omega were able to have not just one of the best tag matches of their careers, but one of the best matches of their career, period.
Of course, the Young Bucks played just as big a part in this. One of the greatest tag teams of their generation, the Bucks could get a good match out of a million teams, but they had an extra dynamic to play with here, the idea of a stable of friends, The Elite, now at war with itself. This match easily stands on its own merits as one of the best in AEW history, but one can't deny it seems even more special now when we see how it was building a story — one that would pay off over a year later when Page would defeat Omega for the AEW Title as the Bucks watched at ringside. The seeds for that moment? They were planted right here.
The Young Bucks vs. The Lucha Brothers - All Out 2021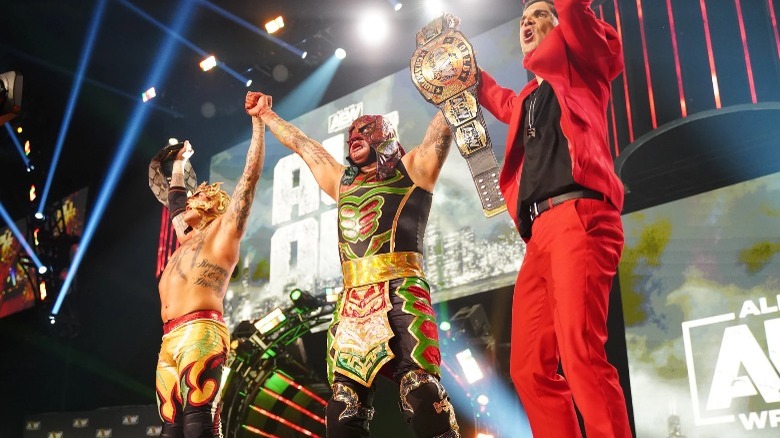 AEW
We now jump from a match where the Young Bucks faced a short-lived makeshift team to one where they wrestled a well-established duo they had met many times before. These four men had wrestled each other plenty before this night — in tags, in trios, in multiple federations, in a ladder match even. This wasn't even the first time this match had taken place on an AEW PPV, it was the third. With all that prior history, how do you make a match that stands apart? You do it better, and you do it in a steel cage.
The Bucks and Lucha Bros always had amazing chemistry, each team of brothers blessed with a top-tier high flyer and a partner who was very talented in their own right. You'd expect to see great fast-paced action here, and you got it, but in the cage you now also got an extra bit of nastiness. There was blood here, and there was a shoe with spikes on the sole. More than pure violence, though, you just saw one of the great tag rivalries of its era build on so much of what they've done before, and push things further. After a series of matches many thought couldn't be topped, All Out 2021 saw them raise their game, and modern tag wrestling in general, to another level.
Thunder Rosa vs. Britt Baker - St. Patrick's Day Slam Dynamite 2021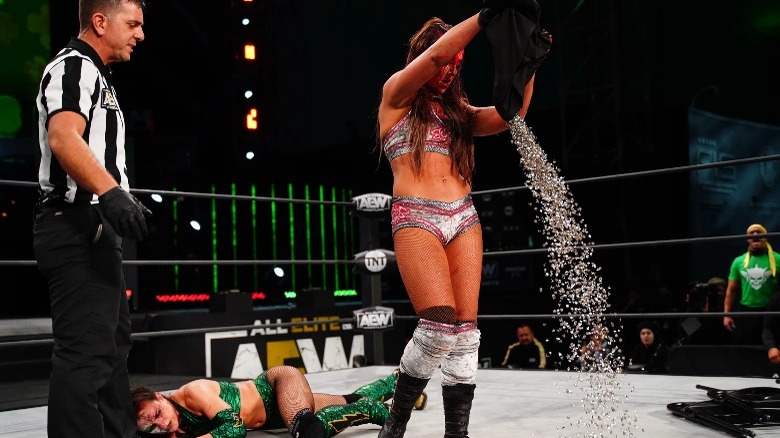 AEW
Speaking of the best matches in long-term rivalries, we have this war. Thunder Rosa and Britt Baker have been at odds for years, both in storyline and if rumors are to be believed, in real life. Whatever animosity exists between the two hasn't prevented them from having some very good to great matches against each other and of all of them, this one takes the cake. One of AEW's rare, unsanctioned "Lights Out" matches, this was packed with weapons. Tables, ladders, and chairs all made appearances, but so did thumbtacks, a rarity in mainstream women's wrestling.
This match was the first time women had not only main evented "Dynamite," but any major AEW show at all. The women's division in AEW is often the subject of debate among fans, with people arguing if it deserves more screen time and opportunity. Whatever your thoughts are on that issue, it's hard to argue that this match didn't prove that at its best, AEW's women could put out work that was just as good, and just as violent, as the men. It's a match that deserves to be on this list on quality alone — the historical significance is just the cherry on top.
Best Friends vs. Santana and Ortiz - Dynamite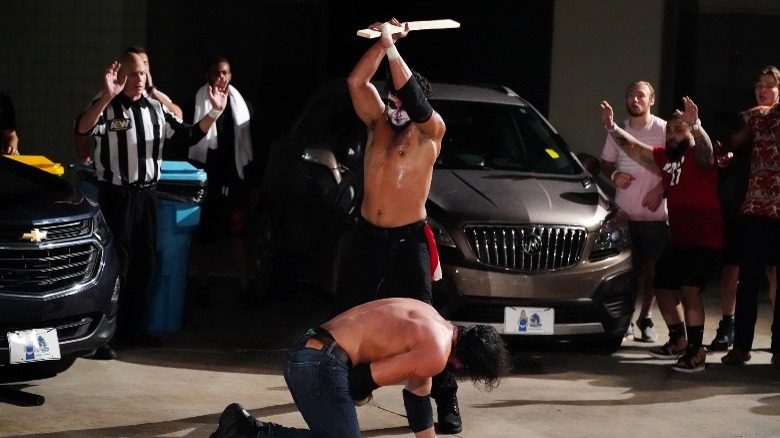 AEW
Sometimes the best moments are the ones you don't expect to be the best. On the surface, Chuck Taylor and Trent vs. Proud and Powerful sounded like a decent match — but it was billed as a "Parking Lot Brawl," and as a result, was so much more. People who had followed Taylor on the indies and seen that he had a surprising knack for excelling at the occasional hardcore match, and on this night his three dance partners were with him every step of the way. Maybe people thought they'd see a good fight going in, but most didn't expect something this great, and they certainly didn't expect to see much of what actually took place.
The gimmick of a "Parking Lot Brawl" was fairly self-explanatory, and AEW did not cheap out on the props. Fought in a lot well stocked with vehicles and weapons, men were thrown into cars and flew off them. Weapons ranging from garbage cans to bike racks were employed. It was a violent, bloody spectacle that went so far as to have Trent take a power bomb through a windshield. Yet the most memorable moment came afterward, when Trent's mom Sue picked up her victorious son and his best friend in her mini-van, flipping off their opponents. Sometimes wrestling is goofy, sometimes it's thrilling, sometimes it's surprising. In this match, it was all three.
Adam Page and the Dark Order vs. The Inner Circle - Brodie Lee Tribute Dynamite
Entertainment, at its best, can be a way people come together. After the tragic death of Brodie Lee, the next episode of "Dynamite" was a tribute to the man and his life. It was one of the most emotional shows in wrestling history and this match was a highlight. Brodie had really tapped into something by taking the Dark Order in a more comedic direction, and he had clearly made friends there along the way, with multiple wrestlers here working teary-eyed.
John Silver wrestled wearing, for the first time, gear Brodie had gotten made for him. Lee's old WWE tag partner Erick Rowan made an appearance. Most importantly, Brodie's son, Brodie Jr., got involved at ringside, hitting dastardly heel MJF with a cane. Wrestling tribute shows can come off as exploitative, but this one didn't. Here, fans around the world were grieving a loss, and we all got that catharsis of sharing it together, watching some of the people who knew him best hurting too. When Brodie's son took out MJF, it was a joyful moment, a reminder of something else entertainment can do at its best. It can, during times of pain, give us that brief little break from our sadness, make us smile, and sometimes, even laugh.