Ranking Every AEW PPV Event In The Promotion's History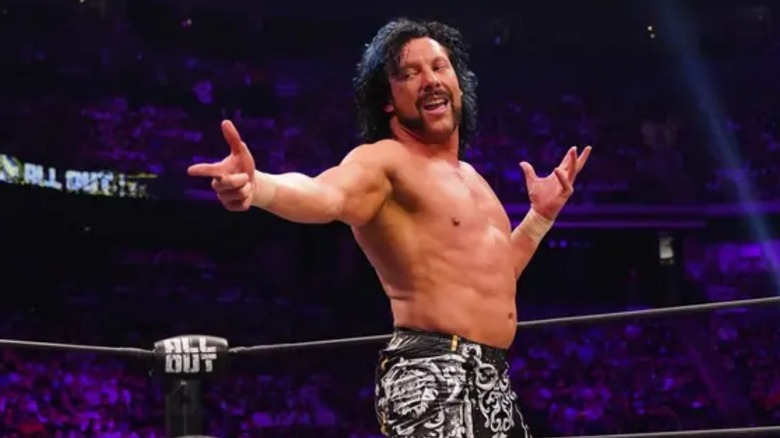 AEW
AEW has always been under a lot of pressure to produce on PPV. For years we have lived in an era where through the WWE Network and Peacock, WWE has conditioned fans to expect monthly special events, and for the bargain price of 10 dollars or less. AEW, meanwhile, has taken a more old-school approach, charging full price for their biggest shows, and only running four or five of them a year. Luckily for Tony Khan's promotion, they have met the mark more often than not, putting on events that are usually at least good, often great, and sometimes truly special.
Truth be told, even the worst of AEW's PPVs have some great highlights and are worth watching at least once, but some are definitely better than others. Today we're going to rank all 15, from worst to first. Note that number, we're not including All In, which predates AEW's formation, nor are we including the first Fyter Fest or Fight for the Fallen, two shows that were sold on PPV overseas but were free online streaming events in the US. Everything else though is up for ranking, so let's get to it.
15. Revolution 2021
First impressions are important, but sometimes last impressions mean just as much. Before the main event, Revolution 2021 seemed like a decent but not particularly spectacular show. Sting had his first match in years, teaming with Darby Allin in a street fight against Brian Cage and Will Hobbs in what would be the first of many matches where Sting overachieved for a man his age. The rest of the undercard was filled with many matches that were enjoyable even if they weren't blowaway.
Then came the main event of Kenny Omega defending the AEW World Title against Jon Moxley in an Exploding Barbed Wire Death Match. Deep into the bout, things were going well and it felt like we were being treated to a fantastic main event that would elevate a lot of fans' ratings of the whole show. But then there was the finish, where Moxley lost due to outside interference from the Good Brothers, a finish that left a sour taste in some people's mouths. What happened next would completely overshadow that, as when Jon Moxley was left beaten and handcuffed to face the explosion the entire match was counting down to ... fans basically got to see some sparklers.
The finish was a literal misfire, a far cry from the big theatrics seen in many Japanese explosion matches. It was made worse by the fact that it was also the heart of a key angle, with Eddie Kingston coming out and covering his friend Moxley to try to save him from the bomb, only for him to instead have to now sell for a few sparks. If this show has a better finish, maybe it's a little higher on the list. Instead, it finds itself at the bottom.
14. All Out 2020
In some ways, All Out 2020 was just snakebitten. Matt Hardy suffered a concussion mid-match against Sammy Guevara, and AEW's choice to have the match resume and conclude later in the show sparked some controversy. Then you had the debut of Matt Sydal in a battle royal where Matt, one of the smoothest flyers of his generation, made his grand entrance and immediately slipped off the top rope.
The show also featured two of AEW's goofiest matches. Britt Baker took on Big Swole in a "Tooth and Nail" match. One of the least successful "Cinematic" matches of the COVID era, Swole and Britt opened the show in a fight that took place entirely in a dentist's office. Getting better but still very mixed was Chris Jericho and Orange Cassidy's "Mimosa Mayhem" match, where giant pools of orange juice and champagne were at ringside and you could win by dunking your opponent into them.
Still, if this is nearly the floor for AEW PPVs, that's a positive sign. There were some very good matches on this show, from the Young Bucks vs. Jurassic Express to Jon Moxley defeating MJF in the latter's first PPV main event. But the show highlight had to be FTR defeating Kenny Omega and Adam Page for the AEW Tag Titles, an excellent title change that was another key chapter in the Omega/Page saga.
13. All Out 2019
The first ever All Out was AEW's last PPV before they launched on television, and looking back on it, it's a portrait of a company still developing. It's not that the card is by any means bad, but at this point AEW was still building their roster and developing their lesser-known talent. As a result, you got a show that is good but pales in comparison to the standard AEW would go on to set for itself.
In terms of highlights, Pac and Kenny Omega had one of their usual super matches against each other but the Young Bucks and Lucha Bros took the cake on this night, escalating their rivalry in a ladder match for the AAA Tag Titles. This show did also mark company history by crowning the first ever AEW World Champion, with Chris Jericho defeating Adam Page to write his name on yet another page in wrestling's history books. In a way, that match summed up the entire show. It was pretty good, but soon the company would be exceeding it on a regular basis.
12. Revolution 2020
2020's Revolution is largely a one match and one moment show. In the ring, the Young Bucks had one of the greatest matches in AEW history when they went up against Kenny Omega and Adam Page. The show went on to end the night with Jox Moxley being the man to dethrone Chris Jericho for the AEW Championship, starting his first reign with the belt. In terms of high points a PPV can have, that's a pretty outstanding one-two punch.
Unfortunately, the undercard did not quite live up to that standard. Darby Allin vs. Sammy Guevara, Pac against Orange Cassidy, and MJF taking on Cody Rhodes at the height of their feud? All very good matches, but not quite at that top-tier level. Everything else on the show ranges from decent to disappointing. AEW PPVs would soon be often known for top-tier quality up and down the card but on this night, only a couple of moments truly hit that level.
11. Double or Nothing 2020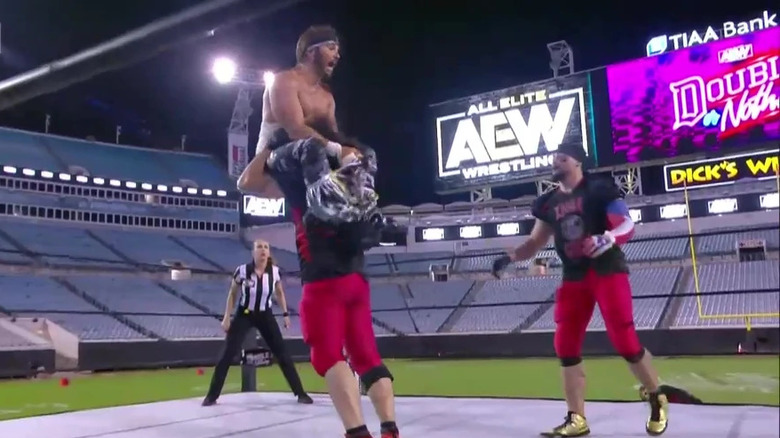 AEW/YouTube
With their first PPV during the days of COVID lockdowns, AEW, like everyone in wrestling, was trying to figure out how to compensate for the lack of live crowds. Their answer on this night would be Stadium Stampede, a massive cinematic main event match taking place in an empty NFL stadium. Full of ridiculous over-the-top spots and props, no matter what you thought of the match itself, you certainly weren't thinking about the lack of fan reactions as it happened.
Elsewhere on the card was more of a mixed bag. MJF took on Jungle Boy in a battle of two of AEW's rising stars, and Jon Moxley defended the AEW World Title against Brodie Lee. Both matches were very good, but you couldn't help but wonder how much better they'd have been with anyone at all in the audience making noise for them. On the other end, the Casino Ladder match went on far too long, and is a PPV the place for a three-minute match between Dustin Rhodes and Shawn Spears? DoN 2020 was a decent show but more notable as a snapshot of a very bizarre time in the history of wrestling.
10. All Out 2022
There were some great moments on this show. MJF made his months in the making return in the most dramatic fashion possible. Jon Moxley and CM Punk had a top-notch main event. The Trios title match was the kind action that left you happily exhausted. The Acclaimed had a star-making performance against Swerve In Our Glory in an absolute show stealer. But this is a show that is always going to be overshadowed by what happened immediately after it went off the air.
Even if you can revisit this show without a sour taste in your mouth knowing that this same night CM Punk would get in a fight with the Young Bucks and Kenny Omega that would result in suspensions and title vacations, there are other reasons this show ranks this low. Ricky Starks vs. Will Hobbs, as well as Jungle Boy vs. Christian Cage, felt slight, middle chapters in ongoing feuds rather than the PPV quality matchups you had hoped for. The Casino Ladder Match, while serving a good purpose in telling the story of MJF's return, also ended in an anti-climatic finish. Overall, All Out '22 wasn't a bad PPV, it was just kind of, well, weird.
9. Double or Nothing 2021
AEW
Double or Nothing 2021 is a good PPV, but the kind of good PPV that is easy to forget. AEW's first PPV to return to a truly substantial amount of live fans after COVID, DoN delivered in terms of match quality. Brian Cage vs. Adam Page was a great opener and the Young Bucks took on Eddie Kingston and Jon Moxley in a barn burner. Yet, as good as the match was, how many people remember the Kenny Omega, Orange Cassidy, and Pac three-way? Ditto for things like Miro's TNT title defense against Lance Archer. The second-ever Stadium Stampede match is another example. If you liked the first one, you probably liked the second, but it just couldn't have the impact of the first.
Britt Baker finally becoming AEW Women's champ is a memory that we think will last, and Jungle Boy and Christian's interplay in the Casino Battle Royale planted a storyline bomb that would explode a year later. On the other hand, Cody Rhodes vs. Anthony Ogogo is a feud many fans would like to forget, that is, if they haven't already. All told, this is a show that was a fun night of viewing, but with a couple of key exceptions, kind of nondescript by AEW standards.
8. Double or Nothing 2022
The 2022 Double or Nothing was a tale of two shows. The first half was decent but very flawed. The grand blowoff to the MJF and Wardlow feud was what it should have been, but in some ways was overshadowed by the rumors surrounding Friedman that weekend. Both Owen Hart Tournament finals were okay but disappointing. The Young Bucks carried the Hardys to a good match, but it was clear that the latter team, while legendary, was showing their age. The American Top Team six-person tag? Probably better we just forget about it.
Then, from Kyle O'Reilly vs. Darby Allin on, this show flips a switch. That super fun sprint is followed by Sereena Deeb vs. Thunder Rosa, one of the best-worked women's matches in AEW history. After that was the over-the-top, delightful spectacle of Anarchy in the Arena, AEW's slightly more grounded new twist on Stadium Stampede. We then were treated to a tag title three-way that was so good it won the burned-out crowd back in the end. And it all got finished off by CM Punk becoming AEW champion for the first time against Adam Page. It's one of the best five-match stretches in AEW history and if the whole show had been at that level, this would be near the top of our list.
7. Full Gear 2019
By today's standards, Full Gear 2019 seems remarkably trim. Just seven matches on an AEW PPV, five of them singles? The fewer matches on a show, the more pressure each one has to deliver, but on this night it was mostly hits rather than misses. Proud and Powerful and The Young Bucks was a nice opener, Adam Page and Pac was a great match in its own right, and Riho and Emi Sakura gave an early example of the potential of women in AEW when they're given the ball. You also had one of the early shocks in AEW history when Cody Rhodes lost in his title challenge to Chris Jericho, a match sold on the stipulation that if Cody lost he could never wrestle for the AEW World Title again.
With all that, this show sinks or swims on its main event. Jon Moxley and Kenny Omega had an Unsanctioned Lights Out match that, depending on who you were, was either the best or worst part of the show. Moxley has always been a fan of deathmatches and it was no surprise to see him indulge that side here, but some fans were shocked or dismayed to see Kenny Omega join him in that world, weapon for weapon, blow for blow. Barbed wire, mouse traps, and even broken glass were all used in perhaps the most violent match in AEW history, one that fans hotly debated in the days following the show.
6. Full Gear 2020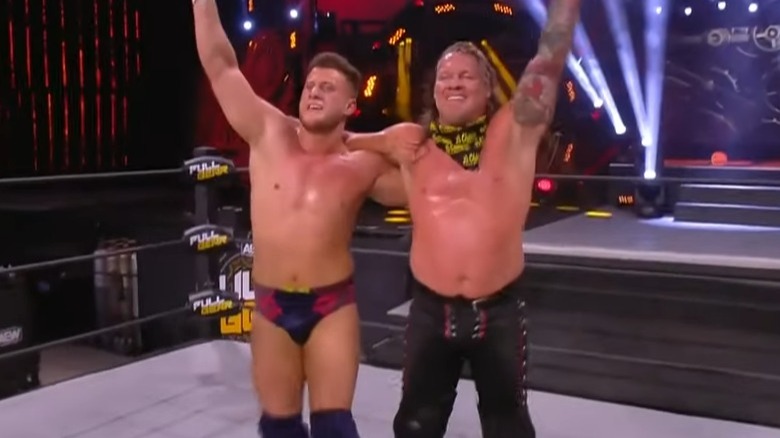 AEW
If you're watching Full Gear 2020, no skipping is required. With the possible exception of the Matt Hardy and Sammy Guevara "Elite Deletion" match, an acquired taste to be sure, everything on this show is at least good, and sometimes far better than that. Darby Allin beating Cody Rhodes for the TNT Title and the Young Bucks and FTR having their long-awaited dream match were two of the show's peaks, but there were really no huge valleys on this card.
Really, the biggest flaw of this show might be how some of the key matches were building to bigger things that would come on free TV. Adam Page vs. Kenny Omega and Eddie Kingston vs Jon Moxley were both excellent, but they were building to a bigger match that would happen shortly thereafter, the Omega vs. Moxley match at Winter is Coming. Similarly, Chris Jericho vs. MJF was really just the start of their story, not the finish. Full Gear 2020 was a winner of a show, but also a reminder that in the modern wrestling landscape, promotions have to serve TV as much as PPV.
5. Full Gear 2021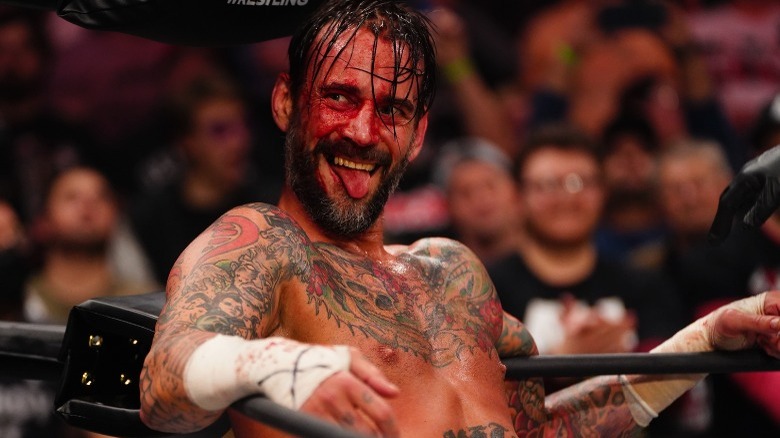 AEW
The first PPV after Bryan Danielson and Adam Cole's AEW debuts, and CM Punk's second, Full Gear 2021 was the first AEW PPV to really show off their new level of depth. Danielson got off to a good start in a match against Miro. Cole, meanwhile, teamed with the Young Bucks to reunite their old Superkliq stable and had an absolutely bonkers falls count anywhere match against Christian and Jurassic Express. Additionally, Punk had an intense brawl with Eddie Kingston that was unlike anything else on the show.
Even with all the fresh faces, the show was bookended by two matches, each show highlights, worked by people who had been with AEW since the beginning. In the opener, MJF took on Darby Allin in a lengthy match that opened some fans' eyes to the fact that Max could get great in the ring in addition to on the mic. Then in the main event, we had a payoff months –  perhaps years — in the making, when Adam Page dethroned Kenny Omega for the AEW World Title in a match that had been built for a very long time. Between the originals and the hot new free agents, Full Gear '21 showed off the best of AEW's past and present.
4. Revolution 2022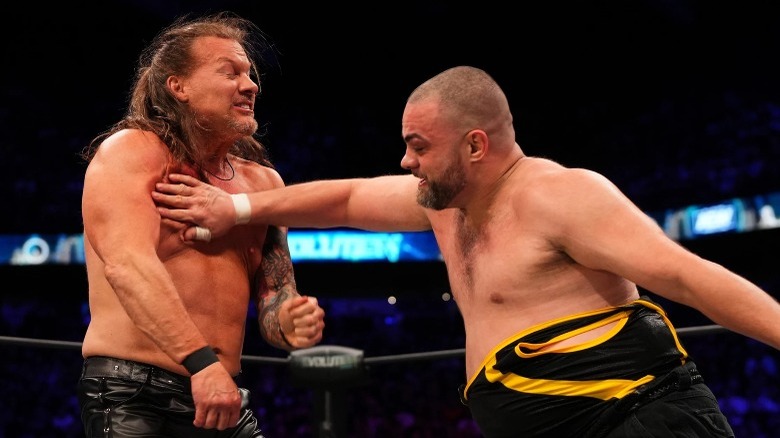 AEW
That new level of depth would continue to pay dividends months later at Revolution 2022. This was a show with great variety. If you wanted state-of-the-art tag team action, the three-way for the tag titles had you covered. Wanted to see something more old school? Chris Jericho rolled back the hands of time and Eddie Kingston indulged his love of '90s All Japan in an amazing opener. Want a bloody gimmick match? MJF and CM Punk's dog collar match was exactly the kind of war you would've hoped for going in. How about just pure plain top-level wrestling? Jon Moxley and Bryan Danielson took care of you.
Even the slightly disappointing matches were pretty good. Britt Baker and Thunder Rosa had one of the lesser chapters in their rivalry, but it was still fun enough. Likewise, the "Face of the Revolution" ladder match did not steal the show, but it still brought the kind of big spots you'd expect from that gimmick. With a show so stacked, it felt like Adam Page and Adam Cole would have an impossible job following it all in the main event, but they managed to cap off the night with one of the best matches of the show, one that the crowd was still hungry for after getting a feast of action all night long.
3. Forbidden Door 2022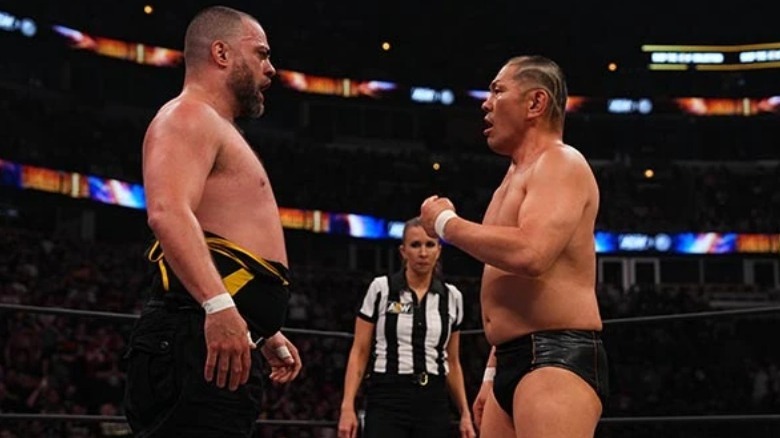 AEW
AEW's first-ever co-promoted show with New Japan seemed cursed. CM Punk and Bryan Danielson both suffered injuries that kept them off the show and out of some of the biggest inter-promotional dream matches fans were imagining. The difficulties AEW had in coordinating with New Japan in terms of getting talent in for the build-up and finalizing matches for the PPV resulted in a build that some felt underwhelming. On paper, the card itself looked good but it didn't match the wildest fantasies that people originally had in their minds.
Come the night of the show, AEW and New Japan could do no wrong. Boosted by a white-hot Chicago crowd, Forbidden Door ended up being, from a pure in-ring standpoint, one of the best, most consistent PPVs in wrestling history. There was not a dud match to be found, with every single match on the night being very good to great. Even the pre-show was a blast. All topped off by the surprise debut of Claudio Castagnoli and Jon Moxley having a long-awaited dream match with Hiroshi Tanahashi, Forbidden Door had the deck stacked against it and still hit a Royal Flush.
2. Double or Nothing 2019
Speaking of gambling analogies, we come to Double or Nothing 2019, not just AEW's first PPV using that name, but their first official PPV at all. Truth be told, bell to bell, Forbidden Door is probably a better show. Looking at the card for this night, you can see how much deeper AEW would get over the next few short years. But PPVs are sometimes more than just matches and there was an excitement this show had as the promotion's debut that just can't be recreated.
That isn't to say there wasn't some incredible wrestling on this show. The Young Bucks vs, Lucha Bros put one of their many tag wrestling clinics. Cody and Dustin Rhodes had one of the greatest matches of either man's career and the post-match was just as good, a tear-jerking expression of genuine brotherly love. Chris Jericho and Kenny Omega had a fun match in the main event but it was the post-match that was truly special, Jox Moxley making his surprise debut in the promotion. It was the perfect way to end AEW's first event, a big star from the world's biggest promotion defecting to the one that was just starting to get off the ground.
1. All Out 2021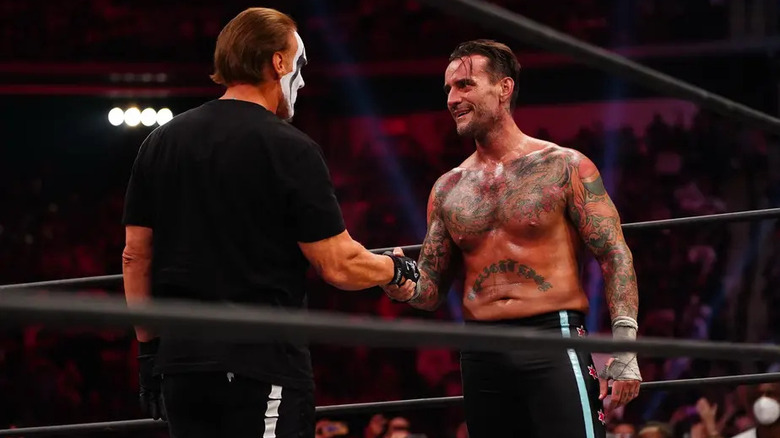 AEW
If All Out 2020 was one of the worst PPVs in AEW history, the next year's edition would redeem itself by being not just one of the best shows the promotion ever ran, but one of the best PPVs of all time. If Forbidden Door had the elite in-ring quality and Double or Nothing 2019 had the emotional high points, this show had it all. Great matches? There were many throughout the card, but the Young Bucks vs. Lucha Bros in a cage ranks as one of the best tag matches AEW has ever put on, and there is a lot of competition there. Big stips? Chris Jericho finally defeated MJF in a match where Jericho's career was on the line.
How about big debuts? There may be no show that tops All Out 2021 for those. First, you had CM Punk's in-ring debut for AEW, his first pro wrestling match in seven years, one where he showed he could still go. You had Ruby Soho blow the roof off the building when she showed up as the surprise in the Casino Battle Royal. But nothing topped the dramatic conclusion to the show, where after the Kenny Omega/Christian Cage main event, Adam Cole arrived and aligned with the Elite ... only to be chased off by the even bigger debut of Bryan Danielson. Many PPVs have great or meaningful matches, All Out 2021 delivered in both regards but between Punk, Cole, and Danielson they added a trio of moments that fans will remember for a long time to come.