The Most Loathsome MJF Moments
In the world of professional wrestling, there are babyfaces and there are heels — or, to put it simply, good guys and bad guys. Gray areas can exist certainly, but for the most part wrestling tends to operate via the rules of yin and yang. That said, in today's modern social media age, it has become increasingly more difficult to find a heel who connects in the way intended. More often than not, the audience will be quite receptive to a heel, even rooting for them over the babyface.
However, in recent years, one young star has taken it upon himself to become pro wrestling's most loathsome figure. That star in question is none other than Maxwell Jacob Friedman AKA MJF. Since his signing with AEW in 2019, MJF has gone onto a fair amount of mainstream success and controversy in equal measure. Here are just a few of MJF's most loathsome moments during his time in, not just AEW, but pro wrestling as a whole.
Dumping Maria Manic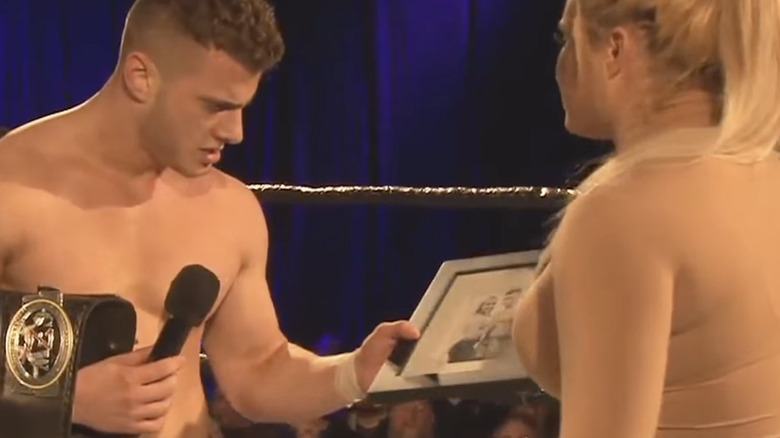 Combat Zone Wrestling
MJF's time on the independent wrestling scene was rife with various feuds and affiliations built through various companies and promotions. One such company was Combat Zone Wrestling (CZW), a promotion best known for its hardcore wrestling matches. During his time in CZW, MJF would begin to take steps towards his eventual status as a top heel. This was best exemplified in his feuds with the likes of Trevor Lee and Joey Janela over the CZW Wired Championship. Portraying a stuck up rich boy in an environment like CZW was a recipe for heat, and it worked like a charm.
For a while, MJF was flanked at ringside by Maria Manic, prior to her dramatically different Man Eater gimmick. It was this temporary on-screen relationship that led to one of MJF's more loathsome moments from his 2010s indie tenure. This moment in question was Maria, following some issues in their relationship, attempting to publicly reconcile in the ring. Following his capture of the Wired Championship, Manic attempted to appeal to MJF's sympathy with a framed photo of them. However, sympathy and MJF go together as well as chocolate syrup and steak, so he was having none of it. MJF smashed the picture and, citing Manic's weight gain, and went as far as to call his ex-girlfriend a whale. In tears, Manic smacked MJF across the cheeks and storm off, leaving her now ex-boyfriend to celebrate his win.
MJF's Goodbye to Create a Pro Wrestling
Leave it to MJF to turn, what should've been a humble farewell to his home promotion, into a smack in the face. Create a Pro Wrestling Academy is a professional wrestling school run by former-WWE superstar Curt Hawkins and WrestlePro owner Pat Buck. The school has churned out many promising young stars, many of which are currently making waves in All Elite Wrestling. This includes not only MJF, but The Acclaimed's Max Caster, Kris Statlander, "Mean" Mark Sterling, and Bear Bronson as well. However, there is no denying that Maxwell has been their most successful and highly touted graduate thus far.
Following a matchup with fellow CAP student Jack Tomlinson, MJF grabbed a mic and spoke to the crowd. He'd go on to praise his coaches, Hawkins and Buck, noting that both had to really crack the whip on a few occasions. He also showed appreciation to several of his fellow students as well, such as Mark Sterling. Removing his boot, MJF revealed a CAP logo tattoo on his leg, truly showing his love and respect towards the school. MJF then chose to follow up his lovely words by saying "I didn't mean a f****** word of that, f*** you." He'd leave with a smarmy grin and his head held high, rocketing towards a very promising and elite future.
Getting his parents sent to jail
En route to his arrival in All Elite Wrestling, MJF was busy making waves on the independent wrestling scene. His success was so meteoric that filmmaker Kenny Johnson opted to make a mini-doc about MJF's life and career. Johnson's documentaries are typically true life accounts of the inner workings of the business and various wrestler's individual journeys. Very often these would be raw, very revealing accounts of their lives and the various struggles they'd be facing. However, Johnson opted to use another strategy in regards to MJF and used the documentary format to tell a kayfabe narrative.
This narrative in question had MJF showing Kenny his house, his possessions, and regaling him with the story of his upbringing. But the entire time, there's this unwavering sense that something isn't quite right, with much of MJF's life feeling fabricated. Through old college coaches and a source that definitely wasn't Stokely Hathaway, Kenny uncovered MJF's "true" backstory. Not only was MJF kicked off his college football team — and out of the school — but, Kenny even spoke to MJF's incarcerated father. His father revealed that MJF had both he and his wife arrested when they forbade a young MJF from watching WrestleMania due to him crashing the family's Lamborghini into a Taco Bell.
His Fyter Fest Promo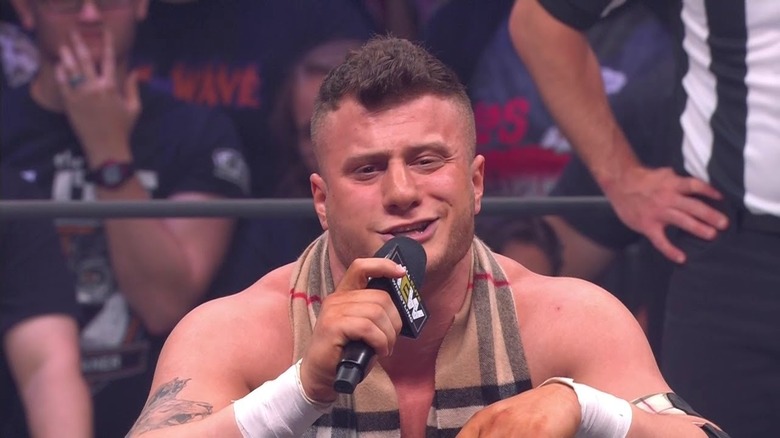 AEW
Following the formation of All Elite Wrestling, MJF wasted little time "ingratiating" himself to the rabid AEW audience. Before they were cranking out weekly TV on TBS and TNT, AEW subsisted on pay-per-views and free online events. One of these events was Fyter Fest, a still-ongoing yearly event, which helped to continue AEW's steadily building momentum. One match touted for the event was a fatal four-way between Hangman Adam Page, Jimmy Havoc, Jungle Boy, and Maxwell Jacob Friedman. MJF would, naturally, precede the match with a promo directed mainly at the Fyter Fest crowd.
The crowd, already overly familiar with MJF's sickeningly smug promo style, preemptively gave the young upstart the booing of a lifetime. MJF then proceeded to run down the three men he'd be facing, even referring to Page as "Seabiscuit." He'd also mock the crowd for their video game fandom — appropriate as the event was co-run by CEO Gaming, a competitive fighting game tournament event company. He capped off his verbal tear by noting that he too used to love video games ... that is, until he lost his virginity. It was a glorious promo, with MJF savoring every drop of ire from the crowd like a finely aged wine.
Betraying Cody Rhodes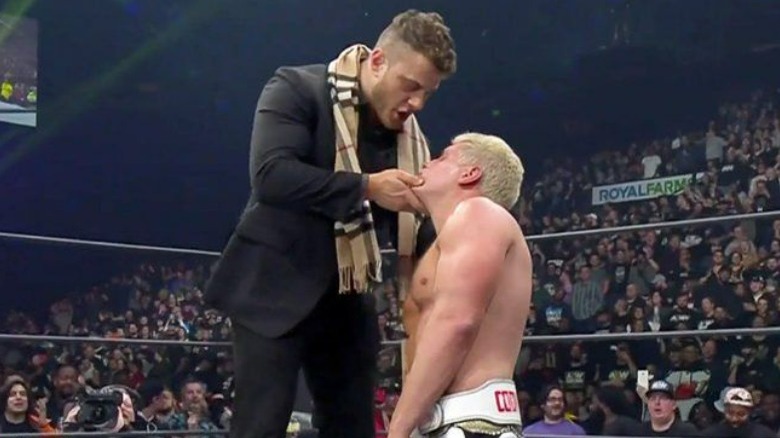 AEW
When MJF took on the role of Cody Rhodes' protégé, many fans wondered when the other shoe would drop — specifically, when MJF was going to drop his clearly faux friendly demeanor and turn fully heel on his mentor. Credit to AEW, as they most definitely played the long game with the storyline up until Full Gear 2019. Heading into the event, Demo God Chris Jericho was still the AEW World Champion, having become inaugural champion at All Out 2019. The main event saw Cody competing for the world title for the only time in his AEW career. This was due to the stipulation that, if defeated, Cody could never challenge for the world title ever again.
Cody was your classic never-say-die babyface, while Jericho played the conniving heel to loathsome perfection. Partway through the match, Cody dove out the ring which not only drew blood, but knocked him silly as well. Jericho targeted this kayfabe injury the entire match, only adding to the drama and Cody's fight for survival. Eventually, Cody found himself in the Walls of Jericho, which caused MJF to finally throw in the towel on behalf of his teacher. MJF then consoled his battered mentor only to go for a brutal low blow, turning fully heel while turning his back on Cody.
Cody's ten lashes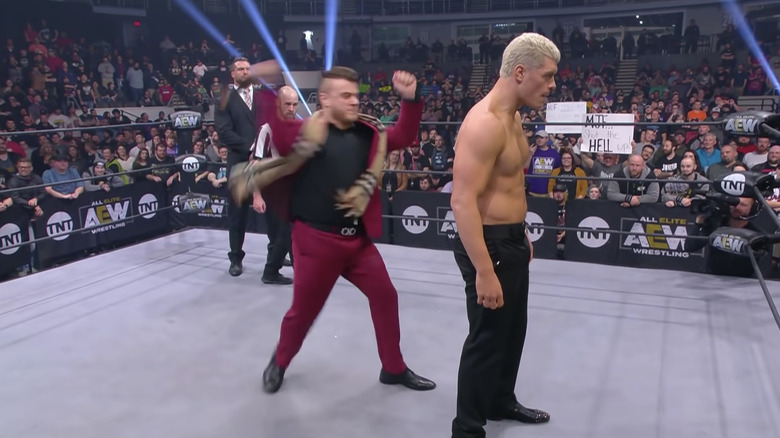 AEW
Following MJF's betrayal at Full Gear 2019, Cody was out for revenge against the brash, loudmouthed young upstart. However, MJF — pleased as punch Cody could never be AEW champion — wasn't going to make it easy for him. Not only could Cody not touch MJF before their match, but MJF was out to make his former mentor suffer as well. This resulted in, most notably, MJF being able to give Cody ten lashes on a live episode of "Dynamite."
To say that the segment was brutal would be an understatement, with many heels coming out to watch Cody's beating. As the lashes started coming and the welts started to form, the segment only got increasingly more uncomfortable. Things only intensified when Arn Anderson, Cody's brother Dustin Rhodes, and the Young Bucks all came out to support the American Nightmare. Still, even their support was no match for MJF's unwavering sadism — relishing in every increasingly stiff strike of the belt. By the end, with some added encouragement from his wife Brandi, Cody outlasted the lashings and survived. Ever the sore loser however, MJF took one final opportunity to add insult to injury by kicking Cody below the belt one more time.
Insulting Darby Allin's dead uncle
Darby Allin made a splash during AEW's inaugural year in 2019, hitting the ground running with the likes of Cody Rhodes and Chris Jericho. Along the way, the gothic skater punk even became the TNT Champion and held it for an impressive 186 days. In late 2021, MJF cut (as is to be expected) a smarmy promo regarding his wins over his fellow AEW pillars — Sammy Guevara, Jungle Boy, and Darby Allin. Thus caused Darby to hit the ring and call MJF out on his utterly misguided delusions. Darby even struck back with the concrete fact that between the two of them, he'd been the only one to win a title.
This led to a clearly incensed MJF going incredibly out of pocket and using Darby's traumatic past against him. He noted how a young Darby and his uncle, who'd been drinking, got once into a brutal car accident. MJF even went on to say that "the wrong man died," but all this did was fire Darby up even more. Their feud only intensified from there, reaching its apex in a stellar one-on-one match between the two at Full Gear 2021.
Insulting Brian Pillman Jr's family
MJF really seems to have a penchant for insulting dead family members in front of thousands of people, doesn't he? Following his loss to Chris Jericho at the conclusion of their months-long feud, MJF needed to vent on his frustrations. He opted to take out these feelings on the fine people of Cincinnati, Ohio — home of the late Brian Pillman. MJF proceeded to go for Cincinnati's throat, not only insulting Skyline Chili but the Cincinnati Reds baseball team as well. These rantings reached a fever pitch when MJF chose to go after Linda and Melanie Pillman, who were in the front row. Realizing who Melanie was related to, he then stated her father was who she got her vile looks from.
This incensed Brian Pillman Jr, the real life son of Pillman, to emerge on the entrance ramp. He fired back against MJF and even got into a fight with him and Wardlow, aided by his partner Griff Garrison. MJF upped the ante in a second promo where he'd mock Pillman's family further. This included "talking" to the deceased Pillman Sr. and yelling at the ground, implying that Pillman was in hell. It's just about as loathsome as a heel can get and it made for some stellar television.
Beating CM Punk in Chicago
AEW
Following CM Punk's highly anticipated arrival in AEW, fans were waiting with baited breath for when he and MJF would cross paths. It finally happened in late 2021, exchanging an intense barrage of heated words in the middle of the ring. Nothing seemed to be off limits, with MJF citing CM Punk's seven year absence from the business and his failure in the UFC. CM Punk bit back in grand fashion however, referring to MJF as a "less famous Miz" and citing MJF's status as "My Jealous Fan."
Eventually, they collided in a one-on-one matchup on "Dynamite" — and in Punk's hometown of Chicago, no less. The contest was a hardy mix of storytelling and old school work rate, with MJF looking to take every shortcut available. MJF stooped so low as to use wrist tape to assist in a chokehold on Punk, rendering him unconscious for a premature win. Upon discovering the tape, the referee restarted the match, with Punk battering MJF for a fiery comeback. Unfortunately, Wardlow then appeared at ringside and, despite not laying a hand on Punk, covertly slid MJF his Dynamite Diamond Ring. One blow to the head later and MJF had handed CM Punk his first loss in AEW history — even mocking Punk with his own pose.
Duping CM Punk (and the audience)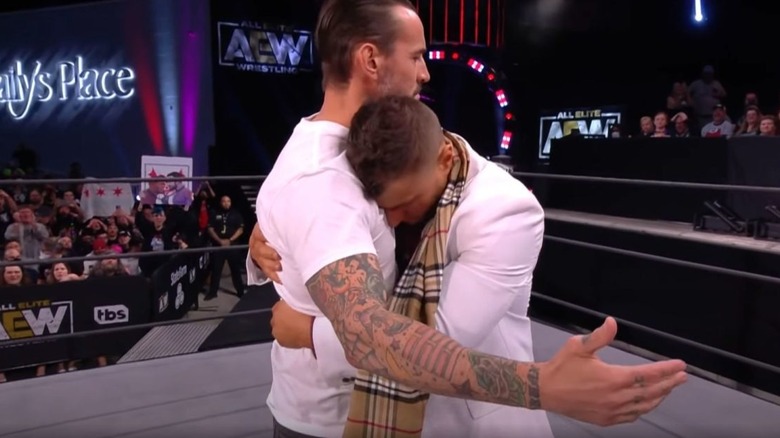 AEW
After MJF's chicanery resulted in a fluke win over Punk, the Straight Edge Superstar immediately pushed for a rematch. Punk raised the stakes and pulled a page out of Roddy Piper's playbook, challenging the Long Island-bred brat to a dog collar match. This announcement rattled MJF into complete silence, a rare anomaly, which resulted in a promo the following week on "Dynamite." In a shocking turn, the usually brash MJF dropped his rich boy persona and openly vented on his true feelings concerning Punk. He would mention his upbringing which, despite his wealth, was still not all that easy, noting a lack of focus due to his ADD. He also brought up the antisemitism he had to deal with after joining the football team. MJF would cap off this tearful tirade, noting his childhood appreciation for Punk and how Punk's walkout in 2014 broke his heart.
The following week, Punk questioned his role as the good guy and wondered if MJF truly was the bad guy in all this. MJF then came to the ring and the two would share a sincere hug and legitimately tender moment. This sincerity was subsequently thrown in the garbage disposal, with MJF kicking Punk right in the crotch. Punk was then beaten bloody and strung up with a dog collar, leaving him at a deranged MJF's mercy.
His treatment of Wardlow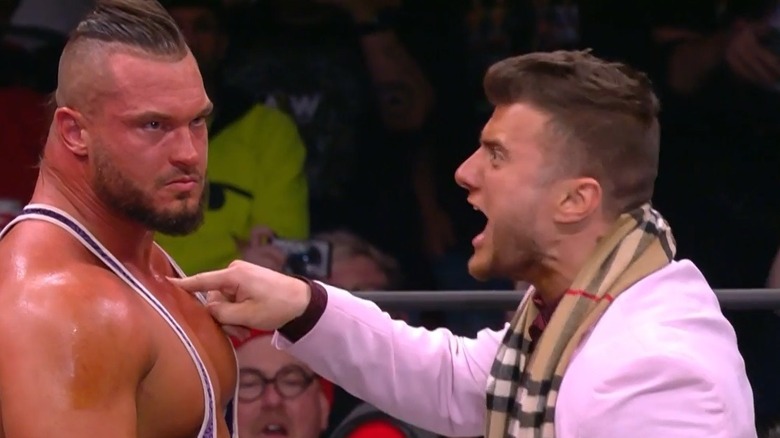 AEW
Wardlow served as MJF's bodyguard and main crony since his debut in November of 2019. It wasn't really a friendship, more so a tenuous business relationship — and one Wardlow was becoming increasingly disillusioned with. MJF became increasingly more dismissive and abusive towards his muscle, even saddling him with an accountabili-buddy in the form of Shawn Spears. It was even common for MJF to say, with very little subtlety, just how much control he had over Wardlow's contractual status.
Eventually, this tension coalesced into Wardlow giving CM Punk an assist at Revolution 2022, dissolving his affiliations with MJF. Unfortunately, MJF was far from done with Wardlow — not only costing him the TNT title, but messing with his ability to work as well. Week after week, Wardlow made attempts to get his hands on MJF, only to be cut off by a comically never ending siege of security jobbers. This was all the while MJF taunted Wardlow by calling him a pig and throwing hoss wrestler after hoss wrestler at his former bodyguard. Following a dominant winning streak, Wardlow's symphony of destruction finally resulted in a one-on-one match with his loathsome former-employer. Wardlow won the match in decisive fashion, nearly putting MJF through the canvas with a barrage of power bombs.
I want you to fire me Tony...
En route to MJF's matchup with Wardlow at Double or Nothing 2022, something strange made its way into the wrestling news cycle — MJF's apparent no show at a planned meet and greet at the Double or Nothing fan fest in Las Vegas. This premature departure and tentative no show was big news, compounded with weeks of rumor concerning MJF's dealings with Tony Khan. MJF ultimately did appear on the show and took the pin against Wardlow, ending their months-long feud.
That following Wednesday, MJF walked to the ring with a microphone in hand and a dead serious look on his face. Barely noting his "injuries" from the night previous, Maxwell made it clear that he was about to go off. For the next several minutes, Maxwell proceeded to verbally tear into the AEW faithful in response to their online chatter regarding his behavior. Not only pointing out the hypocrisy in regards to their inconsistent opinions but how he trumps all their "untrained" favorites. Making matters even more confusing, Maxwell would note Tony's increasingly frequent signing of former-WWE talent, claiming that he deserved the money they were getting. He would close out the promo dropping a heavy F-led expletive and demanding that Tony fire him before the show cut to commercial.