12 Best AEW Rampage Matches Of 2022
Originally, "Rampage" was marketed to fans as a second A-Tier show, one that would be on a similar level to "Dynamite." In its initial weeks, AEW made good on that promise, delivering huge attractions like the first Christian vs. Kenny Omega match and CM Punk's return to pro wrestling. Over time, that level of prestige has started to slip from "Rampage," with Tony Khan prioritizing loading up Wednesday evening "Dynamite" over a program that airs in a significantly less viewed timeslot, Friday nights. Those huge early moments that kicked off AEW's second weekly show have become rarer in 2022.
Yet, for as much as some like to grumble about the current state of "Rampage," there has been plenty to love. Big stars, title defenses, and breakout matches for younger names are studded all across the calendar. Most importantly, there's been quite a lot of great wrestling on the show. Taking advantage of regularly being pretaped, "Rampage" is often one of the most action-dense wrestling shows on television, edited to pack as much in-ring as possible into its 60 minutes. Take a look at our showcase of the 12 best matches on "Rampage" so far this year. You might be surprised just how much awesome stuff has happened on what some now deride as "just" a B-show.
The Jurassic Express vs. The Dark Order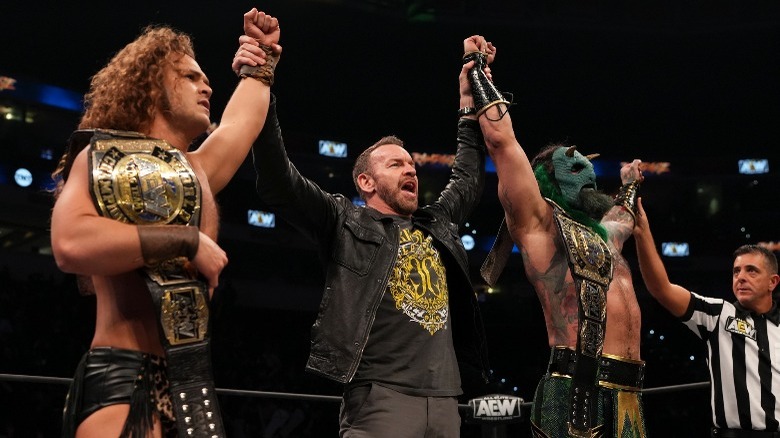 AEW
AEW's tag division is deep, and "Rampage" has at times been a great place to showcase it. In January, Jungle Boy and Luchasaurus had just won the AEW Tag Team Titles and the week after that momentous victory on "Dynamite," the team was on "Rampage" to make their first defense of the belts. Their opponents were the common Dark Order tandem of John Silver and Alex Reynolds. It wasn't a match with a big build-up, nor a super sexy one from a names on the marquee standpoint, but it was an opportunity for Jurassic Express to show what they could do as the number one team in the division.
The result was a great match, the first of many to come for "Rampage" in 2022. In the main event slot, all four men worked like they had something to prove. You got your dives, you got your big tower of doom spot that involves all four men at the same time, and you got a nice clean win for the new champs when Luchasaurus pinned Reynolds at the end. The match helped set an in-ring standard both for both Jurassic Express' reign and the brand, with many exciting matches to follow from both.
Sammy Guevara vs. Andrade El Idolo vs. Darby Allin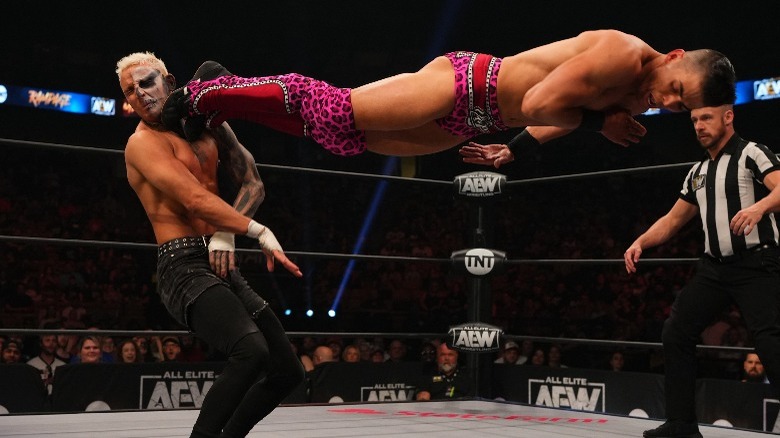 AEW
Darby, Sammy, and Andrade's three-way mini-feud was a series of hidden gems, and this may be the crown jewel of all of them. Wrestled for Sammy's TNT Title, you had two of AEW's biggest daredevils facing off against Andrade, no slouch in his own right. Together, these three went out and put out 13 minutes of thrilling action, with the kind of big exciting moves you'd expect from this trio. In particular, a stacked superplex spot that required Sammy to balance Darby in a suplex position, as he sat on a moving Andrade's shoulders, must be seen to be believed.
This match is a good representation of parts of "Rampage" in 2022. Do people really vividly remember this feud, Sammy's TNT title reign, or even this match itself? Perhaps not. But anyone who rewatches it is going to realize that this is a level of match on free TV that just a few years ago people would be raving about, which is now being taken for granted. This was not a performance of three guys mailing it in — rather, it was a night where on AEW's number two show they gave a performance that would hold up even on a PPV.
Jon Moxley vs. Wheeler Yuta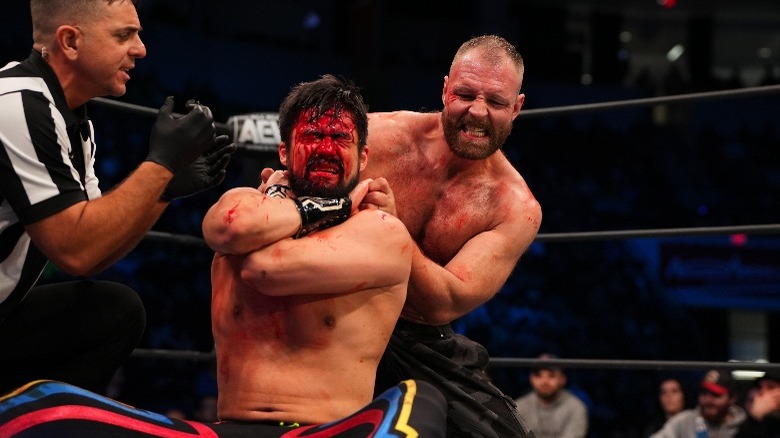 AEW
This was a match that changed a career. Going in, Wheeler Yuta was seen as a bright prospect, but just one of many in a promotion filled with them. Yuta was missing that breakout performance, that spark that would grab people's attention. In early April on an episode of "Rampage," Yuta got it in a match against one of AEW's biggest stars, Jon Moxley. Jon would give Yuta a ton, including letting him kick out of his finisher, the Paradigm Shift, not once, but twice. Even when Yuta lost via Moxley's bulldog choke, he only passed out, never tapping out or submitting.
This was not a Moxley carry job, though. Yuta wrestled this like it was the biggest match of his life, and it was. He bled buckets, he put Moxley through a table, he scratched, he bit, he used moves that Moxley and his Blackpool Combat Club stablemate Bryan Danielson had employed. This is a match that is not just a highlight of "Rampage" for AEW's 2022, it's a highlight for AEW's 2022 in general. When the match was over and Yuta wrote "BCC" on himself in blood, it became apparent that we had just seen an initiation into the roughest stable in wrestling today. When word came that Tony Khan went out after the cameras stopped rolling to proclaim "A star is born," it became apparent that AEW's owner felt the same way that many of the fans watching did.
Adam Cole vs. Adam Page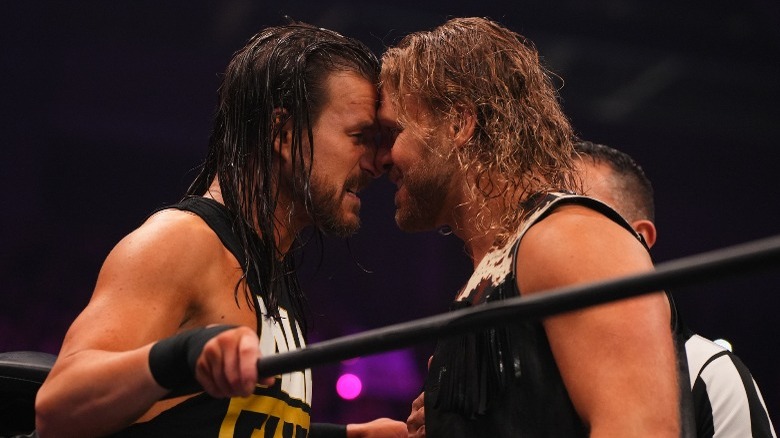 AEW
"Rampage" doesn't see many world title matches these days, but you can't say that they didn't make this one count. A rematch of the main event of the previous month's Revolution PPV, AEW raised the stakes here by not just doing it for free on TV, but by making it a Texas Death Match. Adam Cole and Adam Page wrestled at the intensity fans had just paid to see weeks earlier, and got plenty of time, a full third of the show. This was going to be a very different kind of match from their first, but the effort level was exactly the same.
You got blood, you got chairs, you got a chain, you got barbed wire, and — true to form for the beer-loving Hangman — you even saw a bottle get used. AEW has not been afraid to push the limits of violence on wrestling television and this match was clear evidence of that. After a moment in the match where Page had Cole tied up and defenseless only to express some self-doubt about how far he was going, Page was able to shake it off and put Cole away with a barbed wire Dead Eye through a table. This was the kind of match you expect to see only on the biggest events, and instead you got it for free on a Friday night.
Bryan Danielson vs. Matt Sydal
AEW
AEW's roster depth is so deep that just because someone isn't pushed doesn't mean they're not an excellent performer. Take Matt Sydal. In AEW, he's largely a jobber to the stars, someone to give wins to the people AEW is really behind. But even at this stage in his career, he's also one heck of a wrestler, an exceedingly polished veteran who hasn't lost a step. It's matches like this that remind you of that. We just as easily could've picked the tag match that set this up the week before, which featured Danielson and Jon Moxley wrestling Sydal and Dante Martin. You honestly can't go wrong with either match.
Bryan Danielson is a contemporary of Sydal's, but unlike Matt, is still pushed like what he is, one of the best wrestlers in the world. On this night, the two showed that whatever distance is between them in terms of push, the gap in their talent is certainly smaller. This was a very good bout that had the added wrinkle of Danielson selling a storyline leg injury that happened on an earlier show, adding a nice bit of psychology to the proceedings. A match that would be a feather in a lot of other wrestlers' caps, this was just another day for Danielson, and a sign that Sydal might deserve more opportunities.
Kris Statlander vs. Ruby Soho
On the very same "Rampage" as Danielson vs. Sydal, fans were treated to another match worthy of making this list. Kris Statlander and Ruby Soho had met once before in late 2021, wrestling in the TBS Title Tournament. Here, roughly half a year later, they rematched in another tourney, the first-ever Owen Hart Foundation Women's Tournament. Whoever won this match would punch their ticket to the finals. Sometimes rematches are better than the original and this was one of those cases.
One of the best women's matches to take place on "Rampage" so far in 2022, Statlander and Soho aren't quite pushed at the main event tier of AEW's women's division, often just one step below, and a match like this really showed their hunger to climb the ladder. These are two of the better in-ring performers in the entire division and with the winner getting a prominent PPV match days later, the stakes only added to the fun. Kris showed off her power game but Ruby got the win with a roll-up in a match that saw the crowd actually turn on Soho. While the crowd may have been caught up in Statlander's momentum as rising young prospect, no one really lost in a match of this quality.
The Young Bucks vs. The Lucha Brothers
In June, AEW made its long-awaited California debut. It was a homecoming for the Young Bucks, who were getting an opportunity to wrestle minutes from where they grew up. According to the Wrestling Observer, Tony Khan allowed the Bucks to hand-pick their opponents for this special live "Rampage." It can hardly be a surprise that the Jackson brothers picked Penta and Fenix, a duo that they had wrestled many times before. Quite possibly the Bucks' best historic opponents, the Lucha Bros, like the Bucks, have a case that they're the best tag team of their generation.
These two teams had many prior matches in AEW, usually reserved for PPV. They've had a cage match, they've had a ladder match, but on this night they had the magic of that California crowd who were ready to cheer their heads off for their returning heroes. Maybe this match is just a bit under a couple of their PPV matches, quality-wise, which means this match was only slightly below the level of a couple of the most well-reviewed tag matches ever. It was a night Matt and Nick are unlikely to forget, and in this match they worked very hard to make sure that it would stick in the local fans' memories as well.
FTR and Trent Beretta vs. Will Ospreay and Aussie Open
It's easy to forget that when the time came for Will Ospreay, one of New Japan's biggest stars, to finally make his in-ring debut in AEW, the setting was not "Dynamite" or even a PPV — it was "Rampage." Will did not come alone though, bringing his United Empire stablemates of Mark Davis and Kyle Fletcher with him. 2022 has seen many great six-man tags take place in the promotion and this belongs with many of the best. It was a chance for FTR and Aussie Open, two of 2022's best tag teams, to work with each other, as well as a chance for the criminally underrated Trent to shine again.
Dax Harwood and Ospreay opened the match, perhaps a tip-off that just a week later they'd be wrestling each other again in singles competition. On this night, though, everyone got a chance to show what they could do. You got all the fast-paced action you'd expect and maybe a result you didn't, with Trent scoring the pin on Fletcher after a Strong Zero, the invading New Japan team taking a clean loss here. This match was both one of the better bouts "Rampage" has seen this year and also a reminder that the show is still a place where debuts and big first-time encounters can happen.
Andrade El Idolo vs. Rey Fenix
Sometimes "Rampage" has been a place to feature wrestlers who can't fit into an upcoming PPV, and this is a great example. Likely due to their affiliation with Mexican promotion AAA, neither Andrade nor Fenix could be part of the interpromotional fun of the AEW/New Japan Forbidden Door PPV, seeing as how New Japan is aligned with AAA's rival, CMLL. Instead, this match was booked for "Rampage" and given more time than segments usually get on the show as a kind of make-good. These two wouldn't get to have an actual PPV match, but they could have a PPV quality one days before.
Here, both men made the most of that opportunity. This indeed was a match that could've stood proudly with anything on the great PPV these two were being forced to miss. Moreover, it was the kind of dream match fans had lusted for ever since Andrade left WWE. A former top lucha star working one of the best Mexican highflyers of all time. It's the kind of match we're lucky to get for free and it was all topped off with the AEW TV debut of Rush, who had previously only been seen in a backstage promo at Double or Nothing. He helped Andrade achieve victory here, showing that the Los Ingobernables stable had truly arrived in AEW.
Eddie Kingston vs. Konosuke Takeshita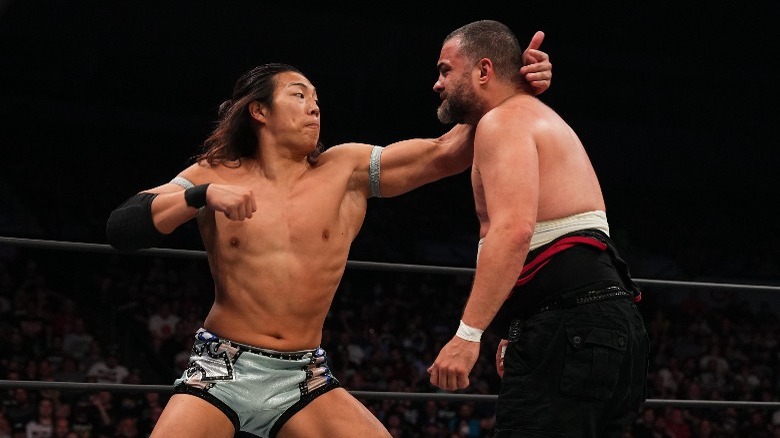 AEW
This match was a chance for two of AEW's most likable success stories to collide. Eddie Kingston had been a frustrated indie wrestling lifer that was on the verge of retirement shortly before AEW came calling. He quickly earned not just a contract, but the audience's love with both his matches and his heart on his sleeve promos. Konosuke Takeshita was one of Japanese promotion DDT's leading lights, on a bit of an excursion to America, winning fans who were largely previously unaware of him with one great in-ring performance after another.
Anyone that has followed Kingston online knows what a huge fan he is of Japanese wrestling, and so it should be no surprise that he meshed well with Takeshita here. These two were more than willing to work stiff against each other, be it through strikes like chops and jumping knees, or big bombs of moves like huge lariats and German suplexes. A couple of years earlier, both of these men were known mostly just to hardcore fans, and now here they were on national television against each other, the fans fully engrossed in their battle. For anyone that thinks AEW can't elevate people's star power to larger audiences, this match proves them wrong.
Darby Allin and Sting vs. Brody King and Buddy Matthews
Taking place at one of the biggest episodes of "Rampage" of the year, AEW's second annual Grand Slam edition, this match was yet another highlight of Sting's incredible last couple of years. This was a continuation of the feud he and Darby Allin had been waging against the House of Black, and here in Arthur Ashe Stadium, these four went wild in a No DQ match. Or should we say five? While Sting dove off the top to take a huge splash through a ringside table, House of Black member Julia Hart took her own table bump — one that saw her partially miss the target and land hard on the floor.
Hart was not the only casualty in this match. On social media after it ended, we learned Darby required stitches from his part in it. Clearly, in front of a big crowd everyone in this match was swinging for the fences, taking big risks that thrilled the fans but caused some real damage in the process. Shockingly, none of that carnage was the true highlight — that distinction was reserved for the shocking appearance of wrestling legend The Great Muta. On his own personal retirement tour, Muta making the trip stateside to help his old friend Sting was one of the biggest shocks of the year. A bit of that classic Muta Mist in Buddy Matthews' face helped turn the tables and was the capper on one of the most memorable "Rampage" matches of 2022.
Jungle Boy vs. Rey Fenix
There is a case that this was not only the best match on Grand Slam "Rampage," but that it might have even been better than any action on the Grand Slam "Dynamite" as well. Jungle Boy has been labeled one of AEW's "Four Pillars," a group of key young rising stars earmarked for big things. If he's ever going to get to the top, matches like this are going to pave the way.
The special extended length of this episode of TV allowed this match to have a PPV-level run-time and in return, these two delivered a PPV-quality match. They cut a pace that not too many wrestlers can equal. In fact, this match was so jam-packed with action, some of the better stuff was actually confined to the picture-in-picture window during the commercial breaks. On one of the biggest events AEW ran all year, a night where they taped both of their big weekly TV shows, it was "Rampage" that got to serve up maybe the most thrilling slice of the pie.