Saraya Recalls Sasha Banks And Bayley Crying As She Lay Paralyzed In The Ring
Brian Ach/Getty Images
December 27th, 2017 marked a "terrifying" day for Saraya. Wrestling at a house show in New York on WWE's Live Holiday Tour, the former Paige took a stiff kick to the back, the same move she had taken from fellow WWE superstar Bayley the night before at a different live event. However, "something was just a little bit [off]" on that night at Nassau Veterans Memorial Coliseum, as she revealed on "Talk Is Jericho".
"My neck just friggin snapped back like I was in a car crash," Saraya said. "And then I was like paralyzed for like a couple of minutes, which is the most terrifying thing ... I just remember laying there, and then I didn't cry, but I knew instantly I was just like, 'This is it like I'm done? Like, I'm toast, right?"'
The self-described "Glampire" had returned from successful neck surgery only a month earlier, joining with Mandy Rose and Sonya Deville to form Absolution. At the time of the injury, the trio had been feuding with Sasha Banks, Bayley and Mickie James — the match in question was a six-woman tag involving the two teams. Lying on the mat, Saraya looked over to see an emotional gathering of her opponents and tag partners.
"I look over and I see Sasha [Banks], Bayley and there's Mickie James and everyone. They were just crying," she said. "I look at Mandy and Sonya, and they were crying." 
Bray Wyatt Comforted Saraya In The Moments Following Her Injury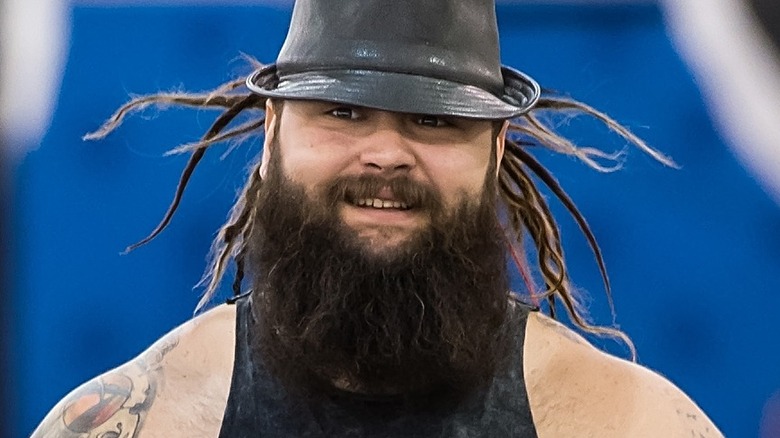 Gilbert Carrasquillo/Getty Images
Refusing to be stretchered out, Saraya waited for her "feeling to come back up, and then went backstage," where she was met by former WWE Champion Bray Wyatt. "The first thing he did, just gave me a big hug, [and asked] 'You okay?'" she said.
Saraya was later rushed to the doctor's office, and ushered to Pittsburgh the following day for evaluation on her neck. Ultimately, she received news that would have to effectively retire from in-ring competition, and formally announced her retirement in New Orleans, the same site of her main roster debut. She went on to serve in a few non-wrestling roles, notably as general manager of "WWE Smackdown", before being released from the company in July 2022.
In September, Saraya shocked wrestling fans with her All Elite Wrestling debut, specifically targeting "DMD" Britt Baker. Since signing with AEW, Saraya has reportedly been cleared to return to in-ring competition.