Diamond Dallas Page And Jay Leno Teamed Up For A PPV Match Worth Revisiting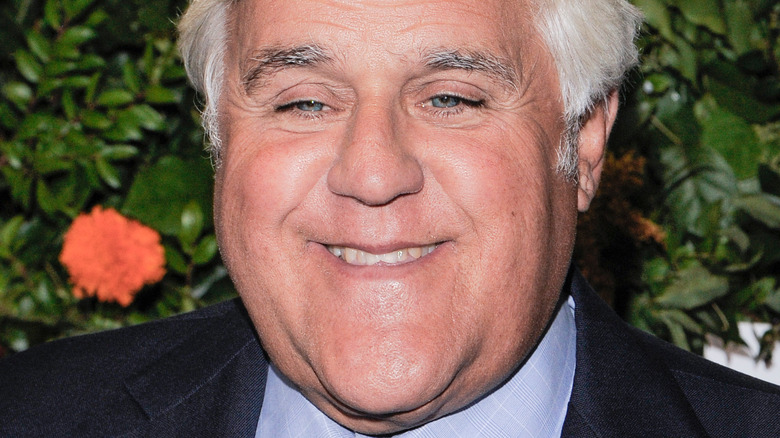 lev radin/Shutterstock
From Mr. T at WrestleMania 1 in 1985 to Bad Bunny at WrestleMania 37, plenty of entertainers have found their way into squared circle, with varying results. Perhaps one of the unlikeliest celebrities to try his hand at professional wrestling was Jay Leno, who teamed with Diamond Dallas Page in a match against "Hollywood" Hulk Hogan and Eric Bischoff during 1998's WCW "Road Wild."
Bischoff recalled the unlikely genesis of the match in an episode of the "83 Weeks" episode with a telephone call from Gary Considine, who was Leno's executive producer at "The Tonight Show." It seemed that Leno wanted to get involved in wrestling and Bischoff was too eager to make it happen.
"So, I said 'Gary I'll tell you what, I've got family here and friends coming up, but I'm gonna jump on a plane and come out and see you,'" Bischoff said. "It was too big of an opportunity not to react to it immediately. Next day, I jump on a plane and fly out to L.A. and met Gary at NBC Studios and in walks Jay Leno. Jay was so down to earth, the nicest guy you ever, ever wanna meet. The minute he walked into the room, you felt like you've known him your whole life. He's just a genuinely good human being."
Bischoff met with Leno on July 1, 1998, and "Road Wild" was slated for August 8. For a fast storyline to bring Leno into the WCW orbit, Bischoff came up with the idea creating a Leno-Hogan feud.
Taking Over The Tonight Show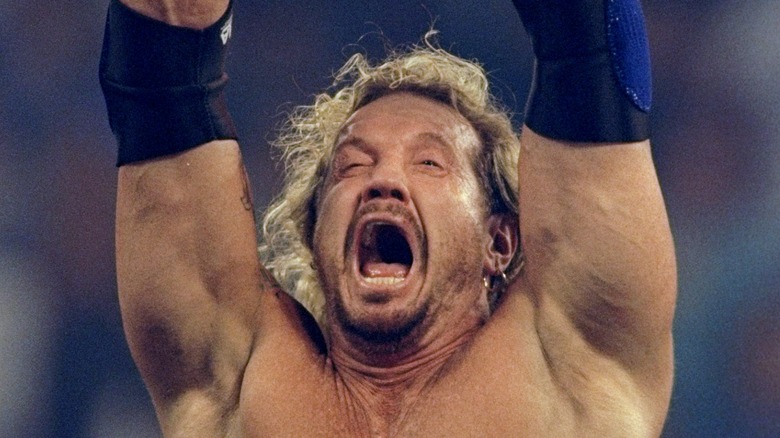 Elsa/Getty Images
"What if Hulk Hogan and I take over 'The Tonight Show'?" Bischoff proposed to Leno and Considine. "What if we take Jay Leno and Kevin Eubanks -– the guy that had the band -– what if we throw him off the set? And what if we do it like the nWo would do it where it feels real and believable? There's no comedy, nobody's gonna laugh. This is the exact opposite of what anybody watching 'The Tonight Show' would ever expect."
Bischoff pitched the idea to Leno, who responded "That's awesome, we can make this work."
Bischoff worked in conjunction with "The Tonight Show" to set the foundation of the storyline, with Bischoff dissing Leno during a broadcast of "WCW Monday Nitro" that was replayed on the July 28, 1998, episode of "The Tonight Show." Leno, in turn, claimed to have Hogan as a guest and introduced a short actor made up to look like the wrestler. On the following night's episode, Leno repeated the gag with the short actor, but Hogan and Bischoff came on the stage and physically ejected Leno and Eubanks from the set. After the WCW intruders luxuriated on the set for a few minutes, Leno returned with security and then surprised Hogan with Page, who began to pummel Hogan.
Security escorted Bischoff and Hogan from the set and Page lobbied Leno to join him in a tag team match against the WCW duo for the "Road Wild" that was set to take place on place on August 8 at the Sturgis Motorcycle Rally in Sturgis, South Dakota.
Bischoff later recalled that he instructed Leno to play the segment straight and not in a tongue-in-cheek style, telling the comic that "the minute you crack a smile, the minute you show your teeth, it'll ruin everything." Leno followed the direction and Bischoff felt "we pulled it off."
Fling in the Ring
Leno and Eubanks underwent a crash course in wrestling moves, with the understanding that their "Road Wild" appearance was not being played for laughs. Hogan and Bischoff were joined at ringside by Miss Elizabeth and The Disciple, formerly known as Brutus Beefcake.
Leno and Bischoff kept their bodies covered with t-shirts and sweatpants while their more muscular shirtless partners were clad in wrestling trunks. Initially the bout was a Hogan-Page duel with minor interference. Bischoff came in to double-team with Hogan against Page, only to exit before Leno arrived and took turns with Page assaulting Hogan.
Then, it was Page's turn to get a double dose of abuse from Hogan and, to a lesser extent, Bischoff. The match eventually came down Leno versus Bischoff, with the "Tonight" host getting an eye poke before he responded with a below-the-belt assault and then repeatedly banged Bischoff's head into the turnbuckle. Ultimately, Leno pinned Bischoff, but the losing pair were joined by The Disciple to assault the winners until Goldberg (still wearing his championship belt) to stop the assault and join Leno and Page for a victory celebration.
But there was little celebrating after the event. The Sportster noted the pay-per-view event generated a buy rate of 360,000, which was low considering WCW was at its peak; in comparison, the highest-grossing buy rate for a WCW event was 1997's "Starrcade" with 700,000.