10 Of Chris Jericho's Most Memorable Wrestling Matches Ever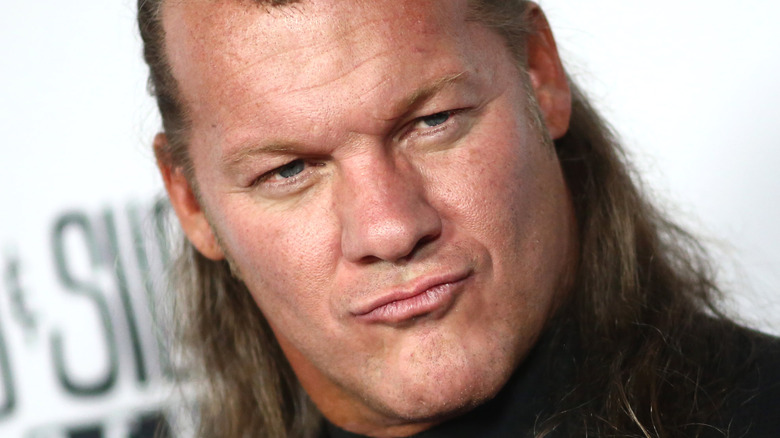 Tommaso Boddi/Getty Images
There might not be another active wrestler today who has had the kind of career Chris Jericho has had. He's gone from his native Canada, to Mexico, to Japan, to America. He's competed for ECW, WCW, WWE, New Japan, and AEW, just to name a few promotions. He has wrestled in four different decades and even now, over the age of 50, is a top star and quality performer. Jericho is one of wrestling's last bridges between past eras that grow more distant by the day and the present. It's hard to find many others who have managed to stay as relevant for as long.
How did he do it? By being the master of reinvention. Jericho has gone through a dizzying number of changes of his setting, his character, even his look. He's been everything from deadly serious to incredibly silly. Despite the constant changes, there is one thing that has always remained the same with Jericho, and that's his ability to put on a memorable match. It doesn't matter if he needs to get down and dirty as the Painmaker or do classic wrestling as the Lionheart, Jericho has always found a way to entertain fans in the ring. With trophy cases full of titles and awards, and a history that fills literal books, we're going to attempt to narrow things down to ten of his most memorable matches.
Honorable Mentions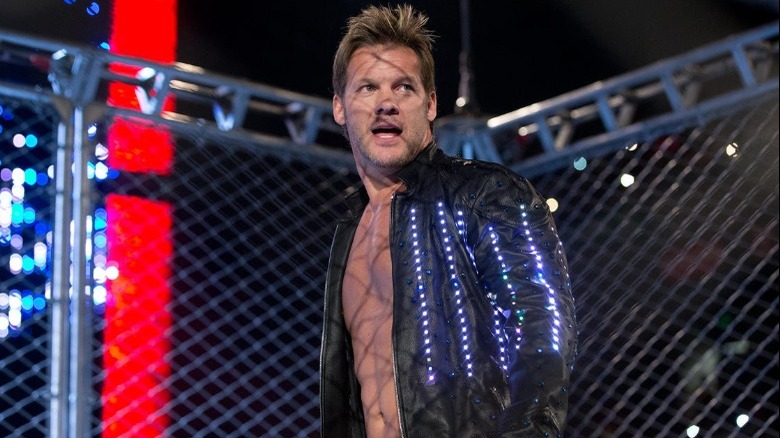 WWE
With a career as lengthy and varied as Chris Jericho's, we could've easily made this list 50 matches deep. For example, we've left out so many notable title wins. His ECW TV Championship match, WCW Cruiserweight Title victories over people like Syxx and Rey Mysterio, and a truckload of WWE title hauls all failed to make this list. Notable WrestleMania matches against the likes of CM Punk and Edge also didn't make the cut. There just wasn't room for some huge matchups that came against everyone from Kevin Owens to Kazuchika Okada. Many of these matches would be peak career highlights for many other wrestlers, but for Jericho they can't even crack a top ten.
We also left out matches that are very memorable, but memorable for stranger reasons. Jericho's failed tryout match for New Japan as "Super Liger" was memorable, but not in a good way. He's been involved with many wacky stips, from Mimosa Mayhem against Orange Cassidy to a "Loser must wear a dress match" against Perry Saturn. Again, memorable, but not the kind of memorable we're looking for. Add in the fact that Jericho is known for promos that are as noteworthy as his matches, and you start to get a picture of just how much of Jericho's career couldn't make it to this list. That said, we think what's here is a top ten that even the list connoisseur himself would approve of.
Vs. Dean Malenko, Slamboree 1998
One of Chris Jericho's most famous WCW feuds, and certainly his most extensive, was against Dean Malenko. The famously stoic Malenko was the perfect foil for the wacky goofball heel Jericho. Of their numerous matches together, Slamboree 1998 is likely the one that sticks in fans' brains the most. Disheartened after a key loss to Jericho, Dean announced he was going home and disappeared from TV for two months. Jericho used that time to mock everything from Malenko's family to his "Man of a 1,000 Holds" catchphrase, proclaiming himself the "Man of 1,004 Holds," with a list to prove it. The payoff to Malenko's absence would come at Slamboree.
It all started on the PPV with a cruiserweight battle royal, the winner receiving an immediate shot at Jericho's WCW Cruiserweight Championship. Jericho handled announcing duties himself, hilariously mocking every entrant. His glee would vanish though at the match's conclusion, when it came down to Juventud Guerrera and masked luchador Ciclope. In a shocking twist, Guerrera shook hands with Ciclope and then eliminated himself. Moments later Ciclope unmasked himself to reveal he was not Ciclope at all, but a returning Malenko. The crowd lost their minds in the loudest pop of the show, and Malenko defeated Jericho in their immediate match. It was Dean's night, but also Jericho doing what he did best in WCW, being the heel who got his just desserts.
Vs. HHH, Raw April 2000
WWE
By 2000, fans had already spent years wondering if and when Jericho would ever be elevated to main event status. For a brief shining moment on this episode of "Raw," viewers thought they got their answer when Jericho appeared to have defeated HHH for the WWF Championship. The reaction Jericho received for the win was huge, scoring the pin after hitting a Lionsault. But if you loved Chris, your heart was almost immediately broken when you saw HHH browbeat ref Earl Hebner for making a fast count and pressure him into reversing the decision. HHH ended the segment triumphant, firing Hebner immediately after getting what he wanted from him and laying him out with a Pedigree.
Fans had just seen a modern version of the "Dusty Finish" booking trope Dusty Rhodes had frequently used many years earlier. A babyface would get a huge title win and then minutes (or sometimes days) later, the decision would be reversed on some technicality. Sometimes it would just create more demand to see the face get that eventual win for real. On this night, though, some fans were very frustrated seeing it happen to Jericho, feeling that the crowd's pop for the win proved that this had indeed been the time to legitimately make Jericho the world champ. Instead, it made for an incredibly memorable episode of TV, one that showed that people were ready to see Jericho at the top of the mountain.
Vs. Chris Benoit, Royal Rumble 2001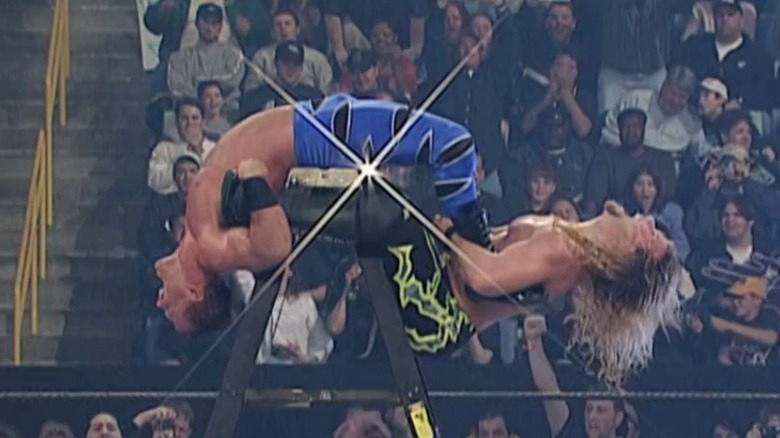 WWE
2001 was a year where Chris Jericho and Chris Benoit had a lot of involvement with each other, reigning as tag team champions and engaging in a three-way feud with Steve Austin. Before all of that, their year kicked off with them facing each other one-on-one for the Intercontinental Title in a ladder match at the Royal Rumble. In a fantastic match that ranks among both the best ladder matches in history and the best matches to ever take place at a Royal Rumble, Jericho became the IC champion for the fourth time. It was an encounter where both men took some absolutely hellacious punishment, including a moment where Jericho narrowly avoided landing on his head after being dumped out of the ring.
It is always hard to talk about Chris Benoit without acknowledging the elephant in the room that is the unspeakable acts of evil he committed at the end of his life. It's something Jericho, as a friend of Benoit, has publicly grappled with in interviews, as well as in his series of autobiographies. 2001 and everything the two Chrises did together during it were key parts of Jericho's career, one of the last major programs he'd ever be involved in before finally being legitimately elevated to the main event level. Looking back at this match, it's hard to imagine that the quality of work they produced here didn't help convince the powers that be to give Jericho the ball by the end of the year.
Vs. The Rock, Vengeance 2001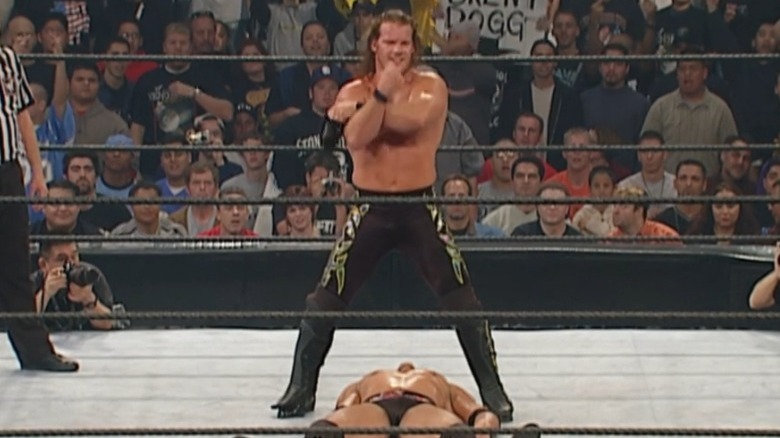 WWE
In the aftermath of the WWF's purchase of WCW and the Invasion storyline that followed, they now had the problem of two world titles floating around. Enter Vengeance 2001, a PPV that featured a one-night, four-man tournament with the goal of having one person end the night with both belts, WWF's first-ever "Undisputed" champion. Here in the opening round Chris Jericho finally won a main event title, defeating the Rock, who at that time was holding the WCW Heavyweight Championship. The moment may have been tempered by the knowledge that he might not make it out of that show as a champion, but it still marked a major milestone in Jericho's career.
The match itself was the clear highlight of the PPV from a pure wrestling standpoint. Rock was at the top of his game and, despite Jericho having to wrestle a second match that night, these two still went out and battled for almost 20 minutes. Jericho's big win did not come without some help though, as he needed Vince McMahon to interfere to prevent him losing to a Rock Bottom. It wouldn't be much longer afterwards that Chris was standing victorious after hitting a Rock Bottom of his own, winning with his opponent's own move just to add insult to injury. It was a big moment for Jericho, but his night was only half over.
Vs. Steve Austin, Vengeance 2001
After defeating Kurt Angle to retain his WWF Championship, Steve Austin was waiting for Jericho in Vengeance's main event. Each man brought with them one of wrestling's most prestigious titles ever, but only one would leave with both. In a match that saw everyone from Angle, to Rock, to Vince McMahon, to Booker T get involved, Chris Jericho became part of wrestling history when he won and simultaneously held the two titles. Did it take a belt shot from Booker to seal the deal? Yes. Was the match itself great? Not really. But on this night it was the moment that counted, and this whole show was about finally elevating Jericho to main event status.
The actual title reign itself would end up feeling like more of a setup to a babyface push for the returning from injury HHH. Yet that would be something people forgot far more easily than the fact that in one night, Chris Jericho beat the two biggest stars of his generation, winning both WWF and WCW's premier prizes in the process, the first to hold them simultaneously. Unlike that fateful Dusty Finish against HHH on "Raw," these were wins that no one could ever take away from him, ones he would reference over and over again in the following years. There's a reason Jericho's second book is called "Undisputed" — this was a hallmark moment in his life and career.
Vs. Shawn Michaels, WrestleMania XIX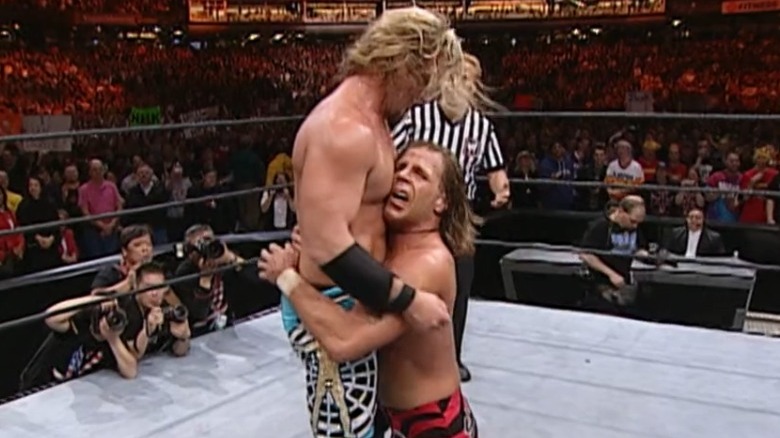 WWE
As weird as it is to say, before this match, Jericho never had his WrestleMania moment. Yes, he had technically main evented the show the year before against HHH, but that match was marred by a poor build and completely overshadowed by the legendary Rock vs. Hollywood Hogan match. In his two other WrestleMania appearances, Jericho had been featured in decent but forgettable mid-card matches. At Mania XIX, Jericho was free of those prior restrictions. Here he was given plenty of time, there was no match before him that stole focus, and his opponent was "Mr. WrestleMania" himself, Shawn Michaels. Not only that, it was Michaels' first Mania match in five years, a momentous occasion in itself.
This feud was built around Chris Jericho at one time wishing he could be Shawn Michaels, and it played out in the match. Multiple times, be it with kip-ups or superkicks, Jericho would ape Michaels' classic moves, only for Shawn to respond with the real thing. Mania XIX is considered one of the greatest events WWE put on, and the fact that this match has a case for being the best on the show is a real feather in both men's caps. It all ended with Shawn picking up the win and sharing a post-match hug with Jericho, only for Chris to sour the happy ending with a low blow. As special as this night was, these two had more story to tell.
Vs. Shawn Michaels, No Mercy 2008
Half a decade later, the feud between Jericho and The Heartbreak Kid would be revived, and it would be more than worth the wait. It was an epic story spanning multiple months, matches, and PPVs. In many ways, the whole thing was one of Jericho's creative high points, resulting in fans voting it as Feud of the Year in the 2008 Wrestling Observer awards, and giving Jericho the nod as the overall Wrestler of the Year. Pretty much every angle and match in this feud was a gem, but this ladder match is the best of the best, itself taking home the 2008 Observer Match of the Year award.
Shawn Michaels is obviously known for his history with ladder matches and this one may be his best. He and Jericho both took the kind of crazy bumps you'd think would normally be reserved for wrestlers 10 years younger than themselves. The match was also a completely clean main event win for Jericho, making No Mercy 2008 a night where the spotlight shined on him above all others. 2008 was a hallmark year for Jericho, seeing him reimagine himself as a more serious heel, becoming world champ again, and being viewed as reaching a new level creatively, and it's this match that is its biggest highlight.
Vs. Kenny Omega, Wrestle Kingdom 12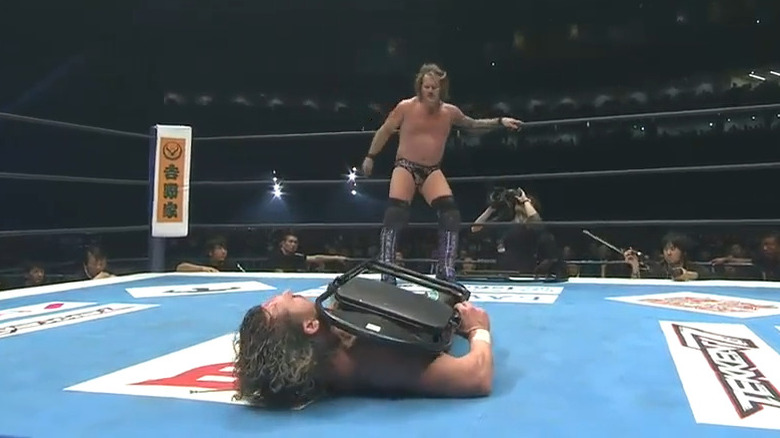 NJPW
It took 20 years, but in 2018 Chris Jericho finally returned to New Japan. He could not have possibly picked a better time or way to return, making his first match back against Kenny Omega at New Japan's biggest annual event, Wrestle Kingdom. The build really showed how far Jericho had come, as in contrast to his earlier feud with Shawn Michaels, it was now Jericho in the veteran role, accusing Kenny Omega of trying to imitate him. Certainly, the connections between the two were many, from their skillsets, to their Canadian roots, to their shared friendship with Don Callis. Billed as "The Alpha vs. The Omega," Jericho framed the match as the original version of something taking on its younger copy.
Contested for Kenny's just recently created New Japan United States Championship, you could argue this match was actually a bigger test for the Alpha than the Omega. Just a few years shy of 50, Jericho was not just facing someone considered to be one of the best wrestlers going, but one of the most modern, fastest-paced ones. Going in, there were questions of whether Jericho could keep up, but on this night, helped by an added no-disqualification stip, Jericho was able to defy his age yet again and have an excellent match in a losing effort. There would be more great performances to come for Jericho in New Japan, and a huge rematch with Omega in a completely different venue.
Vs. Kenny Omega, Double or Nothing 2019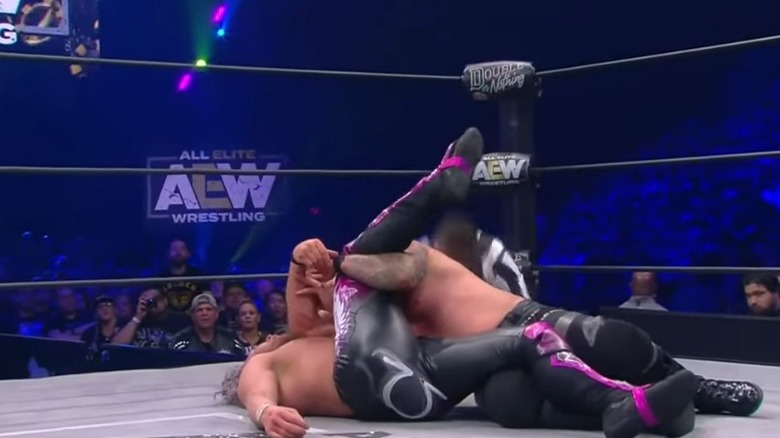 AEW
By 2019, Chris Jericho had already carved a place in wrestling history. He had already wrestled in so many countries, so many storied promotions. Heck, he had already wrestled Kenny Omega. One thing Jericho had never done, though, was to be on the ground floor of something big — to help create it. Main eventing AEW's first official PPV, Double or Nothing 2019, was the start of a completely new chapter for him. Yes, in Omega he was taking on a familiar face, but the context had completely changed. This was no longer about Alpha vs. Omega, but about who was going to be the first ace of a major new promotion.
Another big change was that Jericho won this time, debuting his new finisher, The Judas Effect. While maybe not quite on the level of match quality of their first bout, this match would end up being more historically significant. Some fans were a little shocked that Jericho got the win on the first big AEW event, but the coming months and years would show that he still had a lot left to give. Plus, whatever surprise fans felt about Jericho winning paled in comparison to what followed immediately after: the AEW debut of Jon Moxley, who wasted no time getting in the mix when he attacked both Jericho and Omega. The era of AEW had begun, as had yet another renaissance in Jericho's career.
Vs. Adam Page, All Out 2019
Beating Omega only got Jericho halfway to his goal of claiming the throne as the king of the brand-new AEW. All it really did was earn him the right to challenge Adam Page in the main event of the very first All Out, with the winner becoming the first AEW World Champion. Jericho was up to the challenge, defeating Page to ensure that for all time, when people look up the history of AEW, they'll find a list that starts with his name. It was just the start of the night's fun for "Le Champion" as he famously celebrated with "A little bit of the bubbly," sparking a new catchphrase, before he would end up temporarily misplacing his new title belt during his celebration.
Jericho was at an age where a lot of wrestlers would be thinking of retirement, and here he was, taking big blows from another hard-hitting hungry young star, even bleeding, to prove he still could deliver on the biggest of stages. It's this match and the Omega Double or Nothing rematch that were Jericho's way of serving notice to all the people who said he could never carry a company, or that it was time for him to slowly fade away down the card. They were Jericho doing what he always did best, hitting a glass ceiling and then changing himself, in ways minor and major, to break through it.