The Spookiest Wrestlers In Impact Wrestling History
Impact Wrestling has always been a grab bag when it comes to the quality of its wrestlers and storylines. From five star classics to disastrous misfires, the company has definitely seen the best of times and the worst of times. Despite a swath of hiccups, setbacks, and financial troubles, Impact Wrestling still perseveres to this way, for better or worse.
Much like the WWE, Impact has never been afraid to take a chance on some particularly gonzo ideas, including several spooky gimmicks. From stalkers to supernatural entities to bloodthirsty monsters, Impact has seen quite the plethora of far out ideas and presentations.
It's worth noting that, technically speaking, not all of the gimmicks presented here are good with many being curbed in record speed. Still, as Wayne Gretzky once said, "You miss 100% of the shots you don't take," and these gimmicks are definitely worth discussing. Regardless of quality, the fact we remember any of these characters is impressive, so sit back and enjoy the spookiest wrestlers in Impact Wrestling history.
Abyss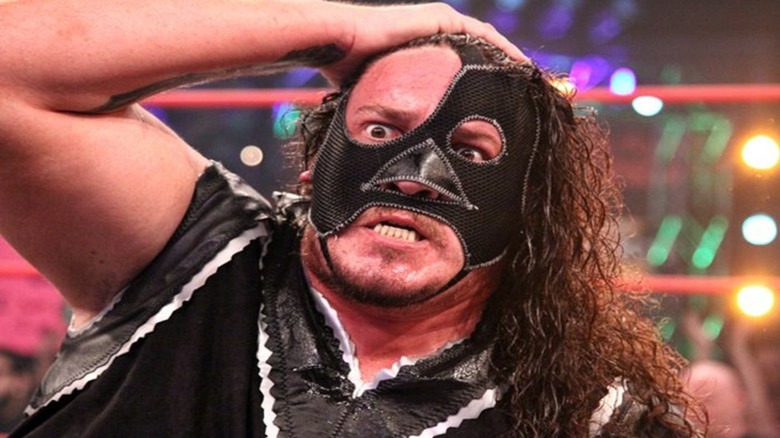 Impact Wrestling
Impact has had wrestlers to come along and become defining parts of the promotion's legacy. There have been the likes of AJ Styles, Jeff Jarrett, Kurt Angle, Samoa Joe, and most relevant here, The Monster Abyss. Chris Park was one of the company's earliest performers, landing during the first installment of Impact's weekly pay-per-view events. In 2003, Park returned to Impact with a new masked appearance and a devastating finishing move known as the Black Hole Slam. Originally a man of few words, Abyss made a name for himself through his size and his penchant for creative violence.
From slamming people into piles of thumbtacks to spilling countless gallons of blood, if Abyss was in the ring, doomsday was imminent. Park truly made the character his own during his time in the squared circle, playing both a monstrous heel and a comedic babyface. Over the course of his career, the Monster has won the likes of the NWA World Heavyweight Championship and several key Impact championships as well. He also has the distinction of being Impact's longest-tenured competitor, being with the company from 2002 all the way to 2019. Though a victim of Impact's frequently subpar creative, Abyss never once phoned it in, always committing to whatever nonsense he was booked into.
Black Reign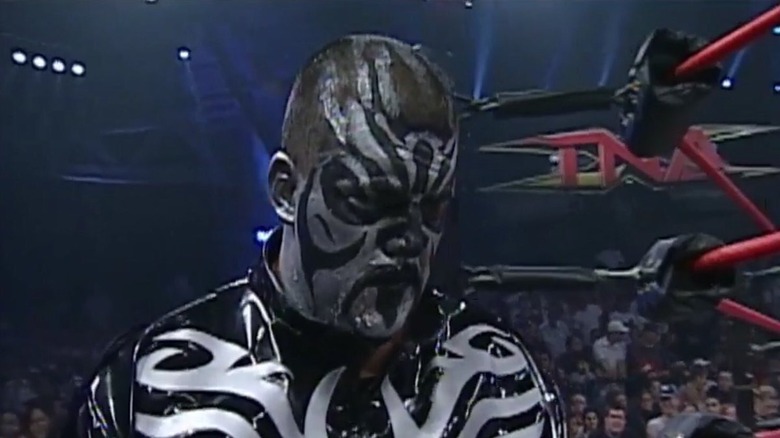 Impact Wrestling
When it comes to miles traveled, few have done more in professional wrestling than Dustin Rhodes, the eldest son of Dusty Rhodes. Rhodes is perhaps best known for his multi-decade run in WWE as the bizarre, controversial, and often-hyper sexual Goldust. However, Rhodes portrayed another bizarre character in the squared circle that was still memorable but for all the wrong reasons. During his second stint with Impact Wrestling, Rhodes revealed that he was suffering from a kayfabe multiple personality disorder. This other personality arrived at Hard Justice 2007 in the form of Black Reign, quickly battering "Wildkat" Chris Harris.
Black Reign was nothing short of a disaster, complete with gaudy silver face paint and a hideous silver jumpsuit. Although initially presented in moderately serious fashion, with Reign even sporting a menacing looking spike, the gimmick was dead on arrival. Reign then began a feud with Abyss which led to the debut of his new tag team partner Reilik — we'll get to him later. Down the card Reign fell until he was being used as fodder for Eric Young and his then-new Super Eric gimmick. After an unexplained three month absence from weekly television, Rhodes was quietly released from Impact, ending Black Reign's embarrassing existence.
Raven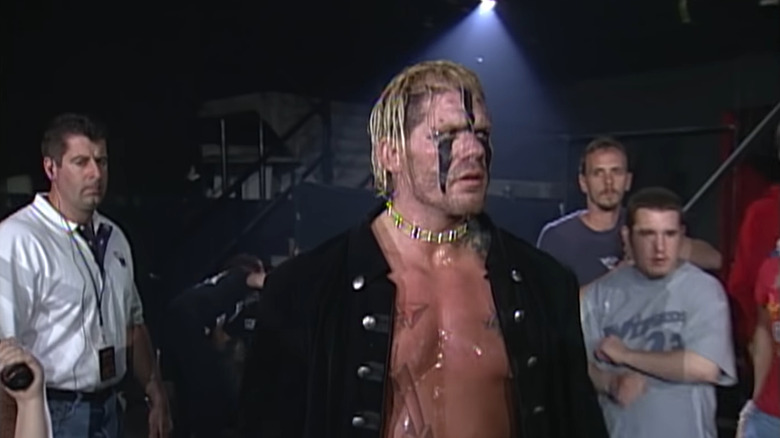 Impact Wrestling
Though best known for his edgy work in Extreme Championship Wrestling, Raven still made quite the impression in Impact Wrestling. His arrival couldn't have come at a better time for him, having been released from WWE in January 2003. A mere two days after his termination, Raven arrived for Impact in grand fashion, attacking Jeff Jarrett and his NWA World Heavyweight Title. It wouldn't take too long for Raven to resume the level of violence he'd become known for in ECW. He'd end up tangling with fellow ECW alumni like Sandman and new faces like The Monster Abyss.
Raven's biggest contribution to Impact at this time was his own self-titled stipulation known as the "Clockwork Orange" House of Fun match. Additionally, Raven got to compete in the first ever Monster's Ball match, a stipulation the company still uses to this day. He'd also team up with another ECW alumni in the form of "Doctor" Stevie Richards against, once again, Abyss, which resulted in ample carnage. Though a far cry from his peak run in ECW, Raven never wavered in his delivery and gave Impact some stellar brutality.
Rellik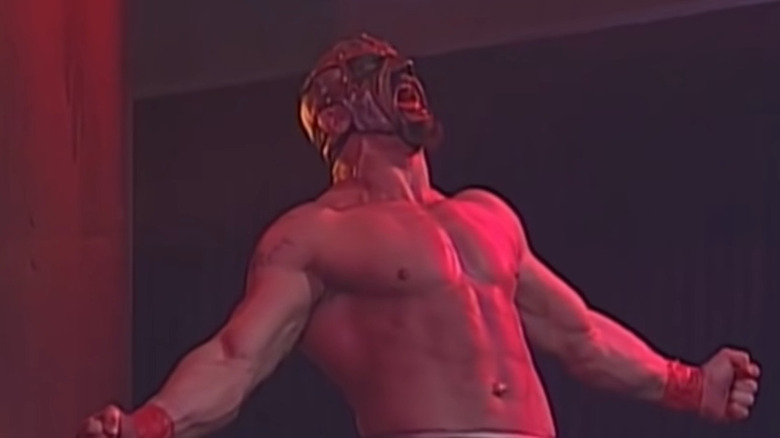 Impact Wrestling
During one of Impact's more nonsensical periods, which is saying a lot, creative saw fit to unleash Rellik on the Impact Zone. As if Black Reign's run wasn't already cornball enough, the powers that be opted to give him a sidekick. That sidekick ended up being former WCW and WWE talent Johnny the Bull AKA Johnny Stamboli, who was repackaged as the sinister Rellik. Complete with a Slipknot-esque mask and bizarre looking trunks, Rellik has very little going for him beyond his name. Despite Stamboli's impressive physique, his in-ring prowess left a lot to be desired, not helped by the ridiculous presentation of the gimmick.
If you have yet to piece it together, Rellik is killer spelled backwards. We repeat: Rellik is killer spelled backwards. Impact really felt the need to remind the viewer of that fact quite frequently. Rellik limped through his run alongside Black Reign, serving as cannon fodder for Abyss, Raven, Team 3D and "Super" Eric Young. After being removed from television partway through 2008, Stamboli was quietly released, ending the brief reign of Rellik.
Rosemary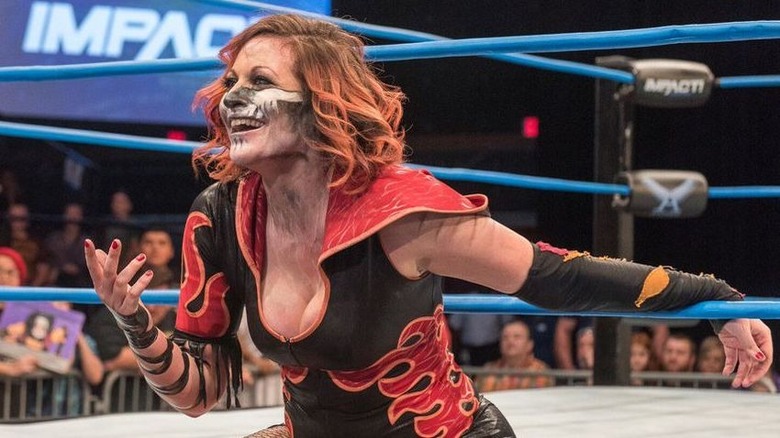 Impact Wrestling
With a demented stare and gloriously macabre face paint, few female wrestlers have the stage presence that Rosemary does. Former Shimmer talent Holly Letkeman made her Impact debut at the start of 2016, serving as a manager/valet for Abyss and Crazzy Steve. This terrifying trio became known as Decay, with each member adopting a hideous new visage with zombie-like makeup. This was most definitely the case for Rosemary, who'd end up showcasing a wide range of creepy designs and outfits. It also helps that Letkeman had the character down to a science, easily able to channel sickeningly sinister overtones in her promos. One of her most disturbing moments was a break in at Matt Hardy's home in an attempt to kidnap his infant child "King" Maxel.
Her other most prominent moments on the show came via her feud with the equally spooky Su Yung, a fitting combination to be sure. Throughout her time in the company, Rosemary has been Knockout's Champion and held Knockout's Tag Team Titles on three separate occasions. She'd hold the tag straps with the likes of Jessicka Havoc and Taya Valkyrie, with all three forging a new faction known as the Death Dollz. In a day and age where spooky female wrestlers are becoming increasingly more common, Rosemary still stands out as a cut above the rest.
Samuel Shaw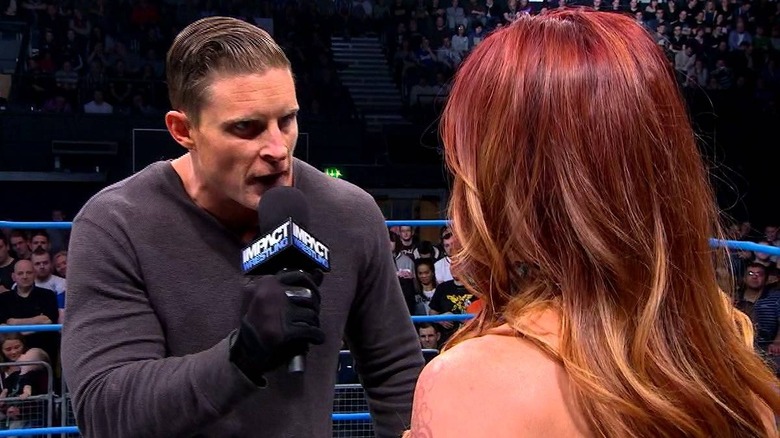 Impact Wrestling
Before he was creeping through WWE as the demented Dexter Lumis, Sam Shaw was a part of the Impact Wrestling roster. Shaw got his start in Impact's "Gut Check" reality series, their equivalent to WWE's "Tough Enough" — a source for fresh young talent. Following a stint in Ohio Valley Wrestling, Shaw began appearing with greater frequency, participating in tournaments and multi-man matches. However, things took a turn for the creepy when, following an interview with Christy Hemme, it became clear that Shaw wasn't playing with a full deck mentally. Dressed in clothes similar to Dexter Morgan from Showtime's "Dexter," Shaw obsessively stalked Hemme, even covering his room with pictures of her.
The act started off with solid intrigue, but much like DDP's stalker angle with Undertaker's wife in 2001, things went off the rails rather quickly. During a feud with Mr. Anderson, formerly WWE's Mr. Kennedy, Shaw's kayfabe psychosis was played more for laughs, often being the butt of Anderson's jokes. The most comical moment came when Anderson beat up Shaw in his own childhood home, following a hysterically over the top reaction from Shaw. Despite several attempts to keep his storyline going, Shaw didn't last too much longer in Impact, seeing his release in 2015.
Father James Mitchell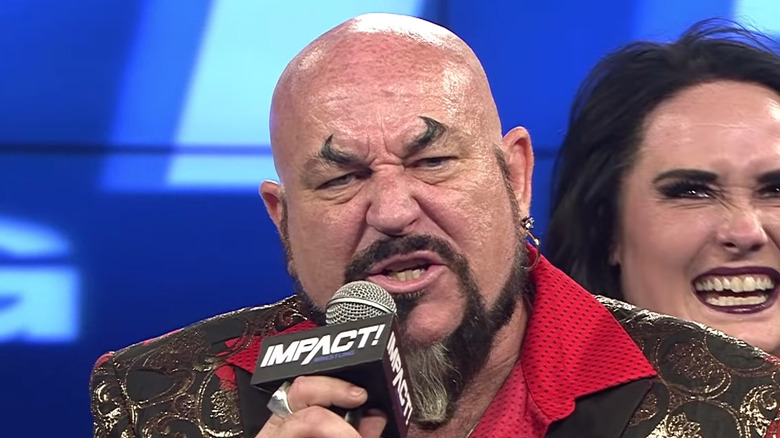 Impact Wrestling
Father James Mitchell has worn many hats and aided many different talents during his decades-long career as a wrestling manager. Formally known as the Sinister Minister, Mitchell was best known for managing The Unholy Alliance, Yoshihiro Tajiri, and Mikey Whipwreck in ECW. After ECW's demise in 2001, Mitchell arrived in Impact as the new manager of Slash and Brian Lee AKA the Disciples of The New Church. Following this, Mitchell aligned himself with Abyss which first proved to be a successful partnership with Abyss winning the NWA Title in 2006. Through a series of bizarre revelations, it was shown that Mitchell's control over Abyss was incredibly abusive, leading to the duo's eventual schism. However, Mitchell wasn't done with Abyss, opting to lend his services to "his son" Judas Mesias, revealing that he was also Abyss' true father. This sadly wouldn't lead to much as, following a multiple month absence from television, Mitchell was released from Impact in 2008.
Other than a one night appearance in 2013, Mitchell didn't appear on Impact until his return in 2017. After helping his "son" Abyss at Slammiversary XV, Mitchell lent his services to a few other supernaturally tinted performers on the roster, including Su Yung and Rosemary. If you are looking to utilize the power of darkness in the squared circle, it usually helps to have James Mitchell at your side.
Crazzy Steve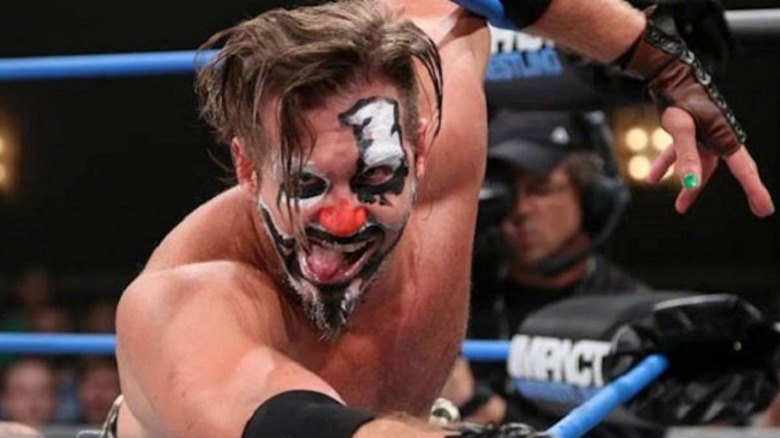 Impact Wrestling
The 2010s saw a time of great transition for Impact Wrestling, with many prominent players exiting and new faces making their arrivals. One such performer was Steven Scott AKA Crazzy Steve, who first appeared for Impact in 2014 as a part of The Menagerie. Scott is an interesting case, as he's legally blind due to congenital bilateral cataracts, making him a rare outlier in pro wrestling. The group was a carnival faction led by Knux (formerly Mike Knox), which saw Steve dressed as a sinister backwoods clown. The faction did little of note, disbanding when Knux was released in 2015, leaving Steve to turn heel and seek new company.
Steve indeed found some new friends when at the start of 2016, he aligned himself with Abyss and Rosemary to form Decay. Ditching his clown attire for fittingly decayed looking ringwear and makeup, Steve fit the stable like a glove. That same year, Abyss and Steve defeated Beer Money Inc. to win the Impact Tag Team Titles, Steve's first ever title in Impact. Eventually, Decay found themselves in a (sometimes literally) heated feud with the Broken Hardys, which resulted in ample mayhem on the Hardy Compound and in the Impact Zone.
Following this feud, which saw the loss of their tag titles, Decay was written off television during their feud with LAX. After a three year absence from the company, Steve resurfaced in 2020 to help Rhyno and Tommy Dreamer fend off Ohio Against Everything.
Su Yung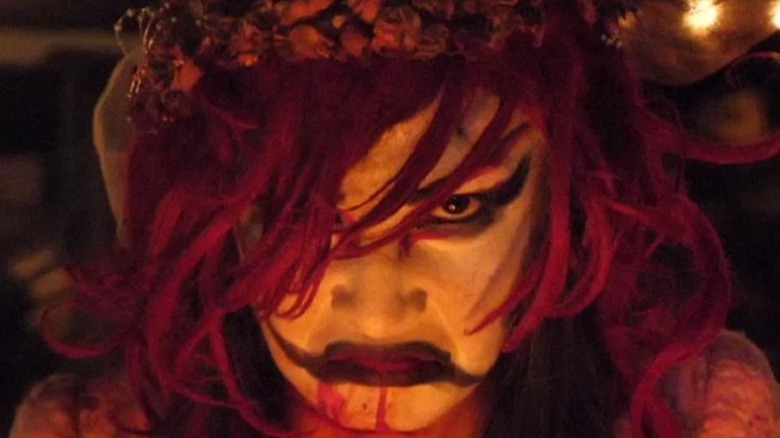 Impact Wrestling
When it comes to Su Yung, most of the time it's unclear if you should be mesmerized or terrified when watching her. Following a one-off appearance at Impact's One Night Only: Knockouts Knockdown event, Yung went out onto the independent scene. Following ample success in the likes of female-centered companies like Shimmer and Shine, Yung made her return to Impact Wrestling. Now presenting herself as an undead bride, Yung quickly made her presence known by decimating the then-Impact Knockouts Champion Allie. Following an attempted premature burial of Allie, Rosemary came to her rescue, fighting off Yung and kicking off a rivalry between the two. This led to not only the introduction of Yung's army of undead bridesmaids, but her winning the Knockouts Title as well — even locking Rosemary in a coffin for good measure.
Later on, an interesting wrinkle occurred with Yung's character as it was revealed she seemed to have a few kayfabe psychological complications. This resulted in the respective introductions of Susie, a bubbly sweet personality, and Susan, a stuffy business woman. She'd once again become the Undead Bride in 2021 before being written off television due to her real life pregnancy.
Judas Mesias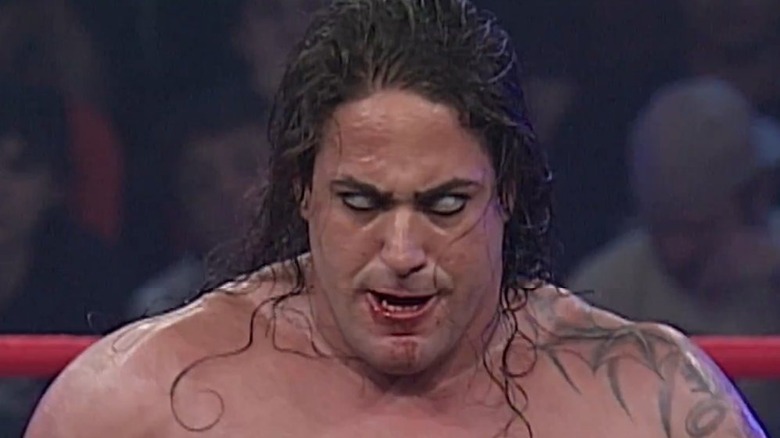 Impact Wrestling
It wouldn't be unfair to say that Impact has, more often than not, borrowed ideas from their competition. A major example of this came during the 00s feud between The Monster Abyss and his kayfabe-father James Mitchell. During their already over the top storyline, Mitchell teased the arrival of someone who'd be Abyss' equal, another monster. This monster in question was then revealed to be Ricky Banderas, repackaged in Impact as the intimidating Judas Mesias. Mesias arrived in grand fashion, climbing through a self-made hole in the ring at No Surrender 2007 to attack Abyss.
Immediately, the most striking thing about Mesias was his look — sinister purple gear with white contact lens, all topped off by a mouth loaded with fake blood. Unfortunately, other than his imposing size and his look, there wasn't too much to write home about in regards to Mesias. Once James Mitchell departed Impact television, any character drama was immediately drained from the feud — leaving things a bit underwhelming. Despite Mesias and Abyss delivering appropriately brutal hardcore matches, it wasn't enough to justify this misfire of a gimmick. Mesias saw his release from Impact in 2008 following one final loss in a Barbed Wire Massacre match to Abyss. Banderas saw much greater success years later when he adopted the gimmick of Mil Muertes in the short lived "Lucha Underground."
Broken Matt Hardy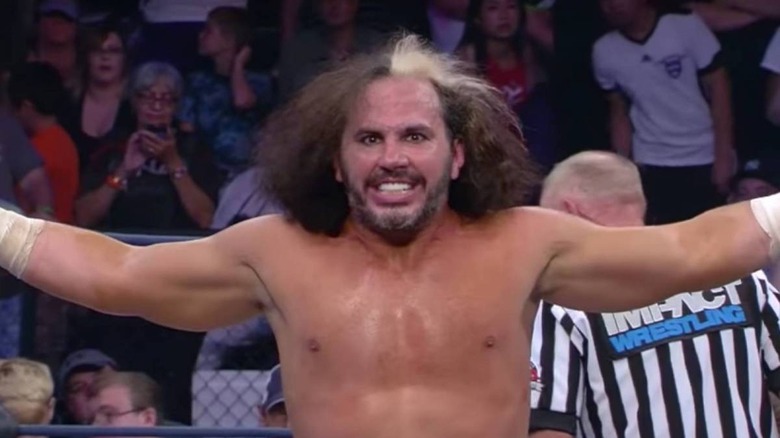 Impact Wrestling
Few wrestlers have reinvented themselves times and time again the way that Matt Hardy has been able to. From his internet savvy V1 gimmick to Big Money Matt, the man is a true in-ring chameleon. But by far his most successful gimmick to date arrived in 2016 during a heated feud with his brother Jeff. Matt became completely unhinged, speaking in a bizarre accent while sporting more gothic clothes and adding a white streak to his hair. Now obsessed with "deleting" his "Brother Nero," Broken Matt challenged Jeff to The Final Deletion, a cinematic match filmed on the Hardy Compound. The "match," an epic battle featuring drones, fireworks, and dilapidated boats, quickly took the wrestling world by storm.
From there, Matt's Broken Universe only grew in terms of scope and madcap developments — including a battle with Decay, a Lake of Reincarnation, Ricky Morton in a cherry picker, and a kangaroo with Joe Frazier's soul. The gimmick reached peak madness just before the Broken Hardys departed Impact in 2017. Following this, the Broken gimmick saw new life on the indies, WWE and, most recently, AEW before being retired by Hardy — for now, anyway.
Joker Sting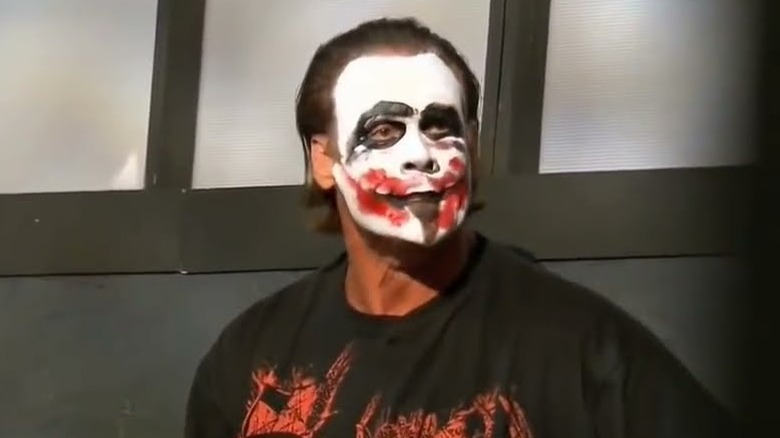 Impact Wrestling
The man called Sting has never been one to rest on his laurels, constantly seeking new and fresh ways to reinvent and present himself. From his original surfer look to his "The Crow" phase to the Wolfpac to the Main Event Mafia, Sting has seen countless looks and factions. But by far his most ridiculous outing, which is saying a lot, came during his feud with Immortal in early-2010s Impact Wrestling. Immortal was a faction led by Eric Bischoff and Hulk Hogan, which featured Abyss, Jeff Hardy, and Jeff Jarrett. It was during this feud that Sting adopted new tactics to combat his foes, even adopted a new look and personality.
Heavily channeling Heath Ledger's interpretation of The Joker from "The Dark Knight," Sting became incredibly unhinged, even sporting clown-like makeup. Going under the moniker of The Insane Icon, Sting was on a mission to make Immortal's lives a living hellscape. This included putting Eric Bischoff in a sharpshooter, teasing Hulk Hogan from backstage monitors, and cackling up in the Impact Zone's rafters. The whole thing was, as was the norm for 2010s Impact Wrestling, a ridiculous sight to see. However, one cannot deny that Steve Borden, the man behind the face paint, put everything he had into making the goofy gimmick work.
Willow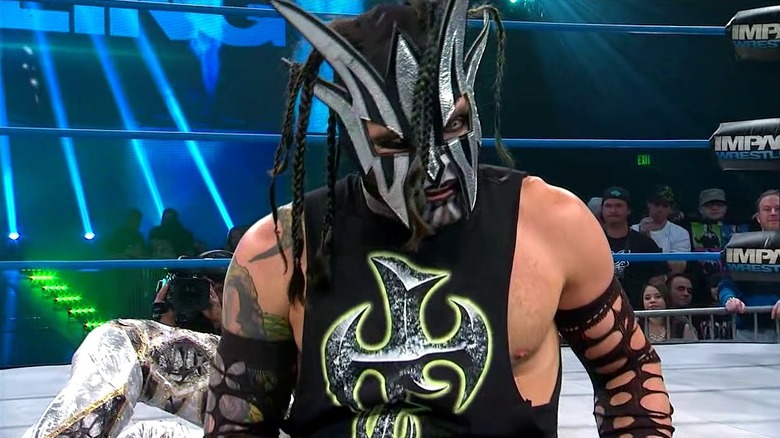 Impact Wrestling
For most of his career, Jeff Hardy has never been one to stay stagnant, especially when it comes to his look. Often decked out in multicolored hair, see through shirts, and two toned arm bands, Hardy is certainly an eclectic work of art. However, when it comes to peak ridiculousness, look no further than Jeff's infrequently utilized alter ego, Willow the Wisp. The gimmick has actually started within the confines of Matt and Jeff's homegrown North Carolina-centered indie federation Omega Wrestling.
Willow made his first appearance for Impact in 2014, following a kayfabe-walkout by Jeff due to Dixie Carter's management. Looking like he was made out of Tim Burton's hand-me-downs, Willow came to the ring with bizarre music blaring, while Hardy, under a mask and long coat, would twirl an umbrella. Simply put, there's a reason Willow doesn't get brought up when fans list off Jeff's in-ring accomplishments — the gimmick was terrible. Unsurprisingly, it wasn't too long before Jeff reverted to his standard gimmick. Willow's last appearance to date came during a backstage brawl with Crazzy Steve amidst The Great War at Bound For Glory 2016.