Cora Jade Names The Two Female Superstars Who Inspired Her To Become A Pro Wrestler
Growing up, Cora Jade always knew she wanted to be a part of WWE. In her first memories of the sport, women in the company generally took a backseat to their male counterparts, often competing in bra and panties matches or vying for limited screen time. However, two female superstars later emerged that caught her attention.
In speaking with Sean Ross Sapp of Fightful, Jade revealed that former Divas Champions Paige and AJ Lee helped reaffirm her goal to join WWE someday. "I feel like she was kind of the first person to start making everybody see women can do all this exact same stuff," Jade said of Lee. "She was kind of the first woman to have all this merch, and none of the other women really kind of got to have that at the time."
Besides Lee's driving merch sales, Jade felt she related to her "favorite" on a personal level as well. "I saw so much of myself in her. She was a fan as well, and I just feel like we had a lot of similarities," she said.
The former NXT Women's Tag Team Champion now wants to inspire other girls the way her idol inspired her, recalling a memorable interview from Lee. "She said that she hopes what she leaves is for the women who come after her. That kind of always stuck in my head because I feel like now I'm kind of trying to be in that position myself, and hopefully, a few years from now, there's someone who was me as a kid watching AJ who I kind of helped as well."
"I think that's definitely a goal of mine," Jade said, "to kind of be the AJ for other girls that she was to me."
A Full Circle Moment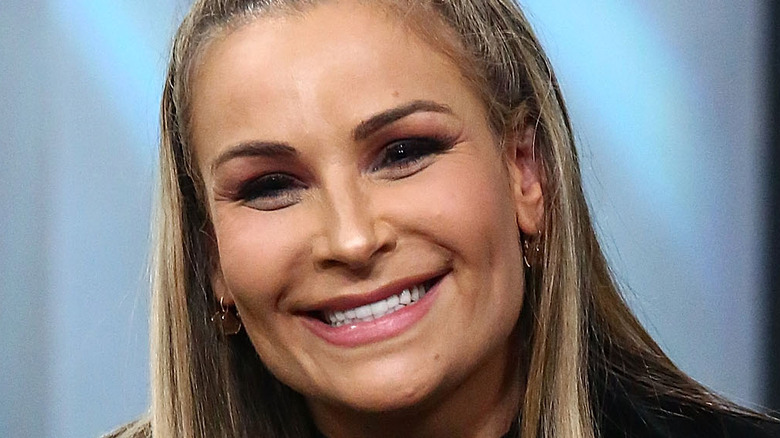 Astrid Stawiarz/Getty Images
Before AJ Lee, Cora Jade named another women's wrestler who served as her "initial role model," who she ended up squaring off with years later. "I remember Natalya was the very first women's wrestler that I decided was my favorite," she said.
Natalya officially debuted for WWE in spring of 2008, aligning herself with former Women's Champion Victoria. As the daughter of Jim "The Anvil" Neidhart and niece of Bret "The Hitman" Hart, she often sported their signature colors in her ring attire. "I loved the pink and black hair and her look," Jade said.
At a WWE live event in 2011, the 22-year veteran Natalya pointed to the future "WWE NXT" Superstar as she sat in the crowd at Hammond, Indiana. "I thought it was the coolest thing in the world," Jade recalled. In April 2022, Jade would be acknowledged by Natalya again – but this time, it would be inside the ring.
Appearing on "NXT," Natalya confronted the young superstar following Jade's loss at Stand & Deliver. The two would later meet for a match, with "The Queen Of Harts" taking home the victory. "I think [that] is my favorite match I've ever had," Jade said. "Just because it was so much fun, obviously to be able to work with somebody I looked up to, but I think I grew so much as a wrestler, as a performer in so many ways, not only in the ring, but just hearing her brain and how she thinks about things."