Hulk Hogan Went Nose To Nose With Mike Tyson Well Before Stone Cold Steve Austin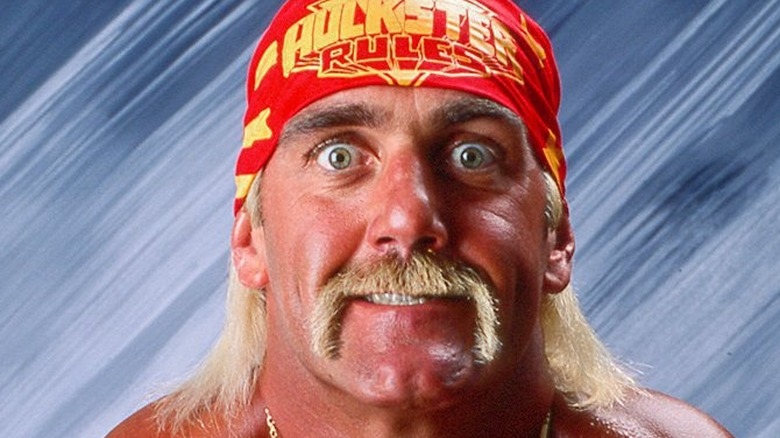 WWE
"That would be a fight," were the words of Arsenio Hall on March 21, 1991. That night on "The Arsenio Hall Show," Hulk Hogan appeared to discuss his upcoming WWF Championship match against Sgt. Slaughter at WrestleMania VII. Making a surprise appearance at the start of the show was Mike Tyson, who, three nights prior, defeated Donovan "Razor" Ruddock by technical knockout in the seventh round to become the number one contender to Evander Holyfield's WBC, WBA, and IWF World Heavyweight Championships. 
Before bringing Hogan out, Hall played a clip of comments "The Hulkster" made about Tyson during his last appearance on the show on May 29, 1989, when promoting his movie "No Holds Barred."
Hall asked Hogan if he would ever fight a boxer. Hogan replied, "Well I tell you what, I'd get it on with a boxer like Tyson if they wanted to but if they wanted to make the fight fair, they better put a pair of handcuffs on me. You know Tyson's got them gloves, you know, and I got all these other things, all other parts of the body to use. I can take him down, put him in a hammer lock or a wrist lock or a leg lock. And I'll tell you what, once I get on top, if he gets close enough to hit me, I just reach out and grab him."
Hogan hypes a match against Tyson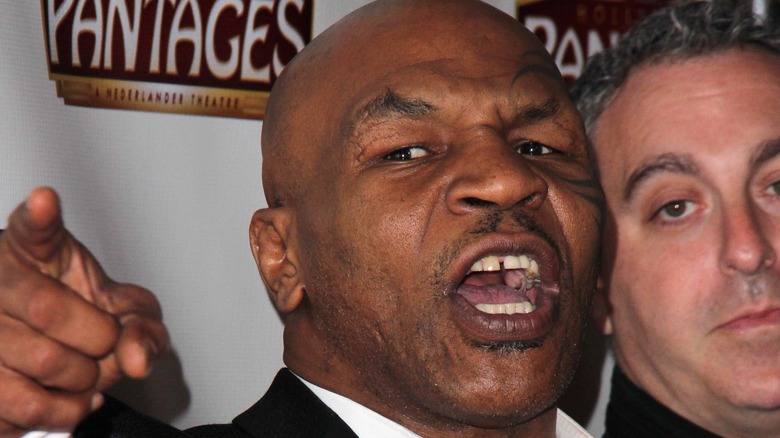 s_bukley/Shutterstock
With an innocent look on his face, Arsenio Hall brought out Hulk Hogan for his scheduled appearance. Dressed in camo fatigue and carrying the American flag, Hogan playfully motioned he was going to get revenge on Hall for showing that footage before the two embraced with a hug. Inviting Hogan to have a seat, a smiling Hall asked, "Would you like to talk about that clip we just saw?" 
Hogan responded, "Well, sure I would. Mike Tyson and I, we got something in common. You know, Mike and I talked about this thing, you know, and everybody's interested in what would happen if Mike Tyson and Hulk Hogan would lock up. So what's going down at WrestleMania VII is Hulk Hogan is going out to win the WWF title, Arsenio, and once I get the WWF title and Mike Tyson gets his shot back at his title, we are going to sit down and talk about this thing ... This thing with me and Tyson could get intense and can you imagine they could charge $20 million for each TV set because everybody would want to see who's the real champion of the world: Hulk Hogan or Mike Tyson."
After Hogan's interview concluded with Hall wishing him luck in his match against Slaughter and thanking him for stopping by, the show went to commercial. Once back from the break, viewers saw Hogan and Tyson nose-to-nose for 15 seconds. 
Tyson gets knocked out of the WWF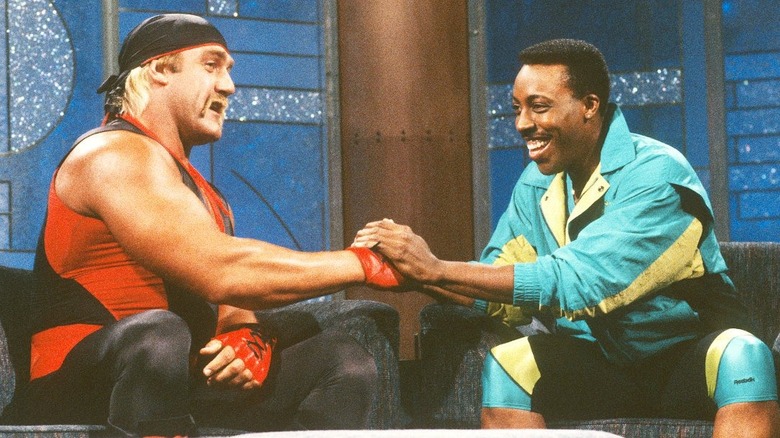 WWE
The confrontation between Hulk Hogan and Mike Tyson occurred a full year after the two were first scheduled to share the ring together. On January 25, 1990, the WWF held a press conference in Detroit to announce Tyson as the special referee for Hogan's WWF Championship match against "Macho King" Randy Savage on February 23. The match would be shown in prime time on NBC as part of "The Main Event" special. An event flyer appeared in "TV Guide" the week of the match and syndicated WWF programming had Hogan and Savage doing promos about Tyson's involvement. 
However, all that changed on February 11 when Tyson was knocked out in the 10th round by 42-1 underdog James "Buster" Douglas in their championship match at the Tokyo Dome. Following the loss, Tyson canceled all upcoming appearances, including his role as special referee. This resulted in the WWF scrambling to try to get Douglas on the show. 
Longtime executive Bruce Prichard revealed on his podcast that WWE's Basil DeVito flew from Connecticut to Buffalo to meet Douglas' camp when they arrived at the airport from Tokyo. Attempting to convince them to let Douglas be the special referee on "The Main Event," DeVito had an innovative pitch. "Tyson doesn't wanna do it and frankly, we want the guy that knocked Mike Tyson's a** out." 
Douglas accepted the offer, and Tyson wasn't seen on WWF programming until the 1998 Royal Rumble pay-per-view.