Hulk Hogan's No Holds Barred Featured A Cameo From A Young Buff Bagwell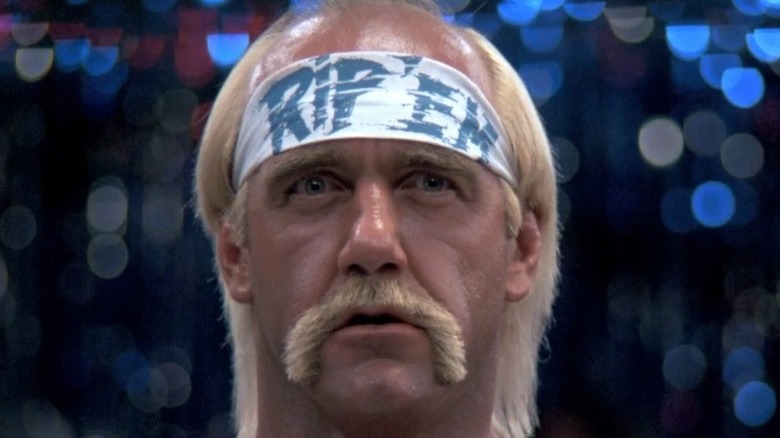 New Line Cinema
In the summer of 1989, New Line Cinema released the Hulk Hogan-led film "No Holds Barred" into theaters. Debuting at number two for the weekend of its release (per Box Office Mojo), the film stayed in the top 10 throughout the month, taking in a total gross of $13.8 million over the four weeks. While Hogan was the most recognizable pro wrestler in the film, there were cameo appearances by a handful of grapplers.
In the film's opening scene, WWE ring announcer Howard Finkel introduces Hogan's character, Rip Thomas, for his championship match against Jake Bullet, better known to wrestling fans as Demolition Ax and The Masked Superstar. Joey Marella serves as the referee, while Jesse "The Body" Ventura and "Mean" Gene Okerlund are on commentary. Later in the film, the Tough Guy fighters, portrayed by Jos LeDuc (Big Headbanger), Pete Doherty (Klondike Kramer), Stan Hansen (Neanderthal), and Jeep Swenson (Lugwrench Perkins), are introduced before being annihilated by Tommy Lister's character, Zeus.
Also, there was a cameo appearance that went unnoticed for three decades. As confirmed in a tweet by ring announcer David Penzer, Buff Bagwell was one of the extras in the park scene where Rip has his first face-to-face confrontation with Zeus.
Bodyslamming Hollywood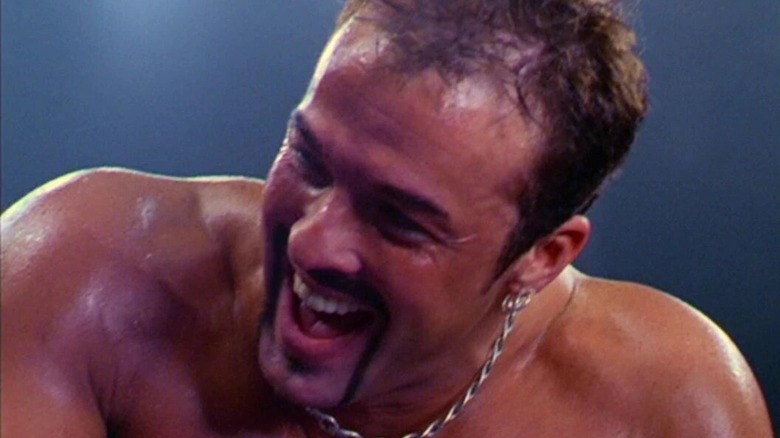 The WB
Bagwell's cameo is a blink-and-you'll-miss-it affair, but it wasn't to be his last Hollywood appearance. During the "Monday Night Wars," Bagwell appeared in several movies ("Day of the Warrior," "L.E.T.H.A.L. Ladies: Return to Savage Beach" and "Terror Tract") as well as the hit WB television show "Charmed."
In the "Wrestling with Demons" episode, Bagwell, Booker T, and Scott Steiner play the demonic wrestlers Slammer, Thunder, and Mega-Man that the Halliwell sisters must vanquish. "It was actually really cool," said Bagwell of "Charmed" on the "Deluxe Edition: A Classic Pop Culture Podcast" YouTube channel. "I've got a buddy of mine that was a big Alyssa Milano fan so I was able to get an 8x10 for him from her. And Shannen Doherty was also there then; but then the other one, they had the third witch (Holly Marie Combs) ... she of course had the worst attitude about, you know, wrestlers."
Bagwell stated Combs did not like him because "he told the truth" after Combs' remark about wrestling being "fake stuff." 
"I was like, 'oh you mean that sphere that just went in your back and the demon got it out of your back was real?' ... Her stuff was real and ours was fake as they had stand-ins do the wrestling part," he said.
From the silver screen to the squared circle
Shortly after his silver screen cameo, Buff Bagwell made his pro wrestling debut in 1990 for North Georgia Wrestling as Fabulous Fabian (per Cagematch). In 1991, Bagwell appeared in the Global Wrestling Federation (GWF) as The Handsome Stranger. In November 1991, Bagwell debuted in World Championship Wrestling (WCW) under his real name, Marcus Alexander Bagwell. Though he never won a singles championship, Bagwell won team-team gold five times with four different partners.
Bagwell's career skyrocketed when he turned on Riggs to join the New World Order on the November 25, 1996, episode of "WCW Monday Nitro" and renamed himself Buff Bagwell. Remaining with WCW until the end, Bagwell was one of the first AOL Time Warner contracted wrestlers to accept a buy-out to sign with WWE. A week after his July 2, 2001, WCW Championship match against Booker T on "WWE Raw" Bagwell was released from his contract due to complaints about his attitude and an altercation with Shane Helms.
After working for various promotions, including World Wrestling All-Stars (WWA) and Total Nonstop Action (TNA), Bagwell made headlines for his two automobile crashes and his 2021 arrest. In August 2022, WWE Hall of Famer Diamond Dallas Page posted a video on the DDP Yoga YouTube channel to update fans on his attempts to help Bagwell overcome his battle with addiction.
If you use any quotes from this article, please credit "Deluxe Edition: A Classic Pop Culture Podcast" YouTube with a h/t to Wrestling Inc. for the transcription.