Sting's Week-Long Stint As President Of WCW, Explained
WWE
In the late '90s Sting had seen enough of the state of World Championship Wrestling. After months of a power-crazed Ric Flair being in charge of WCW, something had to change. Standing in the middle of the ring at the Jacksonville Coliseum, Sting addressed Flair on the July 12, 1999, episode of "WCW Monday Nitro."
"You know what Ric Flair as president means to me right now? It means nothing," said Sting. "Your diamonds have lost their luster. Space Mountain is on Viagra! 10 years ago when I wrestled you for the first time, you had your thumb down on guys like me, Lex Luger, and The Steiner Brothers ... and the list goes on and on. And 10 years later, you're still here. I'm embarrassed I let Dean Malenko do all the talking these past weeks because I am WCW and I'm telling you, I want control, right here ... So tonight, I wrestle you for control of WCW."
Amused by Sting's challenge, Flair confidently said, "If you can beat David (Flair), then you can wrestle me." Later that night, Sting faced David, who had been gifted the United States championship by Ric the previous week. After just two moves — a Stinger Splash and the Scorpion Deathlock — the match appeared over as David was tapping out but referee Charles Robinson refused to ring the bell. Fed up, Sting grabbed Robinson and planted him with the Scorpion Death Drop. As a result, the match was officially ruled a no-contest.
Sting becomes WCW president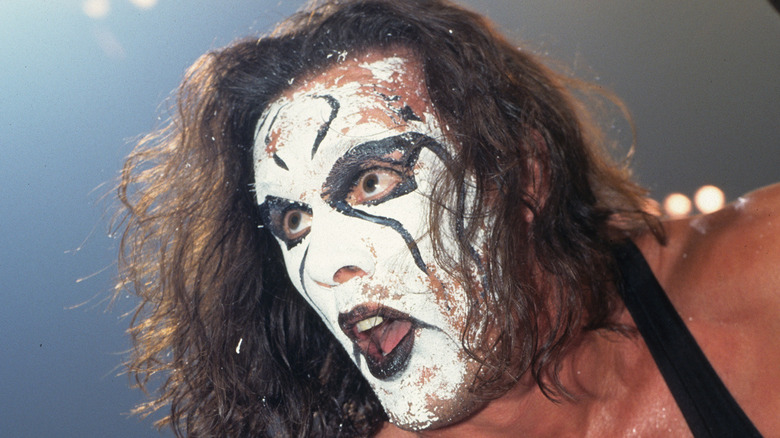 WWE
Though he technically didn't defeat David Flair, Sting still got his match against Ric Flair for control of the company. In front of a lively crowd at the Rockford MetroCentre on July 19, Sting trapped Ric in the Scorpion Deathlock, but there was no referee. Eric Bischoff, who had recently returned to WCW television and claimed to be a changed man, got up from the broadcast booth, slid into the ring, and called for the bell. The man Ric defeated six months prior to become WCW president assisted Sting in ending Flair's "Reign of Terror."
At the Mid-South Coliseum on July 26, Sting introduced himself as the president of WCW and had a big decision to make. Would he or wouldn't he accept "Hollywood" Hulk Hogan's offer to be his tag team partner to face Kevin Nash and Sid Vicious in that night's "Nitro" main event.
While Sting had been battling the Flairs, Hogan returned from a knee injury and defeated "Macho Man" Randy Savage on July 12 to win the WCW Championship. A babyface for the first time in three years, Hogan told Sting he wasn't the same 'Hollywood' as before and he could trust him. After pondering for a moment, Sting accepted Hogan's offer but warned him, "If you screw me, I'll get you." 
In the main event, Nash pinned a bloody Hogan following a chair shot to the head. After the match, Goldberg came to Hogan's aide but was taken out with three chair shots by Rick Steiner.
Sting's final act as WCW president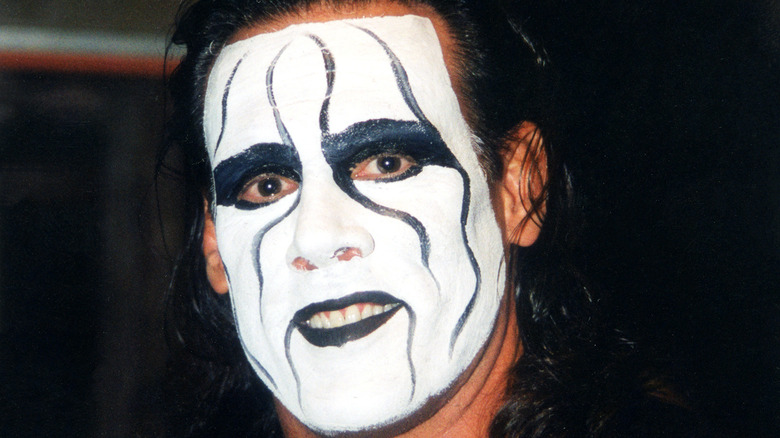 WWE
The following week at Sioux Falls Arena, Sting asked Goldberg to be his partner to face Rick Steiner and Sid Vicious in that night's main event. With Hulk Hogan on commentary, Steiner and Vicious won by disqualification after Hogan hit Steiner with a chair that Steiner was going to use on Sting. Seconds later, Kevin Nash emerged from the crowd and powerbombed Hogan through the announce table as "Nitro" went off the air.
At the top of the August 9 "Nitro," Tony Schiavone informed viewers that Sting had meetings with WCW officials during the week and gave control of WCW back to the company. Though Sting was no longer in charge, he still influenced the upcoming Road Wild main event between Hogan and Nash. 
After being ambushed by Nash, Steiner, and Vicious, a frustrated Hogan told Nash he would put his career on the line in their championship match at Sturgis, and challenged the trio to a six-man tag match against himself, Sting, and Goldberg. Impressed with Hogan putting everything on the line, Sting added a stipulation — if they won the six-man tag match on "Nitro," Nash's career would also be on the line in Sturgis.
Nash agreed, and that night, Sting got the victory for his team via referee stoppage with an unconscious Nash trapped in the Scorpion Deathlock after Hogan hit Nash in the back with a chair. In addition, Hogan surprised viewers by returning to his red and yellow Hulkamania gear and entrance theme.