Tony Schiavone Comments On Feud Between Eric Bischoff And Ric Flair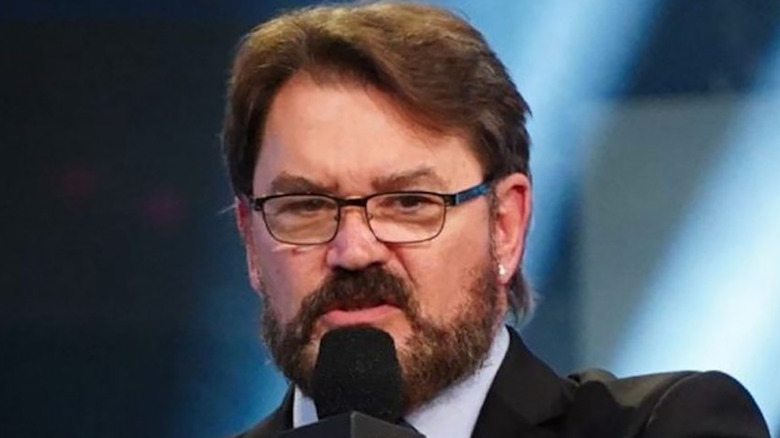 All Elite Wrestling
Tony Schiavone has weighed in on the sudden feud between Ric Flair and Eric Bischoff. Being the voice of WCW for years, Schiavone has had a relationship with both Flair and Bischoff. Schiavone did a recent "Ask Tony Anything" episode on AdFreeShows.com and was asked if the Four Horsemen were a big draw.
"Yeah, the numbers prove that they drew," Schiavone said, specifically referring to the Carolina territory days of Jim Crockett Promotions. "Now did they draw the numbers of Hulk Hogan? I don't know." Schiavone needed to be updated on what exactly has been said between Flair and Bischoff. Bischoff's case to Flair was that the Horsemen were a regional draw in comparison to Hogan's ability to draw a national audience.
"First of all, you gotta keep in mind that both Bischoff and Flair are full of sh*t completely, okay?" Schiavone continued. "So when you bring that into the equation and you sit there and you listen to people, two people, you look at them and listen to them going back and forth and you think, 'Both these guys are full of sh*t, I oughta make my own decisions." Schiavone makes the point that Bischoff wanted to steer away from the "southern wrestling" identity that WCW had at the time.
"The Horsemen were big in the southeast. He wanted to get rid of that so he thought in his mind that he had to move on with that and that's why that Hogan was brought in. To say that the Horsemen were as big as Hulk Hogan, of course, they weren't. There are not many people in this business who has been as big as Hulk Hogan, but they were big and they were draws because I saw it, I was there."