Kurt Angle Reveals What WWE Had Planned For Him Before His Depature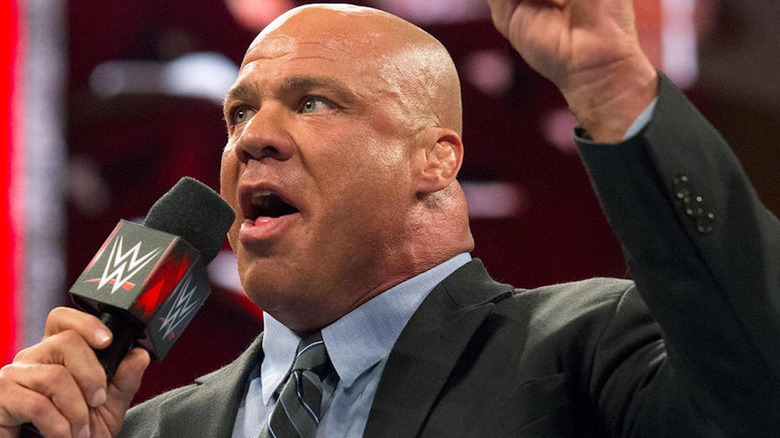 WWE
Kurt Angle has had one of the greatest careers in the history of wrestling, but his WWE career is marked with what-ifs after leaving less than a decade into his run. As it stands, Angle spent more time in his career working for TNA than the WWE, spending 2006-2016 wrestling outside of WWE before he'd ultimately make his brief comeback.
According to Angle during an interview with "The A2theK Wrestling Show," the WWE Hall of Famer detailed what went into Vince McMahon pushing him to WWE's ECW brand, stating that Vince wanted him to be the face of the fledgling brand. Angle also mentioned that McMahon was going to pay him more money on the ECW PPVs, making up for the money he lost during the smaller shows' weekly episodes.
"Not that ECW wasn't a big hit, it really was, it was huge, but I felt like I was getting demoted," Angle said. "Here I am the best technical wrestler in the company and they want me to join ECW instead of WWE Raw or SmackDown, I felt like wow, am I going to start carrying a chair or a kendo stick in my hand?
"I was afraid the fans would not accept me because I was just a technical wrestler, they used a lot of weapons in ECW and I thought it wasn't the right fit for me. Vince really thought it was. I didn't stay there long, I left the company immediately after that so I didn't really get to see how it played out unfortunately but I had a lot of problems going on at that time. I decided to leave almost a month after ECW even started."
When Angle first left WWE, several factors came into play, including the drug addiction that almost cost him his life at the time.