Jake Roberts Describes The 'Weirdest And Worst' Stalker He Ever Had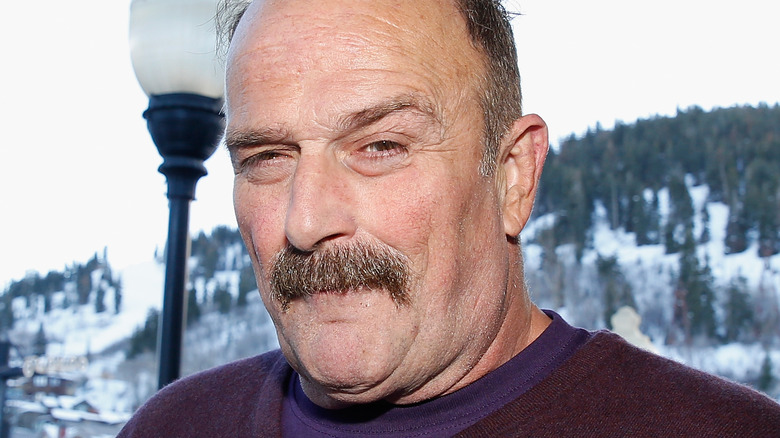 Rick Kern/Getty Images
Jake "The Snake" Roberts is one of the most intimidating characters in the history of professional wrestling, especially when he's carrying around his trademark python. That said, being in the public eye has exposed the WWE Hall of Famer and current AEW personality to some obsessive fans throughout the years, some of whom are more troubling than others. During the latest episode of "The Snake Pit" podcast, Roberts revealed that he's had "plenty of stalkers," but there was one guy who tried to steal his identity. 
"The weirdest and worst... There was a guy that looked something like me and he was following me around the country. And he must have had an incredible booking agent or whatever because this guy was doing personal appearances as well," Roberts explained.
According to Roberts, the stalker showed up in the towns he wrestled at and did signings the following day. Eventually, Roberts got a phone call from Vince McMahon asking if he was in a relationship that led to him committing a serious crime. It turns out that the stalker married a woman in Detroit and proceeded to drug, rob, and leave her while still pretending to be Roberts. 
However, the disturbing incident almost resulted in deadly consequences for the real Roberts. "She was connected to the mafia," he recalled. "They called WWF telling me that I was a marked man. They were going to f**king kill me."
The stalker was eventually caught after he tried to rape a masseuse and went to a bar afterward. He ran out on the $300 bar tab and got pulled over by the cops while driving drunk. Ultimately, the stalker couldn't provide paperwork to prove that he was Roberts, and was subsequently sent to jail.
If you or anyone you know has been a victim of sexual assault, help is available. Visit the Rape, Abuse & Incest National Network website or contact RAINN's National Helpline at 1-800-656-HOPE (4673).