Mick Foley Names #1 Pick For His Pro Wrestling Mount Rushmore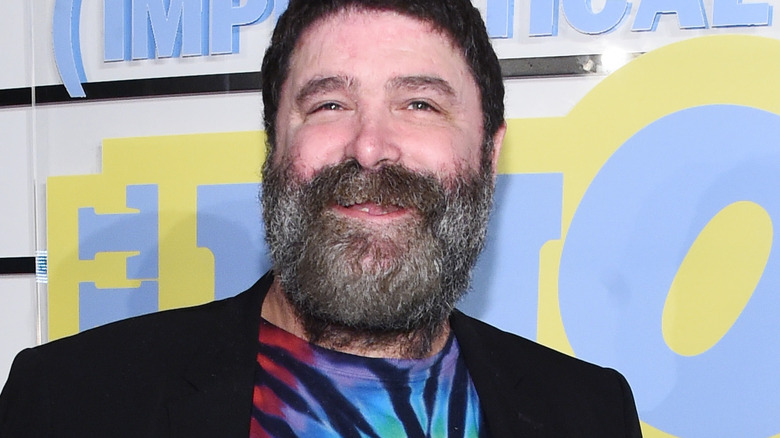 Jamie Mccarthy/Getty Images
For Mick Foley, the number one choice for his wrestling Mount Rushmore is a no-brainer. Foley had himself a legendary career, to the point where some might even put him on their Mount Rushmore, except for AEW star MJF. Wrestling legends are often asked who is at the top of their all-time list, and Foley is no exception.
During a recent episode of "Foley Is Pod," the WWE Hall of Famer revealed that his close friend Terry Funk takes the top spot on his wrestling Mount Rushmore.
"He's number one, he is," Foley said. "The reason being is that he made it so easy to suspend disbelief, and this is not a knock on the other guys who are either on my top 10 or on my Mount Rushmore, but he was, to me, he was the guy who could go in and make people look good, made other people, he brought a sense of believability to the matches and the promos, and he could have a good match in different styles with just about anybody."
Foley said that Funk raised everybody's game. He also said that while other performers may have had the same believability, they didn't have the prowess or the ability to switch from babyface to heel. He also believes that others lacked the gift of gab to bring people into the building.
Foley admitted that Funk is "struggling" these days, but he's looking forward to seeing him with a few of his family members. Funk, who is 77 years old, suffers from dementia and is currently in an assisted living facility in Amarillo, Texas. Foley is looking forward to having some "West Texas barbecue" with Funk.
Please credit "Foley Is Pod," with a H/T to Wrestling Inc. for the transcription.