The Latest On The Khans' Interest In AEW-WWE Merger And Vince McMahon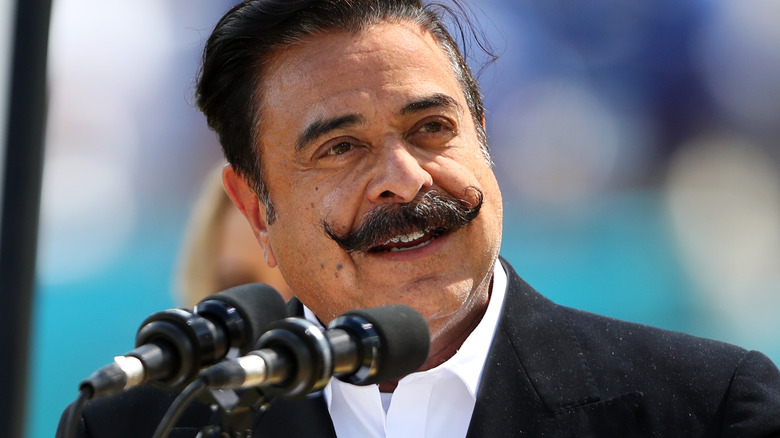 Courtney Culbreath/Getty Images
Shahid Khan and Tony Khan, the owners of AEW, are reportedly "interested" in merging their upstart wrestling promotion with the WWE.
A new report from CNBC quotes an anonymous AEW source as saying that The Khans, who also own the NFL's Jacksonville Jaguars and the Premier League's Fulham F.C., are exploring the possibility of partnering "with a strategic media company to share the intellectual property while merging the wrestling leagues." 
Furthermore, the report adds that The Khans are "open to discussing a potential role for [Vince] McMahon" if a WWE-AEW merger were to take place, even though it's "unclear what type of job McMahon would want with WWE after a sale."
Despite AEW's apparent interest in the blockbuster acquisition, CNBC believes such a merger is "a long shot" and that McMahon may view selling his multi-billion dollar corporation to the Khans "as a non-starter," especially with scores of media conglomerates lining up as potential suitors for a WWE sale.
The report further confirms that The Khans have yet to initiate any sort of talks with McMahon or Nick Khan, the WWE CEO who reportedly met with high-ranking executives at Disney and ESPN Monday to possibly discuss a WWE sale. 
On Thursday, another report from Barron's listed AEW as potential suitors for a WWE sale, but did not earmark The Khans as a favorite in the WWE sweepstakes. According to oddsmakers, Comcast (-140), Disney (+350) and Endeavor Group Holdings (+900) remain the leading bidders to purchase the world's biggest wrestling promotion. As noted earlier, WWE announced the hiring of financial advisor Raine Group on Thursday to facilitate an imminent sale.