Becky Lynch References Mercedes Moné On WWE Raw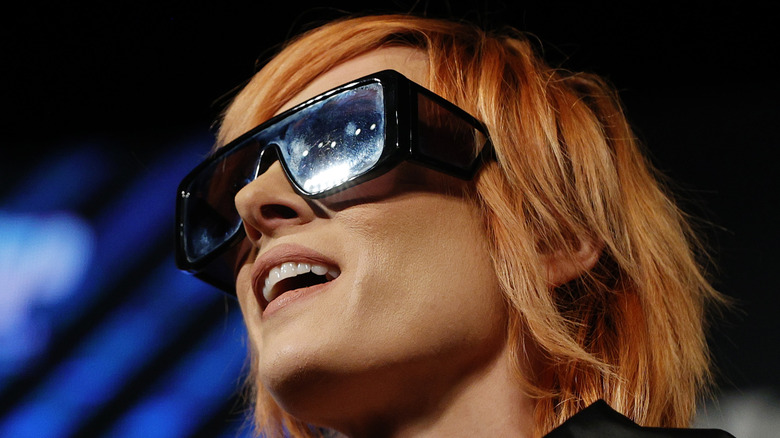 Sarah Stier/Getty Images
There were several references to departed WWE superstars on the 1/16 "WWE Raw," where things got personal between Becky Lynch and Bayley.
At one point, Lynch possibly took a subtle shot at Mercedes Moné, who was previously a member of the "Four Horsewomen of WWE" along with herself, Bayley and Charlotte Flair. Through the promo, Lynch implied she was never viewed as a star by WWE management in the same vein as Moné, Bayley or Flair. Furthermore, she accused Bayley and others of "moaning and complaining" when things don't go their way, which fans on social media believe was a reference to the former Sasha Banks, who staged a walkout from WWE due to creative differences. 
"You were supposed to have your own spotlight," Lynch told Bayley. "I was seen as just another body. I wasn't supposed to be The Man. I wasn't supposed to change the game or become the first woman to main-event WrestleMania. But, I did, because I love this and I work for this. I worked harder than anybody else, and I'm gonna keep working for this until I can't do it anymore."
Earlier, the references to the unrecognized WWE stable began when Bayley touched upon her former friends making their main roster debuts in 2015.
"2015 – the year that I ran NXT after you and the other Horsewomen ran off," Bayley told Lynch. "You took my spot. You took my spot in the main event of WrestleMania. Everything you have should have been mine."
In response, Lynch accused Bayley of "trying to recreate stuff" by aligning herself with two random friends in IYO Sky & Dakota Kai. 
Eventually, Bayley made a reference to Nia Jax by suggesting that Lynch "became The Man" only after she was "punched in the face by another woman."
The segment ended with Lynch challenging Bayley to a Steel Cage Match for next week's "Raw Is XXX" special episode. The match was later confirmed by WWE.