Matt Hardy Calls Briscoe Brothers Match One Of The Best He's Seen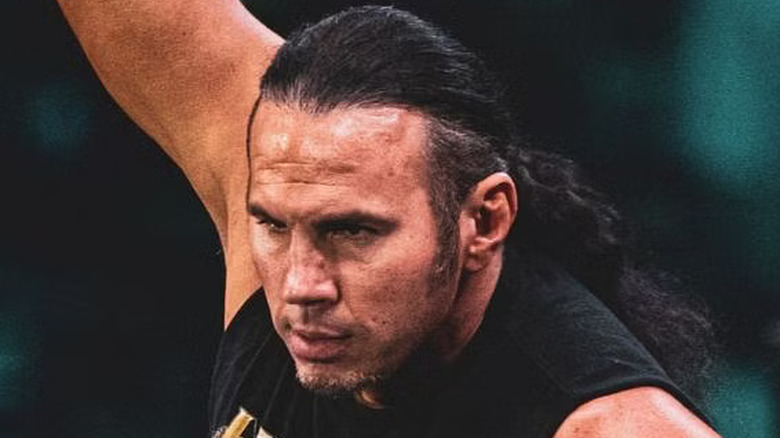 AEW
Jay and Mark Briscoe have had countless memorable matches throughout their careers — from their "Ladder War" with Kevin Steen and El Generico, to their title match with the Motor City Machine Guns at ROH's Good Times, Great Memories. But one longtime friend, Matt Hardy, said there's one Briscoes match that "without a doubt" sticks out as one of the best tag team matches he's ever seen. Hardy reflected on Jay Briscoe's life and career during a tribute episode of his "Extreme Life of Matt Hardy" podcast, following Jay's tragic death on Tuesday. During his discussion with co-host Jon Alba, Hardy pointed to the Briscoes' recent double dog collar match with FTR at last month's Final Battle as one of the best tag matches ever.
"It was stellar, an instant classic," Hardy said. "That's another thing that is heartbreaking to me, Jay was so committed to his craft and he sacrificed so much physically for his body — we all do, but he sacrificed so much. And he loves what he does so much and he loves doing it because it allows him to provide a nice life for his family." Hardy said the Briscoes "were just at that point where they were about to get over the old heat that Jay had and they were going to be established and be Ring of Honor tag champs and have this amazing run" before Jay's unexpected death.
Tributes to Jay Briscoe have poured in from around the wrestling world this week, honoring the 38-year-old ROH Hall of Famer. "His work was just stellar," Hardy said Wednesday. "When you put together a combination of someone who is ultra-believable as a character and ultra-believable as a worker, it's always a winning combination. And Jay did that almost better than anybody."
If you use any quotes in this article, please credit "The Extreme Life of Matt Hardy" with a H/T to Wrestling Inc. for the transcription.