Kevin Nash Once Offered Charles Robinson A $10,000 Deal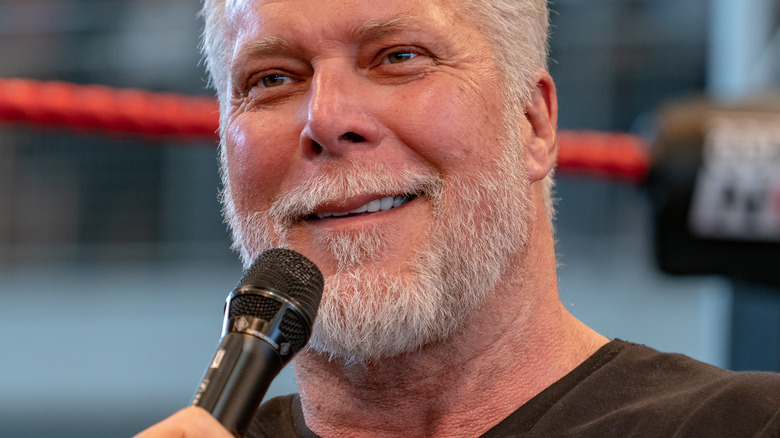 Markus Wissmann/Shutterstock
Legendary referee Charles Robinson recalled the time Kevin Nash presented him with a $10,000 deal. Robinson first joined WCW as an in-ring official back in 1997. Less than two years later, he'd find himself wrestling and was known as "Little Naitch," given that he grew up a huge Ric Flair fan and even looked a bit like him in the 90s.
Appearing on "Out of Character with Ryan Satin," Robinson revealed that it was Kevin Nash who had the idea to put him in matches as a wrestler.
"Kevin Nash came to me, he's the one that came up with this idea," Robinson said. "He came to me, he said, 'Hey Charles, what do you think if we bring you in and you wrestle and you get beat by a girl?' He goes, 'We'll give you a robe, we'll give you boots, we'll give you tights, and we'll pay ya $10,000.' I said, 'I'm in, let's do it.'"
Robinson didn't first meet Ric Flair during their time in WCW. He looked back at the time Flair had him buy him a beverage during a wrestling show. Robinson said the event featured a match between Flair and Wahoo McDaniel in Rocky Mount, North Carolina.
"During intermission, I ran down there, 'Ric Flair, Nature Boy,' he goes, 'Go buy me a Coke, kid.' He gave me a dollar bill, and I went up and got him a Coke. It was 75 cents, I believe, and he let me keep the quarter. I was so excited."
Robinson said he was such a fan of Flair that he made posters for "The Nature Boy." He said that during the 1970s, wrestling fans didn't really bring posters to events.
Please credit "Out of Character with Ryan Satin," with a H/T to Wrestling Inc. for the transcription.