Backstage News On The Rock's Interest In WWE WrestleMania 39 Match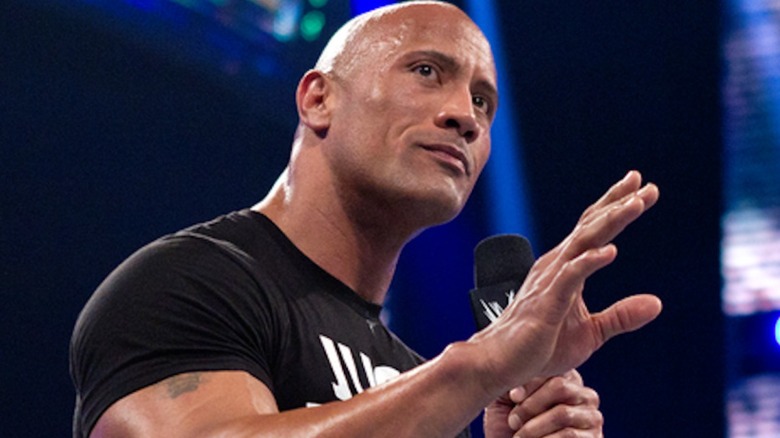 WWE
Those hoping to smell what The Rock is cooking at WrestleMania this year might be in for disappointment as, according to the Wrestling Observer Newsletter, Dwayne Johnson has indicated he will not have time to get into the kind of ring shape he'd want to be in for a main event quality match with Roman Reigns — unless he quickly changes his mind otherwise. 
Let's face it — Dwayne "The Rock" Johnson is an extremely busy man. In recent months, his calendar has been filled by the "Black Adam" promotional tour, being in production on the film "Red One" toward the end of the year, preparing for the relaunch of the XFL football league, and all the other projects he's involved with via his Seven Bucks production company. That leaves very little time to squeeze in training for a WrestleMania match. While it is still not 100% that The Rock has officially turned down a match opportunity, it is considered to be less likely now than it was a few months ago of anything happening with "The Most Electrifying Man in Sports Entertainment" re-entering WWE at the moment. 
Much of The Rock's proposed involvement at WrestleMania has stemmed from fans booking a dream match between him and Reigns for WrestleMania. WWE, of course, did have a "pie-in-the-sky" idea for him to win the Royal Rumble, but, if that is not coming to fruition, then WWE creative will be proceeding with other plans. However, this is wrestling, where you "never say never" and where surprises are always in store for the Royal Rumble. The possibility then does still exist that The Rock could still shock everyone, but the chances of it happening are shrinking by the day.