John Morrison Remembers Starting A Riot In Mexico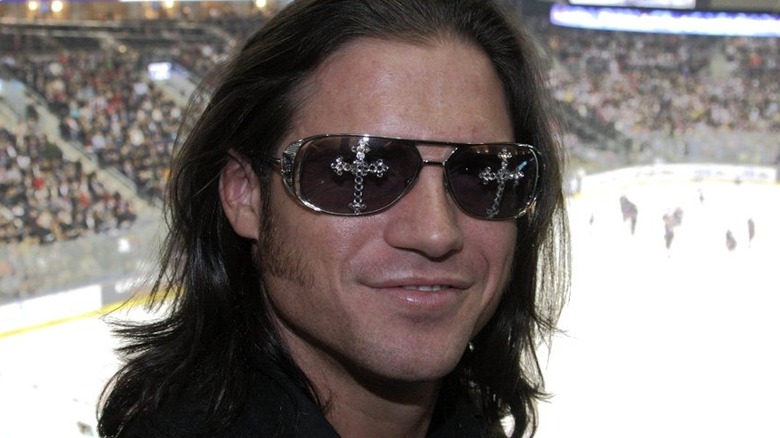 WWE
In the two decades since co-winning the third season of WWE's Tough Enough, John Hennigan – better known as WWE alumnus John Morrison – has experienced a lot in his professional wrestling career. Through all the championships (31 in 21 different promotions), name changes, and world traveling, there is one moment that stands out above all others. As a guest on the "Power Up With Tony Horton" YouTube channel, Hennigan recalled the time he started a riot in Mexico (Piedras Negras) when wrestling Rey Mysterio under the AAA banner.
While in the ring, Hennigan was hit by a can of beer thrown by a fan in the front row. Standing close to where the beer was thrown, Hennigan picked up the beer and retaliated. "I threw it back and hit the guy – it might not have been the same guy – in the face in the front row," he said. The fan, embarrassed and angry, jumped the barricade with his party of 10 people and the ring started filling up as fans were throwing stuff.
"Rey Mysterio grabbed the mic and goes, 'Guys settle down. I'm about to kick Johnny Mundo's a** and I don't need you to throw this stuff,'" recalled Hennigan. However, Mysterio's pleas went ignored as more stuff – glass bottles, batteries, bottles of urine, etc. - kept being thrown. "About a minute goes by and security is like, 'everyone out!'" said Hennigan. Though it was one of the most real situations he's ever been a part of in his wrestling career, Hennigan is glad the riot only happened once and would "be cool with it if it never happened again."
If you use any quotes from this article, please credit "Power Up With Tony Horton" YouTube with a h/t to Wrestling Inc. for the transcription.