Behind-The-Scenes Feelings On Billie Starkz's Latest AEW Matches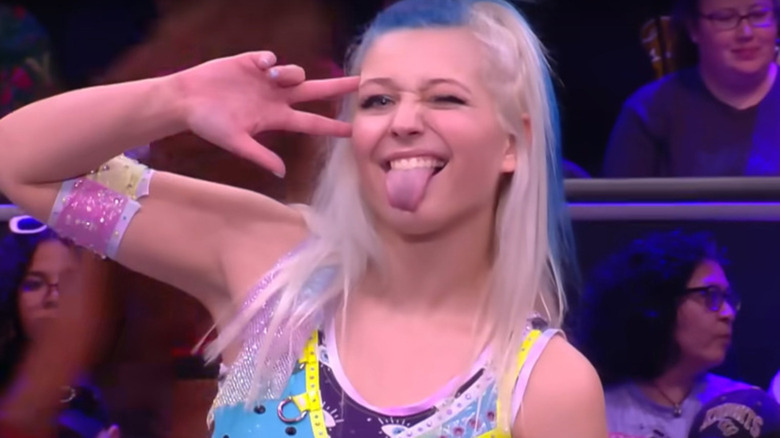 AEW
Billie Starkz has been emerging as a top prospect in the wrestling world, and AEW has taken notice. Starkz has been having matches on the independent scene as well as with more established promotions such as MLW and GCW. She's also been in the ring for "AEW Dark." Starkz suffered losses against Britt Baker and Red Velvet.
Fightful Select is reporting that AEW officials have taken a liking to Starkz's in-ring work. It was noted in the report that Starkz is expected to make another appearance for the company "very soon." Starkz seemingly responded to the report on social media, "Man all the dirt sheets know more than me," Starkz posted on Twitter.
Starkz has kept a busy schedule, appearing in 12 matches so far this month, according to Cagematch.net. She recently challenged Kenzie Paige for the New South Championship at GCW Vs New South. Starkz fell short in her bid for the title.
Recently, Starkz had a singles match with AEW star Lee Moriarty. The match was featured on the ACTION Lords of Chaos show on January 15. Moriarty picked up the victory.
There's no denying that Starkz has garnered substantial in-ring experience despite not even hitting the age of 20 yet. Back in November 2022, Starkz made the trip to Japan to debut for TJPW. Starkz teamed up with Millie McKenzie and defeated Miyu Yamashita and Yuka Sakazaki. Ultimately, Starkz had a Princess of Princess Championship match against Sakazaki, but she lost.
Last year, Starkz appeared on "Women's Wrestling Talk" and revealed her plans to finish two years of college online for business and marketing. She said she's using that as a backup plan in case wrestling doesn't work out. Starkz said that she wants to see how far her in-ring career can go.