Rising AEW Star Responds To Harsh Criticism From Ric Flair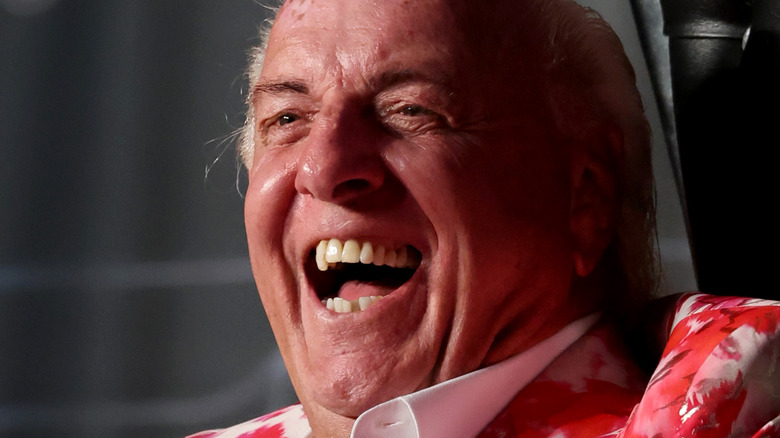 Jason Kempin/Getty Images
While the common consensus on wrestling Twitter was that Bryan Danielson and Konosuke Takeshita delivered a hard-hitting match on "AEW Dynamite" earlier this month, pro wrestling icon Ric Flair had a completely different take.
Speaking on his "To Be The Man" podcast recently, Flair was particularly critical of a spot in the match where Takeshita struck Danielson with a series of lackluster chops while "The American Dragon" was on the floor. 
"The Japanese young man who was chopping Bryan Danielson on his knees the other night [Takeshita]," Flair began. "Come on, those chops couldn't have broken an egg. If you're gonna chop somebody, god—-it, hit them hard. It's not gonna hurt you."  
Flair then checked with his co-host Conrad Thompson if he watched the match before elaborating on the "embarrassing" sequence. 
"Daniel was on his knees, and the guy was going 'yah,'" Flair continued. "I mean, give me a break. It's embarrassing. In Japan, in the '80s, that Japanese kid would have got the s–t slapped out of him just walking back into the locker room door [after such a spot]. If you're gonna hit someone like that, and you're trying to get the crowd to go 'woo' or react, you've gotta hit 'em hard."
A humbled Takeshita responded to Flair via Twitter, accepting "The Nature Boy's" criticism in stride, and promising to improve on his craft.
"I have the utmost respect for Ric Flair," wrote Takeshita. "It is incredible to me that he mentioned me. I need to practice a lot as I haven't done much chopping in Japan. Thanks for the advice. I would like you to actually teach me if possible. Watch my chops grow from now on."
AEW is looking to position Takeshita as a "top-tier guy" for whom they have "significant plans," per The Wrestling Observer. The 27-year-old signed a contract with AEW in November, after making several one-off appearances while contracted to DDT Pro Wrestling in Japan. DDT President Sanshiro Takagi confirmed in November that Takeshita is working with a dual contract between both companies.